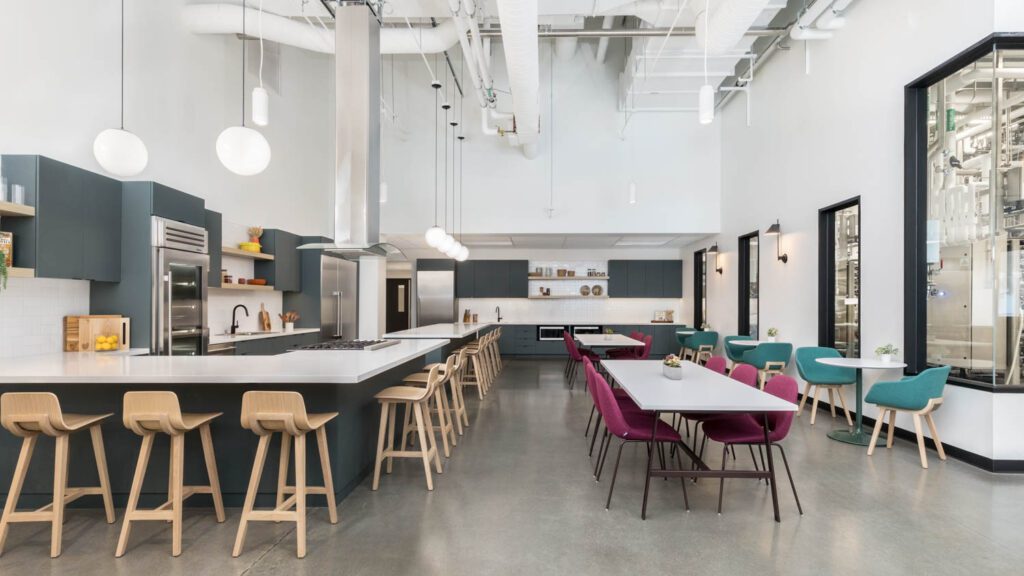 Stantec Helps Upside Foods Demystify the World of Cultivated Meat Production
Upside Foods, the world's first cultivated meat company, stands out among "food-tech" start-ups with its sustainable tech and transparent attitude towards cellular agriculture (cultivated meat isn't vegan or plant-based, but produced directly by growing animal cells, without the need for cages or slaughterhouses). The brand ethos is exemplified by Upside's first production factory, which opened in November 2021. Called EPIC (Engineering, Production, and Innovation Center), the factory is in the heart of Emeryville, California's vibrant East Bay foodie scene, within walking distance of a Peet's Coffee outpost as well as ramen and gyro stalls at the Public Market food hall.
The 53,000-square-foot campus, housed in a former grocery store, was designed to be part of this eclectic neighborhood, its ambience akin to New York's Chelsea Market rather than a remote meat processing plant, with picture windows along the façade giving neighbors a look into the world of cultivated meat. It features a private dining room, showcase kitchen, open office space, an all-hands amphitheater, as well as research labs and production facilities for food scientists to continue innovation and produce meat for Upside's first group of restaurant partners. 
For EPIC's interiors, Upside turned to global design firm Stantec. "I had not heard of Upside Foods before," recalled Heidi Dunn, Stantec's senior associate and project manager. "After a quick Google search, I was intrigued." Dunn and interior designer Isabel Ramirez worked as project leads, closely collaborating with Upside's leadership team, including CEO and founder Uma Valeti.
"We told Stantec that we were inspired to create a space that served many purposes; where people could take a little break, enjoy a meal, have productive conversations, or just do some heads down work," says Brett Salmon, director of lab operations for Upside. Thus, a showcase kitchen functions as a gathering space for employees, as well as a place for the in-house chef to demo new products, or even a venue for a private dinner party courtesy of a celebrity chef.
Dunn and Ramirez took cues from hotel lobbies and cafés: multifaceted spaces for meals, productive meetings, relaxation, and of course, celebration—in June, Upside hosted a drag show in honor of Pride in the spacious setting.
A natural material palette of wood, glass, and bold, black metal was chosen for its clean, modern aesthetic. "The Upside brand was woven through the spaces," says Dunn, who chose upholstery, paint, and furnishings in an array of cerulean blue, marigold, and moody earth tones to let the black metal accents pop.
Still, the factory setting required some creative thinking. "One of the biggest design challenges was dealing with the large HVAC ductwork and process piping that feeds the cultivation room and labs," notes Dunn. "Upside loved the look of exposed ceilings, but the ductwork was so large that it was hard to 'hide' by just painting it away." Ultimately, Stantec's team introduced dropped ceilings where possible, wrapped the ductwork in black fabric and used black paint to draw sightlines downward. Lighting was incorporated in a similar fashion, tucked behind a fabric-wrapped wall panel system.
As pioneers in the environmentally friendly food space, Upside Food's leadership team prioritized sustainability. EPIC is powered by 100 percent renewable energy, and Stantec followed suit with their design, using locally sourced millwork and choosing biodegradable, heavy metal free upholsteries from suppliers including Luum, Camira and Knoll. Plus, "The task seating incorporates nearly 2 lbs. of reclaimed fishing nets," remarks Dunn.
Overall, Stantec was moved by Upside's company culture and mission statement: "Making our favorite food a force for good." The team partnered with design agency Pearlfisher to create a signature visual experience for EPIC—a magnetic mural, set against a backdrop of burgundy paint and inspired by assemblages of refrigerator magnets. Visitors are encouraged to add their own magnet to the striking vista, contributing a personal memento to the epic artwork.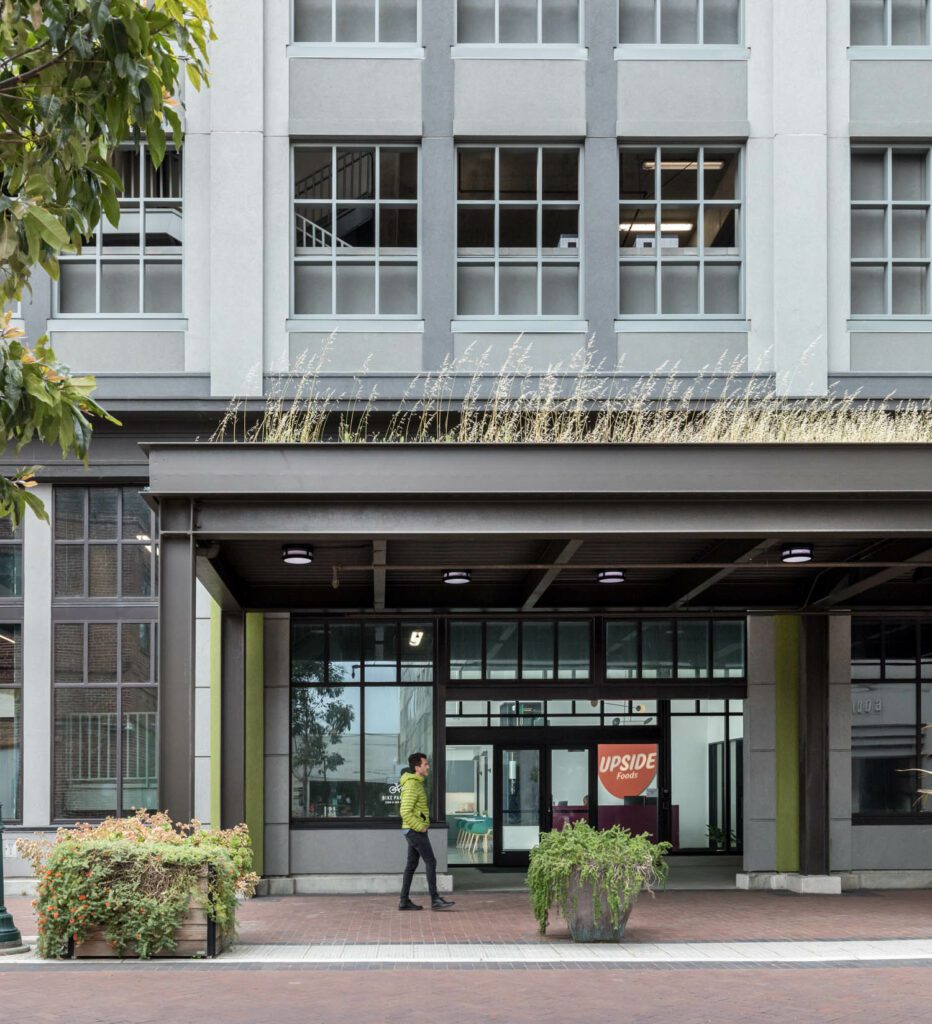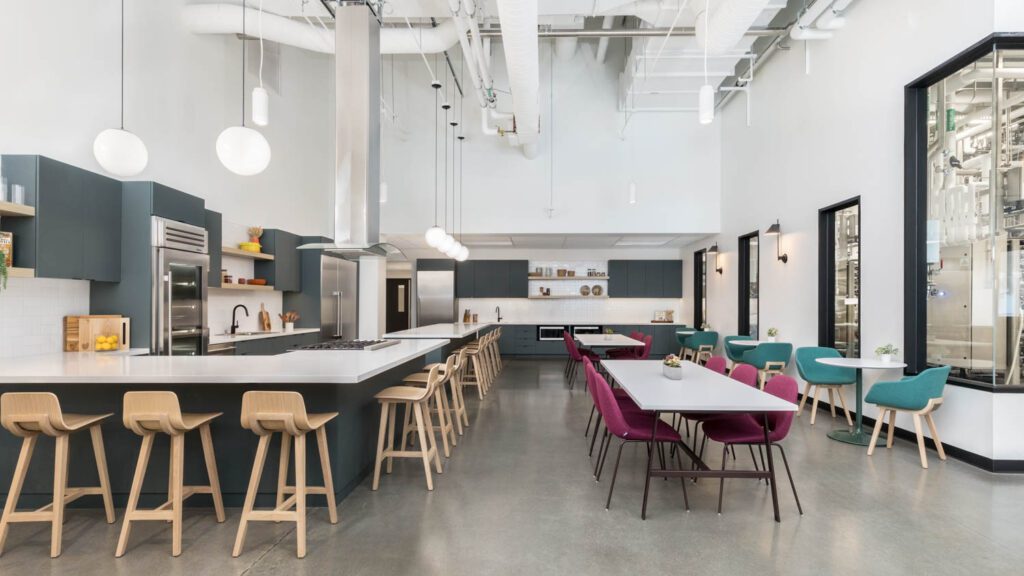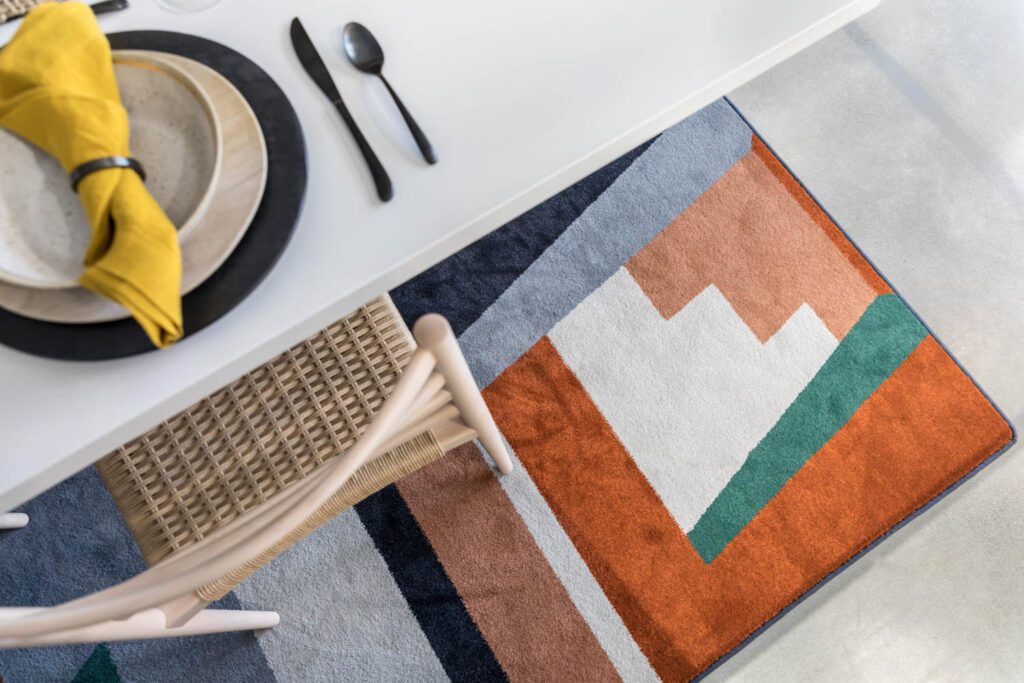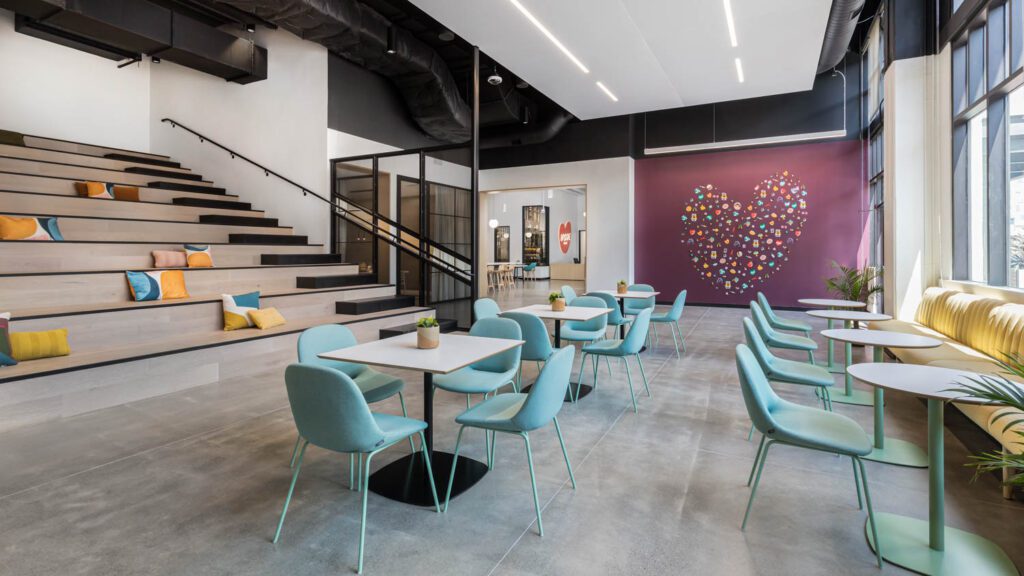 read more