25 Cool and Captivating Hotel Lobby Designs
The design of a hotel lobby can make or break a first impression. Whether it's a grand staircase or a bold sculpture, the decor undoubtedly sets the tone for the rest of the guest experience. These 25 hotel lobby designs captivate without going overboard.
[Editor's note: A previous version of this story was published February 26, 2019. It has been updated to reflect the latest awe-inspiring hotel lobby designs]
A Hotel Lobby Holds the Power to Wow, Like These Eye-Catching Designs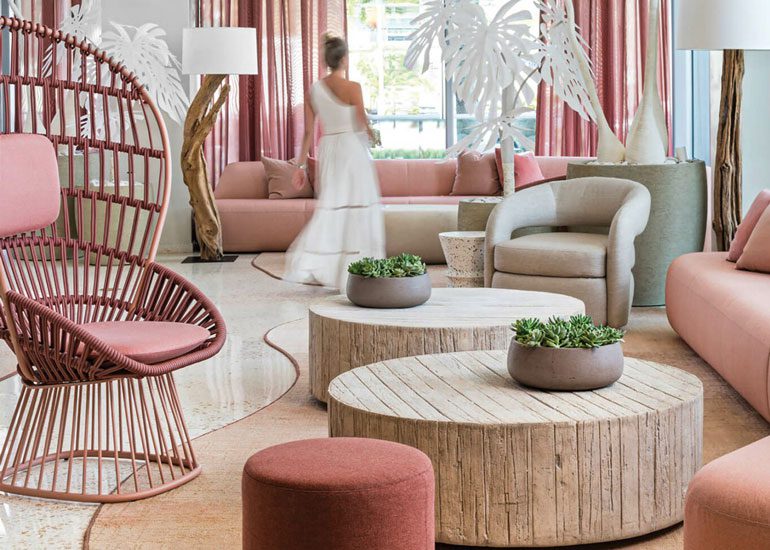 Conceiving of a "sun, sand, surf" theme, Dan Mazzarini, principal and creative director of BHDM Design, along with his team, marshalled a peachy palette along with furnishings in rounded shapes that have a "work/live/play vibe."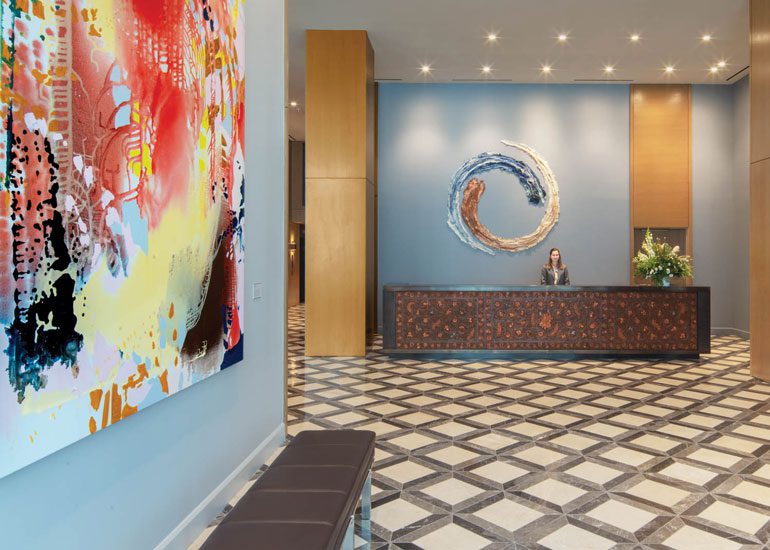 The art-in-hotels phenomenon has been percolating for a while now. Like all trends, however, it could use an update. At the Joseph, a Luxury Collection Hotel, Nashville, the concept underwent a savvy refinement by INC Architecture & Design. This hotel lobby design brings a new wave of inspiration for the modernista.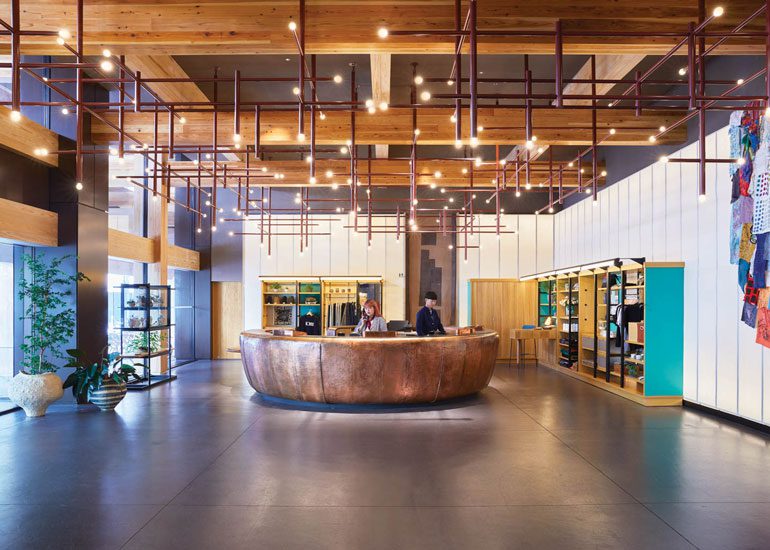 Formerly home to the Kyoto Central Telephone Company, the landmarked structure—the first registered Cultural Property in the city—was poised for redevelopment, awaiting occupants who would appreciate its rare East-meets-West aesthetic. Thanks to a collaboration between Kengo Kuma & Associates and Commune Design, the resulting 213-room hotel is set around a leafy courtyard and pays homage to its roots.
Related Post: This Residential Lobby in San Jose, California Offers a Study of Contrasts
A former department store houses the lobby of this newly opened Detroit hotel, the staircase's iron balustrade dating to 1925 but the wood-burning fireplace and Italian marble mantel newly added. Artworks are mostly by Michigan-based artists, curated by Library Street Collective, a local gallery. This memorable hotel lobby design of Shinola Hotel is a seamless blend of modern elegance and vintage charm, creating a captivating and inviting atmosphere for guests. Natural light floods the lobby space through large windows, highlighting the carefully selected furniture and decor elements, enhancing the overall ambiance of the hotel.
Related Post: Huntsman Architectural Group's Lobby Renovation of Chicago's The 300 Says "Welcome"
Typical of Rottet, this project evolved as a hybrid: traditional glamour paired with contemporary implementation. The reception area is capped by a coffered ceiling, its knife-edged planes fitted with LED strips. A Reinhard Görner photograph backs the custom desk of brass, myrtle burl, and marble.
6. Four Seasons Hotel Kuwait by Yabu Pushelberg
This contemporary hotel lobby design includes textured limestone walls that stretch to a ceiling nearly 30 feet high. A dramatic spiral staircase coils up a burnt-orange enclosure at one end. The reception desk, a hunk of carved onyx that weighs more than two tons, anchors the other.
Related Post: SKB Architects Creates Lively Lobby for Key Center Office Tower
Pawson's forte is creating a calm warmth from what is pristine and precise, usually without much applied color or pattern. But also visible is a subtle departure for him: unexpected decoration in the form of furnishings and finishes. Shiro Kuramata seating enlivens the main lobby, in contrast to the stone wall.
The scheme of this Rio de Janeiro hotel lobby design blends Brazilian modernism with a contemporary sensibility of understated elegance. The interior's swoopy abstraction and organic shapes are inherited from the famous Copacabana sidewalks by landscape architect Roberto Burle Marx. A largely pale color scheme is punctuated by wood paneling and accents in brown and green.
The hotel's overall mood is breezy and beachy, with touches of cheek. On the left, a school of 163 fish handmade in white gypsum swims across a wall. Polyester forms the firm's production pendant fixture above.
This resort's interiors are as striking, minimal, and esoteric as its exterior. The walls and ceilings are all-white and art-free. A stair of oak treads rises up from its lobby floored in slate.
Blackened-steel rods screen the lobby lounge from the elevators. For a Montreal-themed photomontage, Valérie Jodoin Keaton snapped 200 shots, combined them with 86 archival images, and printed the result on vinyl.
This hotel has combined 21st-century comforts with nods to the site's regal past (the castle was built as a hunting lodge for King Francis I). In reception, nearly floor-to-ceiling built-ins lined with books give the feel of a large country home.
Swoon, the Studio was charmed by the Beaux Arts grandeur and Germanic exterior from the 1912 hotel, but some refreshment was in order. The firm tackled each communal space with an eye to modernize all the decadence without diminishing the original designer's achievements.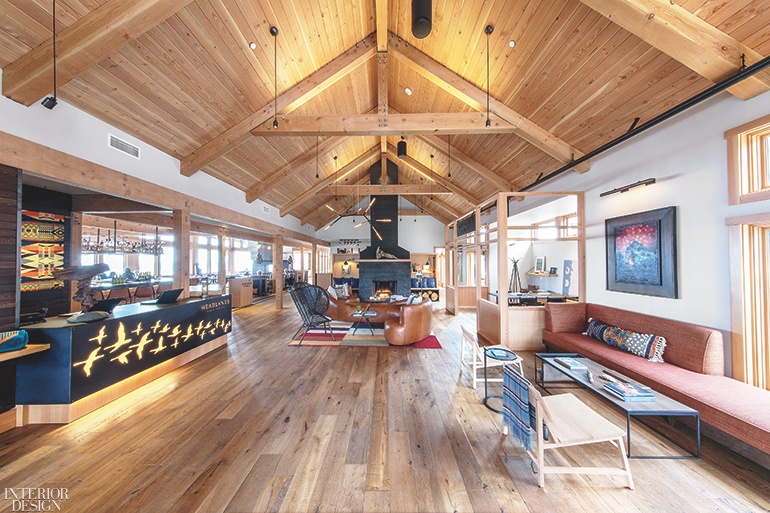 The design ensured that it's the warm and welcoming fireplace that greets entering guests. Off to the side stands a booth occupied by adventure coaches, beckoning guests to experience the outdoors. Light shines through laser-cut openings in the steel of the re­cep­tion desk. On it sits a driftwood sculpture silhouetted against a wool blanket hung as a tapestry.
At this beachside Puerto Rico hotel, furnishings blend mid-century and post-modern styles, with work from local artists providing a true sense of place. Pendants from El Torrent brighten the reception area, and a mural by Sofia Maldonado draws the eye up the open-tread terrazzo staircase.
Linearity is a theme carried throughout the hotel, save for the circle cut-out of a lobby wall to accommodate a built-in vintage Eero Aarnio chair. Glass panels replaced the stair's teak balustrades.
The emerald brick and stucco exterior of the Kitz is meant to evoke the nearby forests. In the lobby, foliage-patterned fabric wall covering continues the natural theme.
The design team aimed to create a fresh, luxurious environment while still showcasing the relics of the original. The front desk makes a statement in aged brass, and a pink glass chandelier shines overhead.
The firm took inspiration from a painting—a 1950s portrait of a middle-class family by Robert Bechtle—for the hotel's concept, translating his sunny palette into optimistic colors dabbed onto neutral concrete walls and ceilings. In the lobby, custom built-in sofas and seating groups offer guests ample space to meet and greet.
In the ground-level entry of this contemporary hotel lobby design, three walls are covered by a Doh Ho Suh installation comprising 86,000 multicolored resin pieces. For those who wish to sit and take it all in, massive sculptural benches by Carlo Colombo are provided.
The firm transformed this 95,000-square-foot structure into a reflection of the Detroit's past while embracing its present. Being from the area, designer Gina Deary felt an obligation to honor the city.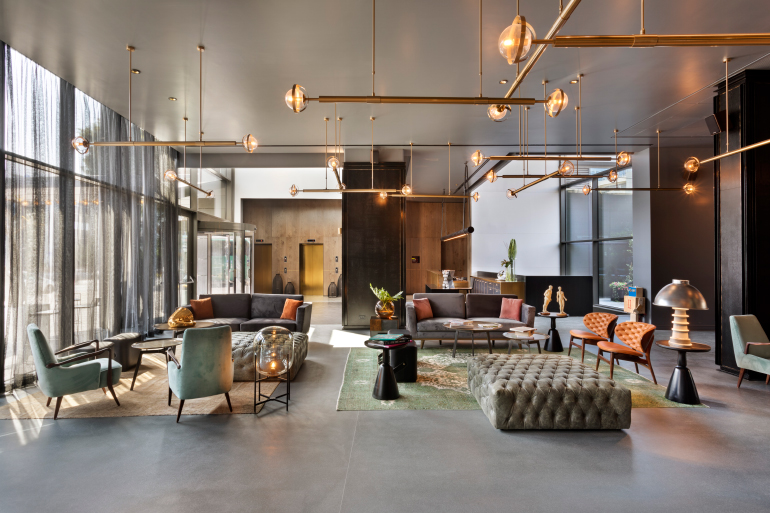 Oberson found it important to incorporate an eclectic assortment of furnishings. For the main lobby, she sourced from flea markets across Israel, the Netherlands, and Turkey.
Inspired by agricultural surroundings, this College Station hotel's aesthetic skews rustic with honest, straightforward materials and forms. Sun descends through a light well's reclaimed pine slats, into reception.
24. Explora Valle Sagrado by José Cruz Ovalle Estudio de Arquitectura
At this Cuzco, Peru hotel, the restrained palette defers to the experience of nature. The double-height ceiling of the lodge is supported by columns built with the trunks of trees brought from the general contractor's own land in Peru's Amazon rainforest. This modern hotel lobby design is one to remember!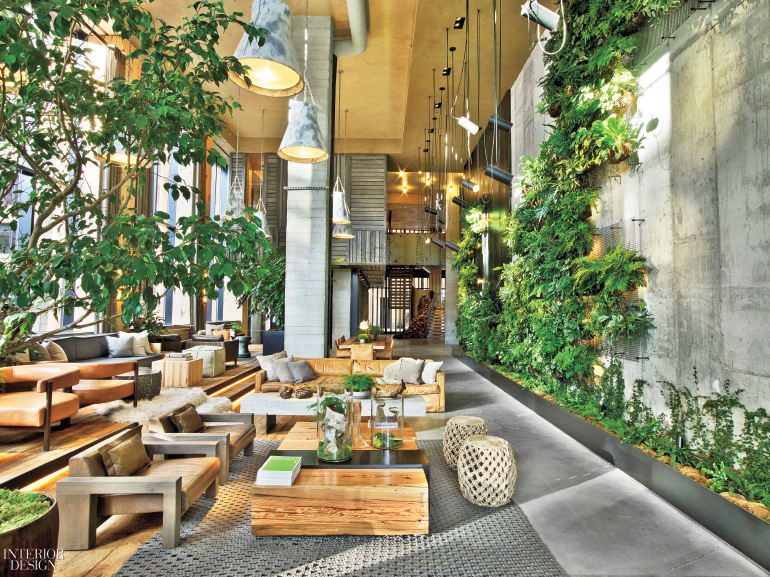 Aiming for sustainable luxury, wood and stone, often reclaimed, are prominently featured. So are green walls.
See the latest in hospitality from our February 2019 issue: an Italian boutique hotel that modernizes the arch and a Chicago restaurant fine-tuned by Gensler. For more on modern hotel lobby designs and related content, be sure to visit Interior Design.