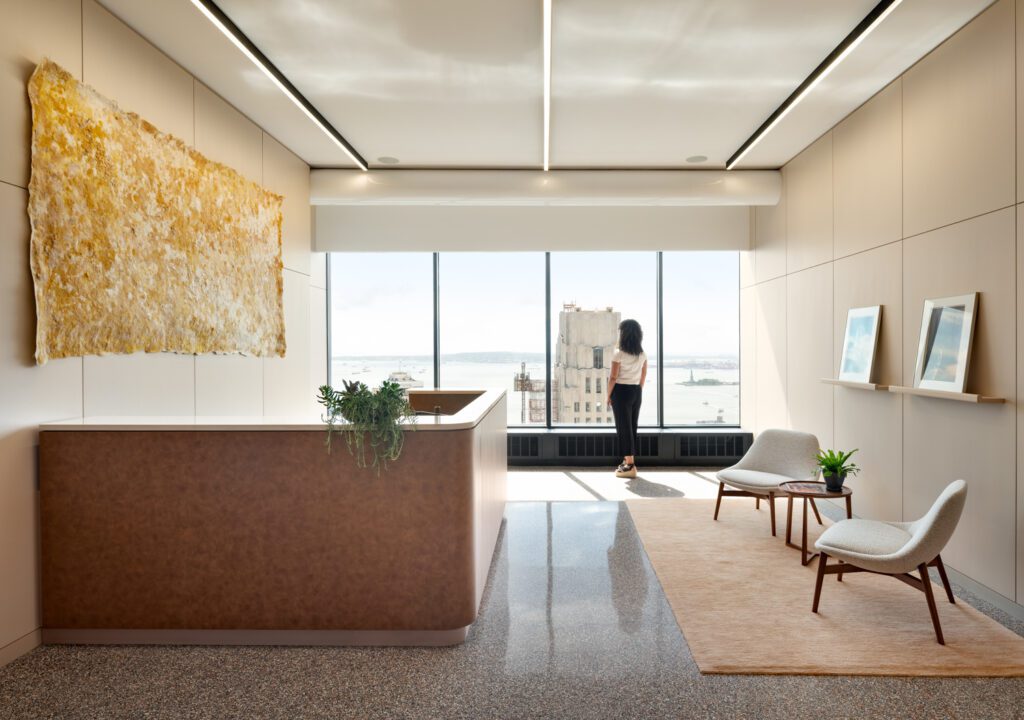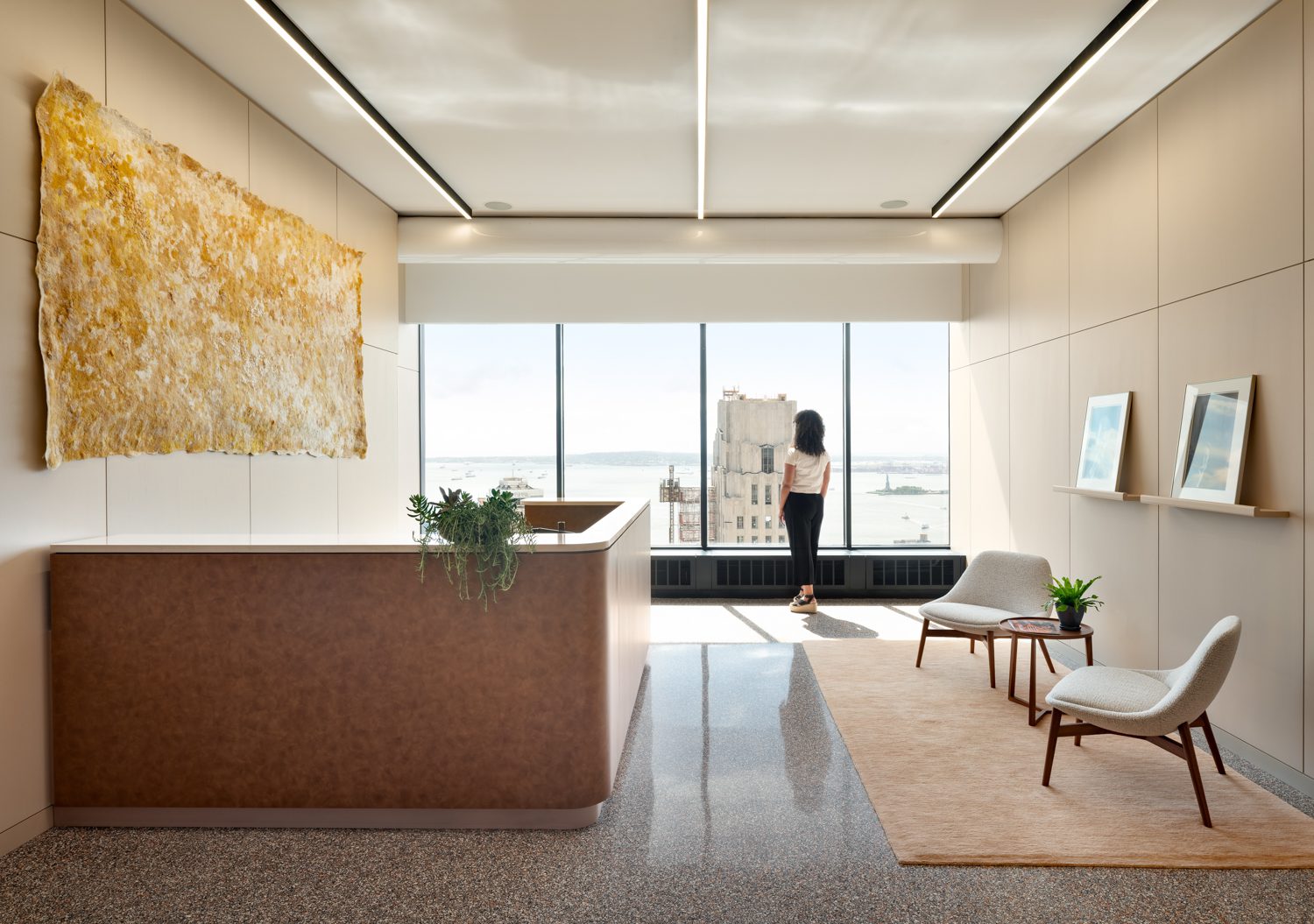 Deborah Berke Partners Creates a Warm, Collaborative Headquarters in Manhattan for The Wallace Foundation
DeWitt and Lila Acheson Wallace, founders of Reader's Digest publishing empire, left most of their fortune to the philanthropic organizations they founded in their lifetimes—a quartet of institutions that were consolidated in 2003 to form The Wallace Foundation. Headquartered in New York, the foundation's mission is "to foster equity and improvements in learning and enrichment for young people, and in the arts for everyone.​"
A few years ago, foundation president Will Miller notes, "we had reached a point where our old office space was an impediment to the kind of strategic, interdisciplinary, collaborative, and inclusive work we do." So they took a floor in a classic Mid-Century Modern Manhattan high-rise designed by Gordon Bunshaft of Skidmore, Owings & Merrill, and turned to Deborah Berke Partners to create a new space that, in Miller's words, "stimulates and supports a working culture that lives up to our core values," a place where "we can do better work, and in a better way."
Under project lead Arthi Krishnamoorthy, the DBP team conjured a workplace that's welcoming and light filled. Encircling the building core, a broad circulation corridor is flooded with natural light—and gobsmacking city views—via the glass-walled private offices, essential for the foundation's highly focused work, that hug most of the perimeter. It's not all heads-down seriousness, however. "Vibrant collaboration spaces punctuate the paths of movement throughout the workplace, acting as nodes where employees, visitors, partners, and grantees can interact, socialize, and convene informally," Krishnamoorthy notes. Chief among these communal zones is a spacious social hub with a kitchen, booth seating, a large common table, and a long bar with stools set right in the window.
Finishes are warm and tactile. Rift-sawn oak clads the core and other walls; loop-pile carpeting cushions underfoot. The palette is quiet and calming—greens, grays, beiges, and other soft colors—without being bland or anonymous. Furnishings are clean and contemporary, ranging from classics like Eero Saarinen's tube-leg executive chairs and Norman Cherner's sculptural molded-plywood stools to freshly minted pieces like Ronan and Erwan Bouroullec's bistro-inflected side chairs and Vincent Van Duysen's boldly graphic ceiling-mounted tubular lighting system. Sleek but not slick, the program pays tribute to the building's Mad Men–era bones without falling into pastiche. This is definitely modernism with a human face.
The distinctive tone is set right in the elevator lobby by six panels from Diversity of Thought, a seven-piece felted-fiber work specially commissioned from the Dutch artist and textile designer Claudy Jongstra. Inspired by Galileo's drawings of sunspots, Jongstra's stippled abstract compositions are made from wool, mohair, and silk embroidered with hand-spun silk and wool yarn. "We imagined a series of site-specific art works that would echo the mission of the foundation," says Kiki Dennis, the interiors lead on the project. "Jongstra's pieces evoke a spirit of generosity as they inspire a sense of optimism and wonder. At the same time, like the foundation, her studio is focused on its broader social impact—the difference they make." The seventh panel, Sun, hangs behind the reception desk. Another Jongstra work, Two Rivers, enriches the social hub. Named for the waterways that flow around Manhattan to meet in New York harbor—a confluence visible from the offices—the textile is the artistic expression of the relationships that the foundation aims to foster among its staff and partners.