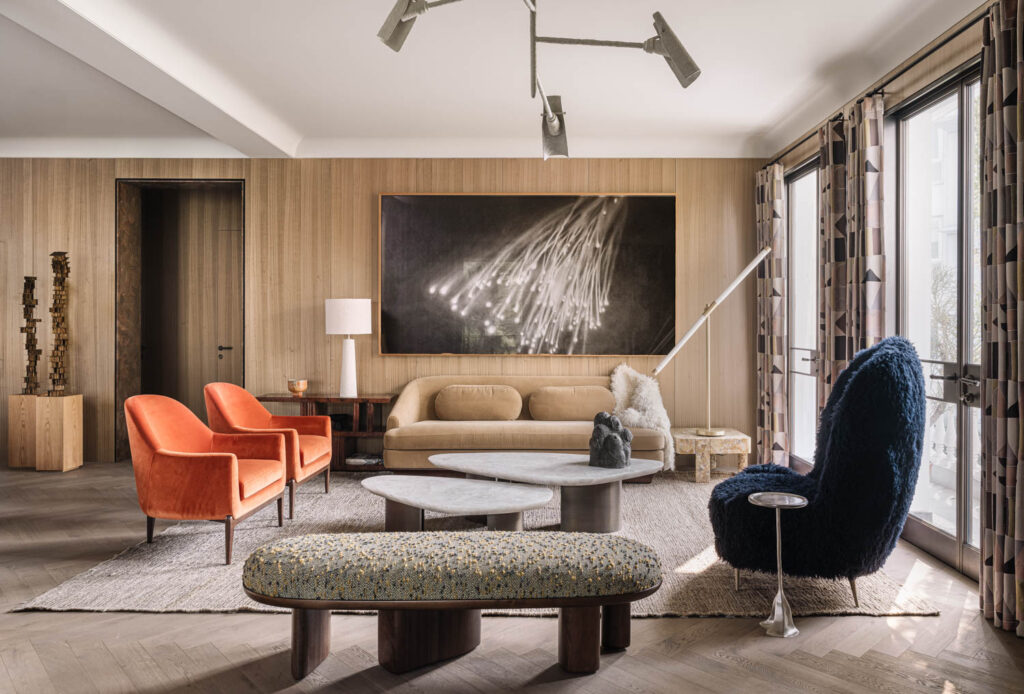 This Design Duo's Home/Office in New Delhi Exudes Warmth
Interior and furniture designers Brian DeMuro and Puru Das distinguish themselves by deftly translating age-old Indian craft techniques and iconographies in spaces and objects that reflect contemporary and modern aesthetics. It's a central feature of their eponymously named DeMuro Das studio. For the business and life partners, it's all about rooting their forward-thinking concepts in history and utilizing the best quality components. While their limited edition tables, chairs, and credenzas reflect a careful interplay of sumptuous materials, textures, and colors, their interiors are imagined with a level of restrained eclecticism. Though pared back and sophisticated in composition, the practice's residential projects exude a level of warmth and personality. It's an approach best exemplified in their own, recently completed, New Delhi apartment, complete with a home office.
Situated on the 3rd floor of a 1950s modernist villa in the Indian capital's up-market Jor Bagh neighborhood, the 2,700-square-foot flat was gut renovated and meticulously re-designed as a calling card entertainment space and design studio. DeMuro and Das reside on the floor below. The duo devised a design scheme that would both reflect their background as former New Yorkers and respond to these surroundings.
"We wanted this space to both embody our brand but also act as a crucible for new design projects," says Das. "The apartment, of course, houses a number of key pieces in our furniture collection but we also designed and produced all of the millwork, doors, and even some of the lights and hardware as a way to showcase the breadth of our capabilities."
Leaving no stone unturned, the duo custom-developed door handles based on the post ends of 19th-century palanquins—a vehicle transporting mail or people and carried by two individuals on either side. The decorative, animal-head element was 3D scanned, scaled down, 3D printed and cast in solid bronze to create this element in multiples. "These small interior details communicate a lot of what we aim for in our practice," Das adds, "linking technology and contemporary design with India's tradition of craft and ornamentation."
The duo chose to restore the apartment with oak chevron patterned flooring and similarly light-toned wood wall paneling to help filter-in an ample amount of natural light. The space—complete with a sprawling living room, dining area, and den—sits on top of the building and makes the most of large exposures on all four sides. On its north side, an oversized terrace gives way to verdant greenery below.
The majority of DeMuro Das's intervention centered on reworking the internal layout to create large entertaining zones and adjoining design offices. To take advantage of the sweeping views, window lintels were raised while the old wood framed external openings were replaced by sleek bronze framed glass doors. Ceilings were left free of recessed lights and curve down to meet the wall paneling. This pared back setting serves as the perfect backdrop for the duo's select offering of furnishings, also available in their NoMad, New York showroom. The popular Claire Chaise takes pride of place near a reeded howlite supported shelf, adorned with an eclectic array of objects and books.