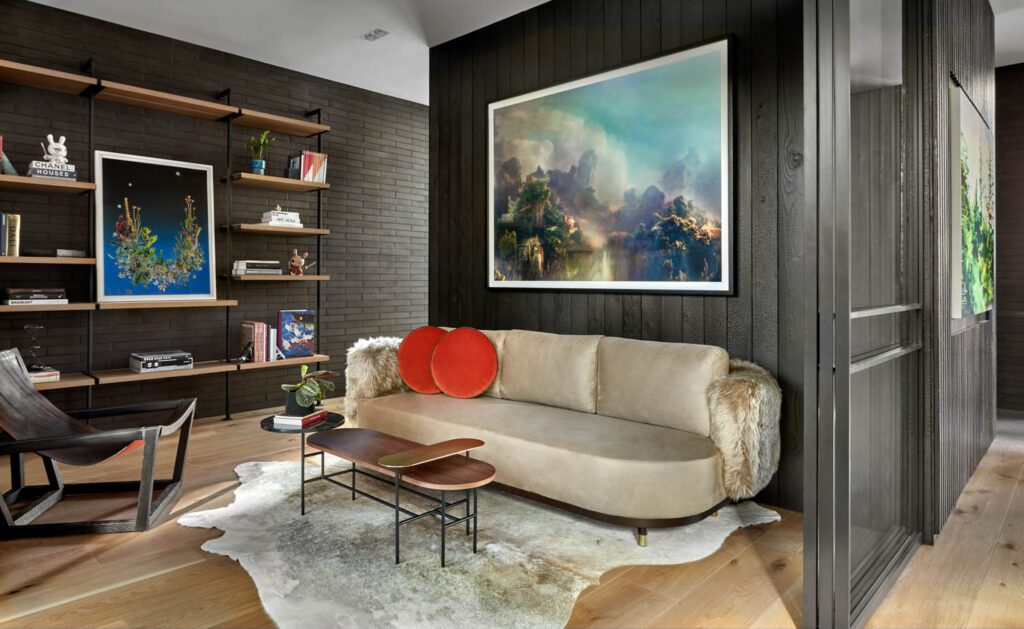 dSPACE and Studio Gild Clad a Forever Home in Craft Masonry for Chicago Natives
When a couple returned from years in New York City to their roots in Chicago, they didn't just want to build a house. They wanted to make a home—for themselves, their two kids, and their future. A 6,100-square-foot double lot in Lincoln Park was just the spot, and the family drew up plans with local firm dSPACE and interiors specialists Studio Gild.
The result is a 6,500-square-foot abode with six bedrooms and 7 ½ baths spread across three floors within a striking brick façade. "The beauty of this home is that while it's fortified to withstand whatever the Midwest throws at it," says dSPACE founding principal Kevin Toukoumidis, "the luxurious texture of the screen wall surprises observers accustomed to perceiving brick as hard and structural." The brick's custom midnight black color emphasizes the shadows created by the perforated installation. "By harnessing the light angles," that filter through the screen walls, explains dSPACE principal Tom Hagerty, "we were able to employ passive solar design, making the home energy-efficient while promoting a sense of wellbeing that comes from a constant connection to nature."
Sunlight does flood the top floor's gym, kitchenette, and guest quarters via a 30-foot ridge skylight, complimented by panoramic views of the city; beneath, bedrooms for the family flow through a lofted atrium. Interiors are defined more through texture than tonal palette. "There's a subtle repetition throughout the home," Hagerty explains. "From the front fence to the scale-like brass sequins on the wall of the first-floor powder room, the patterns are aesthetically rewarding without being overwhelming."
A sculptural steel-and-glass staircase descends to the ground level's common living spaces, including a custom kitchen and formal dining room. A backyard awaits, free of drop-down or steps. This kind of seamless transition, notes Hagerty, "is key for aging in place." It's a way, in other words, to make a new home a forever home.
"It was a dream working with such intelligent, witty individuals with clever taste and sagacious eyes," says Jennie Bishop, principal of Studio Gild, which collaborated on the project. "The most exceptional materials and minute details were carefully considered in the midst of Covid, which presented its own procurement challenges. But corners were not cut and patience paid off on every level of this urban home surrounded in verdant landscape… making it hard to believe one is in a bustling city once behind the latticed façade of inky brick."