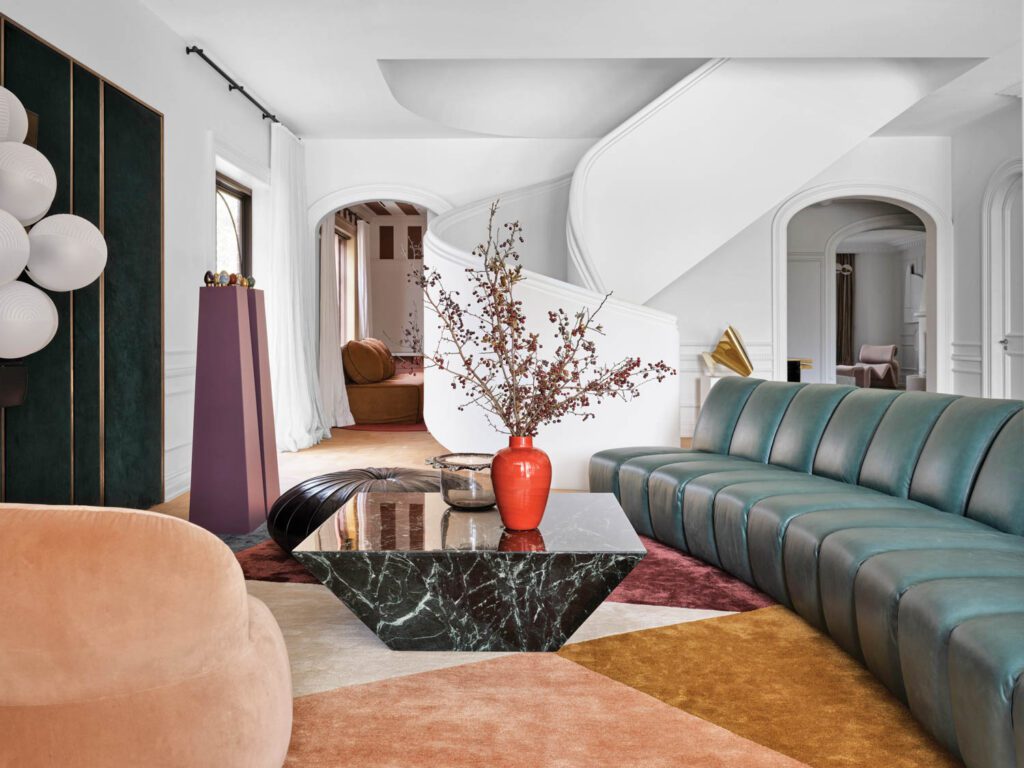 Duet Gives an Old-School Sydney Residence a Youthful Update
As far as first projects go, this five-bedroom house set on a half-acre plot complete with pool and tennis court is an undoubtedly impressive one, both for its scale and for the design freedom extended to interior designers Shannon Shlom and Dominique Brammah. Collaborating for the first time as co-founders of the Sydney studio Duet, the pair worked symbiotically to transform the jaded Tudor-style dwelling in suburban Strathfield, Australia, into a fresh-faced home suited to modern living. The clients, George and Michleen Geagea, had purchased the sizeable two-story residence with the desire to create a family-friendly environment for their growing brood. George, a property developer and frequent traveler, also wanted the interior to reflect the luxury hotel aesthetic he appreciated on the road, and to leverage his company's team of contractors and consultants. Other than that, he gave Duet carte blanche. "This was a true trust exercise where we had complete autonomy to run with our ideas based on the initial brief," Shlom recalls.
Although the house, built in 1916, had been through a previous renovation and addition, "it was formulaic and lacked heart and soul," Shlom explains. "The original spaces were bland while the more recently added contemporary spaces were a pastiche of confused styles." The duo's initial site visit and floor plan review sparked an idea they realized would improve the flow of foot traffic while also instating spatial logic: relocating the staircase from the entry hall to a more central spot closer to the layout's actual midpoint. The new stair, a twisty spiral with Carrara marble treads, neatly divides the plan into two zones: a formal one comprising the living room, the guest powder room, and the study, and a more casual, free-flowing wing housing the family room, kitchen/dining area, butler's pantry, and an additional half-bath. "Those adjustments honored the proportions of the original rooms while allowing for the creation of a generous, open, contemporary space," Brammah notes. Further bridging old and new are architectural details including custom wall paneling, large-scale dentil molding, parquet de Versailles oak flooring, and vintage lighting—"elements that acknowledge the history of the house yet allowed for a new language that didn't feel like a replication," she continues. "It's an approach that encapsulates the essence of the project: a deeply layered scheme that can continue to evolve with the family over its lifetime."
Other major interventions to the property include a pergola with an outdoor kitchen and bath, a freestanding tennis/guest house courtside, a rear extension encompassing an enlarged showcase garage (home to George's vintage car collection) and a game room in which the couple can host late-night card games without disrupting family life in the main house. Indeed, the entire property is both party minded yet practical, down to the kitchen.
"The family loves entertaining—but not the idea of guests getting elbow-deep in grease during cleanup after a long Sunday lunch," Shlom says. So, Duet conceived a double kitchen: a showpiece cookery paired with a hardworking tucked-away butler's pantry that houses a second set of appliances. The latter functions as the day-to-day meal-prep area, which freed Duet to push the design parameters of the public-facing side, oriented around a commandingly contemporary two-tone stone island that stands sculpture-like.
For furnishings, Shlom and Brammah sourced far and wide. "Lighting was an important part of bringing a worldly, well-traveled feel to the design, with many eras represented so as not to create a prescriptive style," Shlom says. The showstopper Lindsey Adelman Drop pendant above the dining room table, in a patinated copper finish, "made our hearts sing," Brammah says, pointing out how it elegantly twists and turns in the breeze when sliders to the adjacent outdoor living spaces are open. Duet also commissioned myriad custom pieces. In the primary bedroom, for instance, the headboard, bedside tables, pendants, checkerboard broadloom carpet, bed linens, and silk window treatments are all bespoke.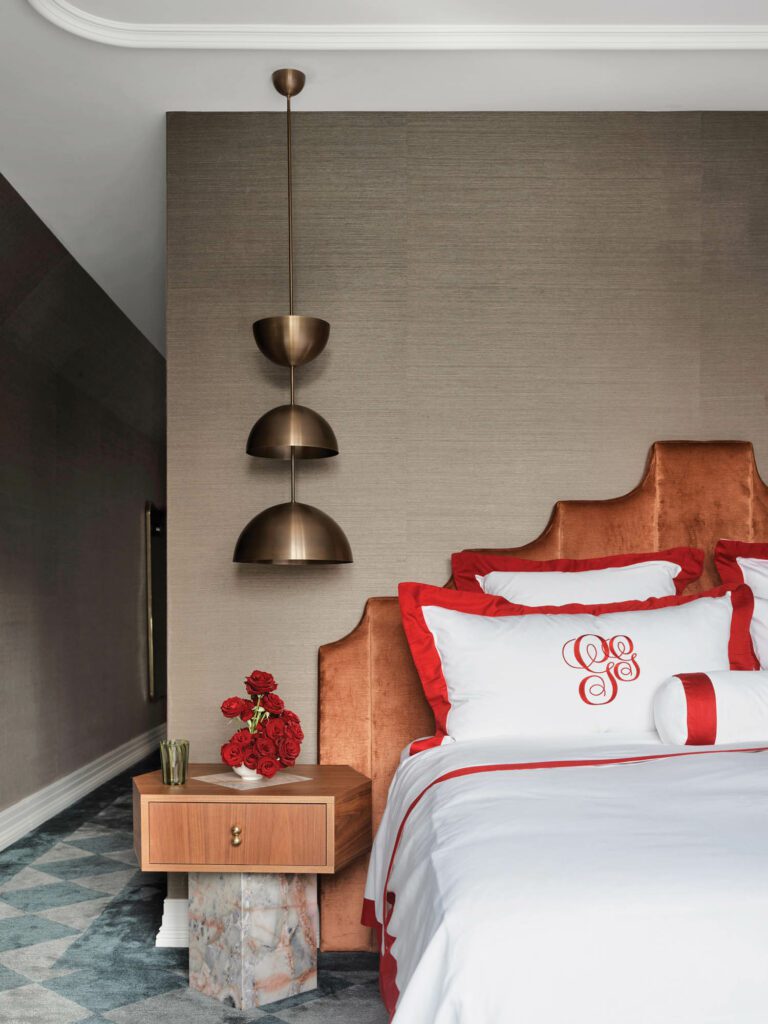 As for the young members of the household, who range from six months to 11 years old, their sanctums are at once age-appropriate yet designed with longevity in mind, featuring colors and finishes sure to stand the test of time. Take the playroom: The ground-floor space, formerly an uptight formal room, is now an ode to a big-top tent, treated to a vibrant mix of terracotta ceiling stripes and circular elements ranging from the sofa cushions to the area rug.
Equally playful, albeit in another vein entirely, is George's study. Mirror-backed built-in shelving showcases his prized whiskey collection alongside vintage treasures. An added grace note, the designers specified Piero Fornasetti's classic Teatro wallpaper, featuring an audience of theater-goers, "so George would always be in good company working late into the night," Brammah says with a laugh. Who needs alone time?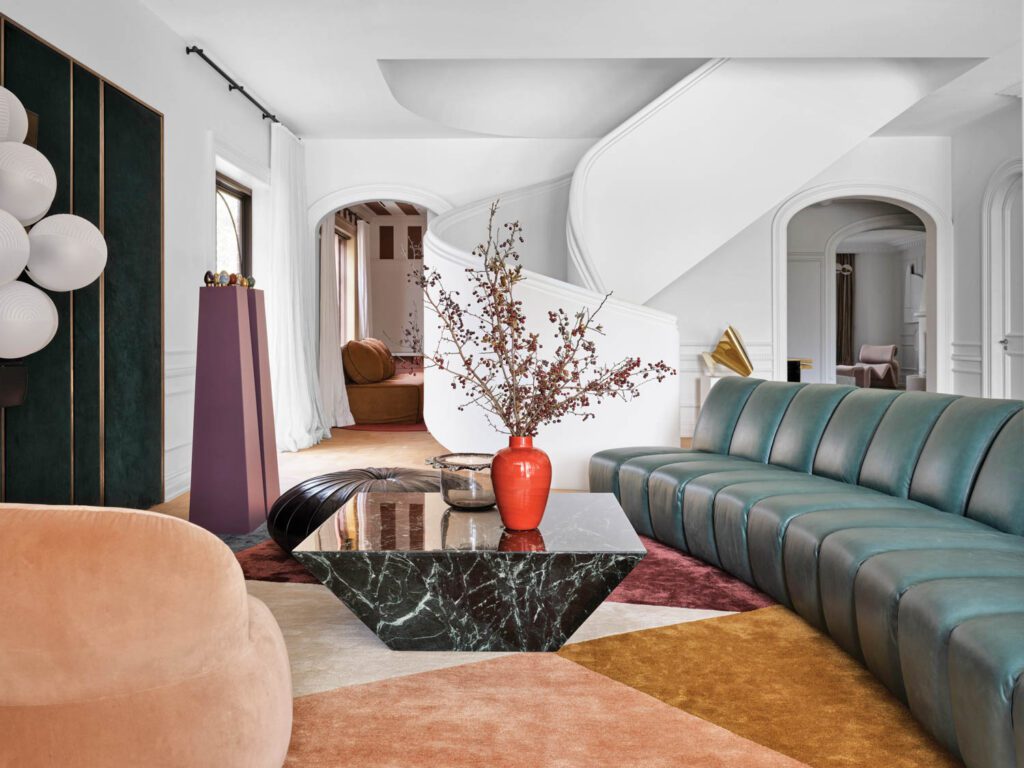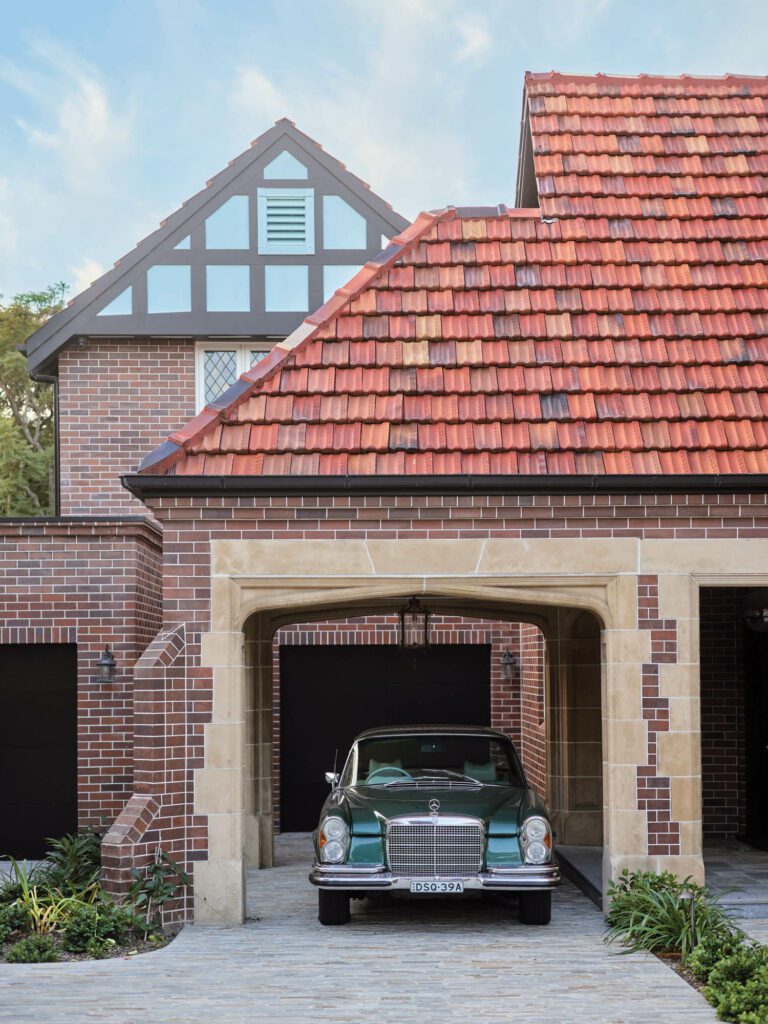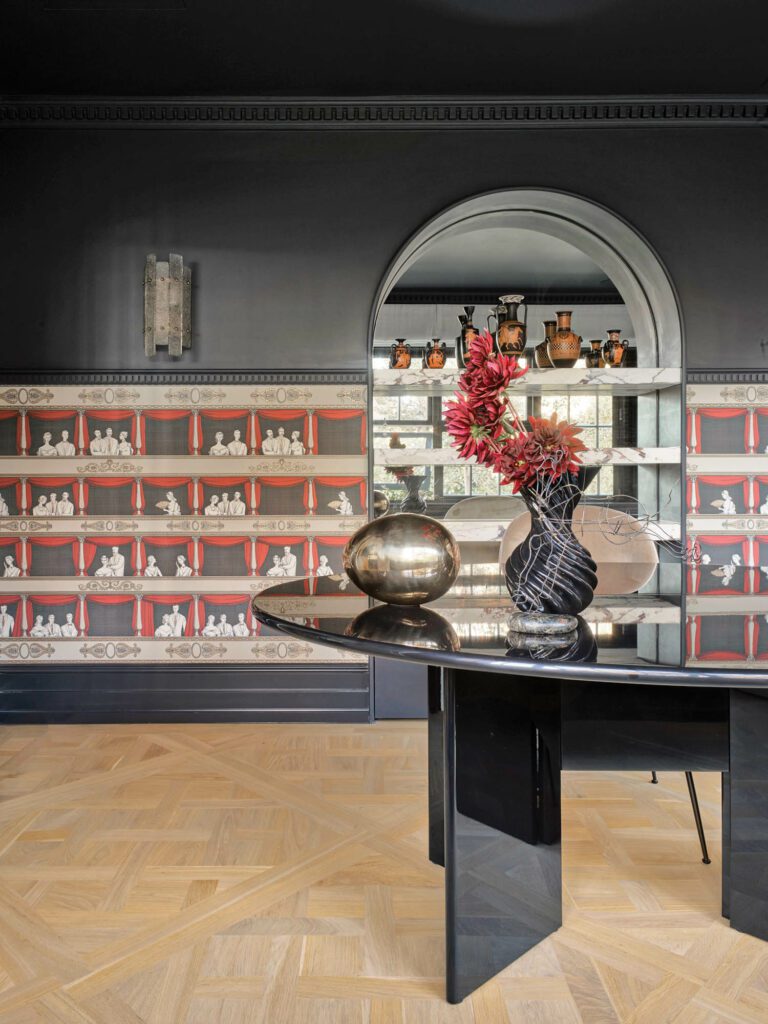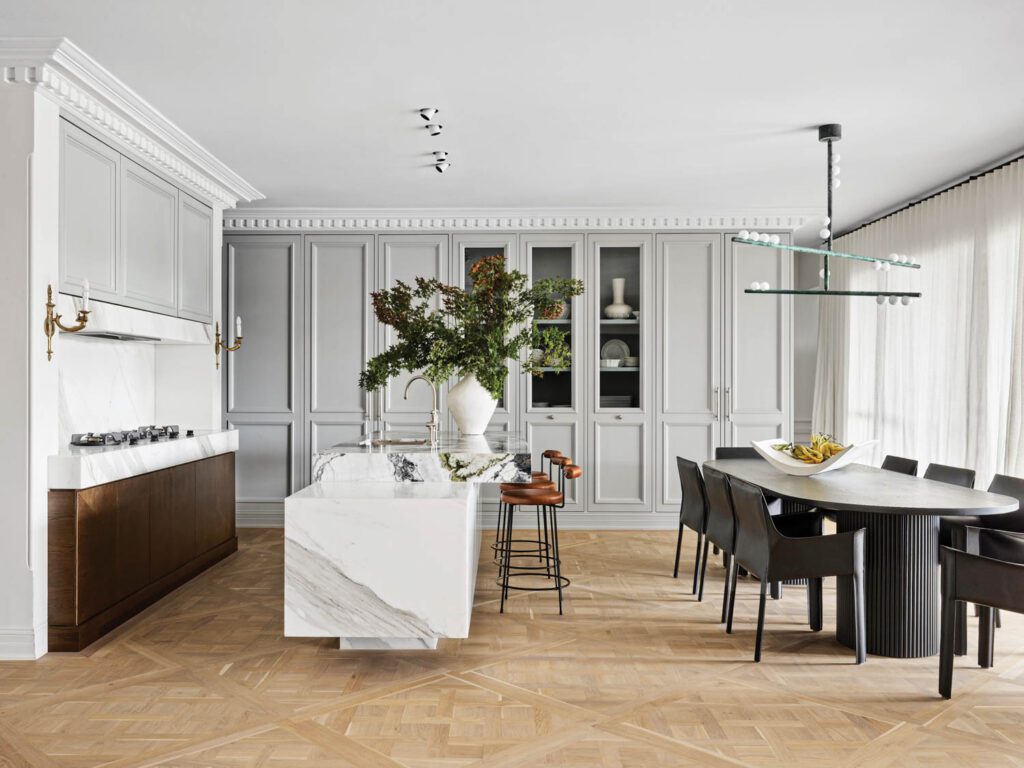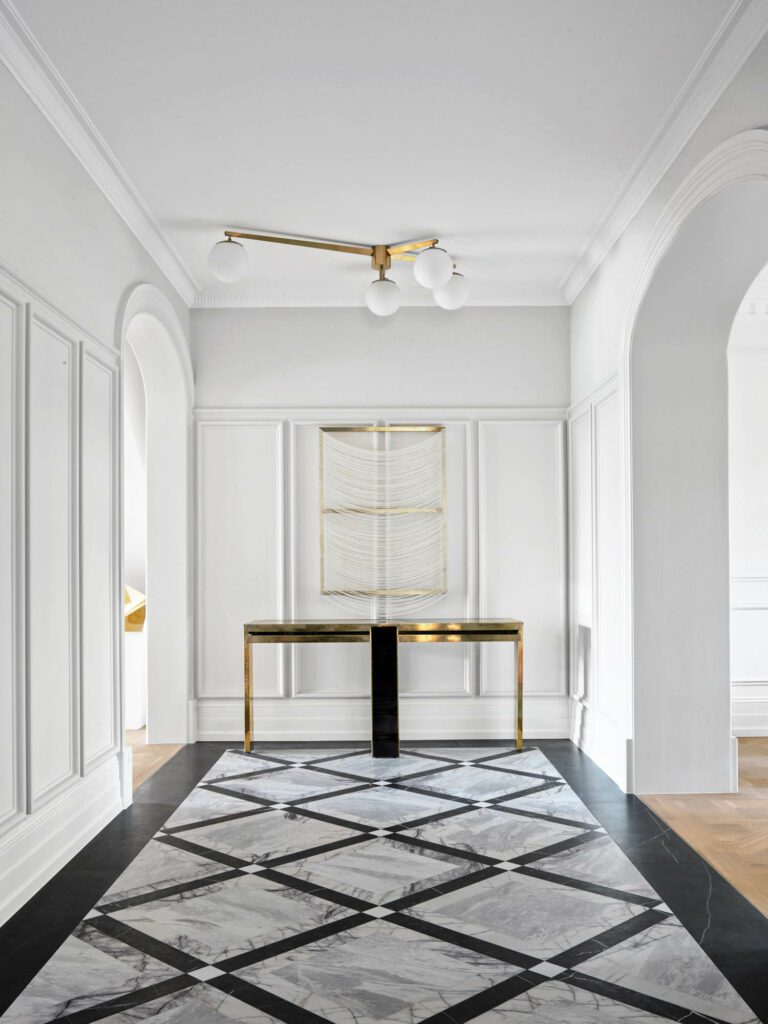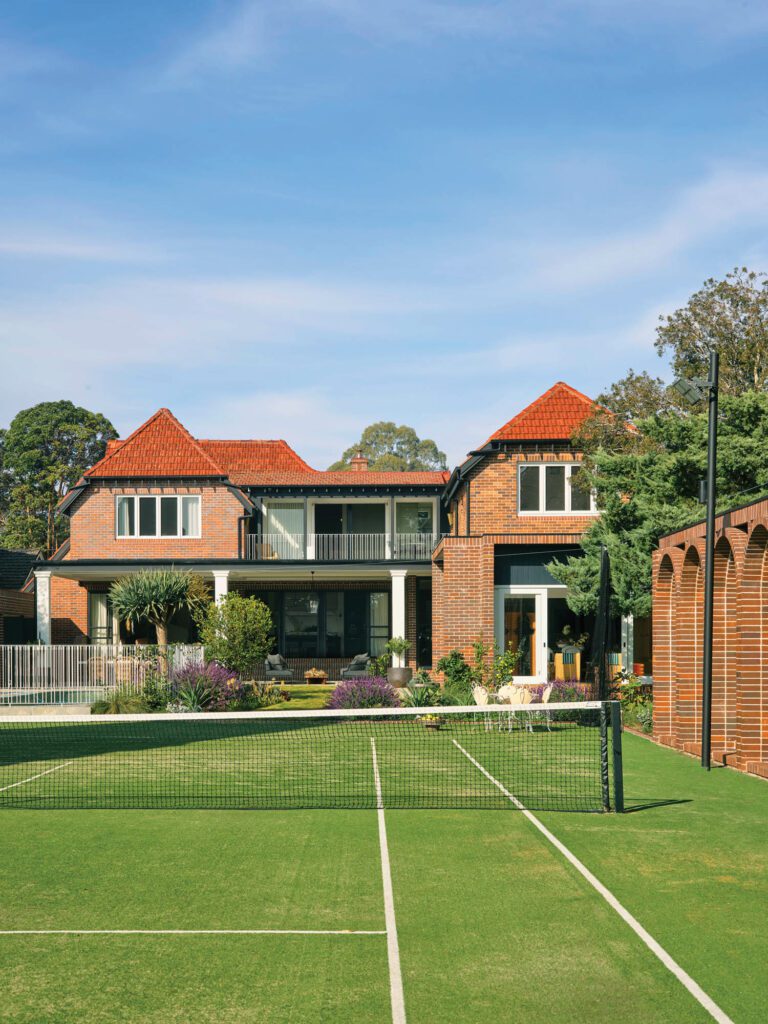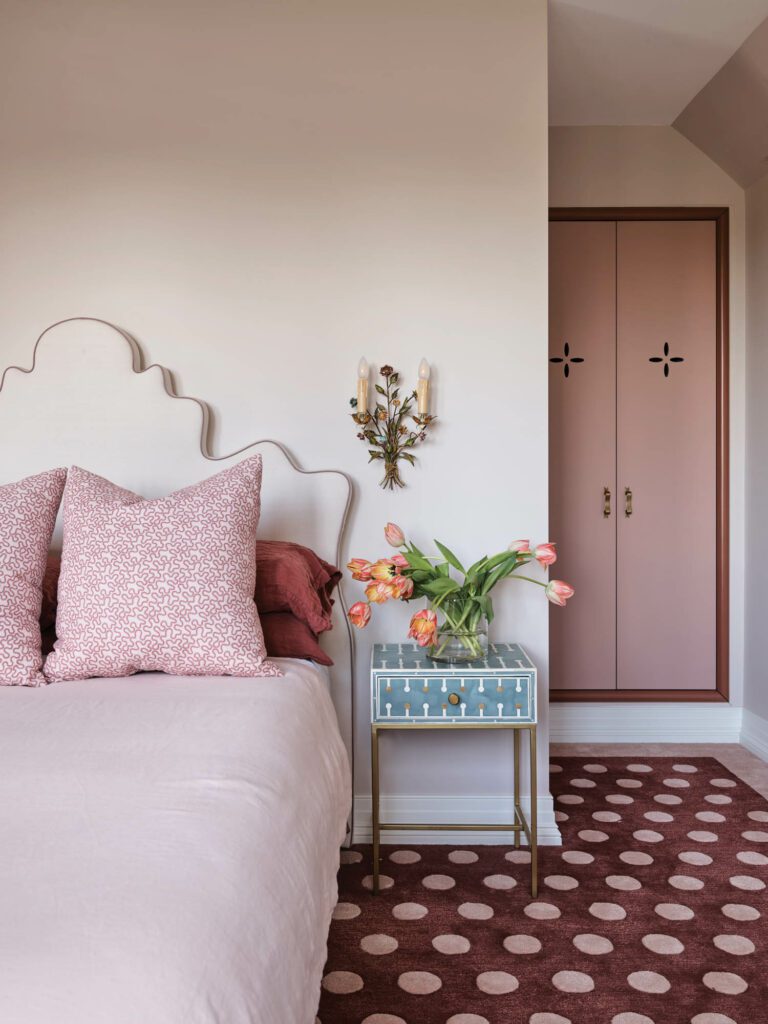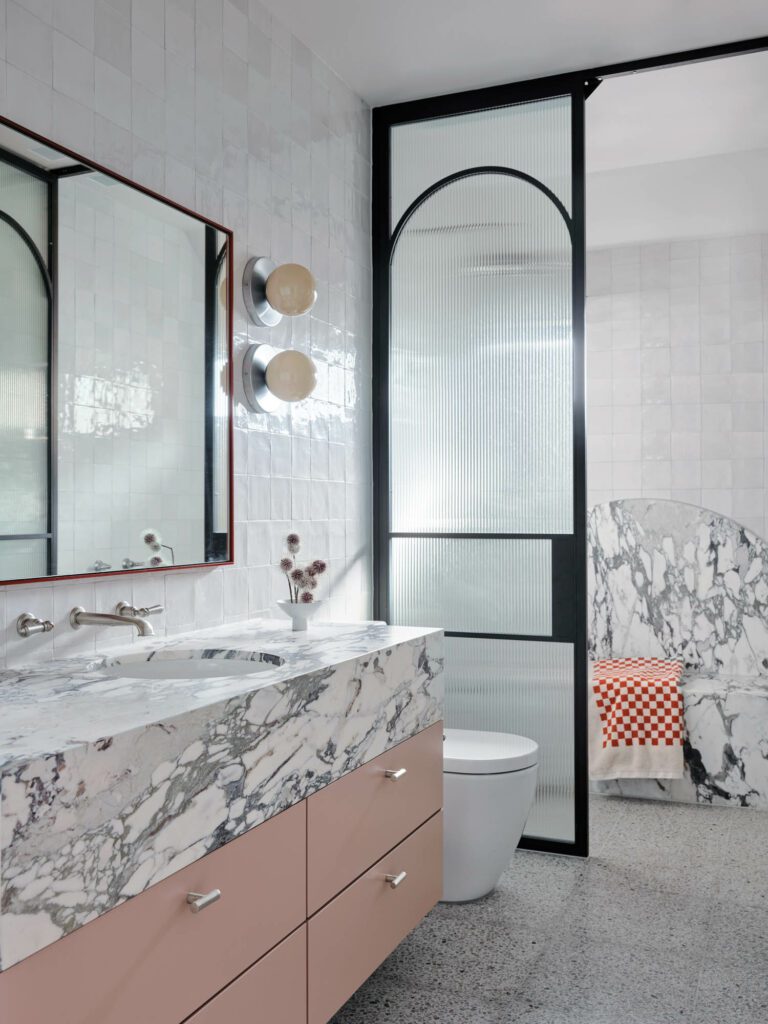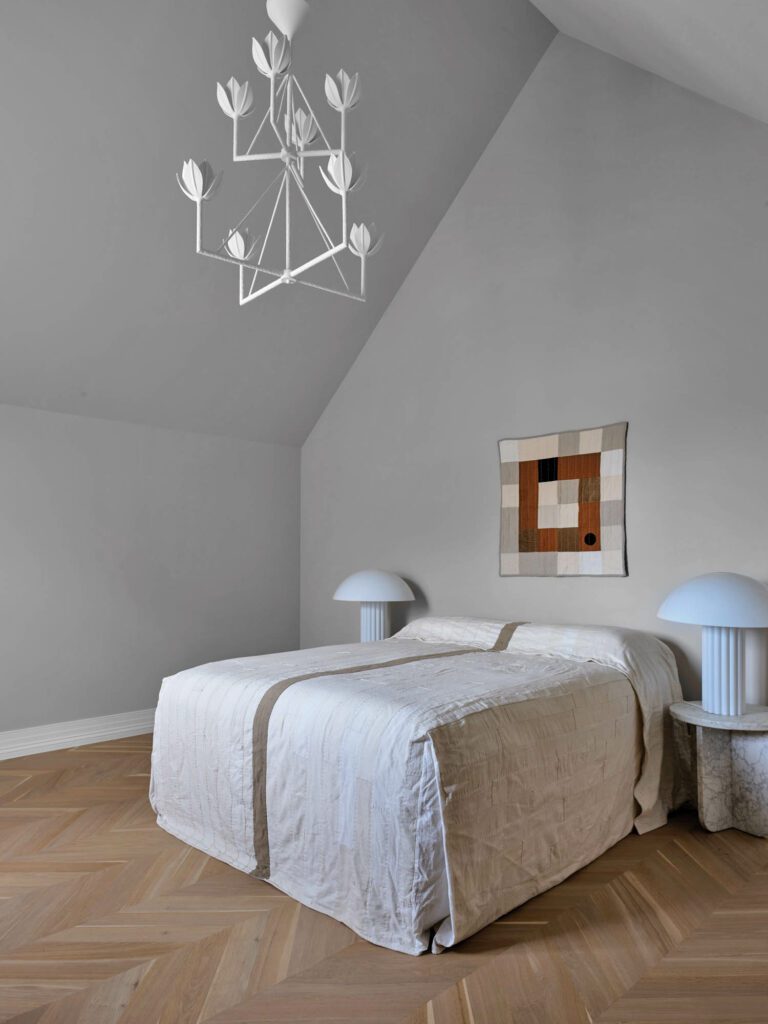 PROJECT TEAM
PRODUCT SOURCES
FROM FRONT
THROUGHOUT