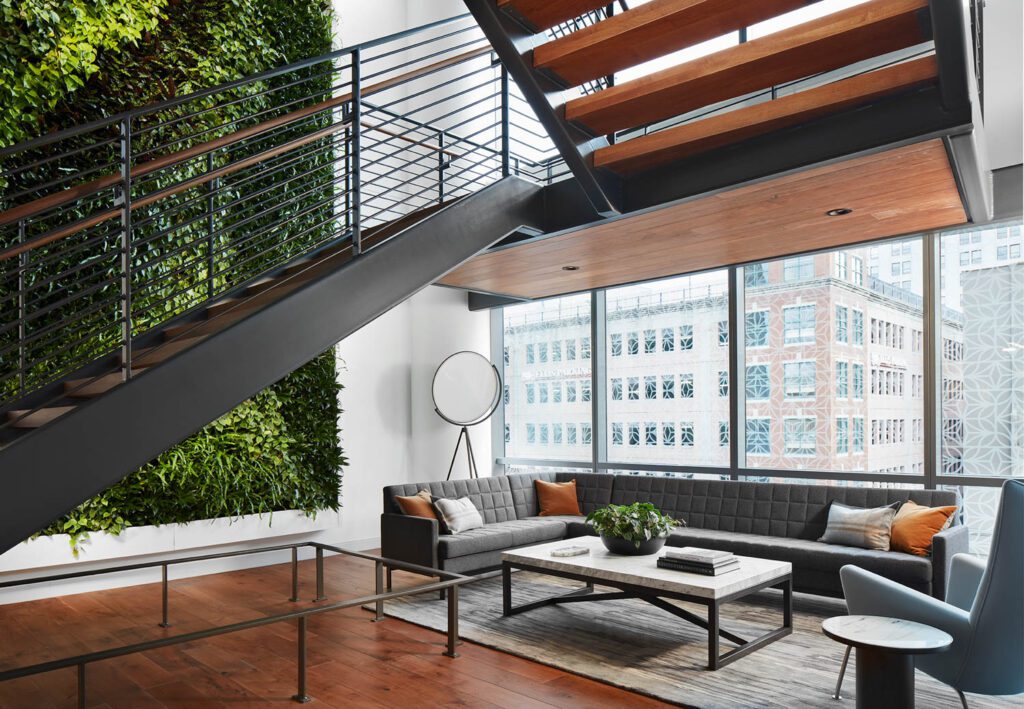 Eastlake Studio Looks to Art Deco and Art Commissions for a Grand Rapids Downtown Office
When a client approached Chicago's Eastlake Studio to redesign its 160,000 square foot, seven-floor interdisciplinary office building, the firm embarked on a two-year collaboration with AMDG Architects resulting in a rethink of everything from the floor plan to the graphic exterior.
A monumental new staircase, rising between a glass wall to the east and a lush green wall, forms the spine of the office, connecting floors four through seven and their various shared outdoor spaces, flexible workspaces, and meeting and break rooms. The team looked to local manufactures like Haworth and Herman Miller for furnishings. But the heart of the project is a 90-piece art collection, developed in collaboration with Chicago's DeGroot Fine Art, and an equally artful design for reception.
"We developed the pattern for the wood feature walls by taking the organization's logo and extrapolating it into minimalist geometry," says senior designer Megan Stroud. "Then, we added dimension to it by rotating and alternating the wood grain direction in each panel." The gesture was so successful that the team repeated it in the outside corridor of the top-floor boardroom, in the terrazzo floor pattern, and for graphics throughout the project. It's a forward-thinking reference to the area's Art Deco history, a blend of yesterday and tomorrow that suits the office culture perfectly.