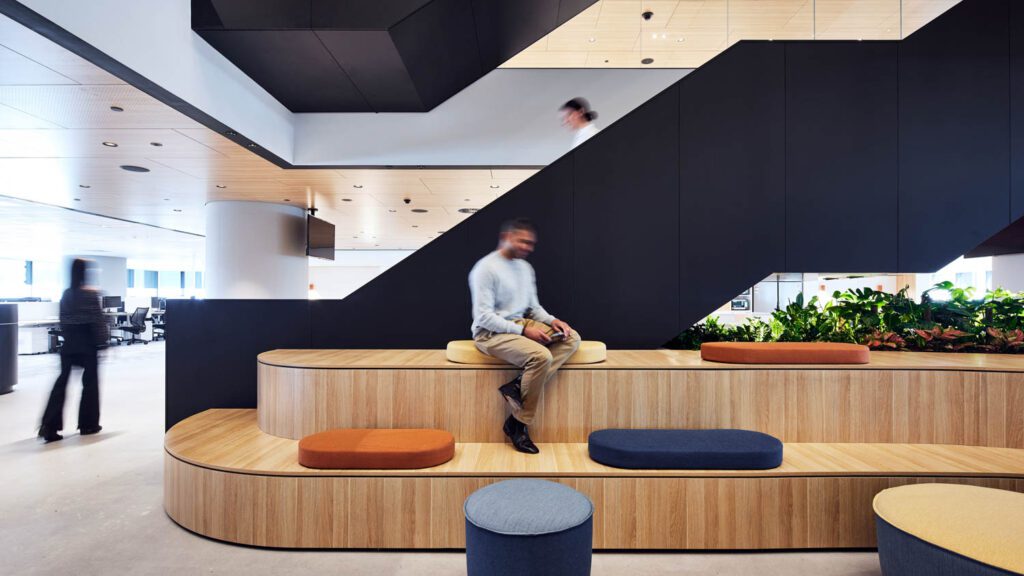 This Sydney Office by GroupGSA Features a Striking Staircase
Over the last 15 years, multidisciplinary design practice GroupGSA has crafted individual but recognizable workplaces for financial services provider Link Market Service Group throughout Australia and the UK. When Link embarked upon a vast new Sydney headquarters in 6&8 Parramatta Square, the largest commercial office building in the country, GroupGSA decided to think big, too.
With almost 23,000 square feet spread across seven levels, lead designer Jessica Margiotta looked for opportunities for unity. Timber-look ceilings connect vertical sight lines and way-find each floor's breakout spaces. Schiavello hybrid workplace systems include sit-to-stand desks in ample natural light, which also spills into staff training and wellness rooms. A Link lab also showcases client services.
The heart of the project, however, is the monumental staircase rising from the atrium. "It was designed to make a purposeful impact," says Margiotta. "Pushing the boundaries in terms of materiality, it is finished in what looks like a bold, hard steel form from afar, but it's actually a lovely, soft-touch laminate up close." The stair instantly makes the Sydney office a singular environment. "The material ingenuity," she says, "is what makes this project so successful."