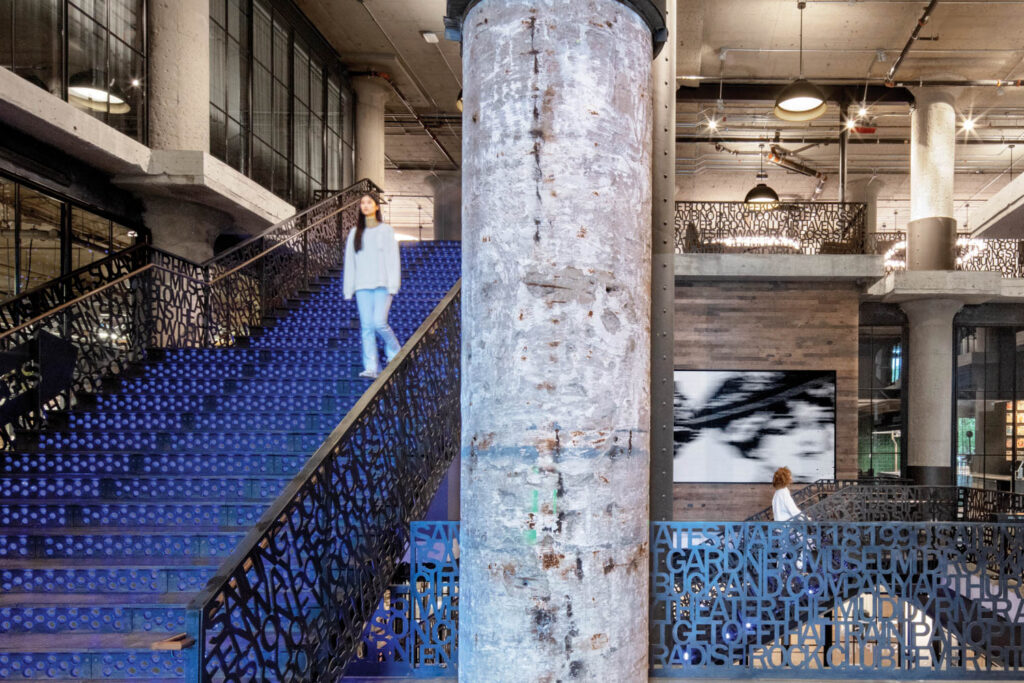 Food, Shopping, and Art Intersect at This Community Hub Near Fenway Park in Boston
For decades, Boston's Fenway neighborhood has been known among outsiders, and even some locals, for precisely one thing: its emerald-green baseball park of the same name. During the season, when the Red Sox play at home, the streets and pubs nearby swell with throngs of fans, the roar of the crowd—and the scent of steaming Fenway Franks—filling the air. But during the off-season, when the park goes dark, area residents—with no central gathering place of a similar scale to go to—are left waiting for another April and the buzz of baseball to return. That's no longer the case, how­ever, for Bostonians who live in Fenway and beyond, and it's thanks to a massive three-phase project by Elkus Manfredi Architects. The local firm has reimagined over 1 million square feet of a former Sears, Roebuck & Co. complex into a series of buzzing public spaces for all to enjoy year-round.
Now dubbed 401 Park, the eight-story Sears facility was built in 1928 of limestone and brick in the art deco style and operated for nearly 60 years as a warehouse and distribution center, offering shoppers merchandise at below catalog prices. In 1991, three years after Sears had closed the center, it was placed on the National Register of Historic Places. It stood empty for nearly a decade before being purchased by the Abbey Group; the company hired Bruner/Cott Architects to convert the vast interiors into profitable rental space, which encompassed adding a skylit atrium. Ownership changed to Alexandria Real Estate Equities, and the developer, Samuels & Associates, set about further transforming the complex into a 21st-century hub for innovation, entertainment, and community—where "work meets play"—turning to Elkus Manfredi to carry out the vision. Led by principal Elizabeth Lowrey, the team repositioned the megaspace as a dynamic social center where food, shopping, and art intersect.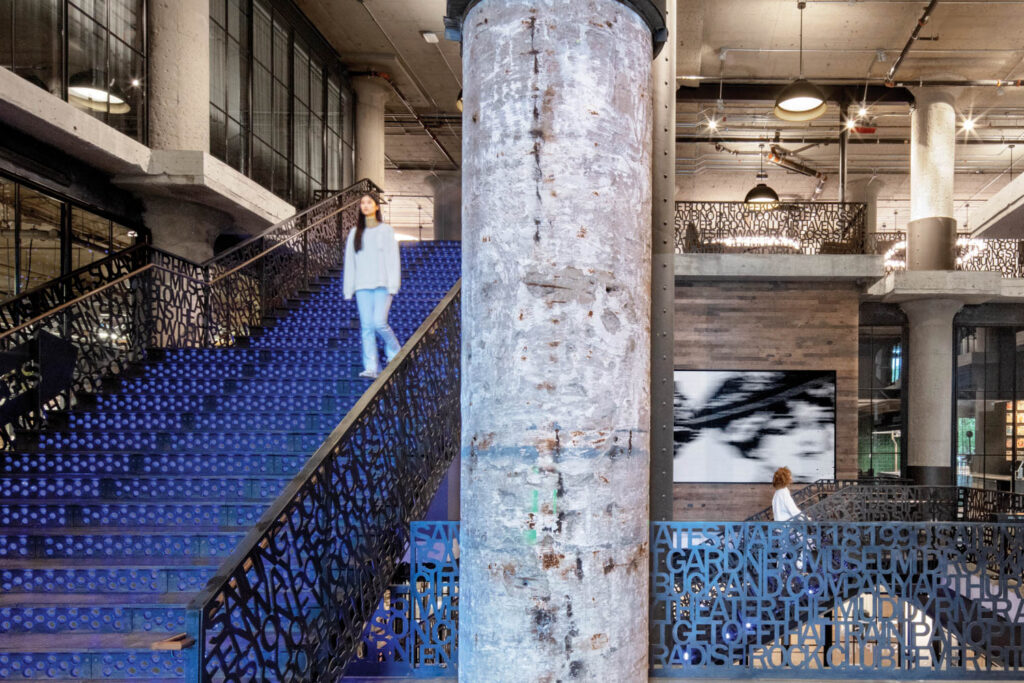 Elkus Manfredi Architects Reimagines a Landmarked Site
A main objective was preserving the landmarked site's heritage. Interiors were stripped to their structural bones, reusing elements wherever possible. "It's such a strong building because it was a warehouse, so it had to be able to support all that product," Lowrey begins. "You can't beat the concrete columns, so we decided, 'Okay, you can't hide them, so let's expose them.'" She's referring to the immense 32-foot-high square columns in the main entry lobby—part of the project's 123,000- square-foot phase one—where pieces of original rebar are also visible, honoring the building's industrial past. While getting to those bare bones meant playing up some of the existing features, it also meant removing others. The latter included Miami-style motifs added in the 1980's and '90's that overly emphasized the art deco details. "Our approach was to make it more authentic, to peel away those things and let the building be the building," Lowrey adds.
Continuing the industrial aesthetic yet through a modern lens is a new three-story staircase that connects the lower level, where the parking-garage entry is, to the second-floor atrium and concourse. It's a grand structure rendered in chemically blackened iron. Elkus Manfredi had the balustrades water-jet cut with letters spelling out such entities as Kenmore Square and Berklee College of Music, then installed color-changing LEDs in the risers, yielding a sort of virtual billboard of Boston treasures. Blackened metal, this time hot-rolled steel, also frames the windows and ground-floor storefronts for such F&B and retail outfits as the Time Out Market Boston food hall and REI.
Work Meets Play in the Eight-Story Community Hub Near Fenway
The second-level concourse and atrium are tailored more to employees working in the six stories of offices above. With life-sciences tenants like Boston Children's Hospital, Third Rock Ventures, and the Harvard School of Public Health, Elkus Manfredi kept an eye toward creating open spaces that serve as incubators for thought and collaboration. Seating options range from built-in banquettes for individual work to lounge-inspired vignettes for group brainstorming. But the history of the building is always present. Enormous ceiling fixtures inspired by the pneumatic tubes that once moved merchandise throughout the former warehouse cast light onto the existing concrete flooring (with new overlay) and exposed mushroom columns, here measuring some 3 feet in diameter. Elsewhere, an antique Linotype and Cranston press reference the early Sears catalog's typesetting.
Those are just two of the hundreds of vintage items for which Lowrey scoured the country to pepper throughout the project. A concourse corridor is fitted with a wall-length case, its shelves lined with dozens of products from Sears catalogs; across from it are actual early 20th–century catalog pages enlarged to mural size. "We even went to a car rodeo in Texas," Lowrey mentions of the old car parts appearing in the lower parking lobby. That's also where antique gas pumps, headlightlike ceiling fixtures, and a mural by a local artist can be seen.
In fact, art is another component of the project about which Lowrey speaks proudly. In the lobby of 201 Brookline, the 500,000-square-foot phase two that's nearing completion and connected to 401 Park at the pedestrian and fourth levels (421 Park, phase three, another 500K square feet, has an anticipated completion of late 2025), a colossal mural by Portuguese street artist Vhils involved him carving into plaster he layered over the original brick walls images of local landmarks and influential women in science, such as Red Cross founder Clara Barton. "It's a hand-carved celebration of the neighborhood and these women," Lowrey concludes. "It's about success and progress." It's also an over the Green Monster home run.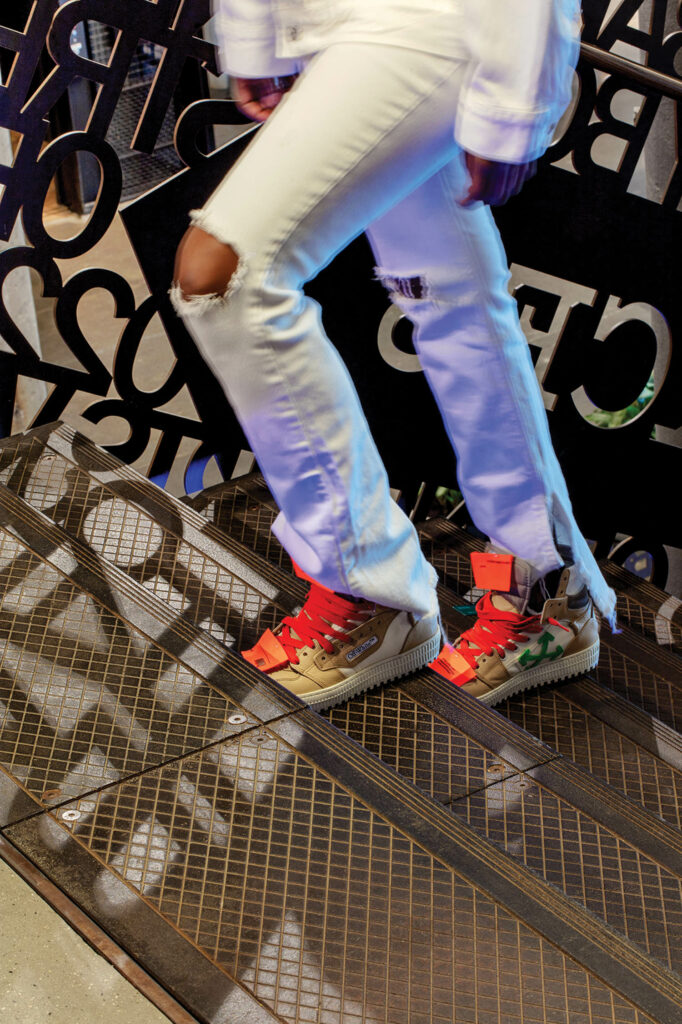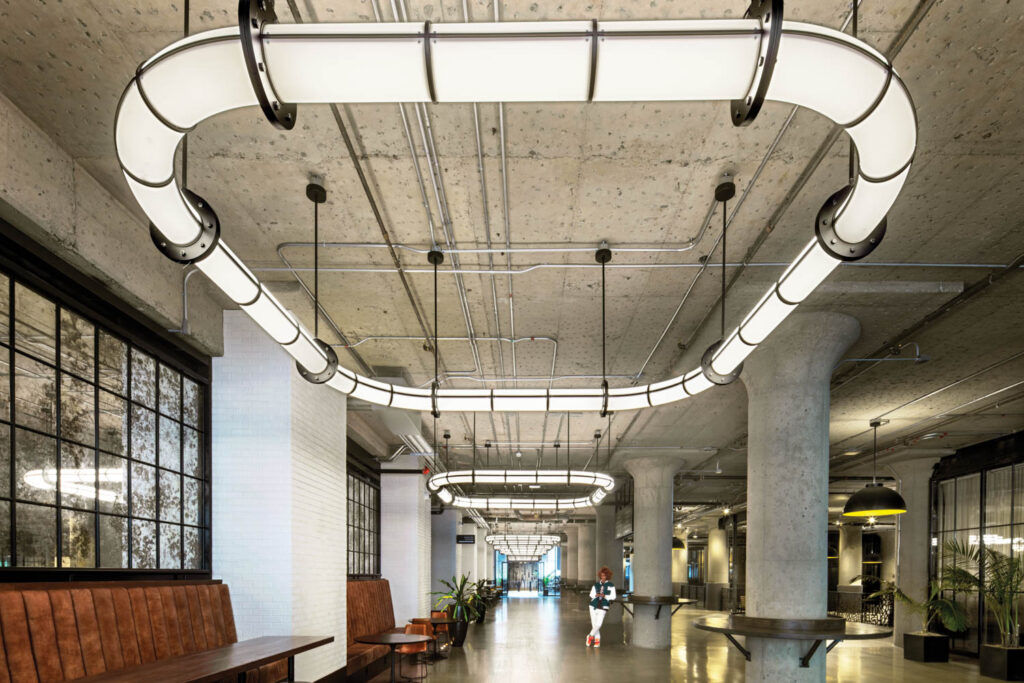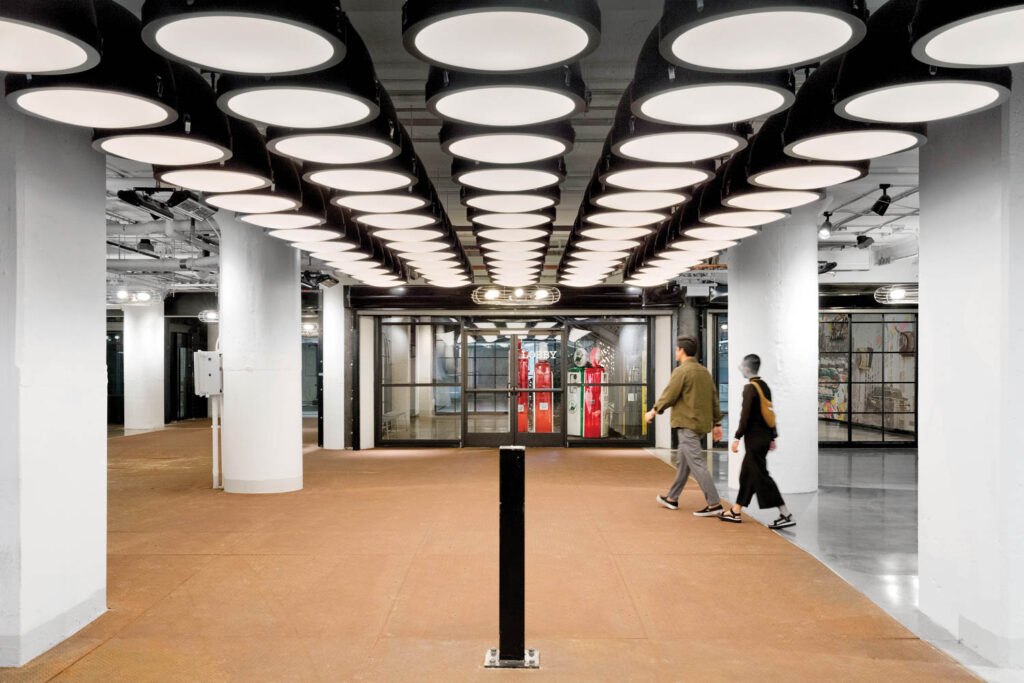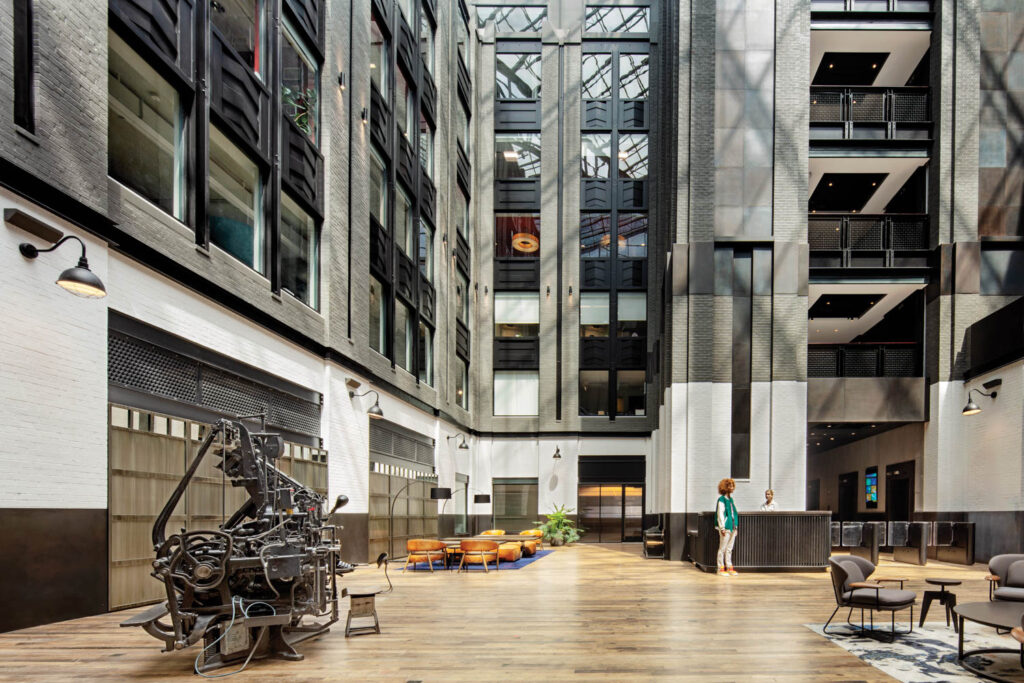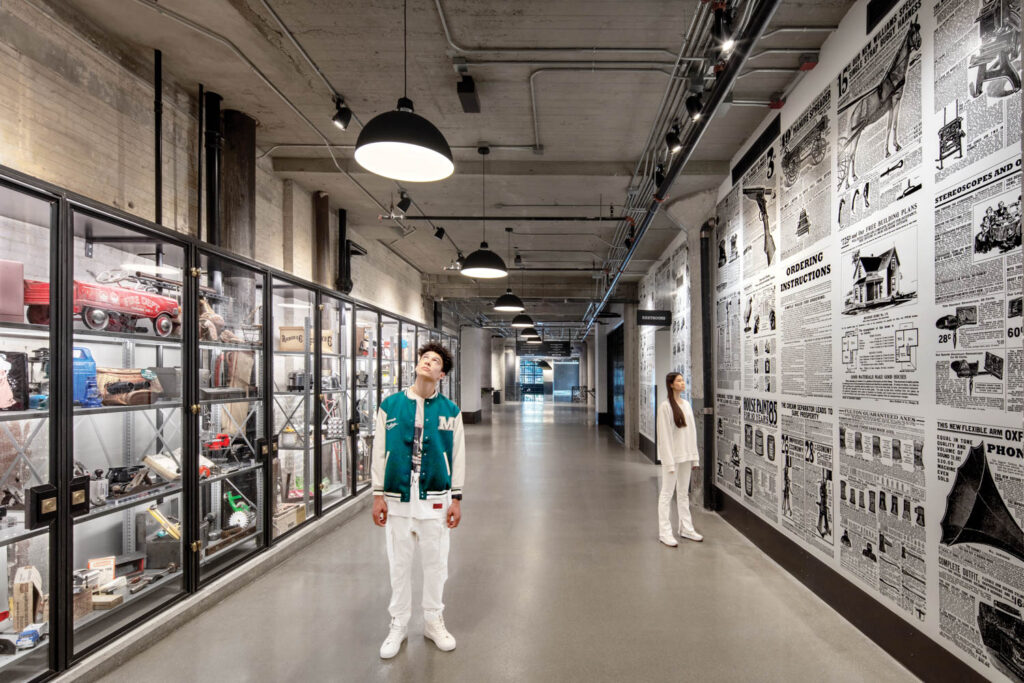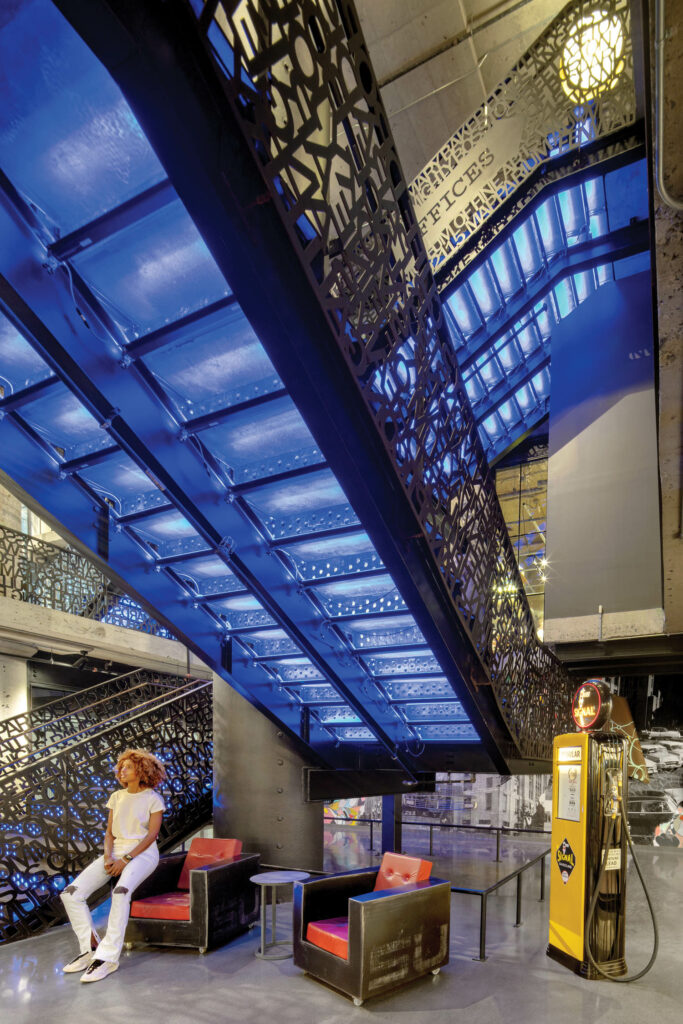 PROJECT TEAM
PRODUCT SOURCES
FROM FRONT
THROUGHOUT