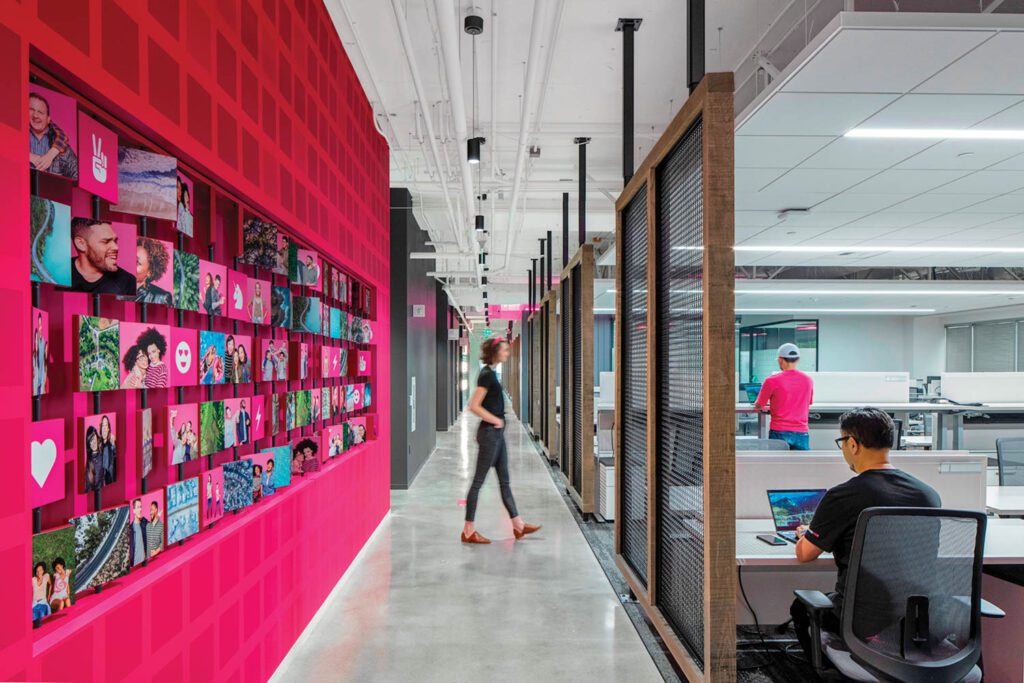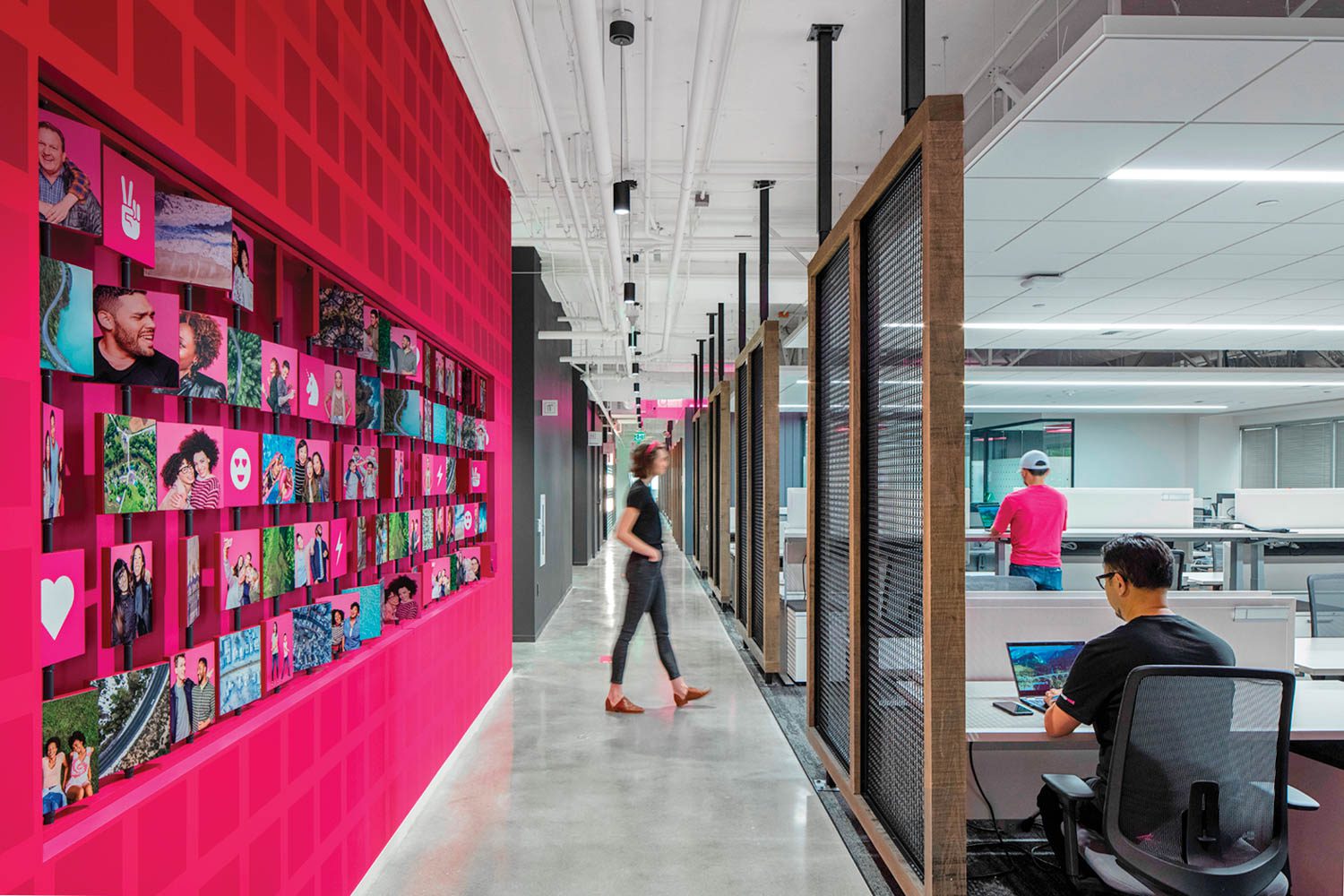 Gensler Spotlight: Northwest U.S.
T-Mobile's vibrant U.S. headquarters has all the hallmarks of the post-pandemic office: hot-desking, flexible collaboration rooms, natural vent­ilation, outdoor meeting areas. Yet Gensler Seattle designed it before anyone had even heard of COVID-19. Beginning in 2017, the firm explored how to translate the brand and its culture into a renovated five-building, 1-million-square-foot campus, estimated to be fully completed next year. "T-Mobile's function is to connect everyone and make it easy to be totally mobile," design principal and studio director Susana Covarrubias explains. "We brought those concepts to the workplace: Employees are not plugged to their desks—they can be anywhere."
One of the five structures, the 144,995-square-foot Building 2, has recently opened, wholly embodying the lively company culture. Not only does T-Mobile's trademark magenta appear throughout but two of its six floors are also devoted to amenities, providing myriad spaces for the 6,030 employees to gather: weathered-oak auditorium seating, an Airstream trailer serving frozen yogurt, a pub that opens onto a large balcony with fire pits. One of the two new bridges connecting to the other buildings double-functions as a lounge, its tiered platforms outfitted with comfortable seating; shared spaces on either end form what Covarrubias calls an "amenity street," encouraging movement across the Fitwel–certified campus. Proof that the project is totally dialed in: T-Mobile staffers have been painting their fingernails and dying their hair pink.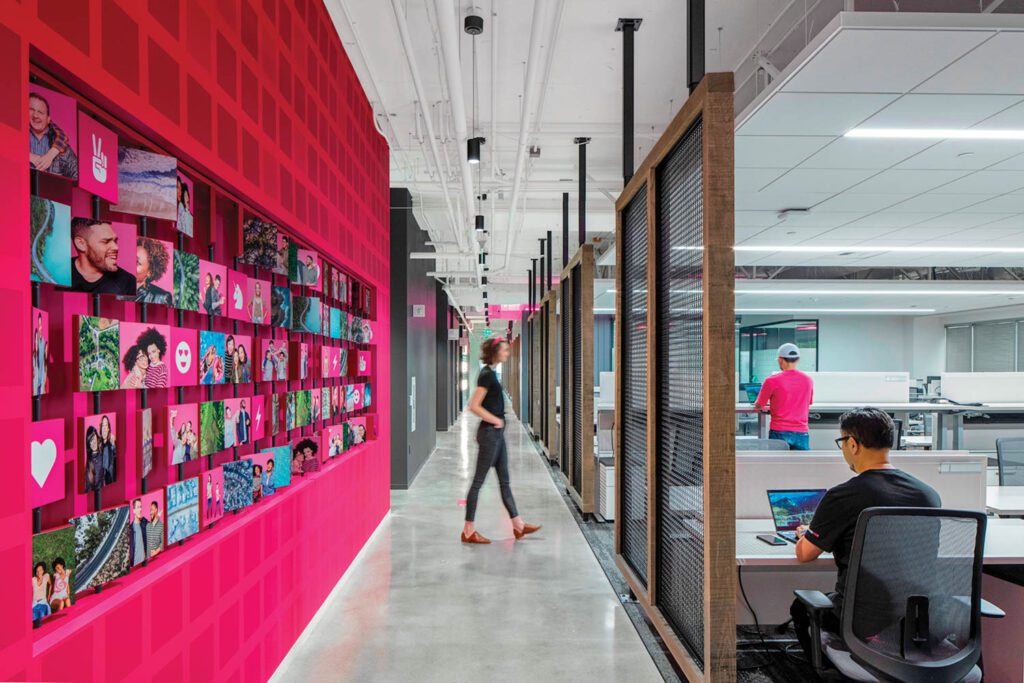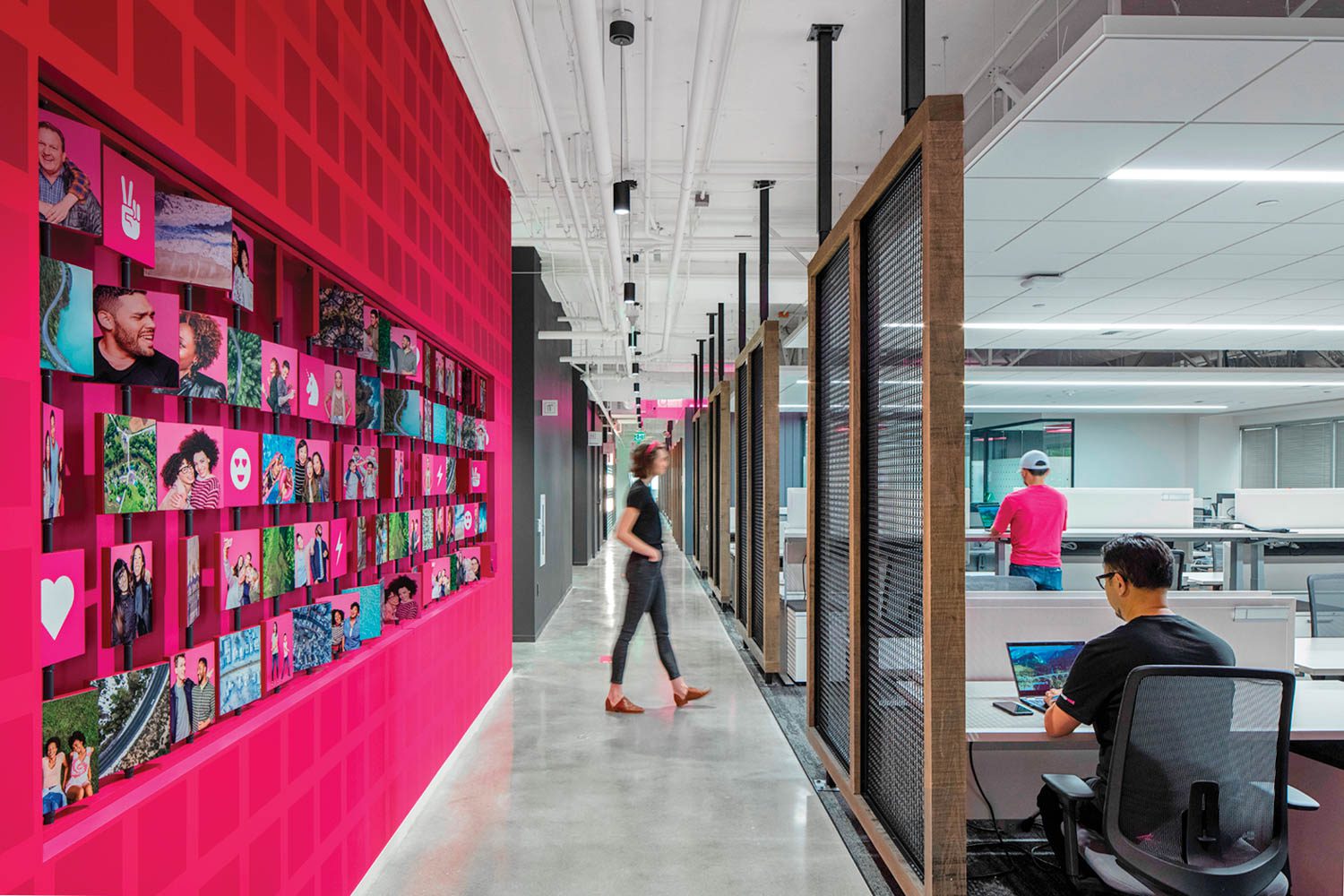 project team:
Gensler
: Ryan Haines; Jacob Simons; Susana Covarrubias; Anneke Hagen; Andy Su; Asami Tachikawa Choe; Lewis Chu; Julia Horner; Barry Zimmerman; Krista Reeder
more
Projects

Gensler Spotlight: South Central U.S.

The telecom titan's global headquarters, sited in a cluster of downtown buildings, took a civic-minded turn when Gensler Dallas reimagined its central plaza as the AT&T Discovery District: a 24/7 media-activated amenit…

Projects

Gensler Spotlight: Southwest U.S.

It was unassuming, the facade of the ex-retail site Gensler Phoenix chose for its workplace in the city's Esplanade office park. So the team brought in a lenticular brise-soleil of vertical aluminum blades that is silv…

Projects

Gensler Spotlight: North Central U.S.

Despite Columbia College Chicago's 100-year history, this structure is the school's first dedicated to serving as a home base for students to not only learn but also connect and recharge with one another, a critical …