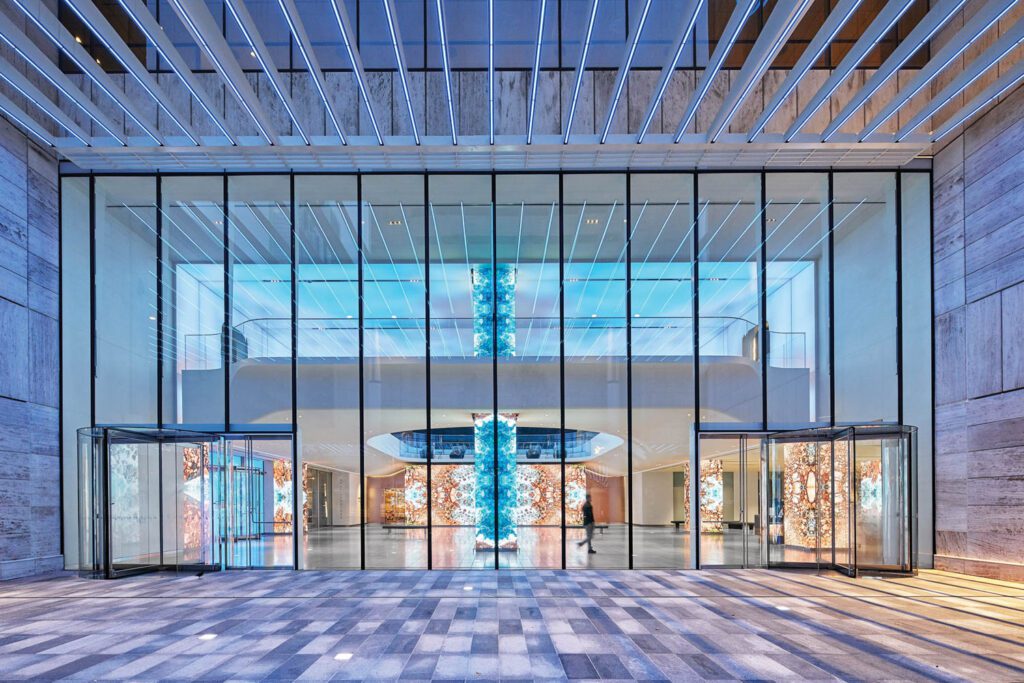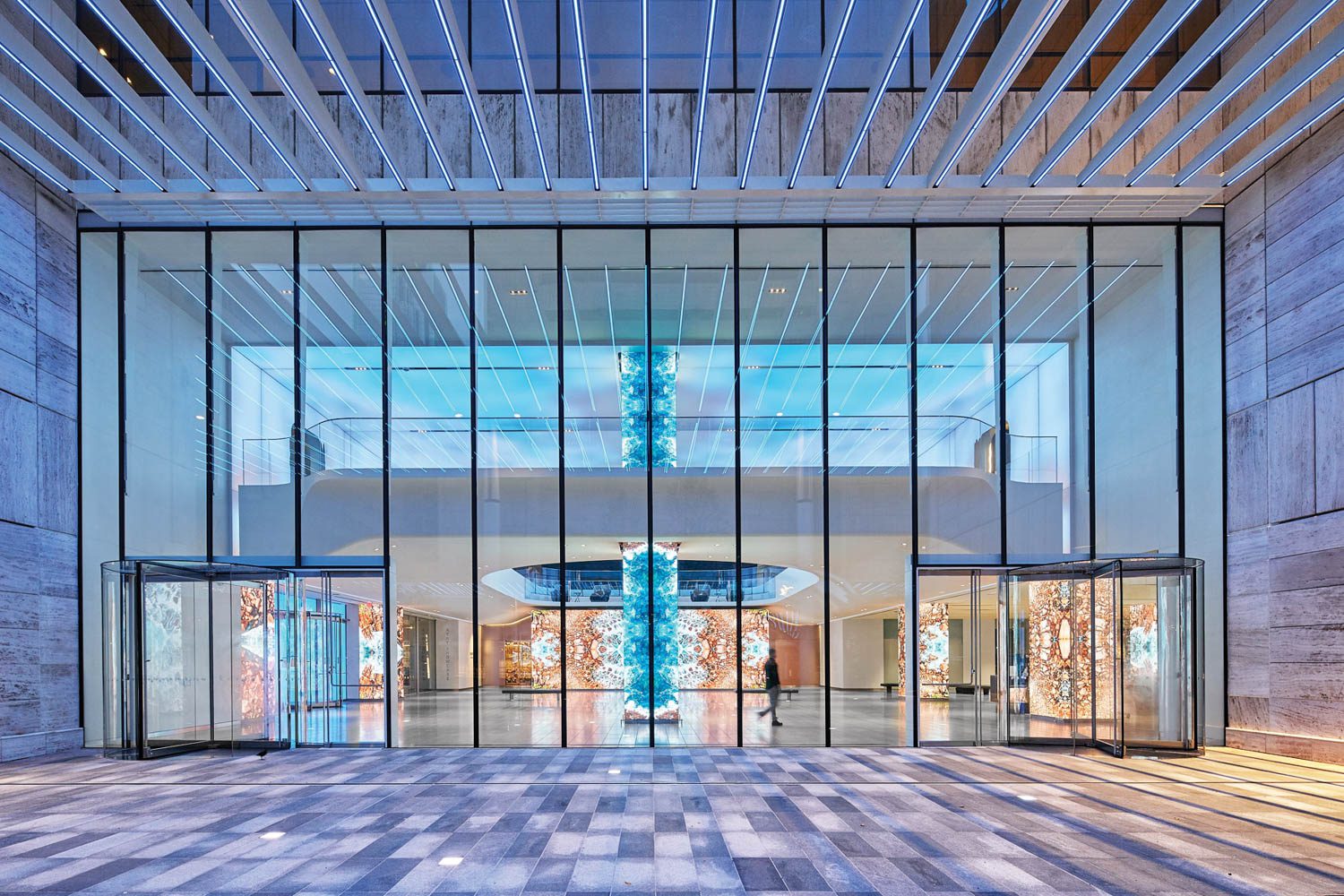 Gensler Spotlight: South Central U.S.
The telecom titan's global headquarters, sited in a cluster of downtown buildings, took a civic-minded turn when Gensler Dallas reimagined its central plaza as the AT&T Discovery District: a 24/7 media-activated amenity space with dining and retail destinations plus a publicly accessible park for use by staffers and locals alike. The ambition, principal Barry Hand explains, was to "create a network of connected experiences across a complex physical ecosystem."
Serving as a sort of portal to this four-block culture zone is the 37-story headquarters tower, whose nearly 20,000-square-foot lobby, visible through a 30-by-60-foot stretch of glass, dissolves the boundary between architecture and media—an approach that unifies the campus. The bi-level space, ringed by an oculus-shape mezzanine with glass balustrade, is activated by more than 70 million pixels. "Every surface, including eight LED-wrapped columns and a 40-foot-wide media display, becomes a canvas," says project manager Justin Rankin, a member of Gensler's emergent digital experience design practice area. Even the ceiling is a screen, a stretched-fabric membrane backlit by a low-resolution LED grid, enabling an utterly immersive experience. The elevations showcase data-driven visualizations, branded content, and a rotating collection of digital art by the likes of Refik Anadol and Moment Factory, all accompanied by custom soundscapes. Here, there's no such thing as too much screen time.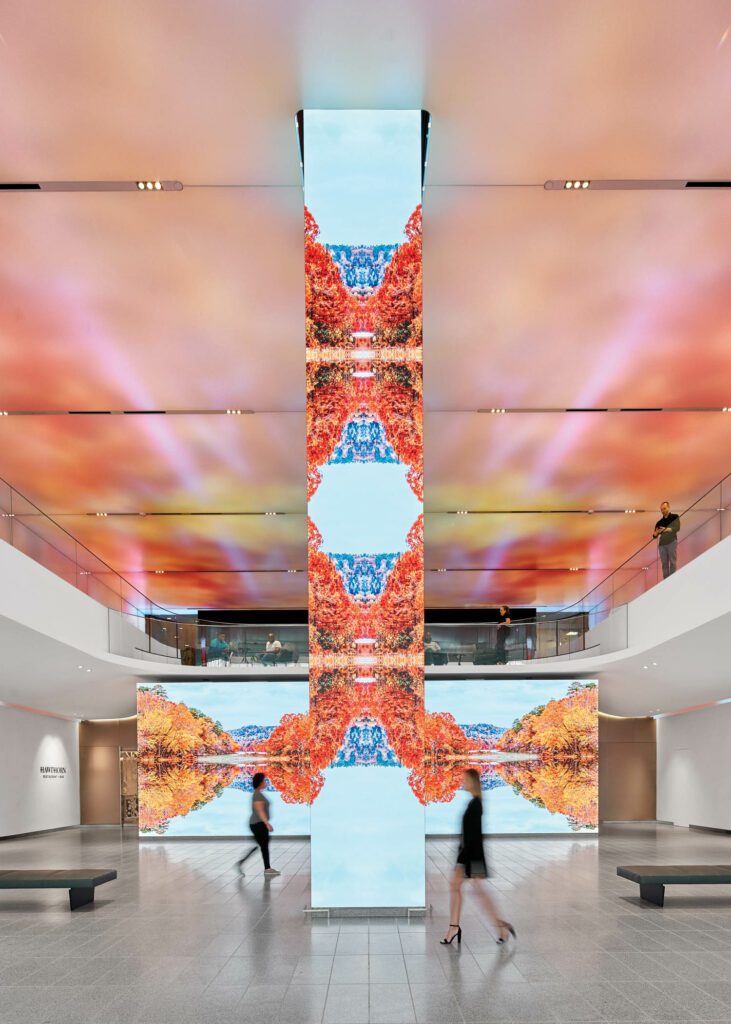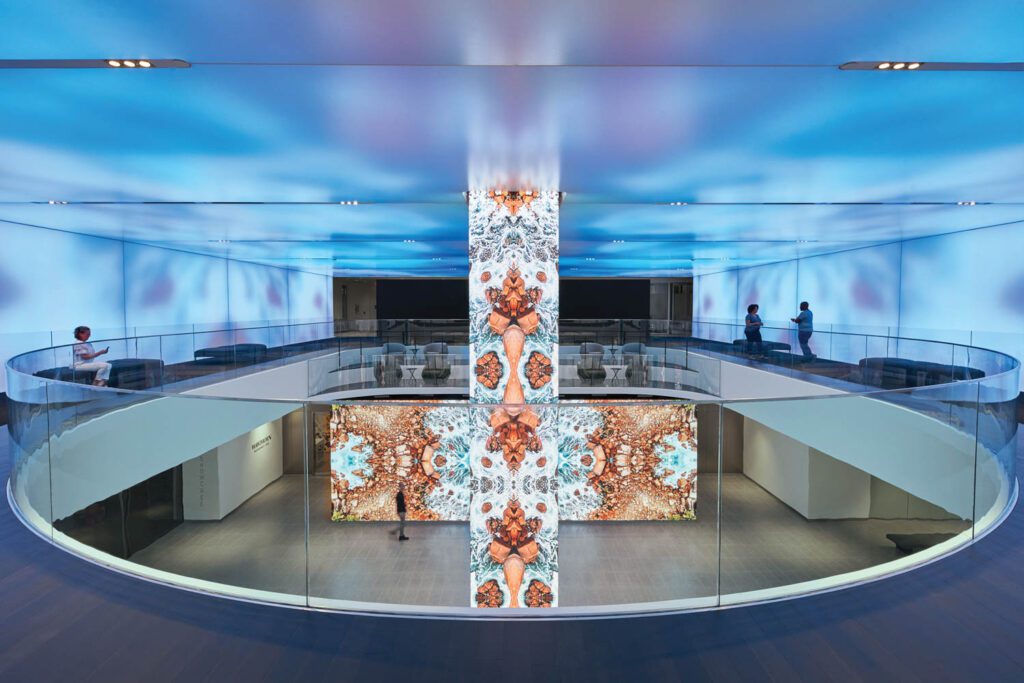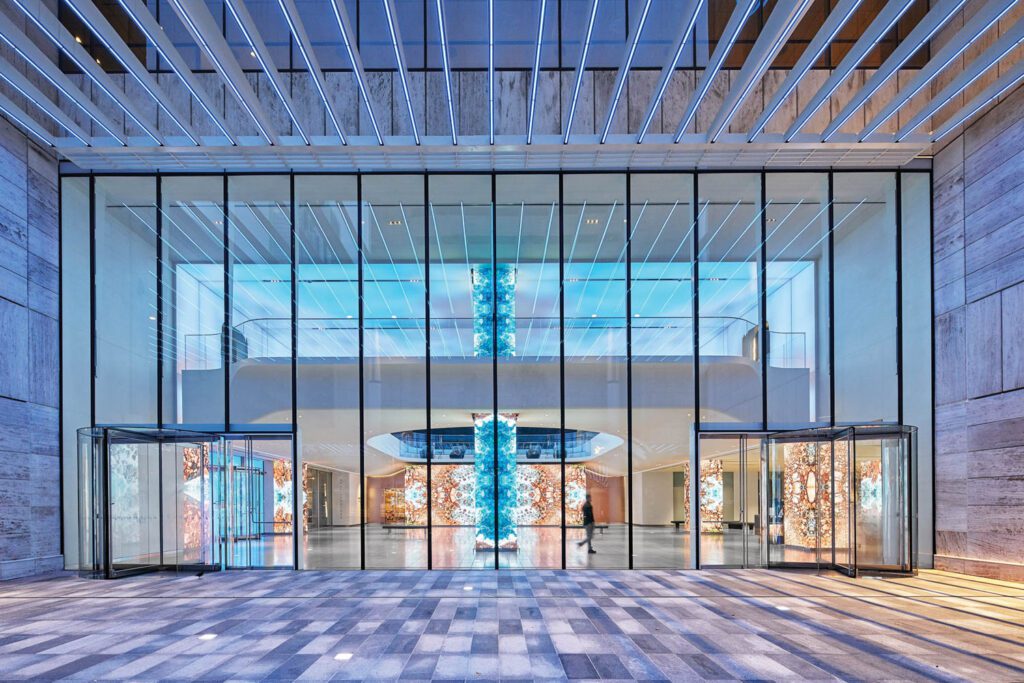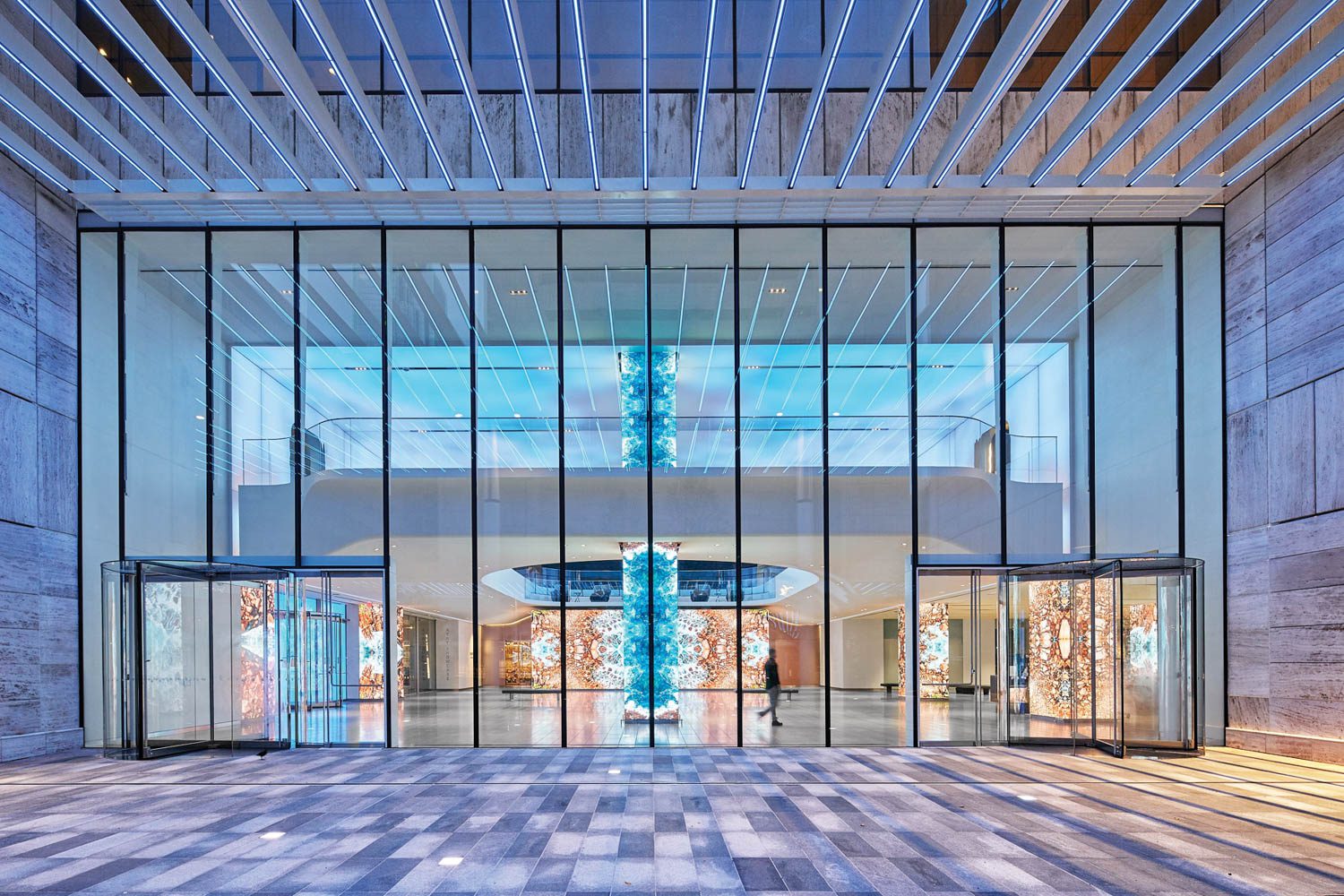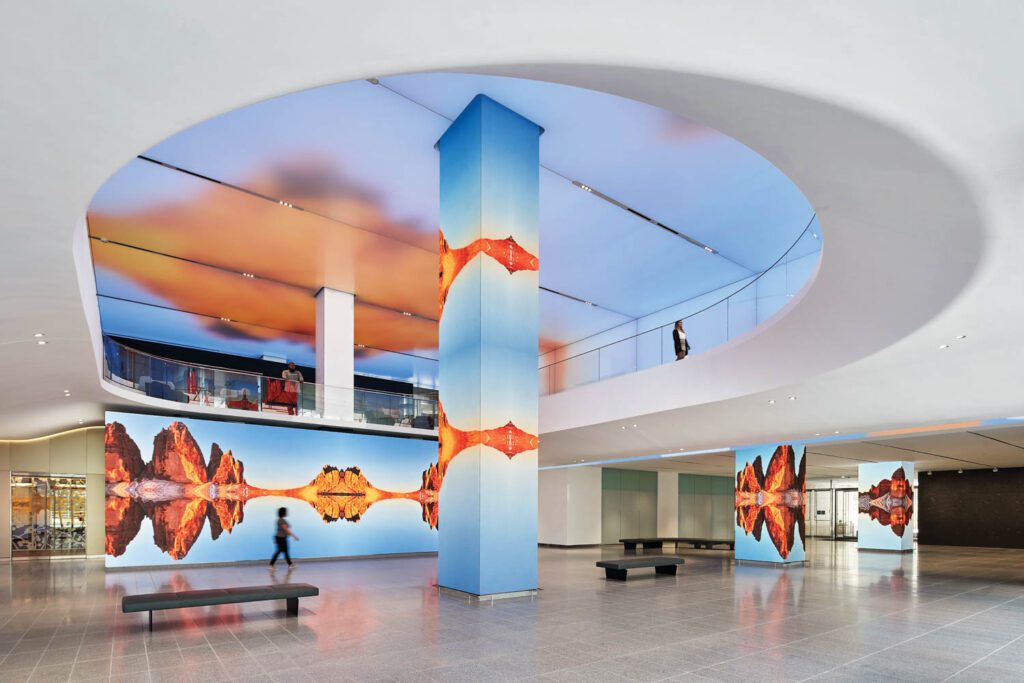 PROJECT TEAM:
Gensler
: Barry Hand; Ross Conway; Justin Rankin; Christian Lehmkuhl; Stephen Walsh; Kelley Hyatt; Adam Tate; Lars Berg; Andrew Triplett; Jo Pang
more
Projects

Gensler Spotlight: Northeast U.S.

Renovating the lobby of 550 Madison, Philip Johnson and John Burgee's 1984 postmodern icon—the city's youngest landmark—presented numerous challenges, among them striking the right chord between reverence and rei…

Projects

Gensler Spotlight: Southeast U.S.

There's nothing clinical or impersonal about the Bill Richards Center for Healing, 2,500 square feet of serene, light-filled space tucked into the Aquilino Cancer Center. Gensler Washington, D.C. created a tranquil spa…

Projects

Gensler Spotlight: Europe

Cliffe-Roberts and team transformed Cargo Crossrail Place from a secure, sealed box into a welcoming hub that serves not just the people working upstairs but also the entire district. Gensler designed Cargo Crossrail Pla…