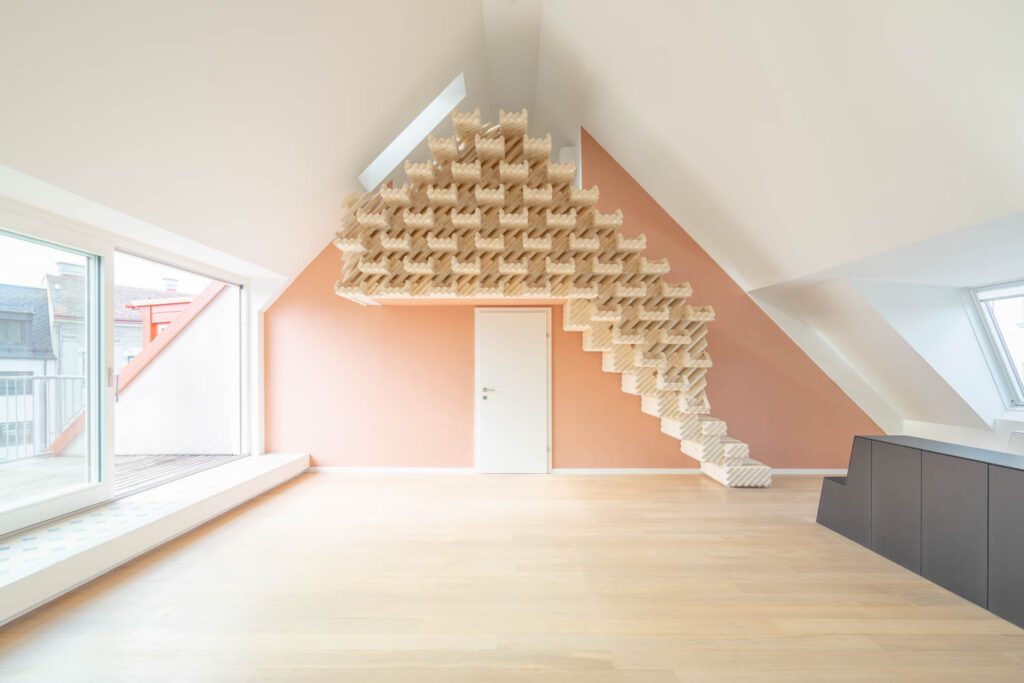 Gheorghe Solves a Puzzle of a Residential Project in Vienna
A family of sustainability experts came to Viennese architecture and research firm Gheorghe with an experiment: How could they foster a sense of connection between parents and children living together in a converted attic which kept them separated? And how could they do it as sustainably as possible?
The solution, says founder Andrei Gheorghe, is "puzzle links," or ingenious arrangements of 3-layered 42mm spruce that form staircases, storage, and structures, transforming the attic into a two-level home with a mezzanine uniting areas for parents and kids with an airy in-between space perfect for socializing.
"It needed to be sustainable, unique, and functional, Gheorghe says. The project's uniqueness is both intertwined with its functionality, evident in the design and fabrication. "As the structure doesn't fulfill only decoration but also functional and structural aspects," he says, "it was a challenge to create hidden connections." Less hidden is the sustainability, which he says "was achieved by using wood that can be reused if needed." And on the attic's terrace, the fruits of sustainability come into view: Vienna's 13th district includes much of the Vienna Woods, lush and vital since the 8th century.