Health & Wellness Centers With Bright Hues & Spirited Design
Bright hues, warm textures, and spirited design are part of the program at wellness, medical, and fitness centers here and abroad.
Interior Design for Health and Wellness Spaces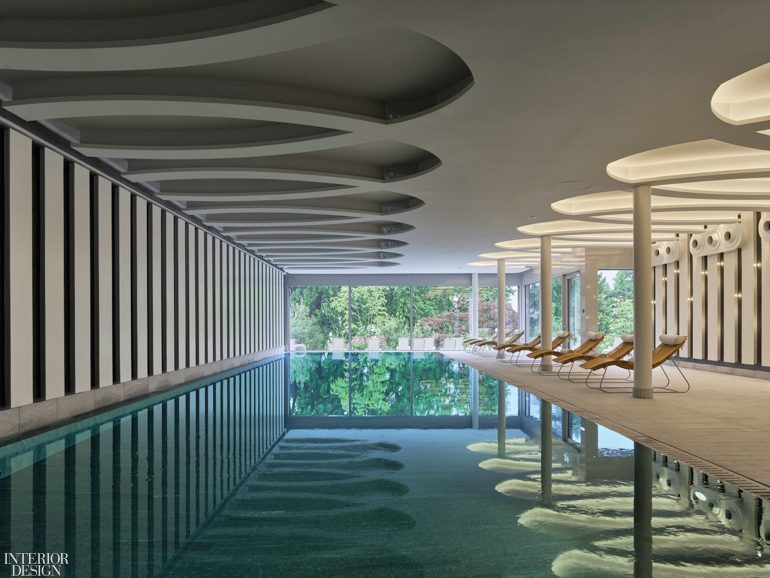 Firm: Davide Macullo Architects
Project: Chenot Palace Weggis, Switzerland
Standout: The renovation of the lakeside property included a four-story, concrete-and-timber new-build that added 45 guest rooms to the existing 52, atop a partly subterranean state-of-the-art medical spa and wellness center, its sculptural ceilings evoking scenes of forests, roots, water, and fire—all symbols of nature and vitality.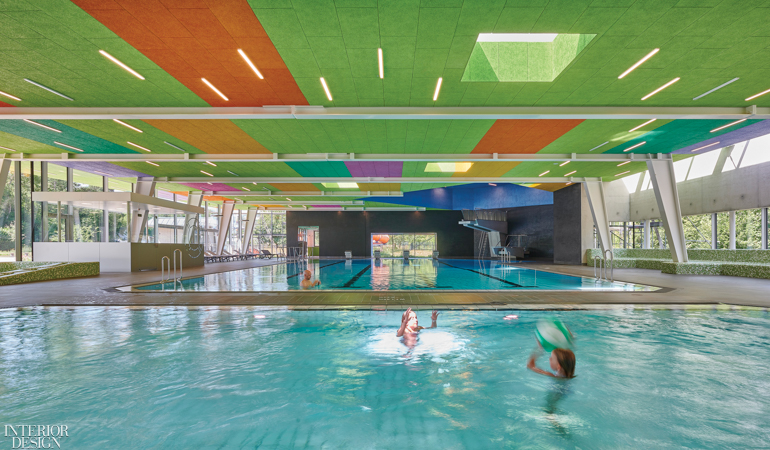 Firm: 4a Architekten
Project: Vitalbad, Kusel, Germany
Standout: Updating this aquatic park involved stripping the existing 4,250-square-foot indoor-pool building down to its shell, replacing structural elements with a framework of white steel girders, and installing new surfaces—including a multicolor suspended ceiling of lightweight wood-wool boards—while a new children's pool, mud area, and changing building were added outdoors.
Firm: Matteo Thun & Partners
Project: Waldkliniken Eisenberg, Germany
Standout: Surrounded by forest, the 177,600-square-foot circular building—the country's largest orthopedic center—features local larch and oak for its facade and interiors, part of a "hospitecture" philosophy in which the aesthetics and comforts typical of hospitality projects are combined with the rigorous clinical requirements of a healthcare facility.
Firm: Perkins and Will
Project: Piedmont Wellness Center, Fayetteville, Georgia
Standout: Incorporating fitness studios, gym facilities, therapy and lap pools, and spaces for medical professionals, the two-story building not only reduces clients' physical stress through the implementation of acoustical and cushioned wall, ceiling, and flooring materials but also uses expansive glass to connect them to the serene forested surroundings.
Read Next: Perkins and Will on DesignBiz With Cindy Allen
Firm: Leo A Daly
Project: Omaha VA Ambulatory Care Center, Nebraska
Standout: Connected to the existing Omaha VA Hospital, the ground-up, 157,000-square-foot outpatient facility, which includes the agency's first fully dedicated women's health clinic, uses a symbolic language of material, shape, color, and pattern—multihued glazing resembling military "colored bars," smooth limestone walls evoking "duty and security"—to express honor for the veterans who come to receive medical care.
Firm: Pone Architecture
Project: Fusion Fitness Q-Plex
Premium Club, Shenzhen, China
Standout: Channeling the burgeoning brand's signature colors to conjure an avant-garde, 45,200-square-foot flagship, spaces have been outfitted with the latest high-tech equipment for a multitude of training classes—both group and private—and an 8,600-square-foot, glass-enclosed swimming pool.