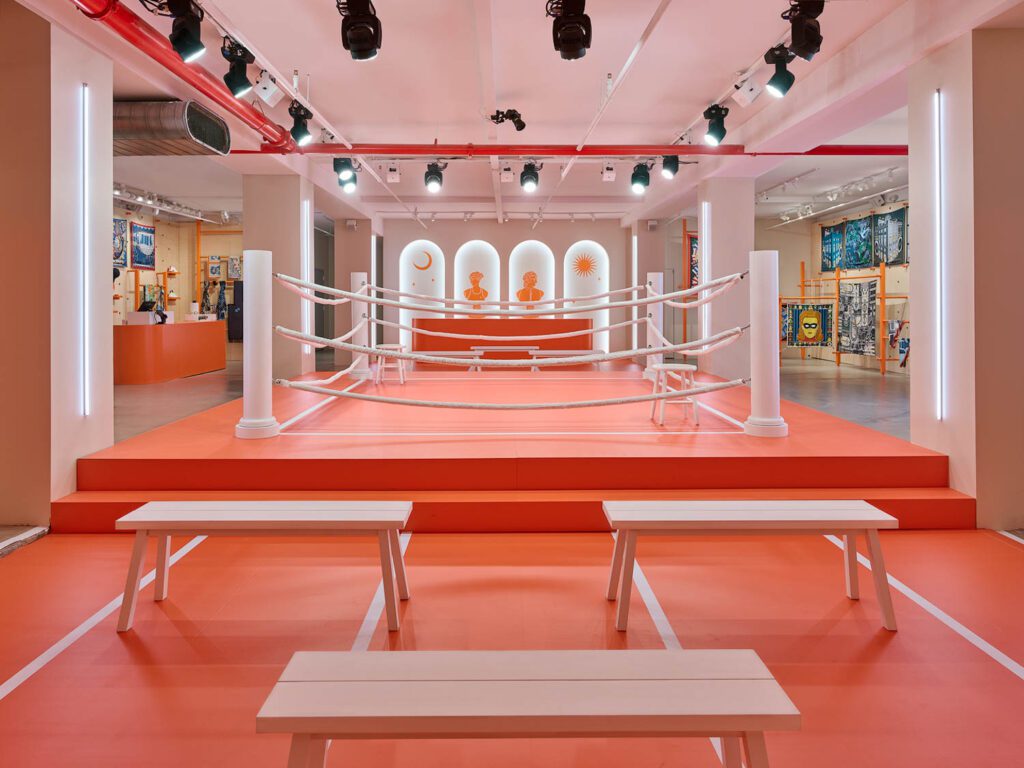 Hermès Gets Healthy With Pop-Up Gyms Around the Globe
Focusing more on biceps than their signature Birkin bag, French luxury fashion house Hermès has been quietly entering the fitness realm with a series of impeccably curated physical education–inspired pop-ups. Branded as HermèsFit, the spaces both show off the hallowed French maison's interior credentials in the U.S. while providing a more egalitarian access point to its culture for next generation customers who might not yet be able to attain one of its signature scarves.
First up, the brand transformed a fairly anonymous vintage bow-truss commercial space in Williamsburg, Brooklyn. The orange-hued fitness fantasy took aesthetic cues from Hermés accessories, offering space where one could do yoga with a carré, stretch with belts, and kickbox with bangles in late 2021, followed by activations in Chengdu and Bangkok.
Architecture became more relevant when HermèsFit moved in July to the Hollywood Athletic Club designed in 1924 by Meyer and Holler, the same architectural firm that built Grauman's Chinese Theatre and the Egyptian Theatre. Across spaces where former members like Charlie Chaplin, John Wayne, Walt Disney, Clark Gable, and Humphrey Bogart used to hang out graphic motifs adorned the walls. Custom Hermès barbells and kettlebells, as well as a climbing wall, which doubled as a photo booth, and a juice bar added to the appeal. In the evening, the central boxing ring transformed into a stage for a different kind of fun with performances by the L.A. Dance Project, Pearl and The Oysters, and DJ Erez.