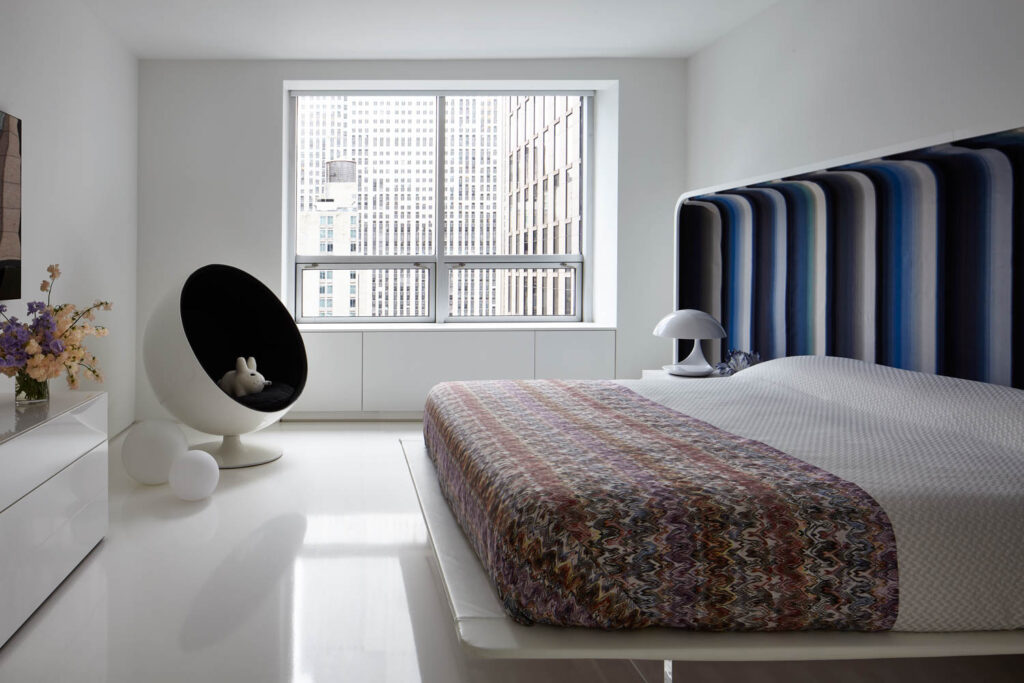 Hines Collective Creates an Artful Museum Tower Apartment
César Pelli's 52-story condo on West 53rd Street, developed in 1982 as part of a redesign of the Museum of Modern Art complex, is its own kind of masterpiece. Longtime friends of Hines Collective had a 2,000-square-foot, two bedroom/2 ½ bath apartment in the building; it had been untouched since it was originally built, and while an Old Master should be treated to careful restoration, this apartment needed more serious work.
They wanted, says founder Devin Hines, "a 1960s, mod-inspired, gallery-space-meets-space-station." And they got it. First, the team "stripped [it] to studs and slabs." Then began an inspired rethink. "They are minimalists with a lot of stuff," Hines says, including an important collection of vintage and contemporary art and design. "We had to be creative with the floor plan to balance form and function." The second bedroom soon became an enviable walk-in closet and dressing area; more closets line the hallway to the primary bedroom, all with hidden flush doors.
Toka Builders created a seamless, gloss white epoxy resin floor throughout the apartment in a single pour. Finally, the install, careful as a gallery show: In the living area, a custom section extends some 28 winding feet. "It carves different seating opportunities for conversation, intimacy, and views," Hines says. "It also carves out a home office space that follows the same path at its back." A Skeleton desk chair by De Sede and AYALA desk lamp are ready to work, as are a curved desk and floating corner console. Akdo tiles and a banquette upholstered in Dedar's Flimflam warm up the otherwise whitewashed kitchen, from its custom cabinetry to the Miele white glass appliances. And stupendous objects from the collection are everywhere in view—an untitled Jin Soo Kim sculpture watches over chairs hand-carved from more than 25 hardwoods in the dining area, for example—if you can tear your eyes away from the floor-to-ceiling windows looking down grand Fifth Avenue.