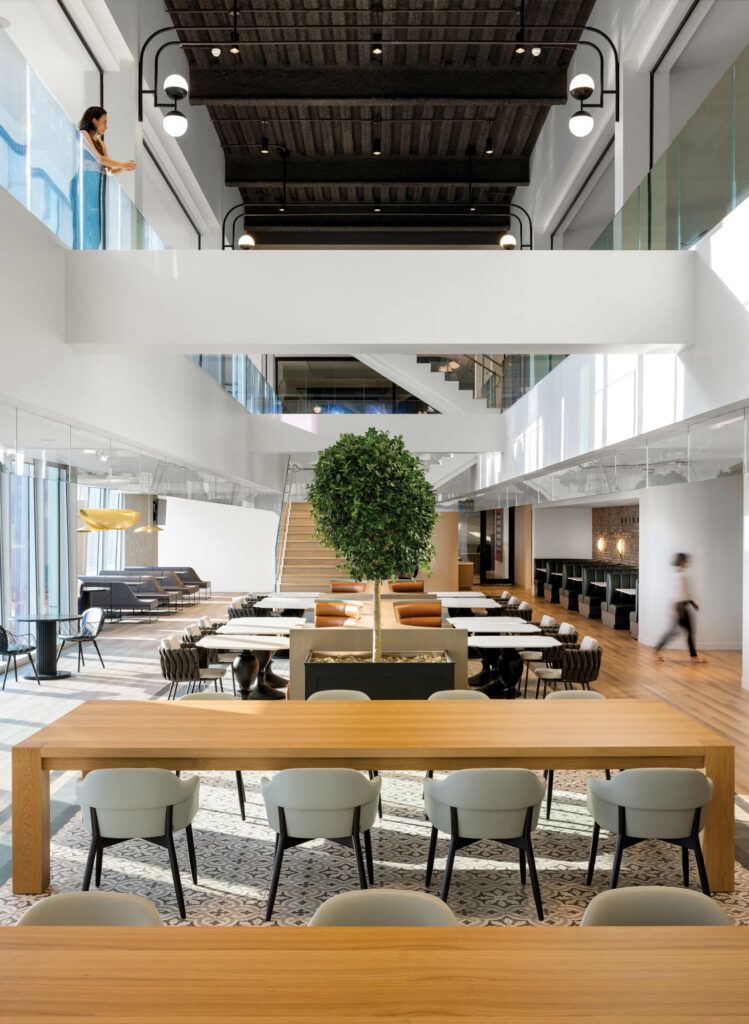 HOK Designs Boston Consulting Group's Canadian Headquarters
Long before the pandemic, Boston Consulting Group had embraced hybrid work, giving employees the freedom to come to the office—which total more than 100 across the globe—meet with clients at their workplaces, or complete certain tasks from home. Whichever made the most sense for the business at hand. That said, collaboration is at the heart of how the management consultancy, often referred to as BCG, operates: Staffers form teams to tackle knotty problems clients are facing and puzzle through the issues to arrive at solutions. And this sort of teamwork, BCG felt, is best carried out face-to-face.
Back in 2017, when the company tapped HOK for its new Canadian headquarters on three floors—46, 47, and 48—of a tower rising in Toronto's financial district, BCG sought an office that would be dazzling enough to draw employees to the workplace, that would provide a variety of bespoke settings so that teams could be as productive as possible while on-site. All of which is to say that when the pandemic hit in 2020—sending companies around the world scrambling to, first, figure out how to work remotely during lockdowns and, then, how to lure employees back to the office after they'd become accustomed to doing their jobs from home—BCG was way ahead of the game. Sure, there were tweaks to HOK's concept for the 100,000- square-foot BCG project because of the pandemic—designers had to make sure work- stations were 6 feet apart, for example, and they loaded up meeting rooms with video- conferencing and audiovisual equipment for staffers participating remotely—but the changes amounted to fine-tuning a good plan that was already in place. And the result is this spectacular, ultra-sophisticated space that serves as a showplace for the company and a magnet for a workforce now numbering more than 400. "On the busiest days, we're approaching pre-pandemic attendance levels," Nina Abdelmessih, BCG's chief of operations and external relations in Canada, says. "Everybody is coming in."
HOK Designs a Hybrid Office for Boston Consulting Group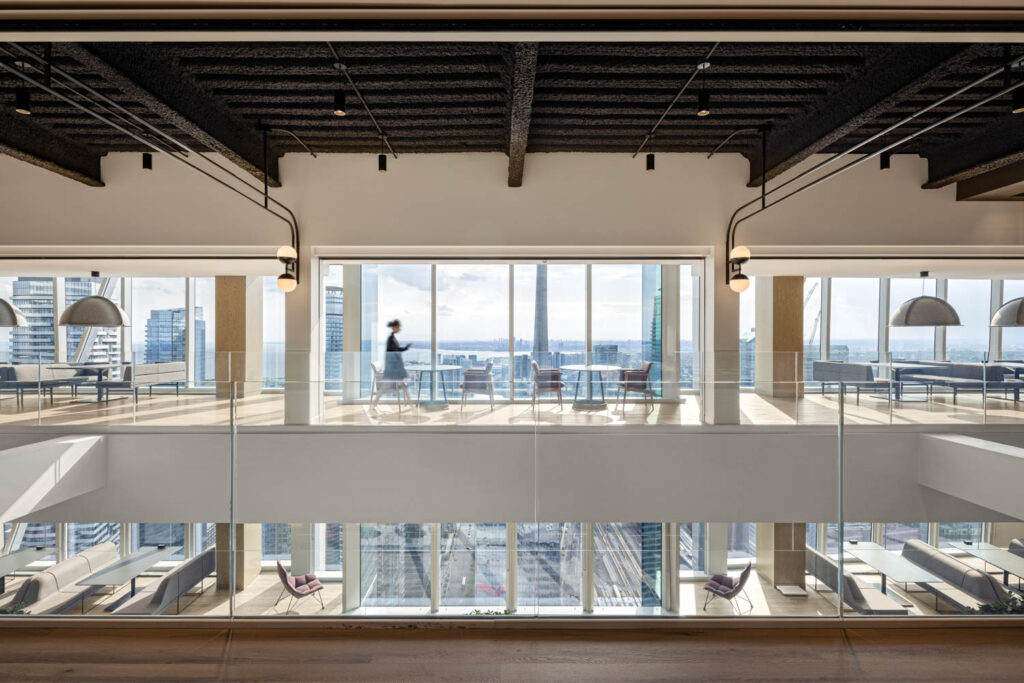 The plan's success started with carving out an atrium near the window wall on the two lower floors—one advantage of coming to the project while the building was under construction was that this could be done before the floor plates were in place. Working with the developer, HOK specified an opening measuring a generous 20 by 80 feet, envisioning it as the "heart of the organization," Caitlin Turner, HOK director of interiors in Canada and the project lead, notes. The atrium fills with light and opens up views of the city and Lake Ontario. Rooms situated off it are sided in glass so everyone shares in the sunshine.
A beckoning staircase steps up through the atrium to the top floor. It encourages employees to walk up and down—healthier for them than taking the elevators—and results in serendipitous encounters that add to the general esprit de corps. "There's this buzz," Turner enthuses. As for the seating areas in the base of the atrium, in the café, she adds: "At lunchtime, it's like a high-school cafeteria."
Flanking the atrium are two unusual work areas: raised glass-enclosed meeting rooms reached by small flights of stairs. These little getaways for groups are just one example of the variety of bookable spaces found on all three floors of the HQ. "There's a saying around HOK," Turner continues. "One size misfits all." Thus, she and her team gave BCG gathering options that would suit just about anyone's personal work style—or the missions they might have. "If reaching consensus is the goal, there are rooms with round tables," Turner explains. "If it's sharing information, there's stadium seating." Even within some rooms, there's a mix of seating: Employees can go from sprawling on lounge chairs for brainstorming sessions to sitting at a desk to tap away at a laptop.
The materials palette helps tie it all together. HOK selected leathers, linens, wools, stone, and wood— most sourced in Canada—to give the office more of a luxe hospitality feel than a no-nonsense corporate one. The firm, after all, not only ranks fifth amid our 100 Giants but also 81st on the Giants Hospitality list (as well as 10th and 45th for Healthcare and Sustainability Giants, respectively). Hand-troweled plaster adds texture to a wall near reception on the top floor. Fine oak millwork appoints the library. Touches of brass gleam throughout, from pendant fixtures over banquettes in the café to the vertical panels on a timeline of BCG's history, also near reception. HOK also commissioned Canadian artists for paintings and artisans for tables with wood or marble tops.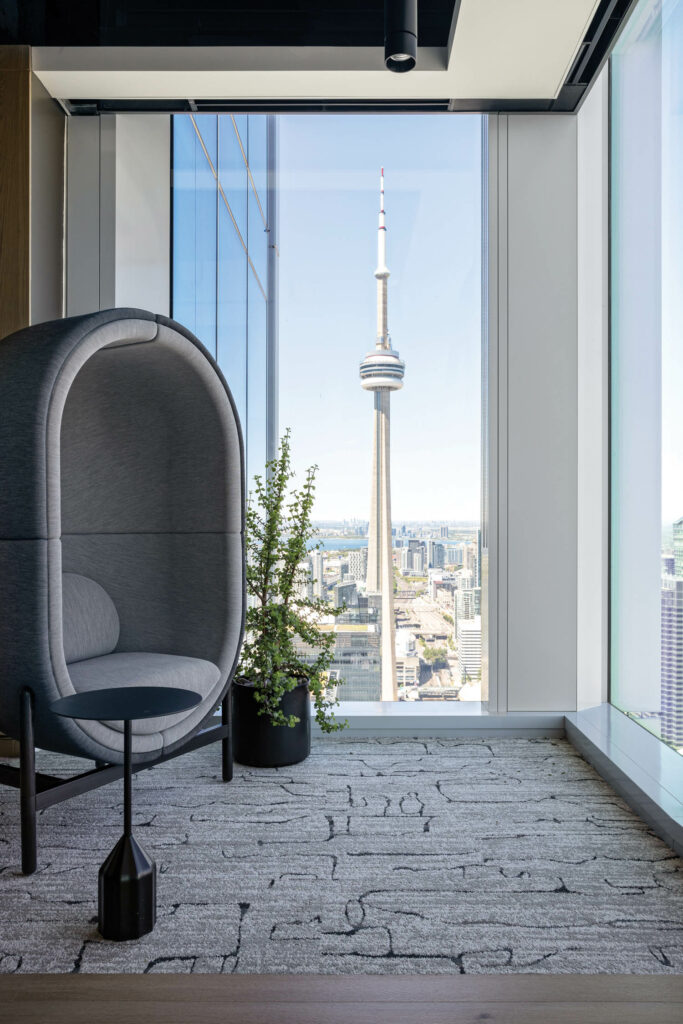 But serendipity also played a part: Turner tracked down a black-stained oak credenza she spotted on Instagram for use in a touch- down room, where it joins an oversize pendant fixture by Marcel Wanders and sinuous Italian armchairs. It's just a sampling of the international, contemporary aesthetic permeating this buzzing workplace—one that is clearly not cookie-cutter but has helped become something of a model for other BCG offices in the throes of relocation and renovation.
Behind the Design of Boston Consulting Group's Canadian Headquarters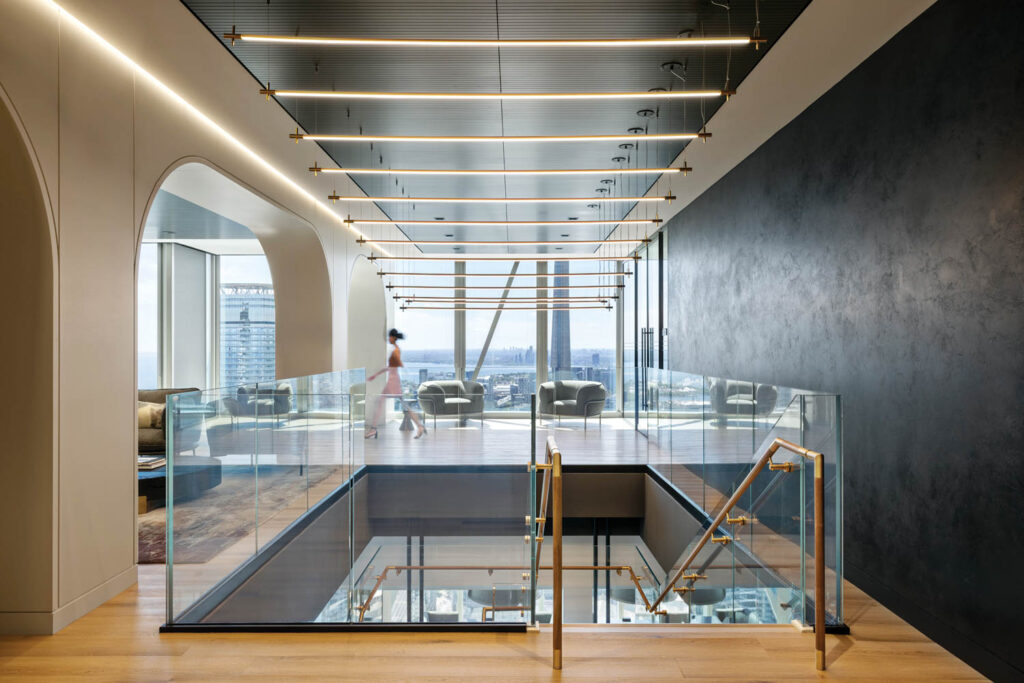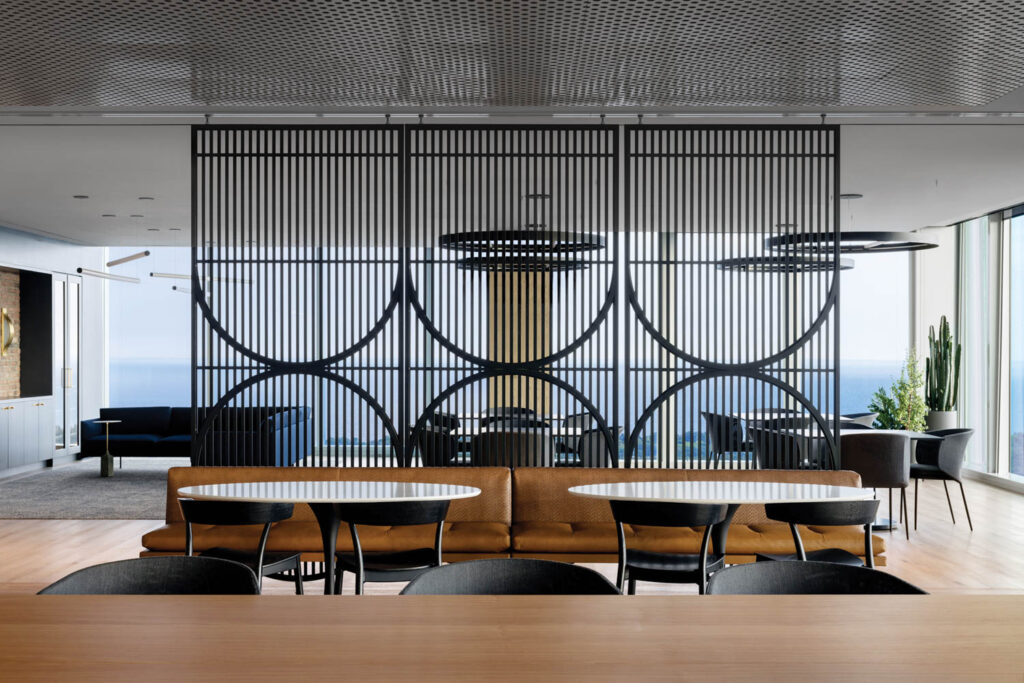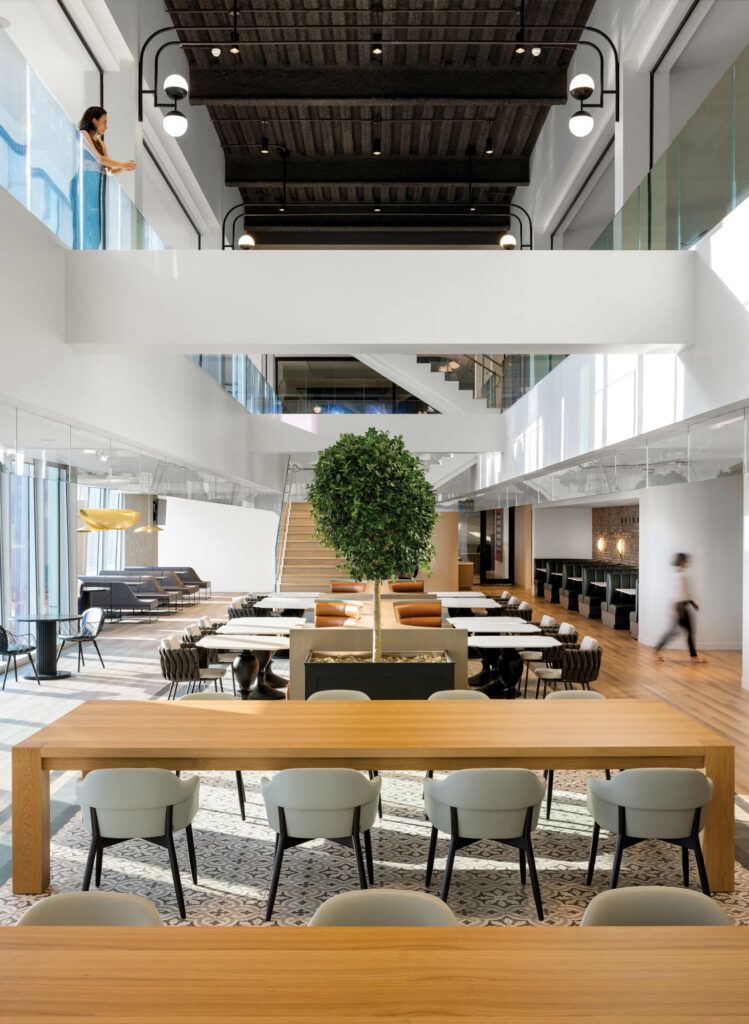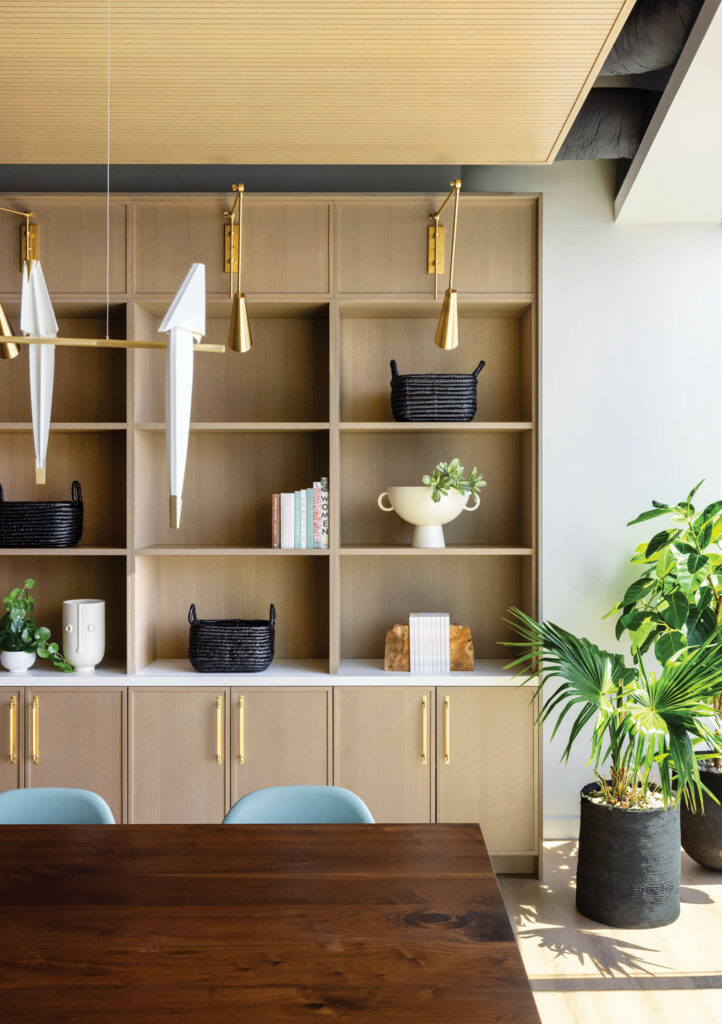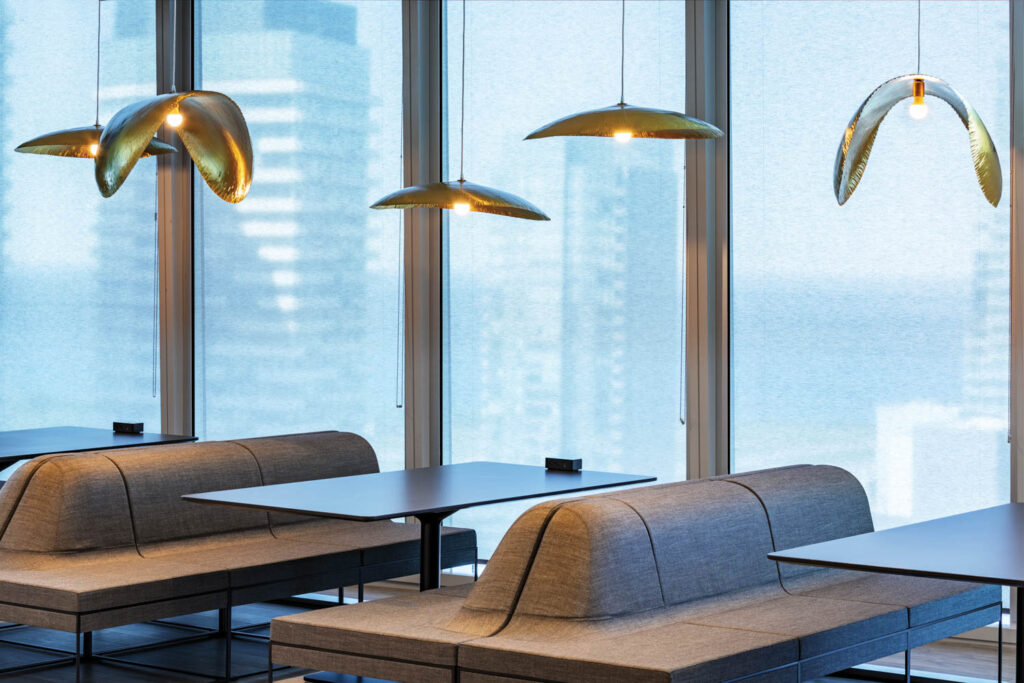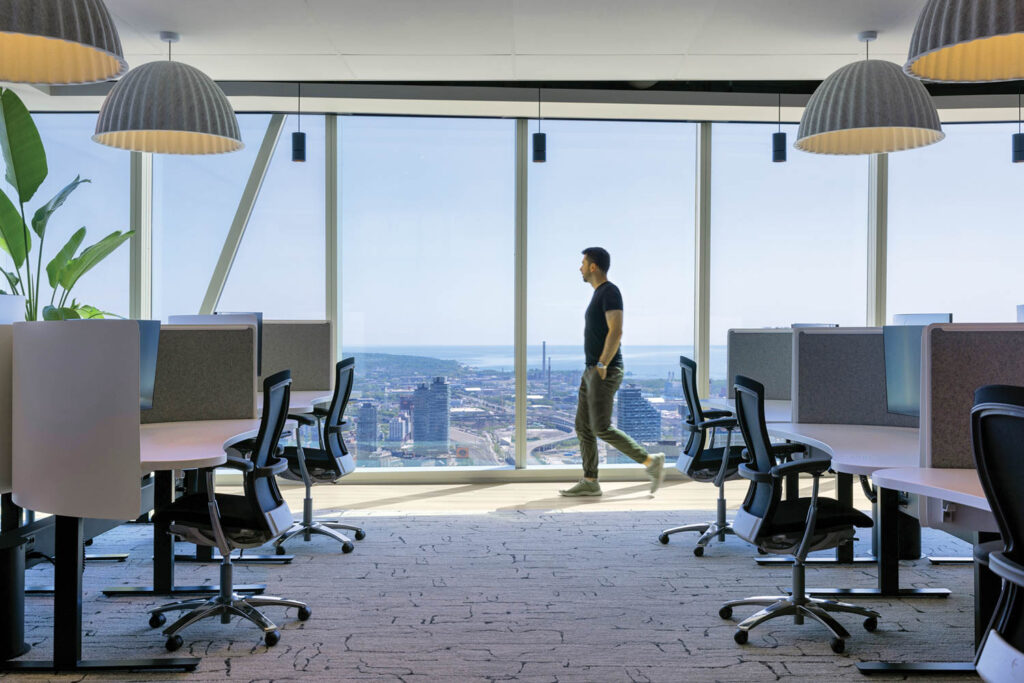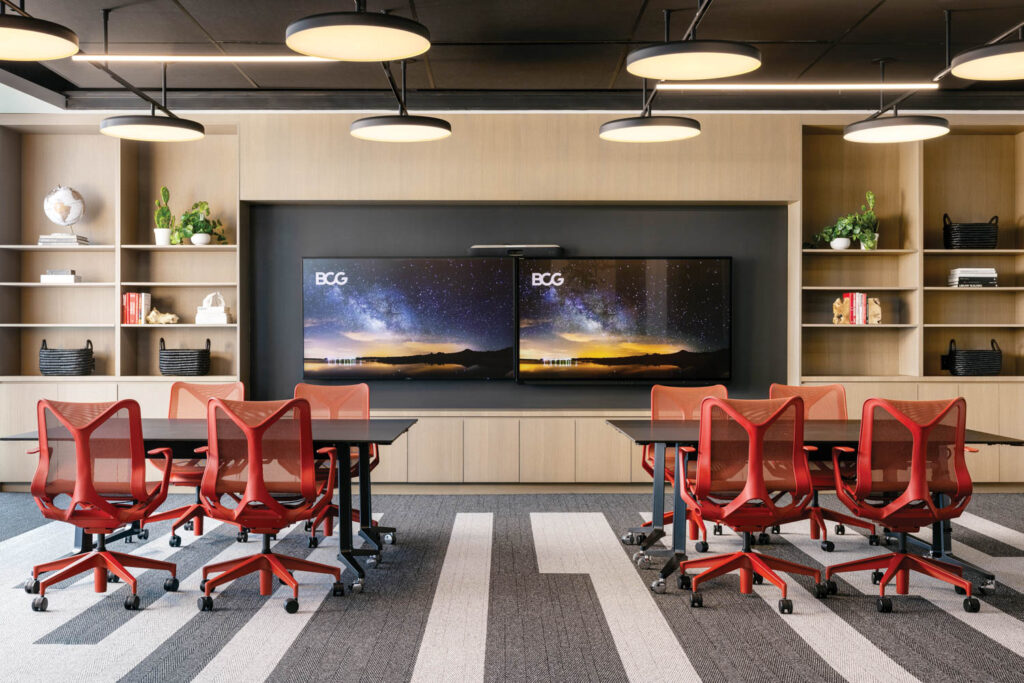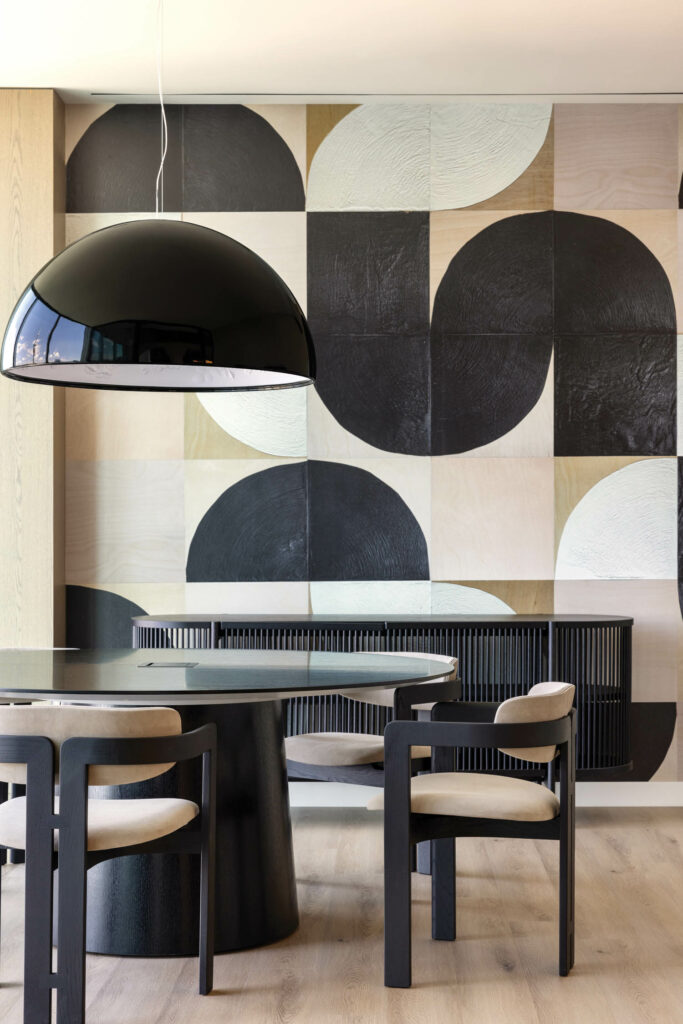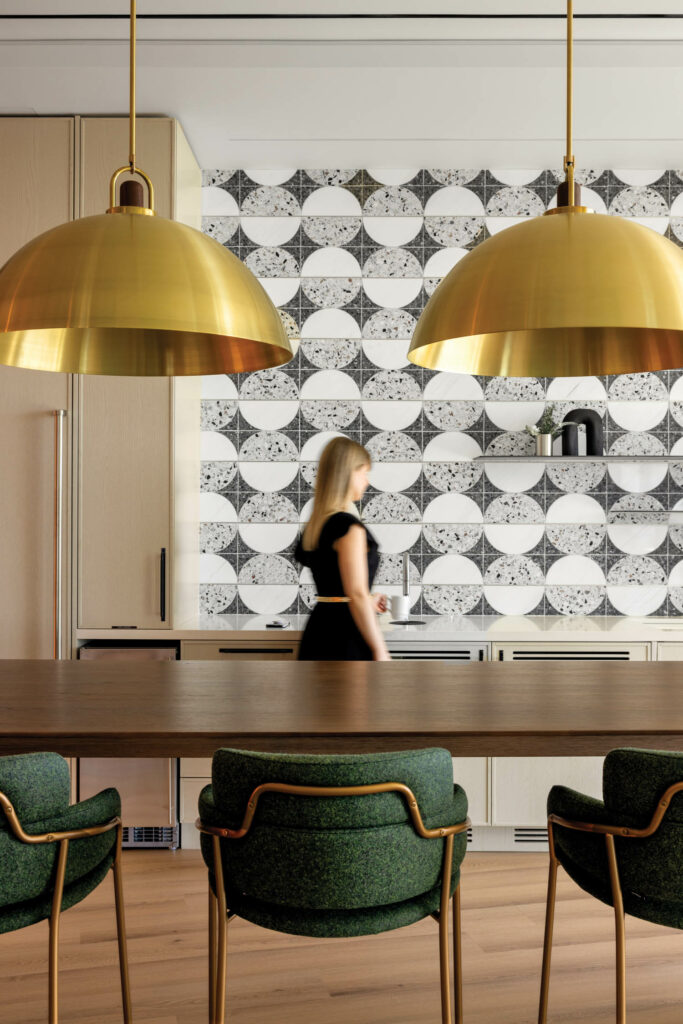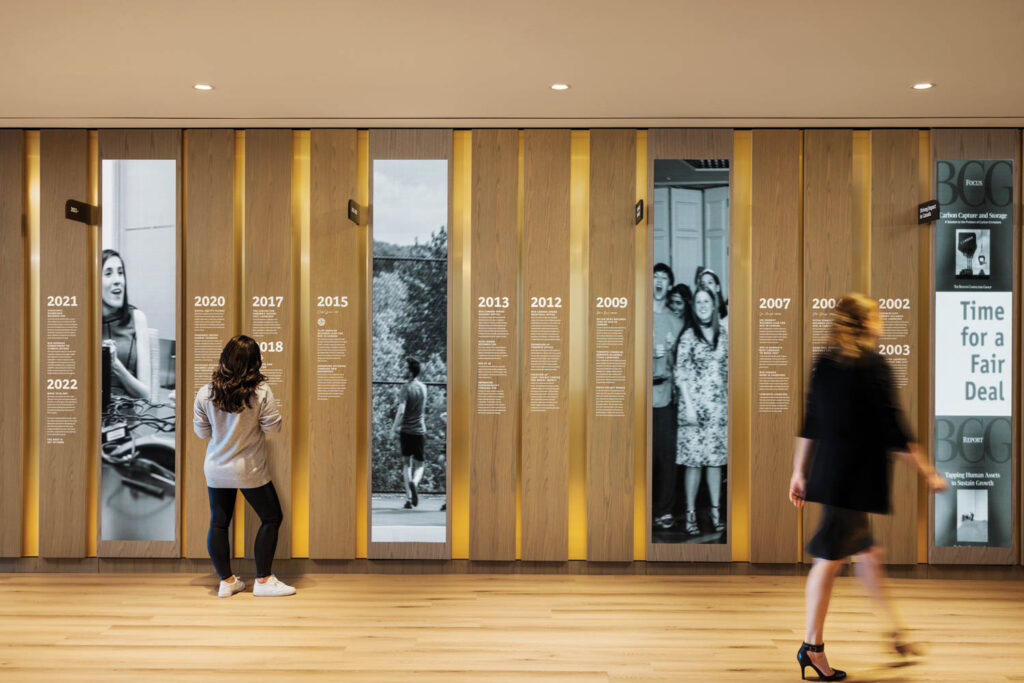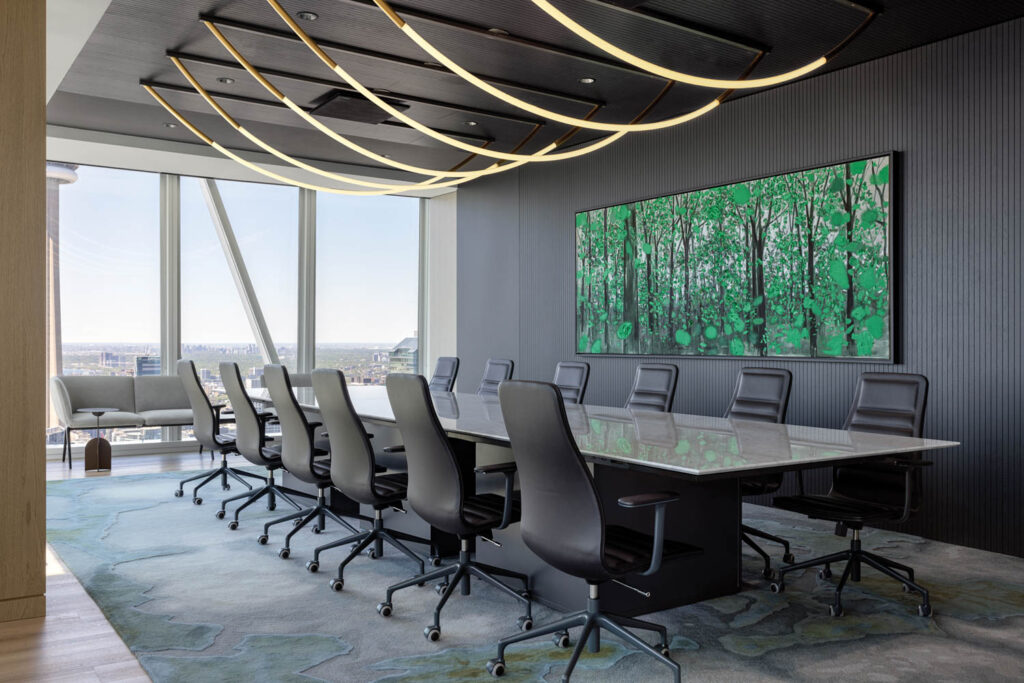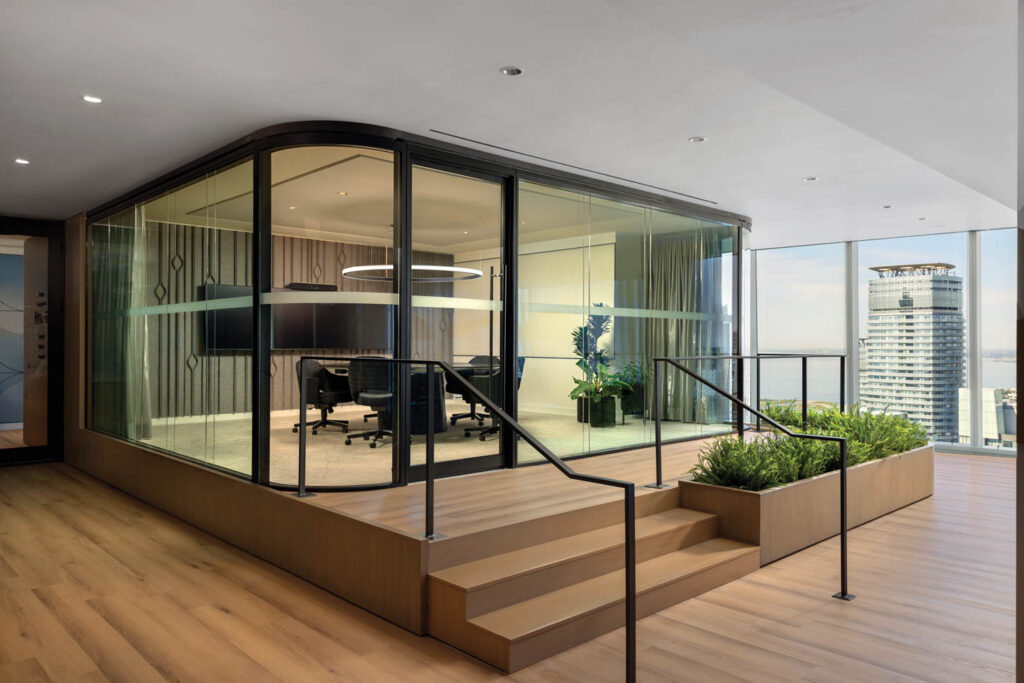 PROJECT TEAM
PRODUCT SOURCES
FROM FRONT
THROUGHOUT