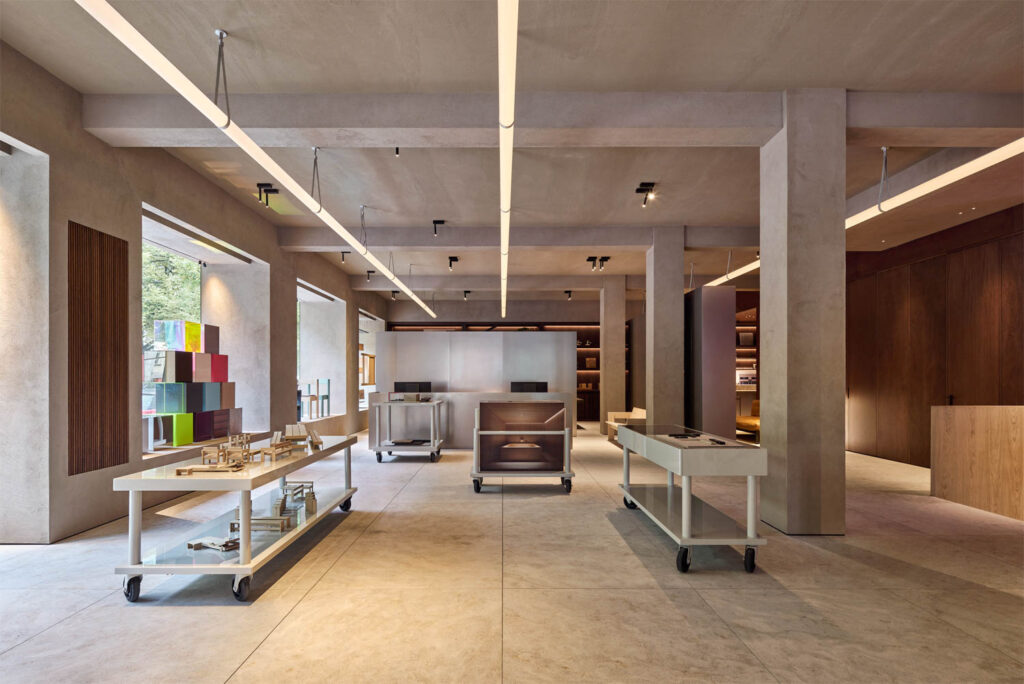 German Design Brand Holzrausch Opens a Mixed-Use Studio
Holzrausch, a German shop founded in 1998 by Sven Petzold and Tobias Petri, takes a holistic approach to design. They handle planning, design, and production of spaces both public and private, either in-house or in close collaboration with architects, planners, and clients. They do it all, so they wanted a studio that could do it all, too. Their new Holzrausch Studio in Munich, operating in tandem with a workshop in nearby Forstern, is equal parts studio, office, exhibition space, and gallery.
When they first approached the 10,000-square-foot-space, the Holzrausch team felt it had been over-built by its previous tenant, Tesla. So, they restored its two floors back to their original, raw state. Though open and spacious, it has distinct zones: office spaces, coffee bar, conference room, and a versatile central area. Right now, it's a public-facing showroom for Holzrausch Editions, a series of furniture and lighting pieces developed in collaboration with designers for Holzrausch interior projects.
The atmosphere the team aimed for was natural, warm, and calm. To that end, they used abundant natural cement and stone, with pops of contrasting wood and stainless steel. To keep noise down in the open space, they used acoustic ceiling paneling. With just enough detail, it's uncluttered, yet each room offers chances for discovery.