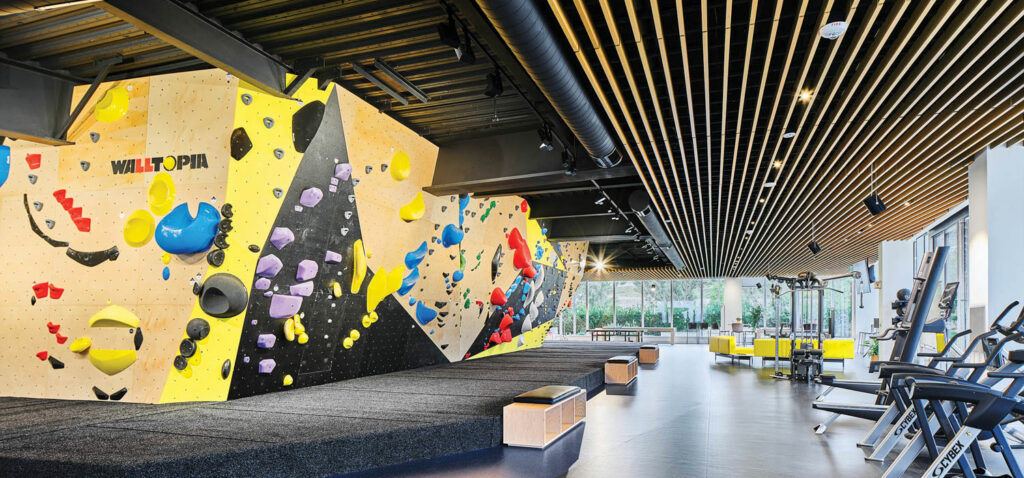 A Standout Gym Entices Employees Back to This Los Angeles Office
Design a post-pandemic workplace. That was architect Kristi Paulson's first assignment for a confidential client when she landed at Behnisch Architekten. Fortunately for the client—and Behnisch—Paulson had already worked for the firm, when it had a previous L.A. studio from 1999 to 2011 (she was there from 2007 to 2011 as project partner). After a seven-year run at ZGF, she's returned as partner-in-charge, her duties, in addition to designing the aforementioned workplace, also encompassing putting together a team and heading up the new L.A. operation with majority ownership—making the studio a woman-owned business.
The endeavor also marks Paulson's first copiloting expedition with her husband, Behnisch director Daniel Poei. Further worth noting is when the client's workplace project began: January 2020. Talk about timing. The confluence of the COVID-19 shutdown, working remotely, and a tight schedule from the client conveyed an unprecedented urgency. It meant two years of quasi 24/7 dedication. "We lived and breathed this project," Paulson recalls. Fortunately again, the couple's commitment and joint four decades of design experience is clearly evident in the end result: a bright four-story office that focuses on employee connectivity to each other and nature.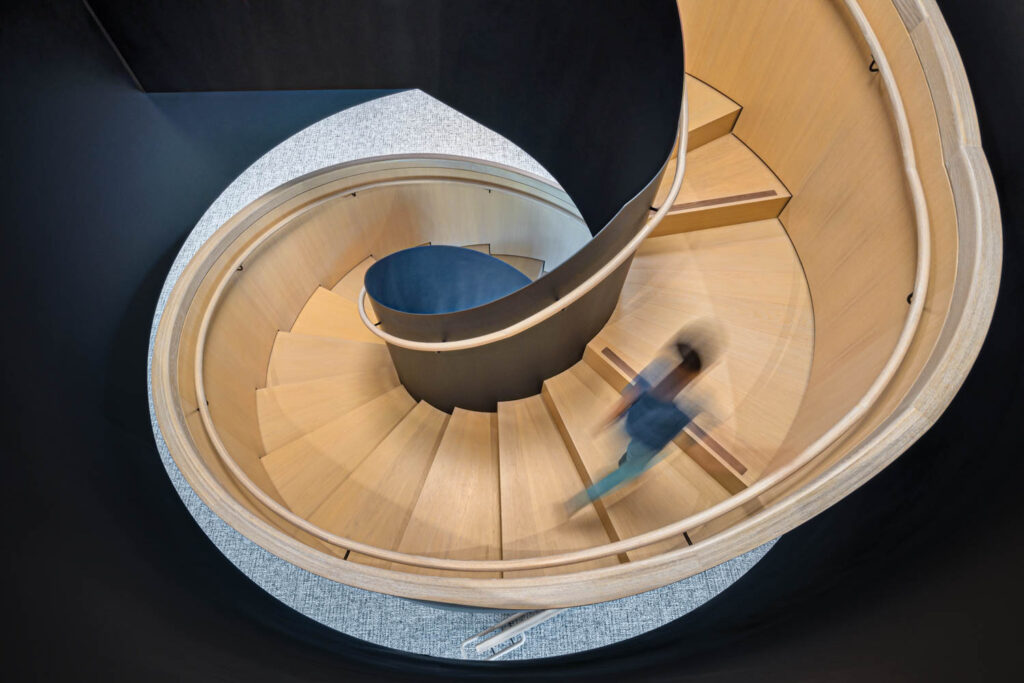 Design Considerations for This Post-Pandemic Workplace Centered on Collaboration and Wellness
The process began with the client introducing Paulson and Poei to its 110,000-square-foot "developer box," Paulson notes, with a central elevator lobby. "Luckily, the owner opened the door for us to communicate directly with the sub-contractors, not just the contractors," Poei says. "So we could get to the right people and figure things out."
For the client's small, low-density workforce valuing connection and operating on egalitarian premises, the Behnisch team's first step entailed translating said connection to physical reality. Irregular cuts piercing three of the floor plates were means to that end, while simultaneously creating "an eccentrically shaped atrium on either side of the elevator lobby," Paulson says. The resulting new territory sports "a diversity of spatial environments and visual connections between levels." Moving up and down between them was crucial to collaborative success. She and Poei provided plenty of stunning options—make that eight of them. Four cantilevered, hairpin-turn staircases, a pair for each of the two atriums, connect the upper three levels, designated as office areas. Beyond, four spiral staircases, counter­acting the building's rectangularity and its orthogonal layout, are two-story connectors. All are similarly constructed of matte black–painted steel cladding and white oak veneer for risers, treads, and inner balustrade paneling.
The Office Gym Features a 15-Foot-High Climbing Wall
As striking as the stairs are, there's another showstopper standing front and center on the ground floor. A 10,000-square- foot gym adjoining reception is fully out in the open, not secreted away as is often the case. Outfitted with weight and cardio apparatus, it offers a plethora of choices for staffers. But their real challenge comes at the 15-foot-high bouldering wall, conceived to wrap around and conceal some of the existing building core elements. "Many of the buildings Behnisch designs worldwide have ground-floor amenities for connectivity. We think globally and share knowledge," Paulson says, referring to projects by the firm's other offices in Boston, Stuttgart, Munich, and Weimar. "Here, the client even provides its employees with free bouldering shoes."
From working out to back-to-work, those employees mostly gather out in the open, with much of that area overlooking the atriums. Yet the floor plan, which also includes private perimeter offices, provides ample options for heads-down space and ad-hoc meetings. Glass-fronted meeting rooms, ac­com­modating five to 25 and enhanced with massive marker boards, flank corridors and, in some cases, cantilever over the atriums as floating boxes.
Meanwhile, Behnisch treated the corridors like lounges as much as circulation spaces, endowing them with Eero Saarinen chairs and custom seating in calming shades of leather or watery-blue textiles. More lounge-cum-meeting space, double-story in height, comes courtesy of cut-away glass building corners where folks gather, drawn to the light.
With all the openness, acoustics were crucial. "We used a German framing system, actually an exterior window system, with a nice, thin profile engineered to accommodate large sheets of glass almost 1-inch thick," Paulson explains. Additional solutions come from sound-absorbing cotton above the project's hemlock-slatted ceilings and the atriums' micro-perforated, tessellated oak panels. "Sound transference is a complaint I often hear from workplace clients," Paulson states. "Instead, this feels like a library."
The Space Nods to Company Values With Custom Art Pieces
Given Behnisch's global reach, Paulson's art program for the client, themed to geography, was a natural—literally and figuratively. Six continents, mapped out as massive oak wall sculptures, unfold two per floor across the office levels. Antarctica, the seventh, is on the ground floor. Meanwhile, conference rooms are named after rivers, like the Amazon, signifying movement and the flow of discussion, with cut-vinyl graphics for signage. The earthy theme continues with open lounge areas named after lakes to connote serenity. Which is, after all, an important vibe when venturing back to the office.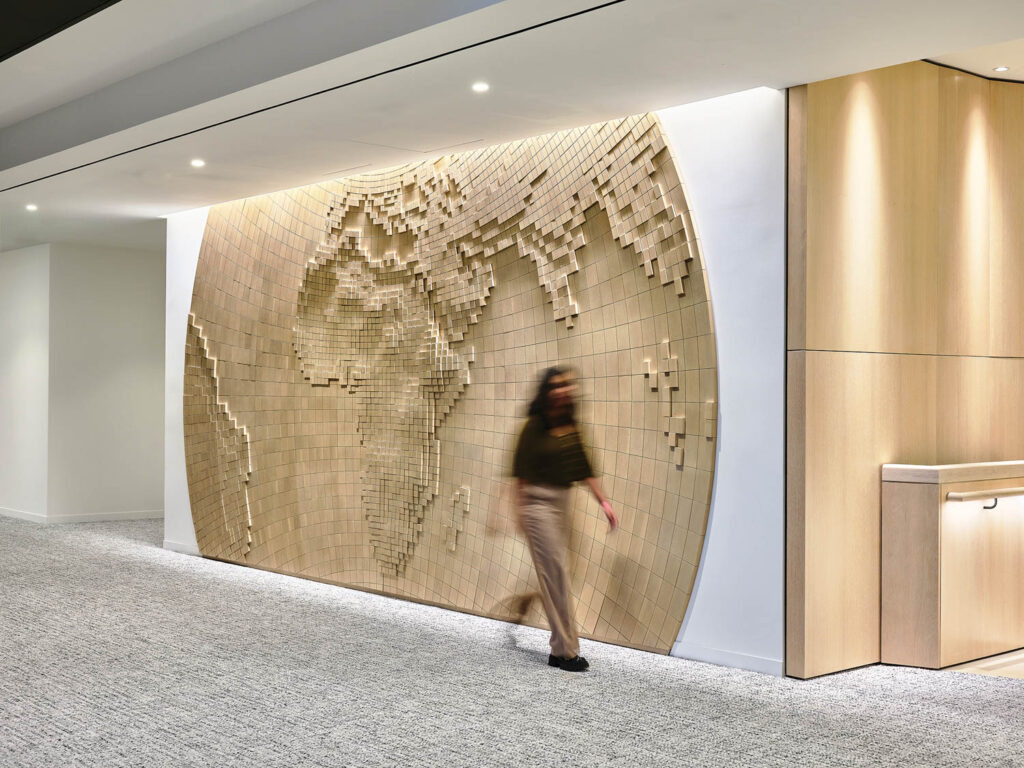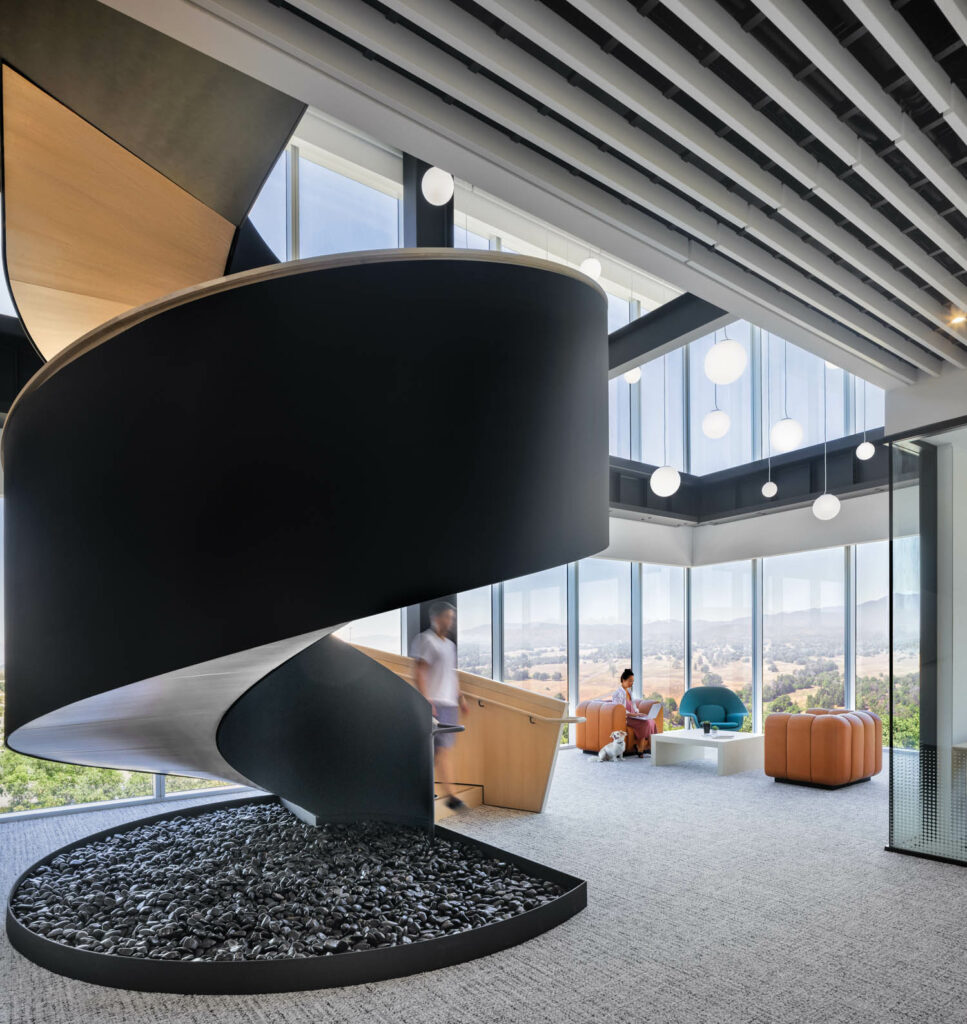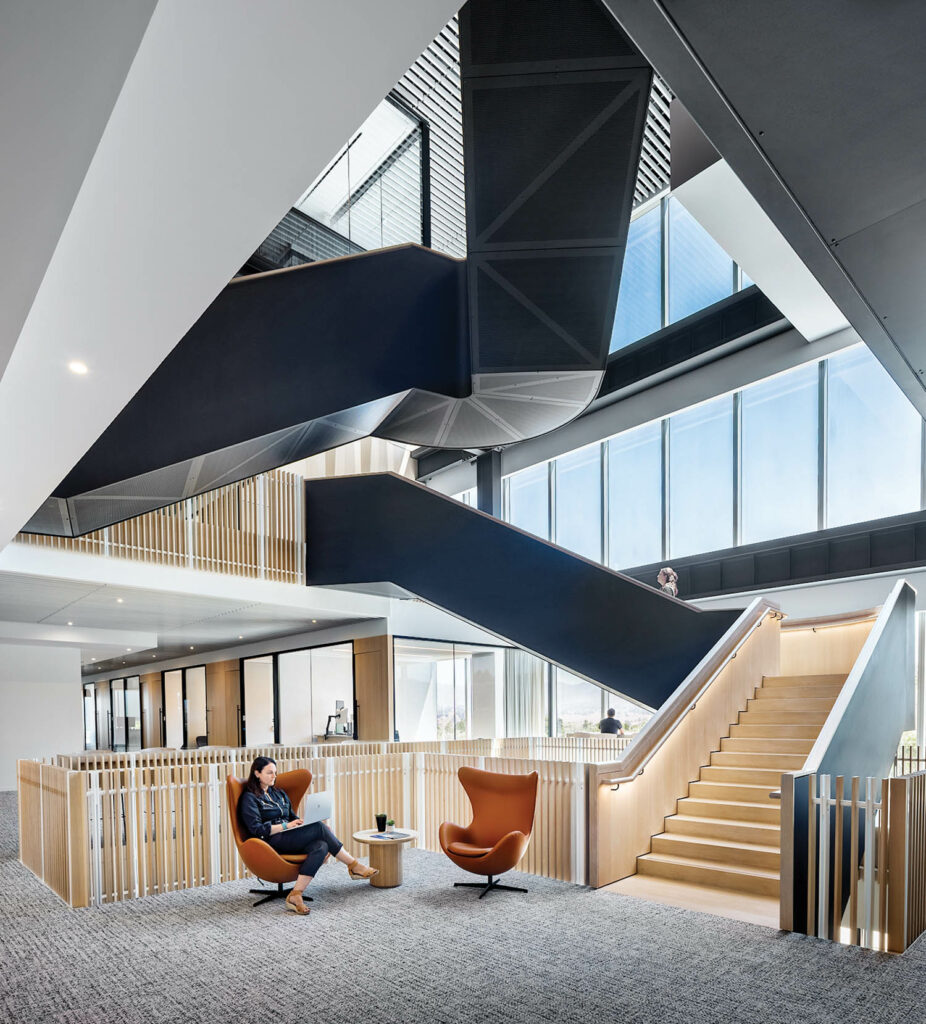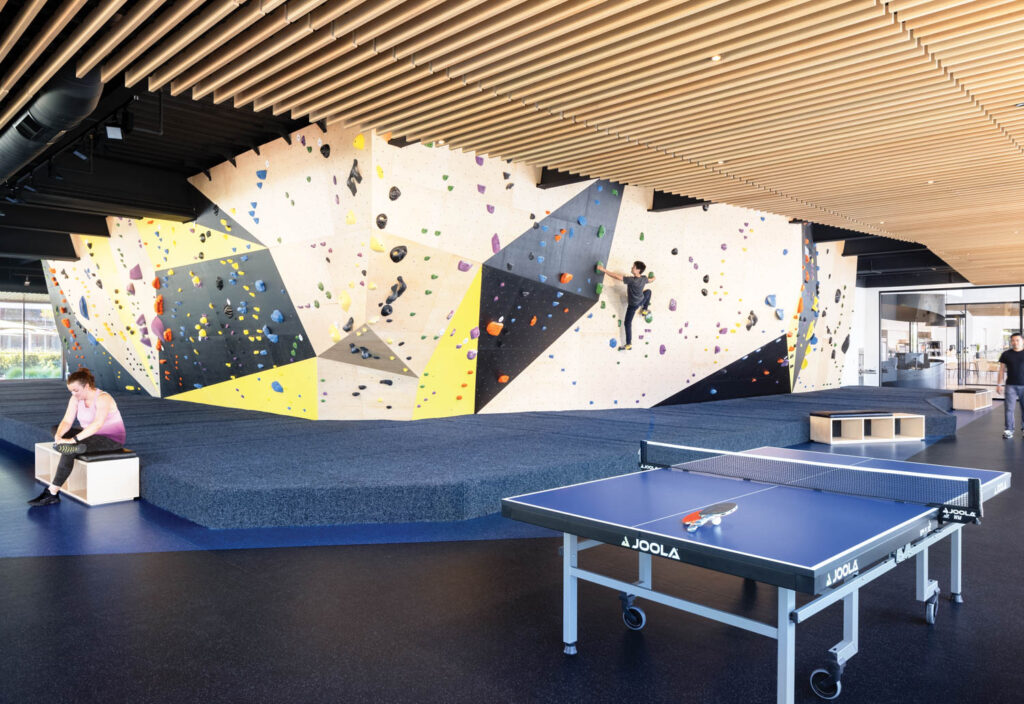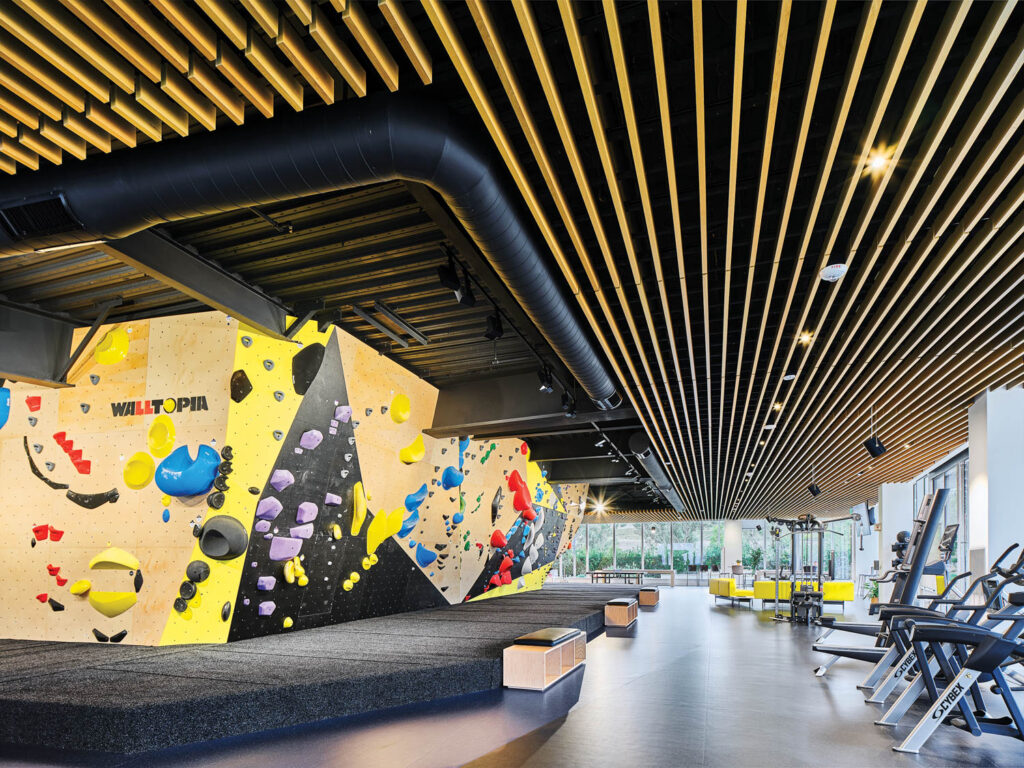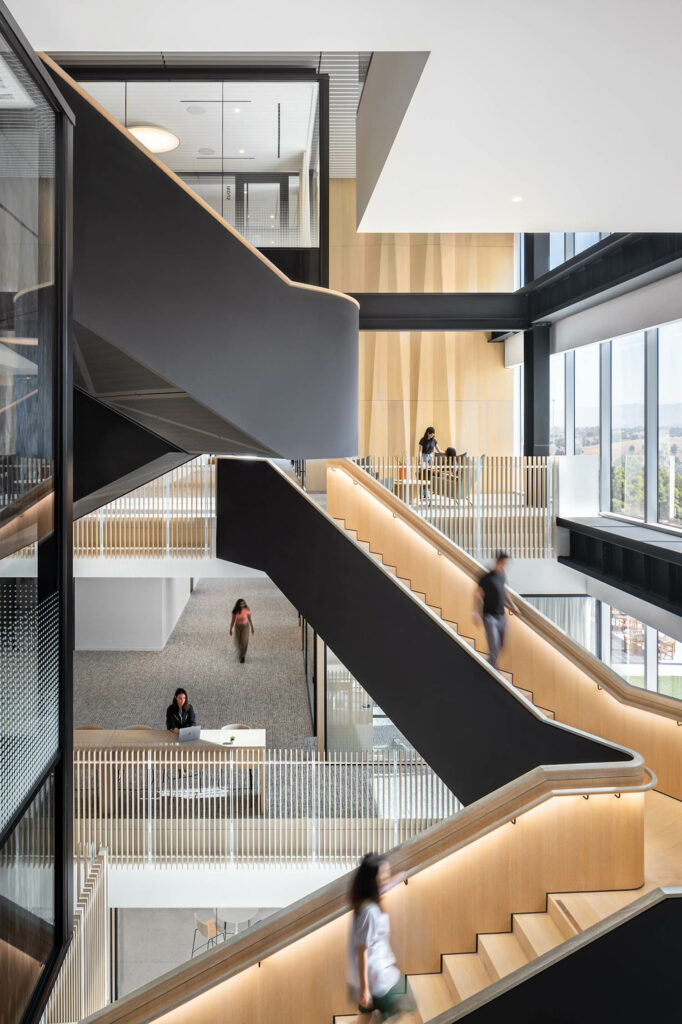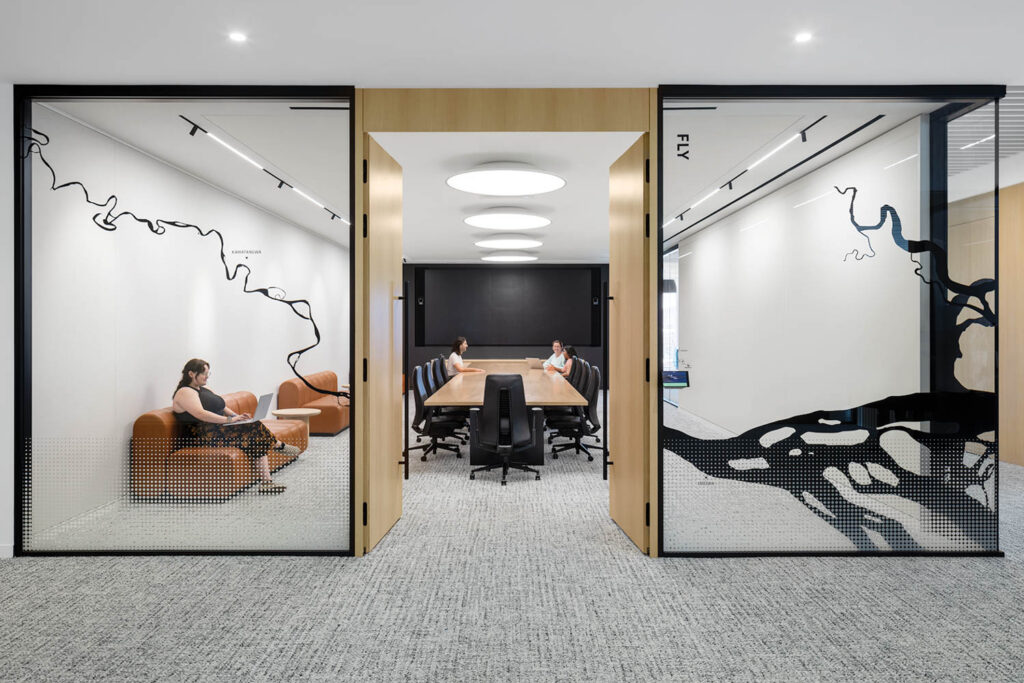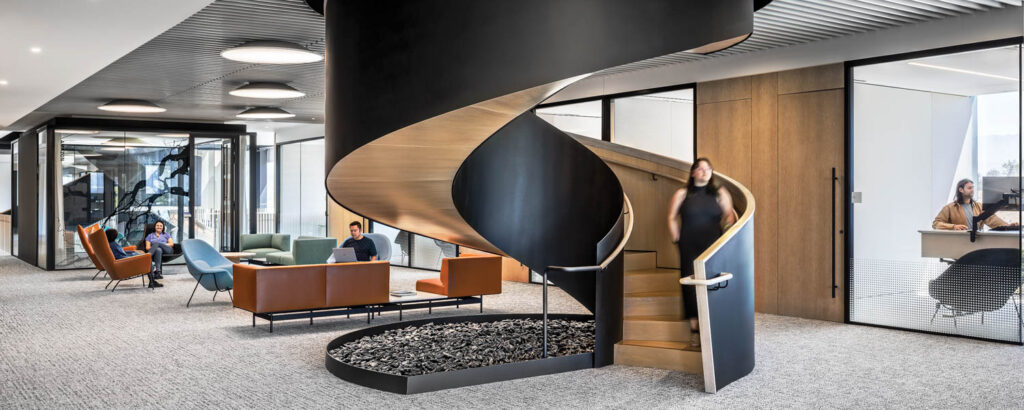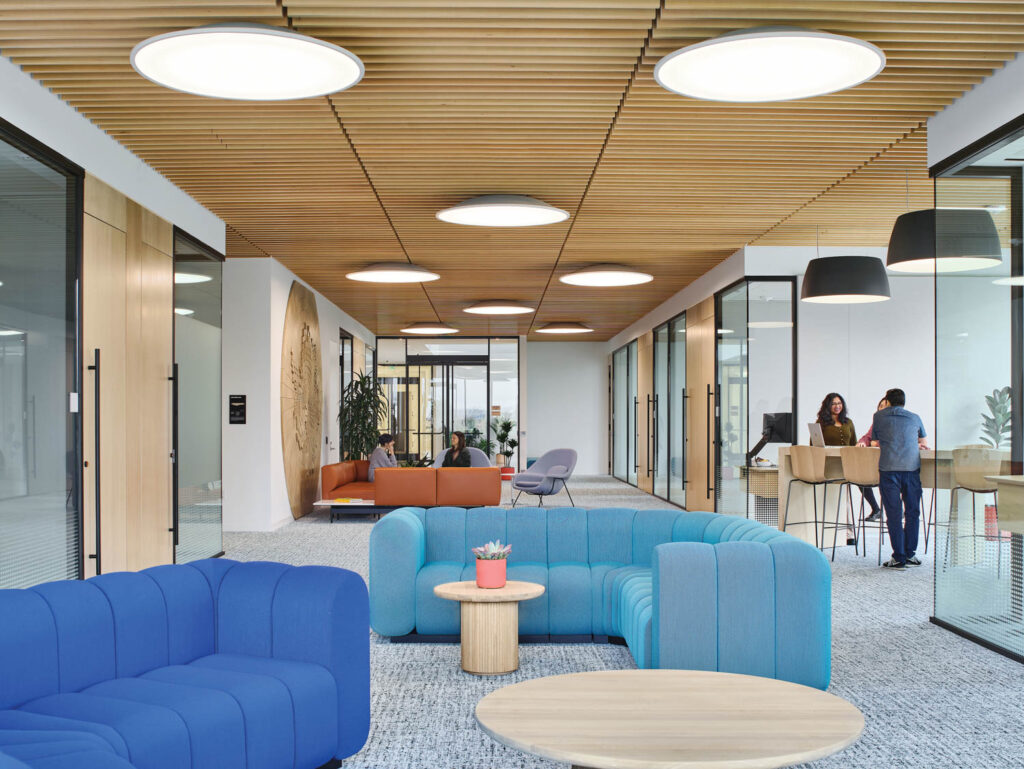 PROJECT TEAM
PRODUCT SOURCES
FROM FRONT
THROUGHOUT