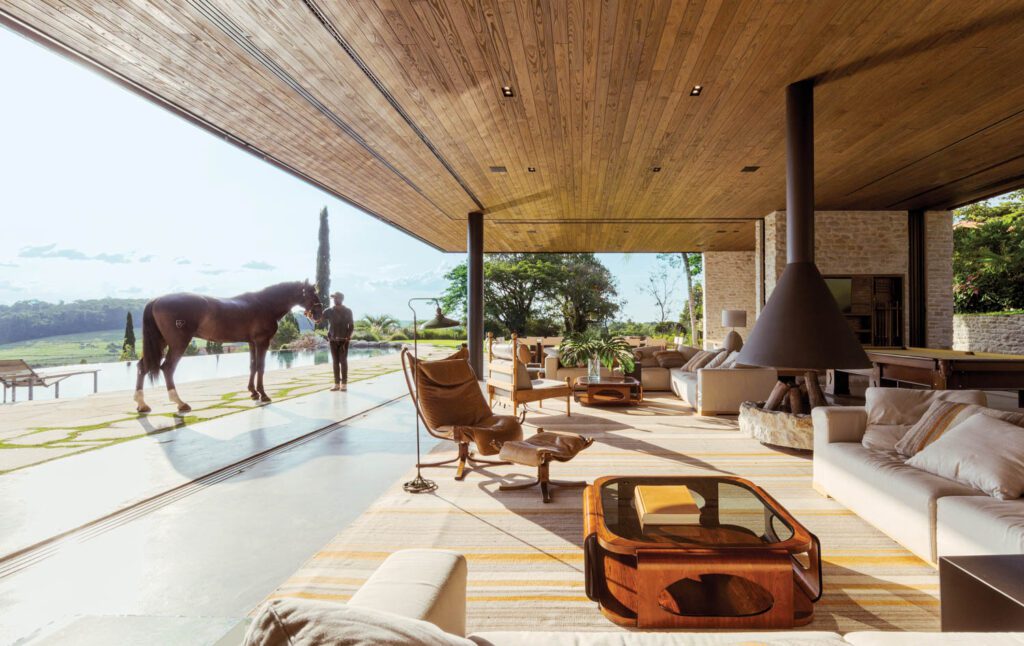 This Horse Farm in Brazil Features Design Standouts by Studio Arthur Casas
You might call the fascination humans have for horses "primal." After all, we have been captivated by them ever since we were cave dwellers and painted their images on the rock walls. Over the ages, they have remained a source of inspiration for artists—and architects. In fact, there may be no more iconic work of Latin American modernism than Cuadra San Cristóbal, a private residence and stable outside Mexico City designed in the 1960s by Luis Barragán, himself an avid equestrian. Stunning as the austere white house is, it's the stable with its punched-out walls in rosy hues, trough waterfall, and L-shape exercise pool that most beguiles. The spare, artful arrangement of mass, space, and color brilliantly showcases the horses as if they were living sculpture.
Continuing in that tradition is a new recreation complex that architect Arthur Casas recently completed at Coudelaria Rocas do Vouga, one of Brazil's leading Lusitano horse studs, in the old colonial municipality of Itu, northwest of Saõ Paulo. The Lusitano is a majestic breed of ancient Portuguese origin, once prized as a war charger and now sought after for competitive sport and personal equitation. Casas's brief encompassed indoor and outdoor spaces where the client could not only parade his purebreds but also entertain, hold meetings, and provide accommodations for visiting family, friends, and prospective buyers.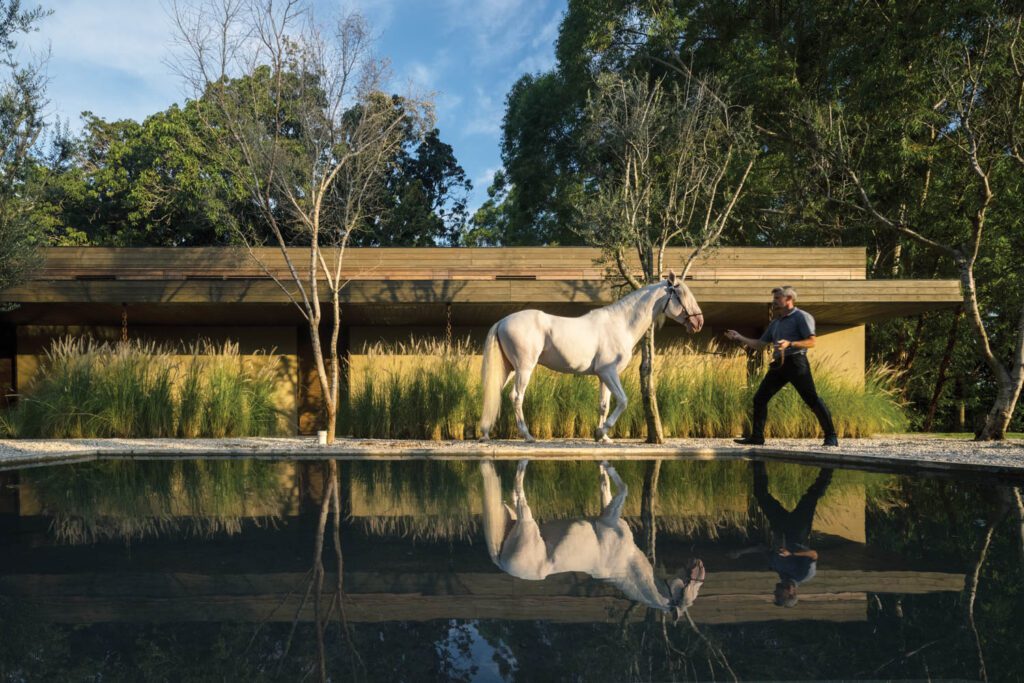 The architect, who is known for fusing modernist and contemporary styles with tropical flair, responded with a comprehensive scheme that gives a nod to the Mexican master, while being wholly his own. "I always wanted to one day create a work where horses—for me the most beautiful animals—could be part of the scenery," he confides.
The Studio Arthur Casas principal is a longtime proponent of sustainable architecture. "If I could, I would create invisible works," he says, "leaving nature to take the lead." He studied the site carefully to optimize his plan's potential for cross ventilation and natural illumination, reducing the need for air conditioning and artificial light. Quick construction was also of the essence, so Casas chose prefabricated steel frames for the structures, shortening building time to a mere 10 months and keeping waste to a minimum.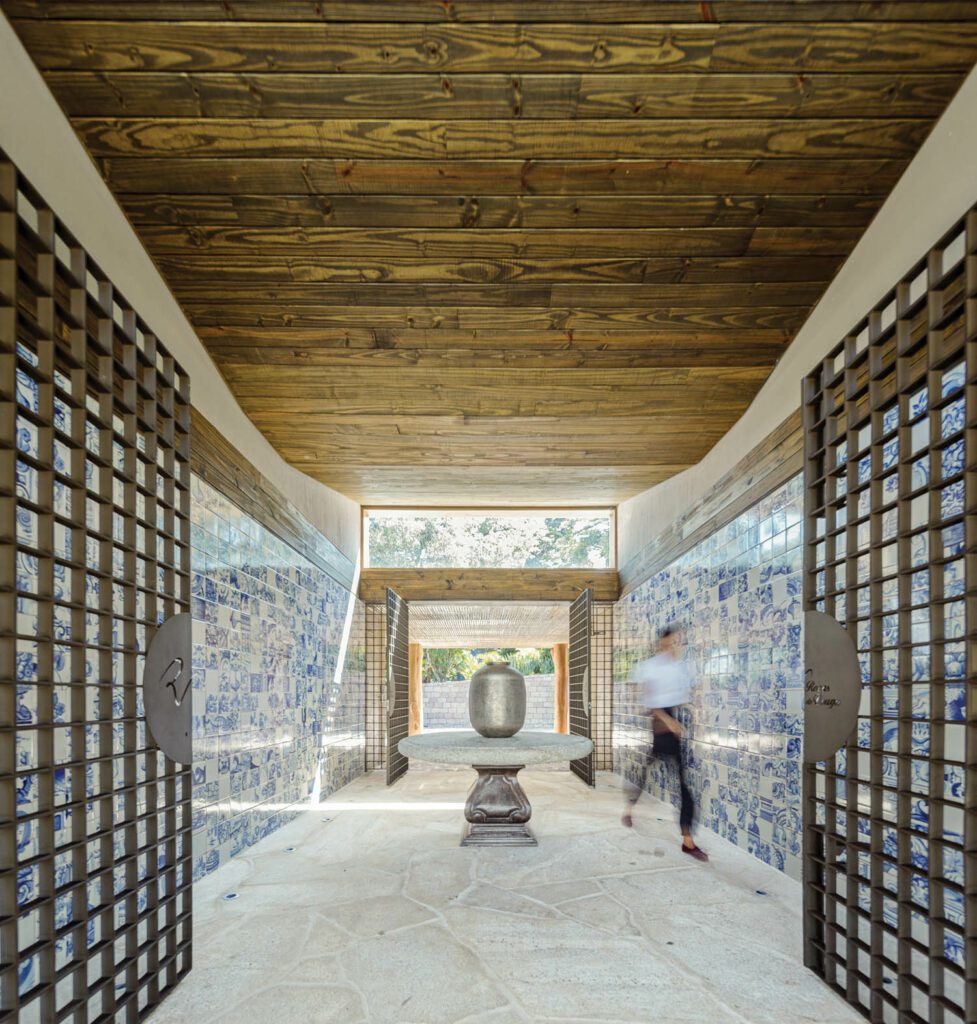 Like his horses, the client is of Portuguese descent, and he continues to have strong ties to his ancestral country. With that heritage in mind, Casas conceived the complex as a pair of simple, low-slung buildings—a 9,700-square-foot entertainment pavilion and a 5,400-square-foot guesthouse—replete with courtyards and water features, classic elements in Portugal's romantic old quintas. While the pavilion and guesthouse are strikingly contemporary in appearance, the materials used inside and out are evocative of those Iberian rural estates, with their stone walls, timber columns and beams, and azulejos, the flamboyantly patterned blue-and-white tin-glazed tiles seen throughout the country. Keen that the complex also blend with the landscape, Casas sourced many of his materials locally and adhered to a palette of earthy tones. The different textures and hues of the rough stone, carbonized pine, and burnt concrete are what gives his design a rustic, yet sophisticated character.
And sophisticated it is. There is nothing homespun about this complex. Mismatched azulejos cover the walls of the guesthouse entry, their random imagery making for highly stylish abstract murals. The two-story entertainment pavilion has sliding glass walls that open it up completely to a covered barbeque area, flagstone terrace, and stone-lined infinity swimming pool, ideally situated for viewing sunsets. Inside, the 115-foot-long main room reveals itself to be an ultramodern pleasure dome with two sofa-defined seating groups flanking a freestanding fireplace in the sitting area, which features pieces by Brazilian midcentury modernists such as Sergio Rodrigues and Bernardo Figueiredo; a vast sunken dining section outfitted with pillow-strewn banquettes and several tables, including one for 10 people; a games area with a pool table; and a conversation pit–style home theater lined with plush sofas. Additional amenities include a gourmet kitchen, glass-enclosed wine cellar, and, upstairs, a spa, massage room, and gym.
The guesthouse is equally luxe. It comprises 14 suites, each with a glass-walled bathroom and screened private garden, flanking a spacious gravel patio planted with trees and grasses, a calm reflecting pool at its center. The rooms have sand-plastered walls and, as with the pavilion, highly refined furnishings, some designed by Casas himself. There are also pieces by contemporary São Paulo designer Marcelo Magalhães, whose signature use of discarded tree branches fits the compound's aesthetic perfectly.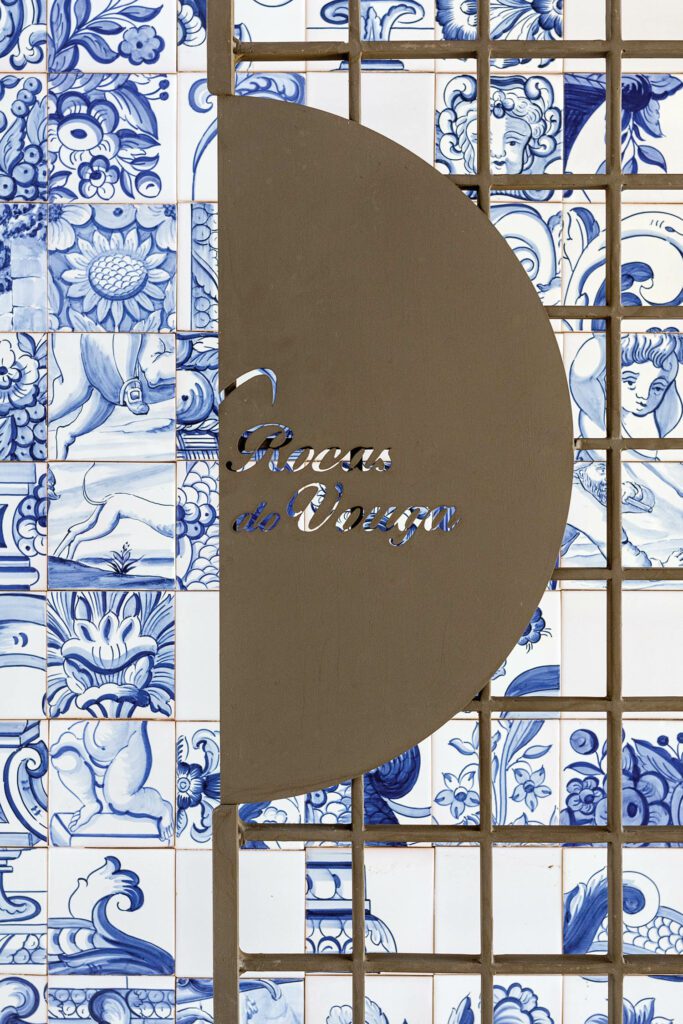 Handsome as the complex is by day, it's even more stunning as night falls. Ground-level spotlights bathe the exterior stone walls, accentuating their surface textures, while recessed floodlights in the ceiling softly illuminate the interior, with table and floor lamps providing an additional warm glow. When a fire blazes in the central hearth and the Lusitanos are put through their paces in the gathering dusk outside, guests may well experience the same primal stirrings of wonder that our ancestors must have felt when the flickering firelight played across the horses painted on their cave walls.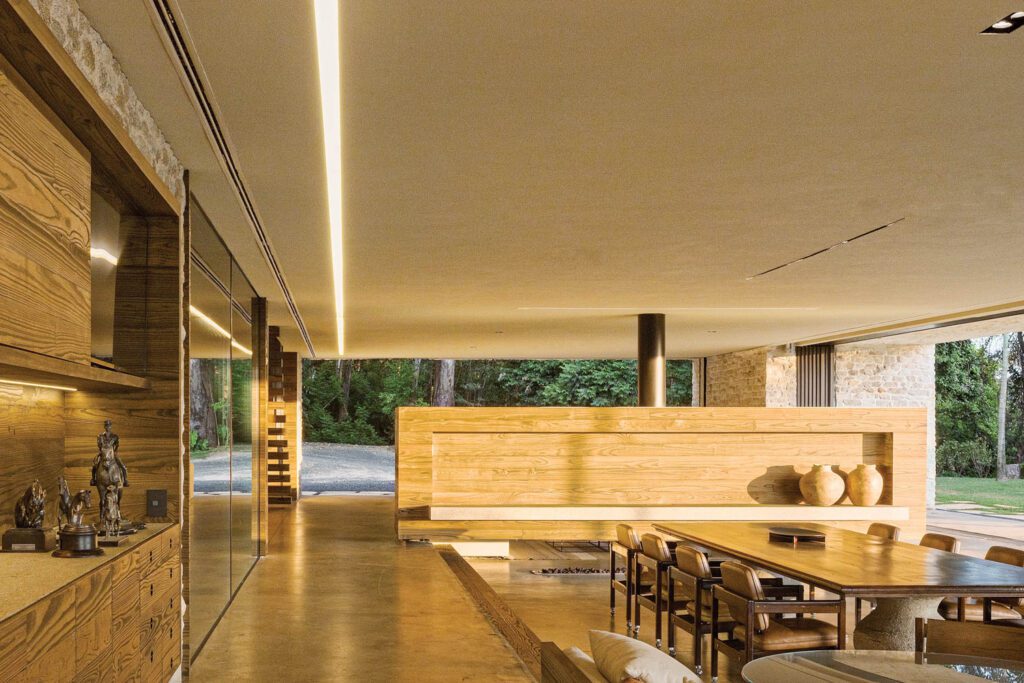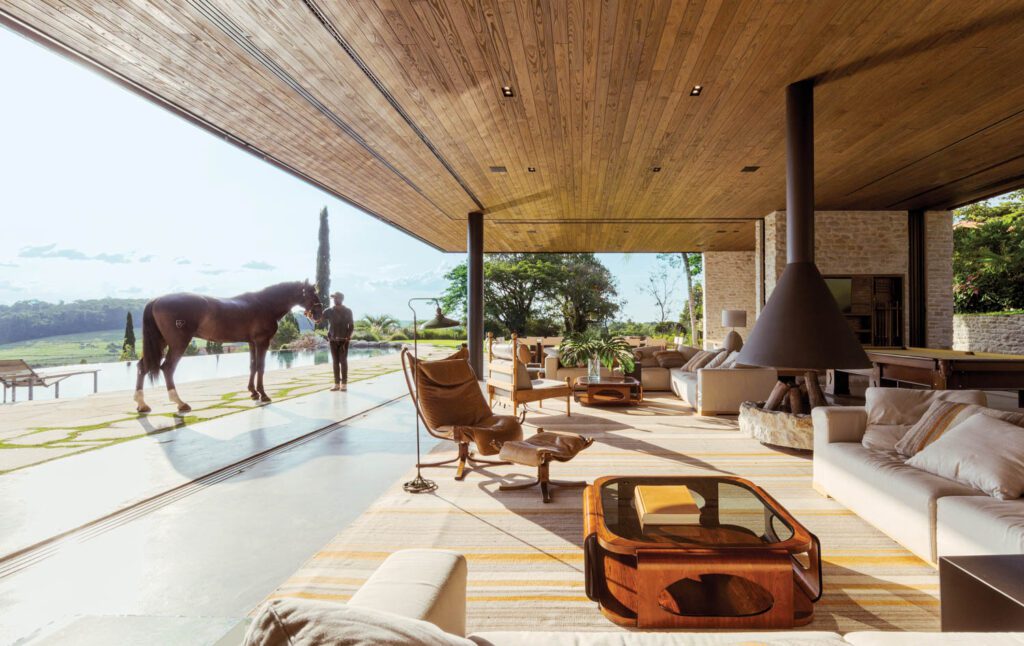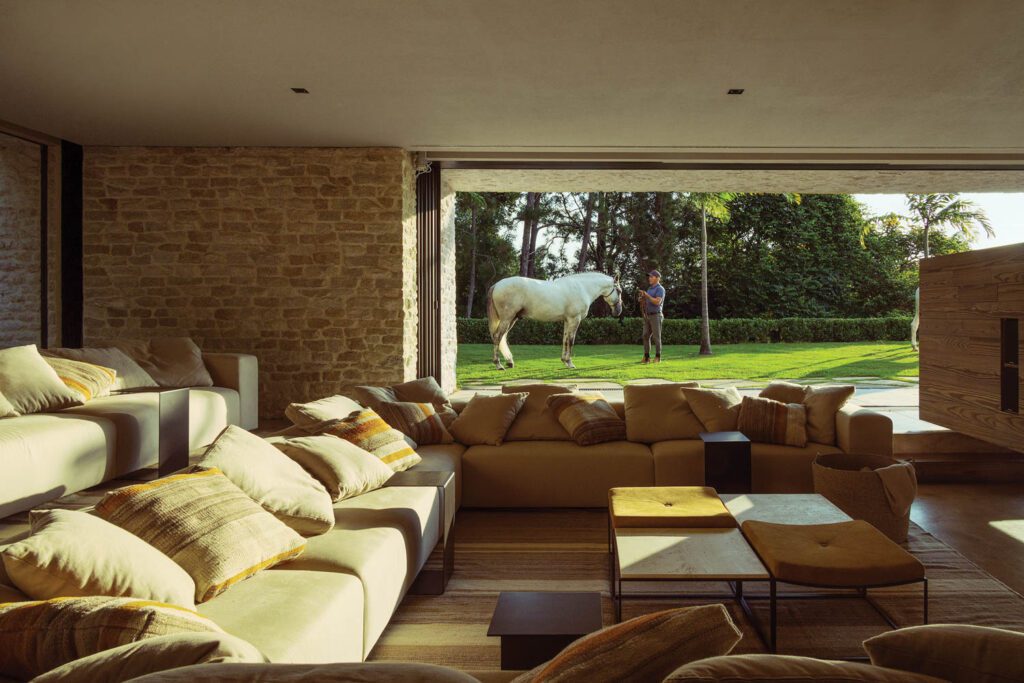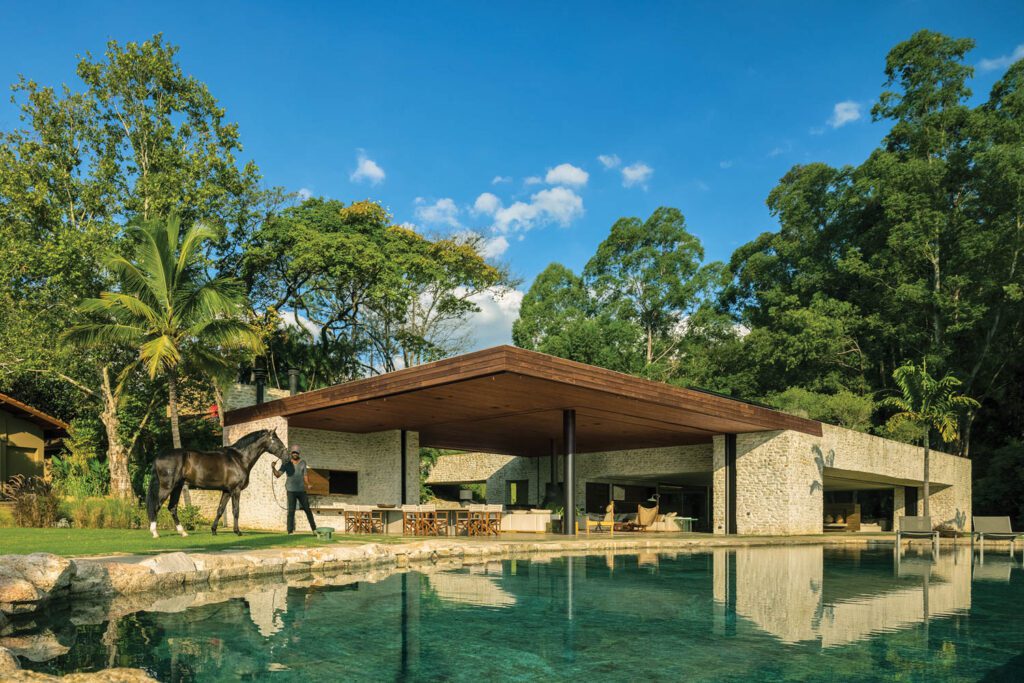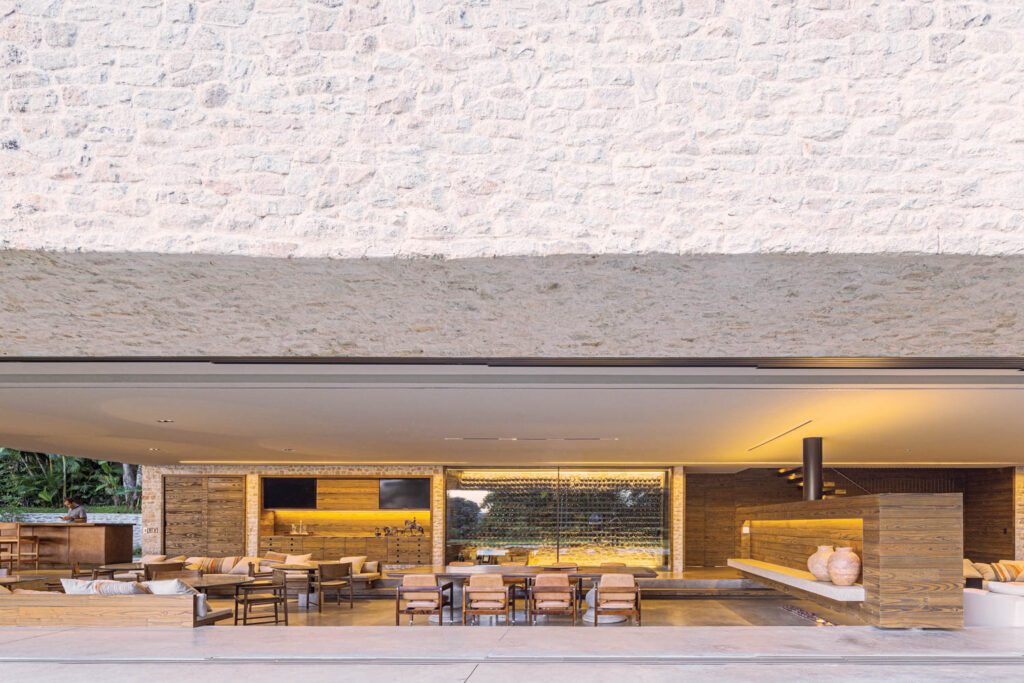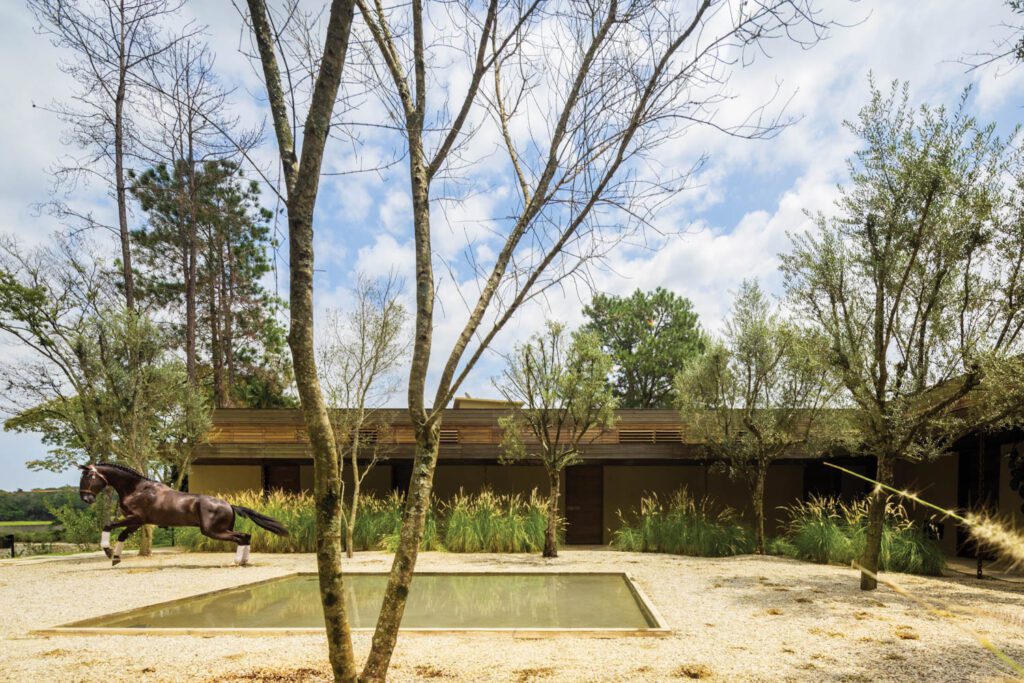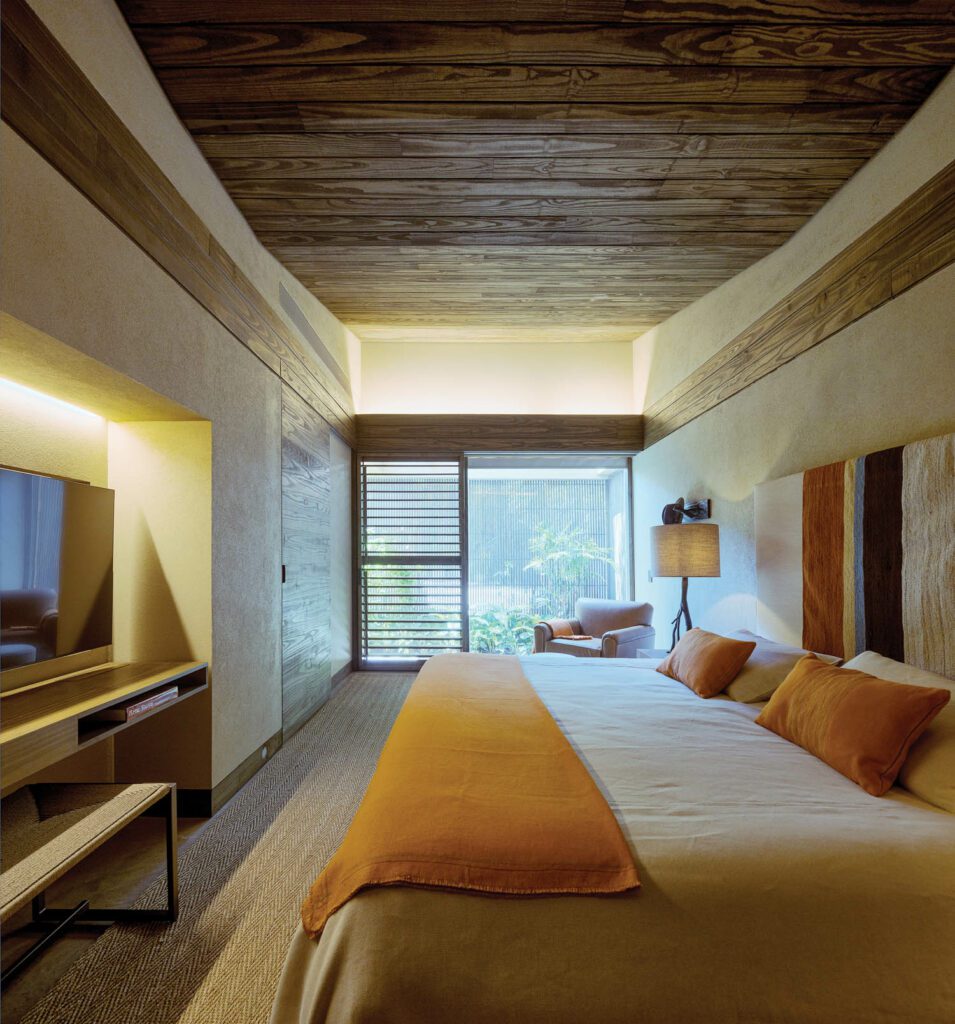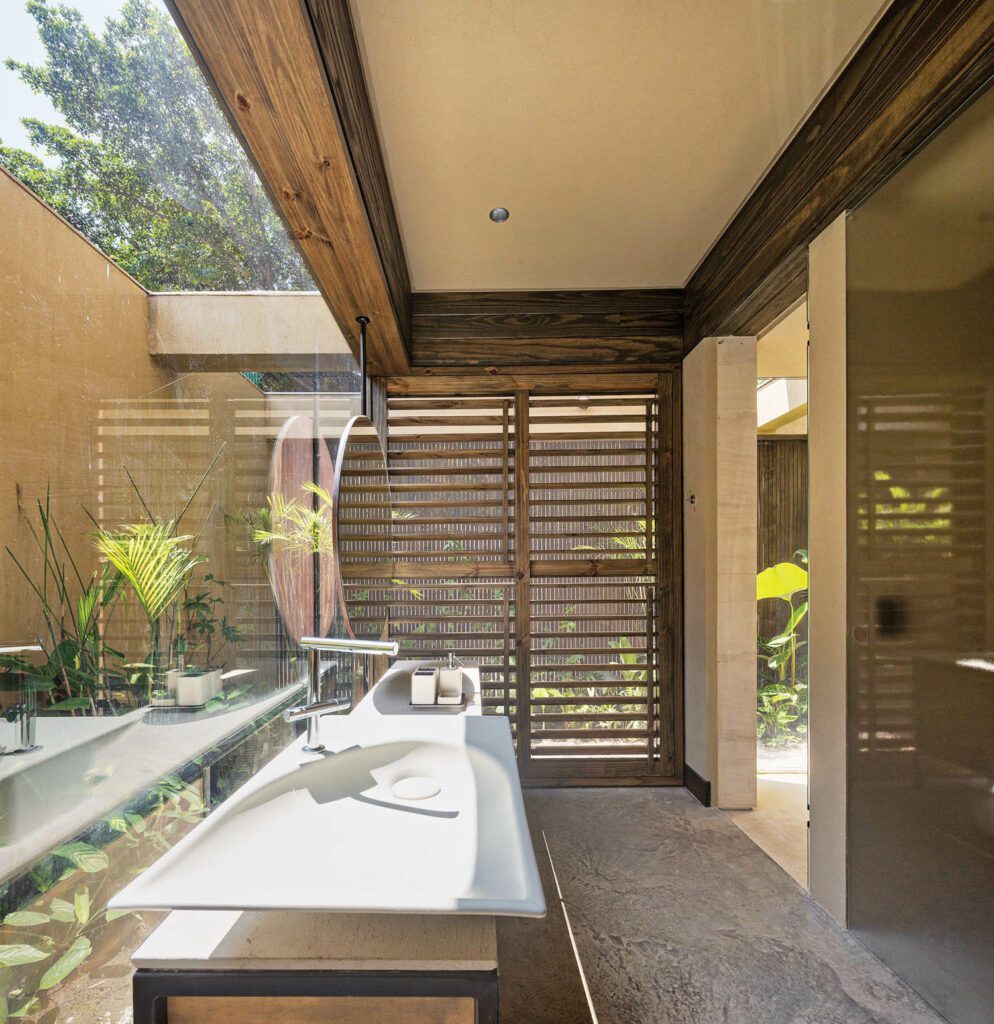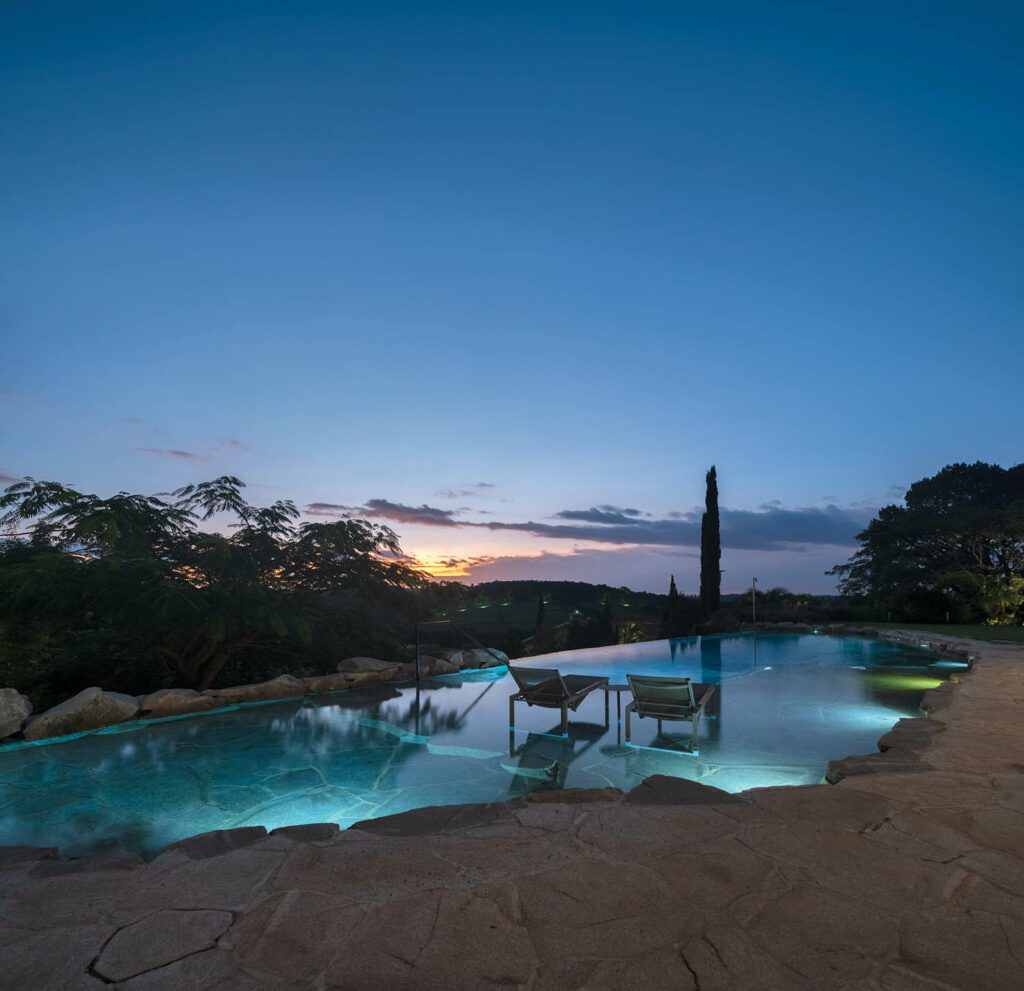 PROJECT TEAM
PRODUCT SOURCES
FROM FRONT
THROUGHOUT