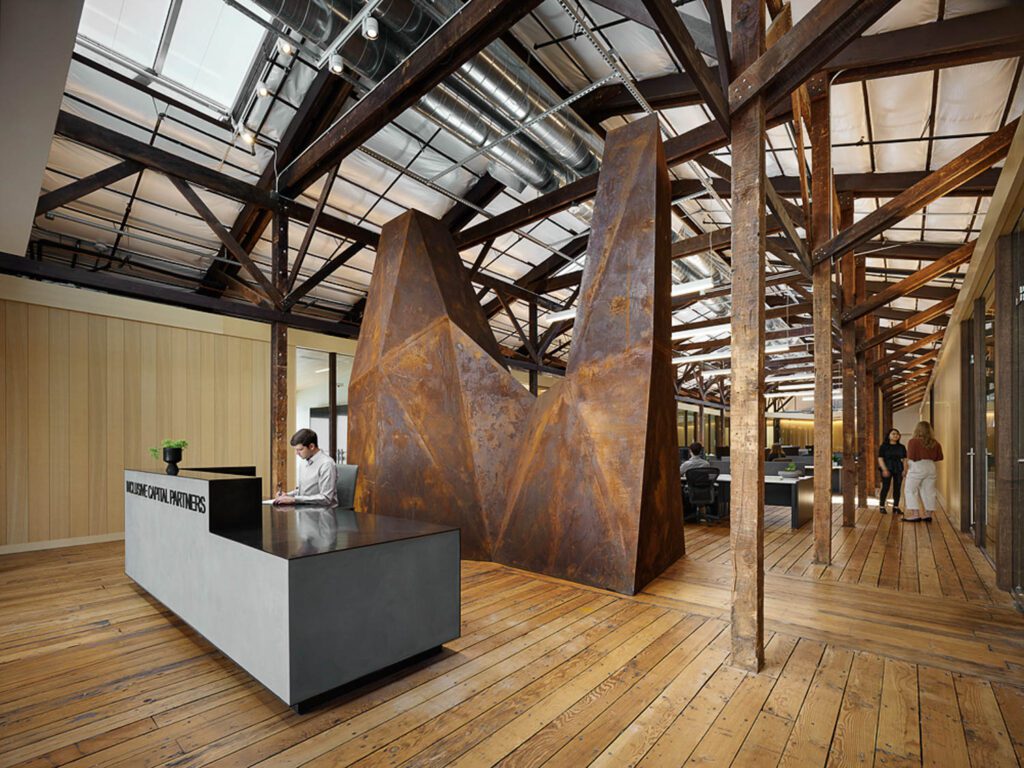 Jones Haydu and Evans Design Studio Employ a Sustainable Strategy for this San Francisco Office
Even though its name is Inclusive Capital Partners, the firm is somewhat of an outlier in the investment community. First, it lays claim to environmentally-friendly investing, not only in terms of locating companies for its own portfolio but in having its partners achieve board membership when possible. Second, its headquarters is in an erstwhile warehouse within San Francisco's Presidio, the 1,500-acre national park protected under landmark status. That posed constraints for first-time collaborators Amber Evans of her eponymous design studio and Jones Haydu. Regardless, the striking results are both rustic and refined.
Evans was the catalyst. "I knew George Hamel, the founder and managing partner, before he branched off from ValueAct Capital for a more sustainable approach," she begins. But at 12,167 square feet, the project was more than she alone could handle. "I always wanted to work with Paul and Hulett," so timing was propitious for this first-time collaboration.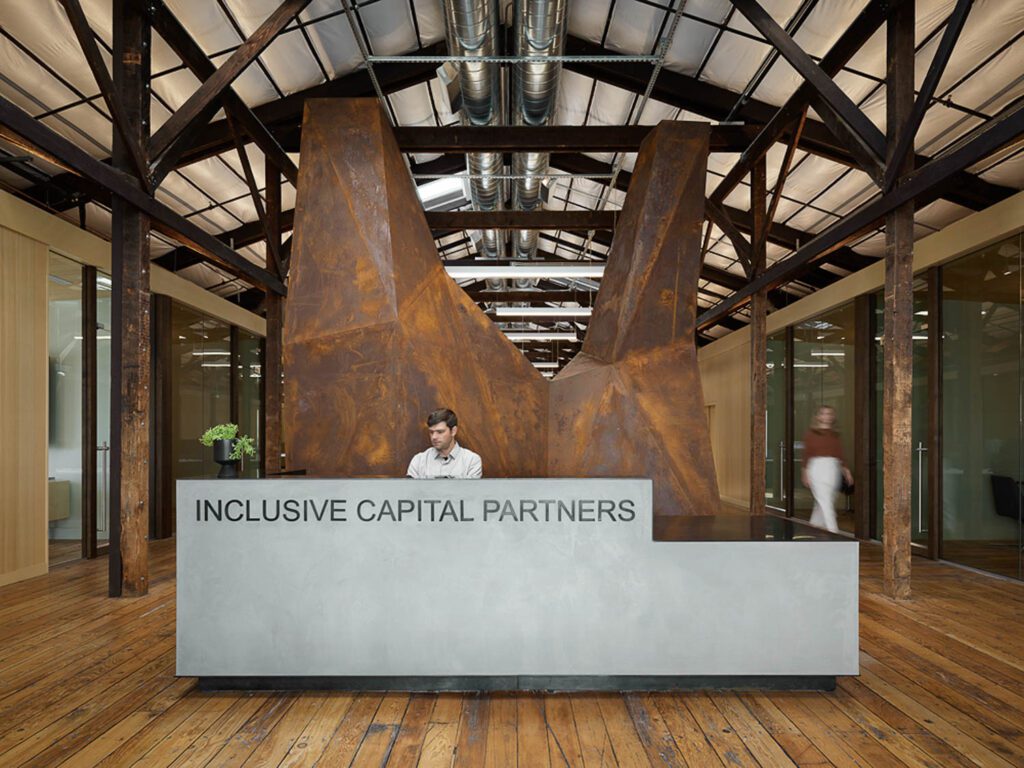 "We worked as an all-inclusive team, operating as a single studio with the benefit of Amber as an additional designer," Jones jumps in vis-à-vis process. "We came up with four or five schemes then whittled them down to two." Of constraints, he says, "they take landmark status seriously." That meant retaining some existing conditions while ascertaining that subsequent interventions "don't mimic history but are clearly seen as new."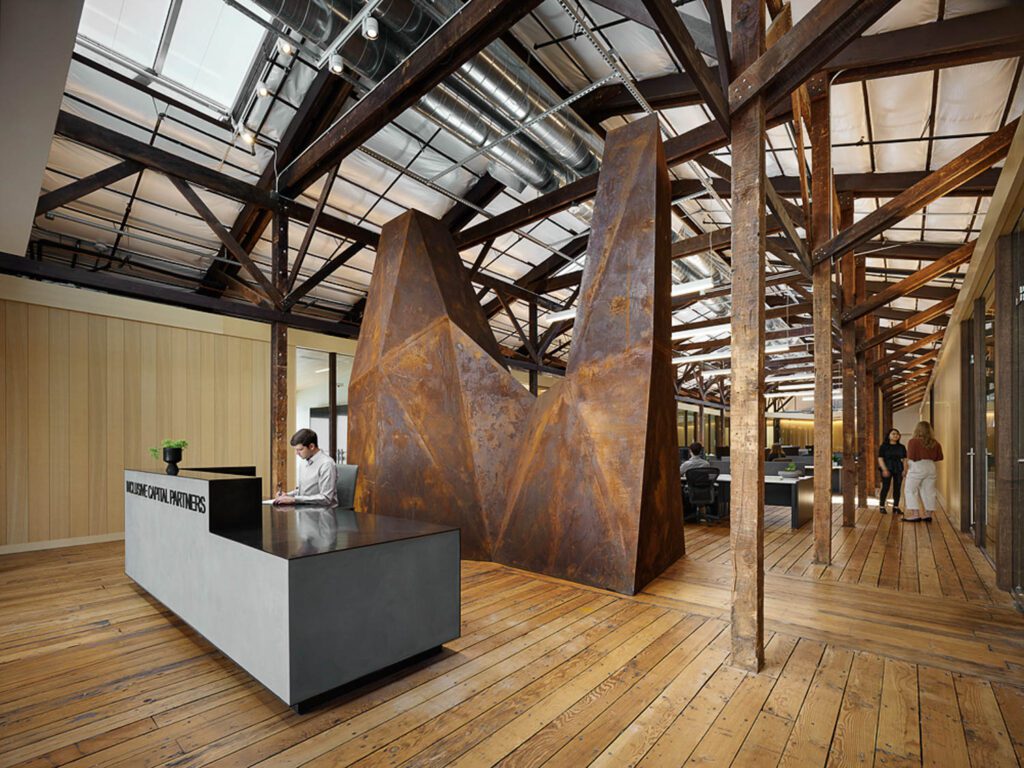 The envelope with its oak flooring, beams, and bow-truss structure was kept intact as were the eight added skylights bringing light into what had been a dim interior. Then, came a straightforward layout. "We worked with the notion of letting the space be what it is," Jones continues. That meant enclosed offices, much the norm for an investment firm, at the perimeter with a continuous pale wooden cap and darker wood columns framing their glass-fronted enclosures. Occupying the 100-foot-long central spine is the boardroom with two points of entry and acoustic wood material surrounding a massive marble table for 16 that is ringed by leather chairs and overlooked by a Vincent van Duysen lighting fixture for Flos. A pair of conference rooms and workstations, too, populate the area as does the reception desk of blackened steel plates and Venetian plaster. Overall, the vibe is undeniably modern, but with a nod to "imagery of old-growth redwood trees, an important visual touchstone for ICP," Jones notes. Evans adds: "The clients had worked with a branding firm for identity and came up with the idea of the Hyperion redwood."
Abstracted, the massive tree takes form as an extraordinary weathering steel sculpture standing behind the reception desk. Designed by the team and fabricated by Joe Chambers, a local, it stands 15 feet tall and is composed of 36 thin plates held together by internal magnets and assembled on site. Though not as heavy as a Richard Serra piece, it nevertheless weighs in at more than 4,500 pounds and required reinforcing of floor joists below. Notes Evans: "It was a great way to have an interactive design charette." Jones reinforces that collaboration, complimenting it as "ego-less design." Haydu concurs: "Good ideas were generated from fruitful interactions."