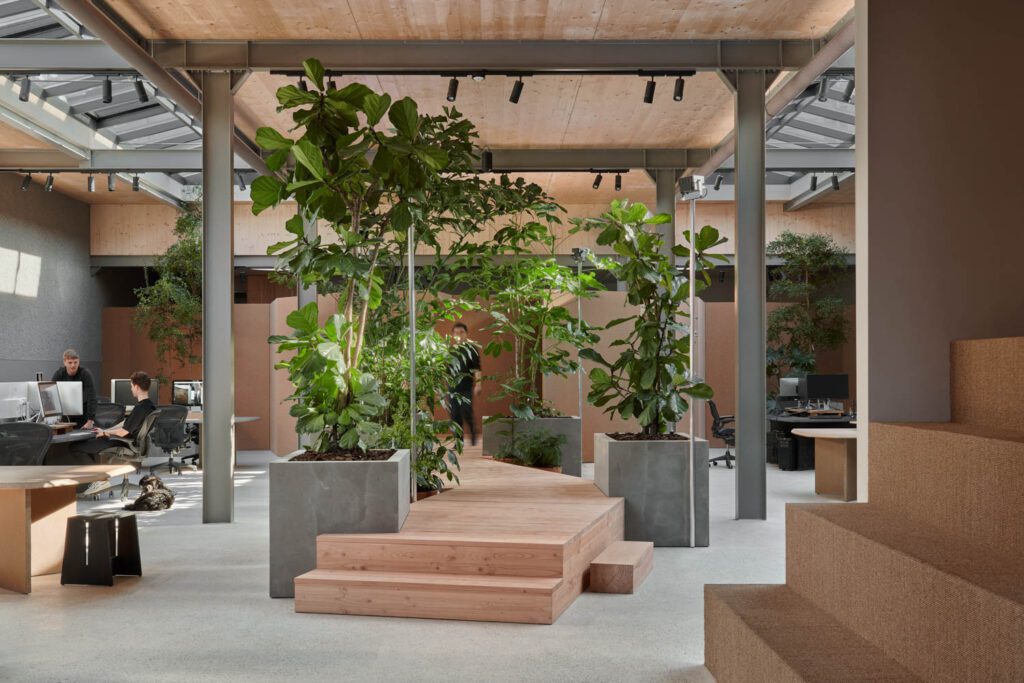 Random Studio Links Up with X+L for an Amsterdam Office That's All About Connections
Tasked with creating synergy between a company's digital culture and physical surroundings, Amsterdam's Random Studio transformed a mostly-raw 11,800-square-foot space into a new headquarters for some 50 employees. With some help from local firm X+L, they seamlessly integrated the old and new.
Traditional techniques—concrete planters for trees in the open studio space, a 3,300-square-foot roof garden—mix with the latest in sustainable innovation, from walls made of sound-absorbing recycled newspaper to electrical heat pumps that eliminate the building's need for gas entirely.
More futuristic features complete the project. An interconnected technical infrastructure manages the lighting, temperature, and interfaces for the studio's digital art and design projects. A site-specific light installation by artist Arnout Meijer projects exterior light conditions onto the ceiling and rear wall. "It runs a virtual sky simulation based on the local latitude/longitude, date, and time to create an accurate representation of a local sky," says Daan Lucas, founder and managing director of Random Studio.
"It also interfaces with a weather API to drive a dynamic cloud simulation," Lucas shares. "The colors of the virtual sky change throughout the day and year." This means the team is graced with a midday sunset and subsequent sunrise as the light shifts from hues of yellow to deeper oranges to reds. "The end of the week is signified with an early and very drawn-out virtual sunset," he adds. Call it a Sunset Friday.