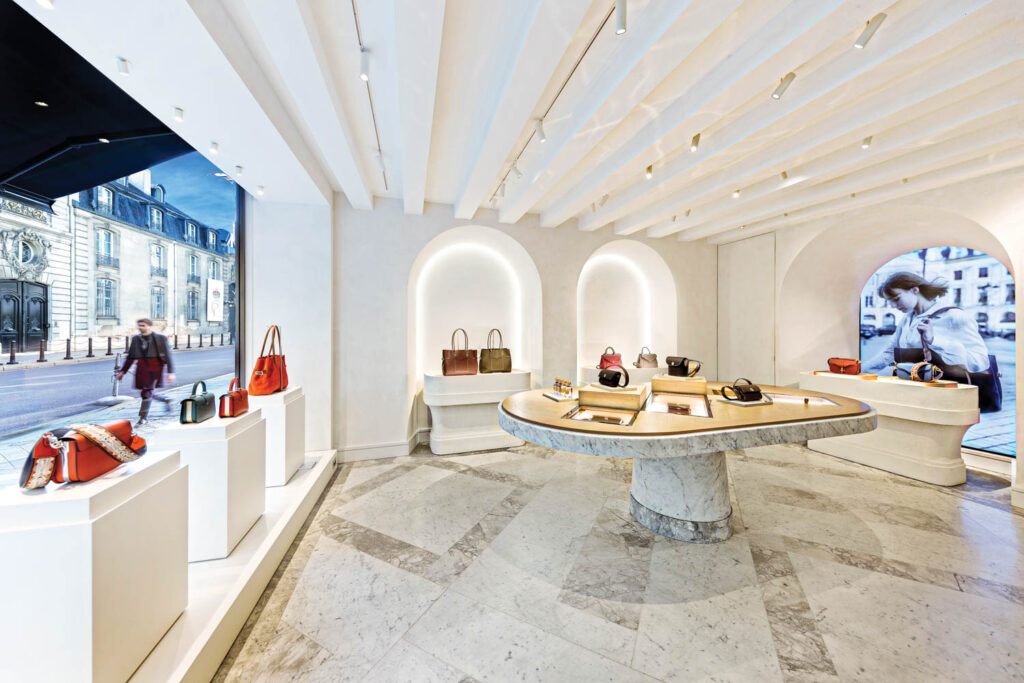 Joseph Duclos Arrives in Paris With a Timeless Boutique
Paris seems hard-pressed to need another luxury label. Still, the city has welcomed Joseph Duclos, a high-end boutique carrying a 21st-century collection of handbags and accessories with roots dating to the 18th century, when the brand was first established as a leather tannery in Lectoure and received the imprimatur of Louis XV. Today, thanks to company CEO Franck Dahan and artistic director Ramesh Nair collaborating with French designer Tristan Auer, the premier Joseph Duclos has debuted in a 4,300-square-foot environment that's as chic as its location, steps from the Palais de l'Élysée.
"Since this is the first shop, I did it as a tailor does a suit," begins Auer, who's middle name could easily be luxury, having designed yachts and custom cars as well as recently revamped the Carlton Cannes hotel mere months before the annual film festival rolled out the red carpet. "My responsibility was to let people discover it." Adds Nair, "It's important that customers understand the technique," referring to how each bag is handmade by a single artisan.
Behind the Design of the Joseph Duclos Boutique in Paris
The site, occupying the ground and subgrade floors of a 19th-century building, was the antithesis of its current setting. A former Moschino shop, it was, Nair continues, "like a disco, all chrome and black marble." Except for the connecting stairway, everything was removed and redesigned.
"The atmosphere is recessive in favor of the merchandise," Auer says of the main floor's restrained palette. Marble in three creamy tones creates subtly skewed parquet flooring. A focal table's oak top mimics the parquet, and fixtures, including glass and chrome vitrines, are minimal allowing "space and air around the bags," Nair notes. The lightly brushed plaster coating the walls and ceiling references the old buildings of Paris, while decorative beams and arches take inspiration from a centuries-old château in the Loire Valley. A copper-leafed niche draws clientele through the long expanse to a perfume and candle area centered on a Piero Lissoni sofa.
Downstairs offers two experiences. For VIPs, a private room pairs traditional cerused-oak boiserie with furniture of today by Auer and his contemporaries. Down a long corridor is the manufacturing atelier, where a live artisan works leather amid walls of textured ebony plaster. Its cue, Auer says, is a more modern, jet-setting French landmark: Terminal 1 at Aéroport de Paris-Charles-de-Gaulle.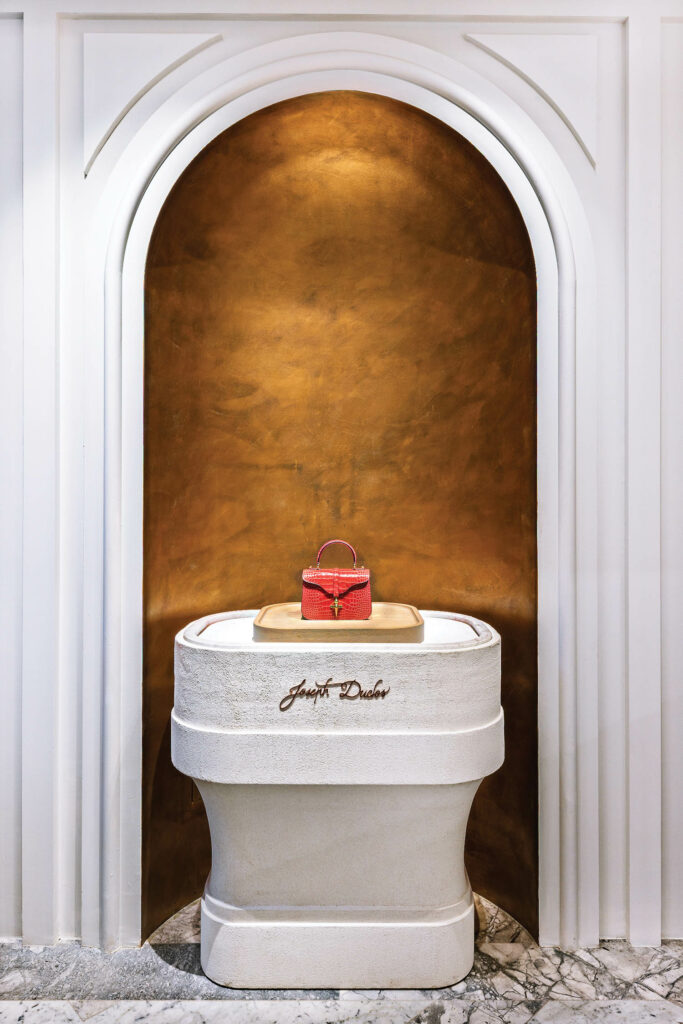 Walk Through the Joseph Duclos Boutique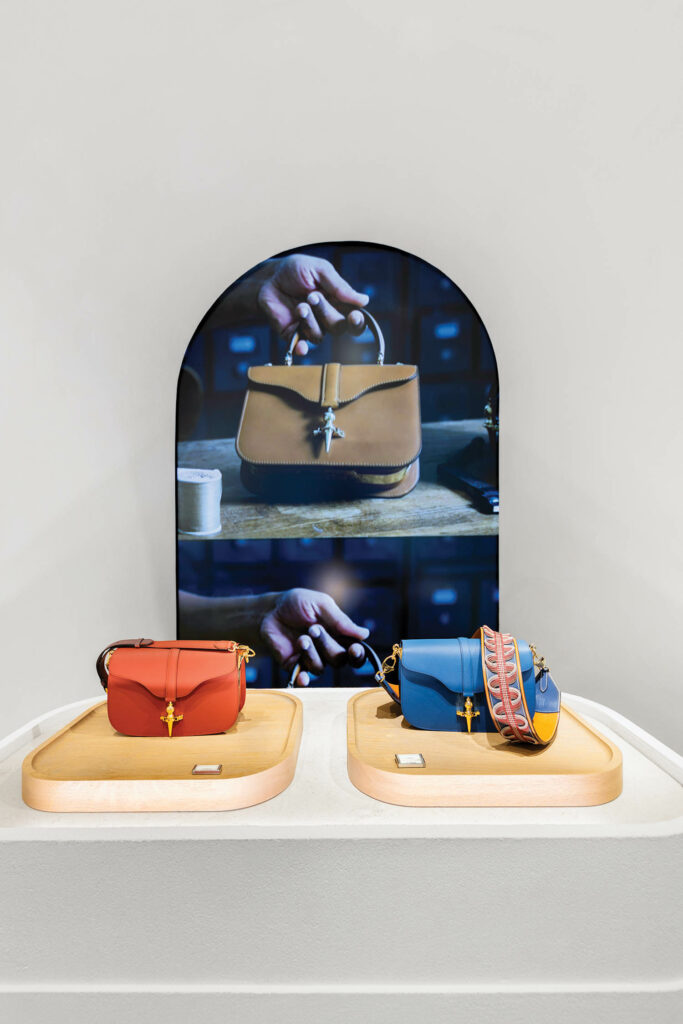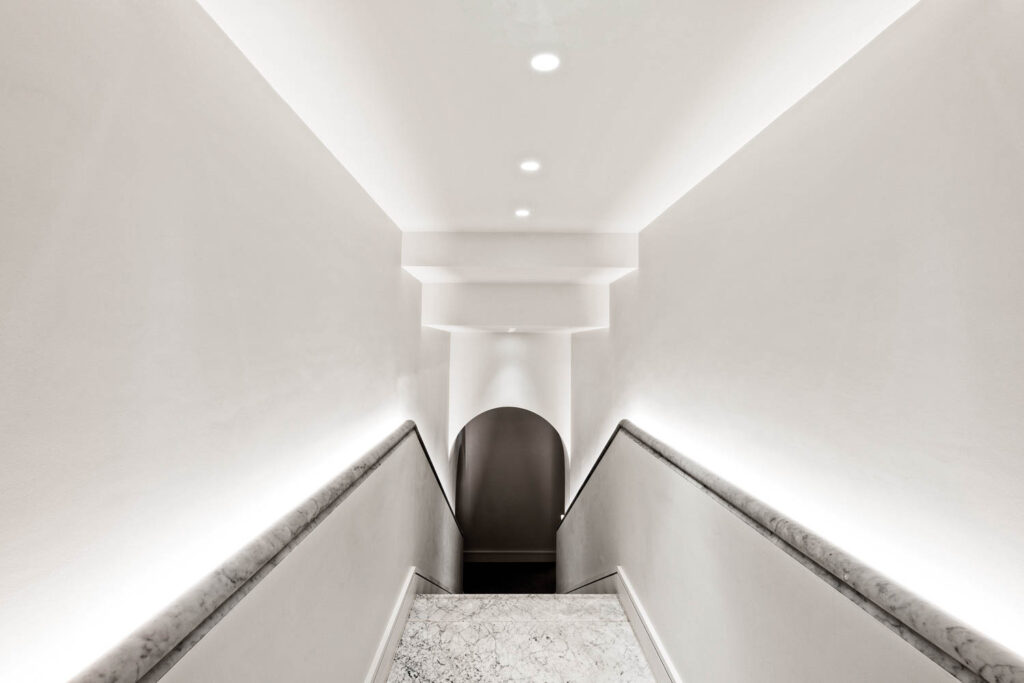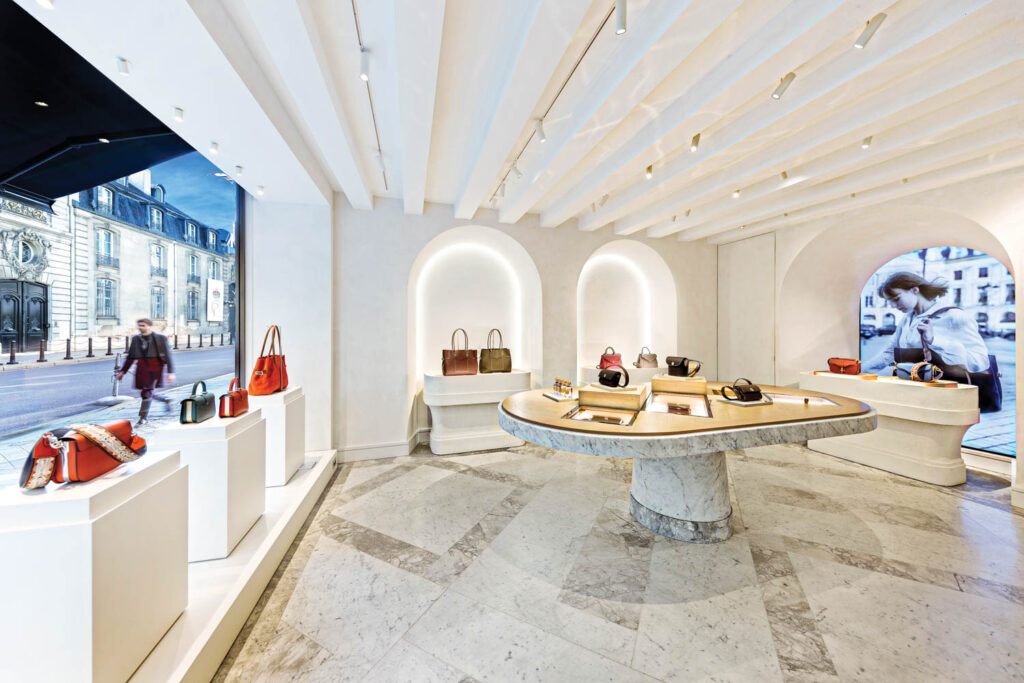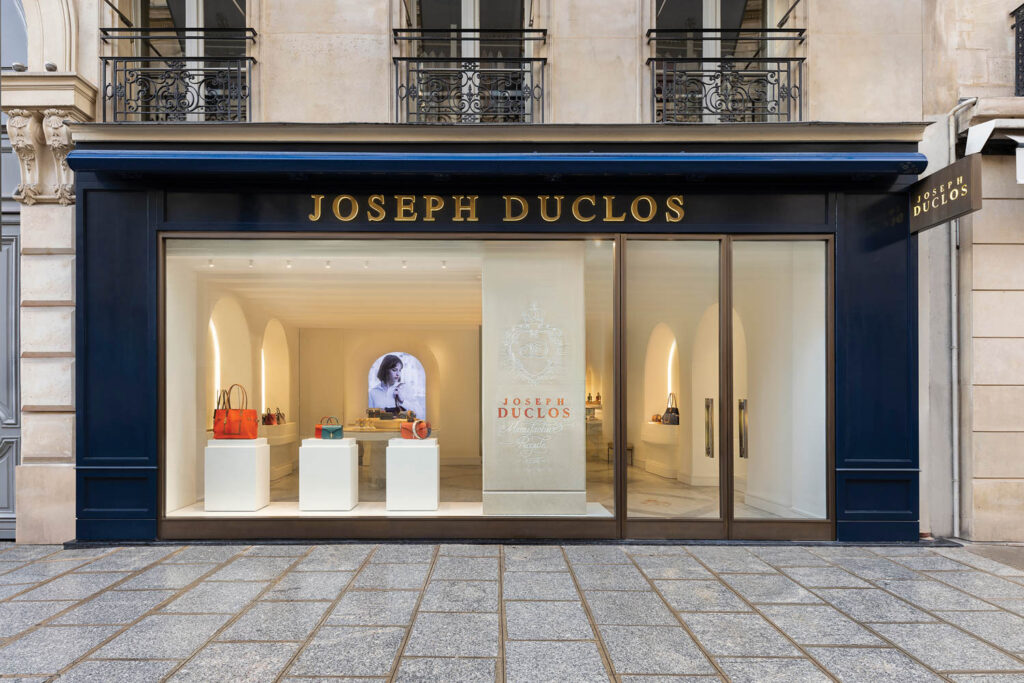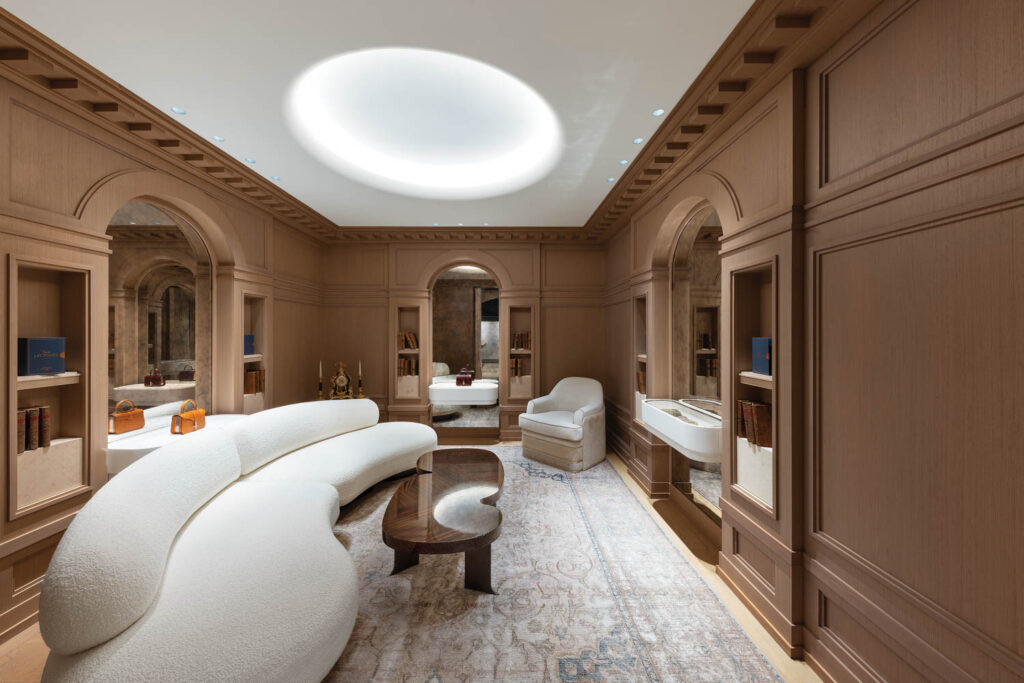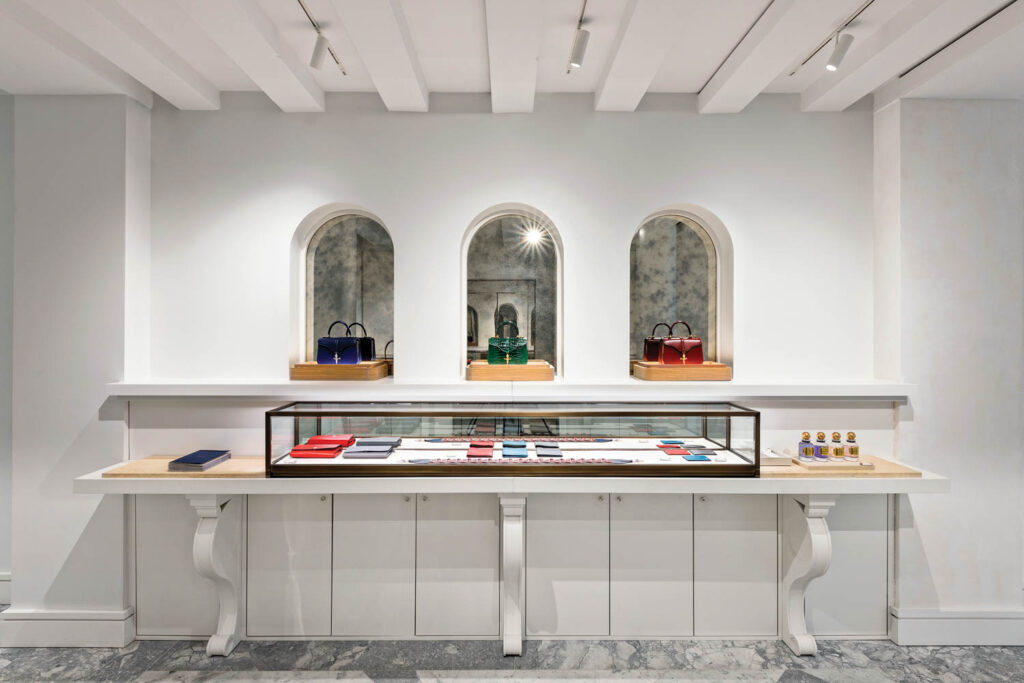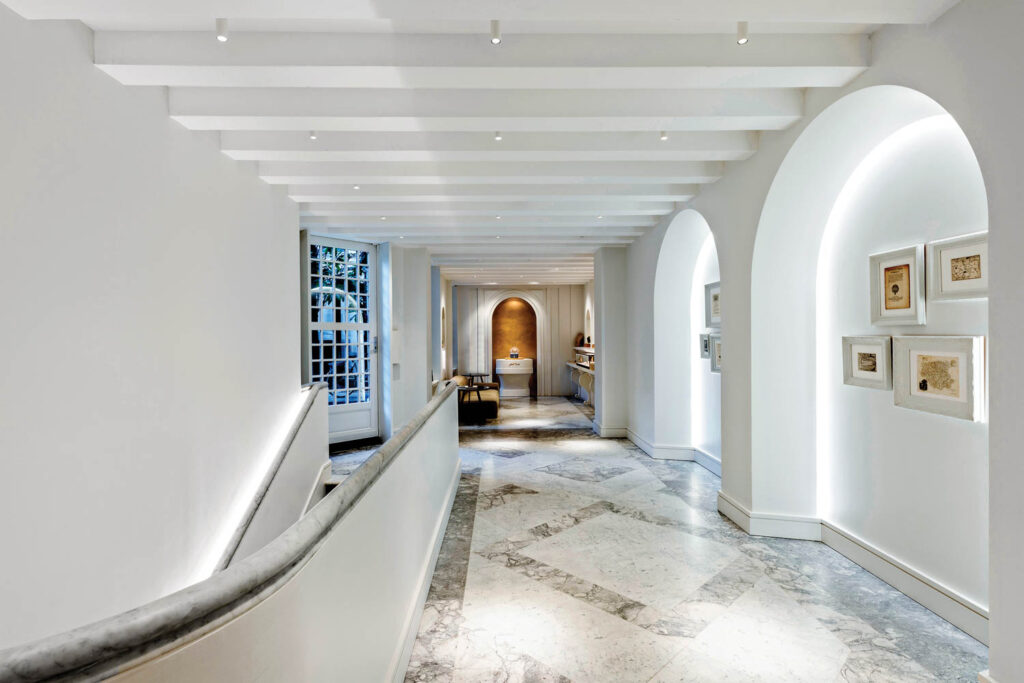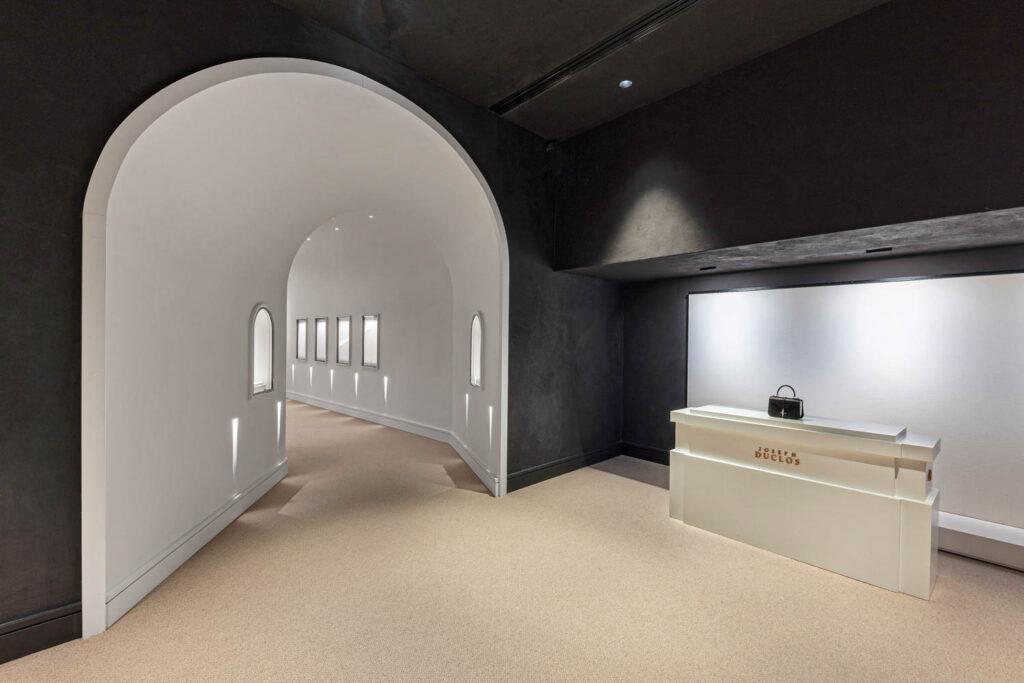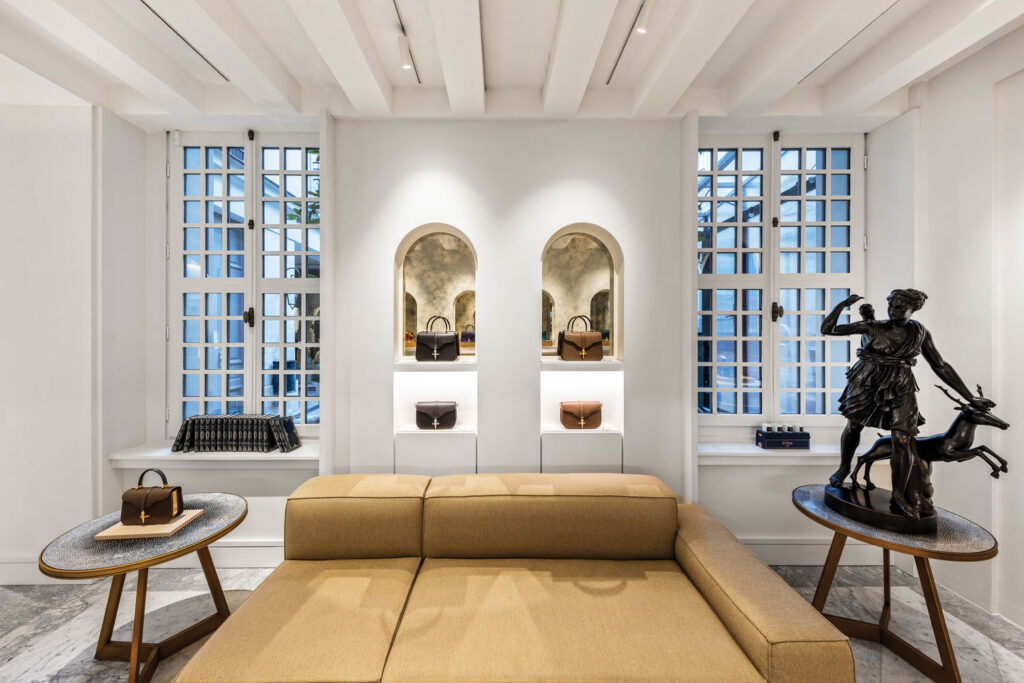 PRODUCT SOURCES:
FROM FRONT:
Thierry Lemaire: Sofa, Table (VIP).
Red Edition: Custom Chair (VIP), Custom Tables (perfume/candle).
living divani: sofa (perfume/candle).
THROUGHOUT:
les marbreries de la seine: marble.
tandem architecture: architect of record.
rdm: general contractor.