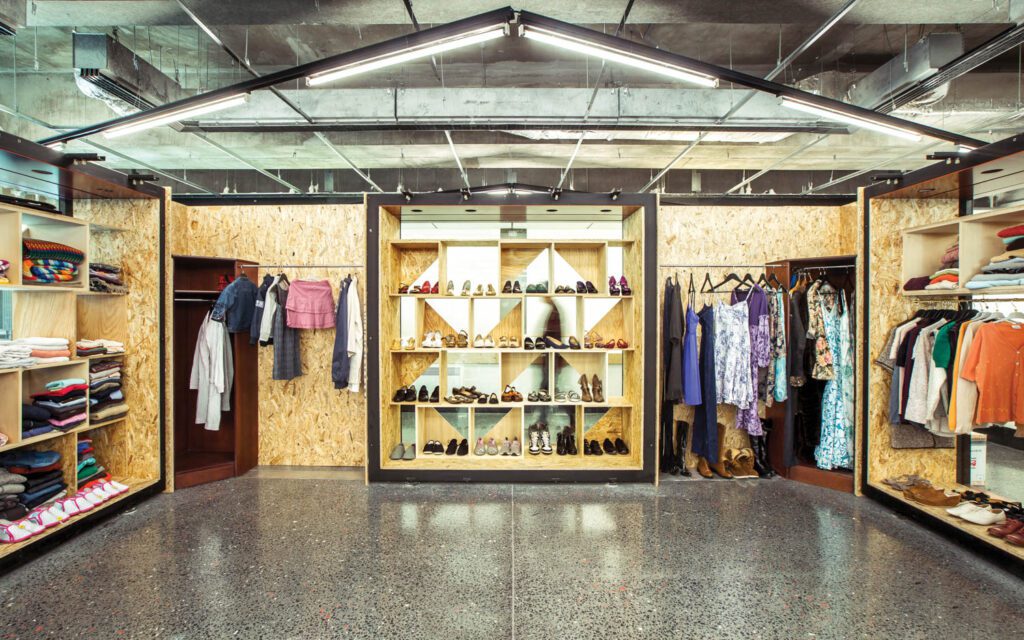 WAO Architecture Designs a Temporary Boutique for Salvation Army Paris
When Salvation Army Paris decided to install a temporary boutique on a section of the ground floor of a 1960's modernist structure that once housed the Musée de la Libération, local firm WAO Architecture knew the site was too rich in resources to simply strip bare. Since a hospitality venture had eyes on the building in the 14th arrondissement's Montparnasse district, all interventions had to be temporary.
Very little was demolished, and elements that had to be removed were reused on-site. In fact, the transformation of the 3,230-square-foot space amounted to a kind of transubstantiation: Dropped ceilings were removed and refitted as display tables, illuminated by cleverly reconfigured fluorescent lighting; reclaimed wardrobes became partition wall anchors; a series of 10 metal windows served as shop walls; and numerous cabinets were constructed using OSB and plywood panels found on a variety of other sites. "The place itself inspired us," WAO founder Minh Man Nguyen says. "We sought to keep its history alive in the new layout, as well as plan for ways in which materials could be reused again later on." The project is further proof that adaptive reuse can itself be attractive and reusable.