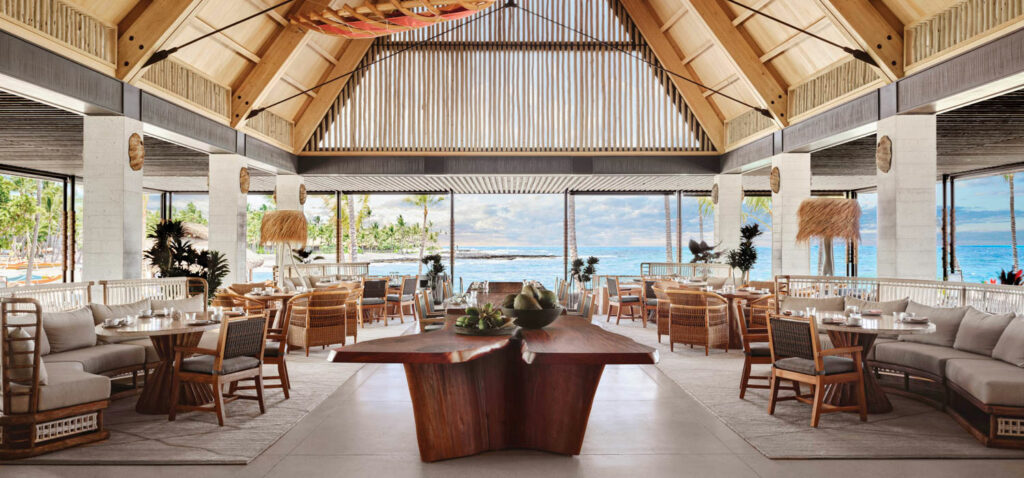 Kona Villa is the Peak of Chic in Kailua-Kona, Hawaii
In 2011, a tsunami destroyed the beloved Hawaiian resort Kona Village. For five decades, the Big Island hideaway was known for its paradisal location on Kahuwai Bay and a relaxed, convivial vibe; families returned year after year. Frequent collaborators Greg Warner, cofounder/partner at Walker Warner Architects, and Nicole Hollis, creative director and principal of the eponymous interior design studio, had the formidable task of formulating the next iteration of the property: Kona Village, A Rosewood Resort.
"We felt we had a responsibility to honor the memories of the old Kona Village, but also look at it with a new vision for future guests," Hollis recalls. That meant keeping the summer-camplike environment but rethinking the architecture to better reflect the island's heritage and meet modern sustainability standards. The original resort had a Polynesian theme, but Warner sought to nod to the Hawaiian village that preceded it. He and his team looked at old photographs, talked to descendants of the inhabitants, and came up with a concept based on thatched-roof shelters called hale. "When you come to Kona Village, it's not about the architecture," Warner says. "You see right through the architecture to understand the place."
The Design of Kona Villa, A Rosewood Resort Hints at the Island's Heritage
His firm selected traditional-looking materials that are durable and sustainable. For the thatch, the architects replaced native pele grass with recycled plastic; aged red cedar siding evokes coconut-tree wood. On the interiors, Douglas fir walls and ceilings—treated to resemble driftwood—can withstand humidity. "The wood looks like it has been in the sun and scrubbed by ocean breezes," Warner notes.
The design of the 150 guest structures depends on where they sit on the site. Yellow and blue tones define those by the ocean; the north village, built over lava flow, has a red-and-black palette. Furnishings include oak beds inspired by the shape of a boat, rugs with Hawaiian motifs, and dark concrete bathtubs that echo the rugged volcanic landscape outside. Hollis notes that furniture and finishes were chosen to evoke the feel of an upscale residence on the island, on which many she and Warner have collaborated.
Over 200 artworks across the 80-acre property—nearly all by Hawaiians—evoke the island's history and culture. An installation of three pe'a, or canoe sails, by Kaili Chun, hangs from the vaulted ceiling of the main restaurant. Multiple pieces by Roen Hufford introduce guests to the ancient Hawaiian art of kapa (dried bark cloth). Outside the spa, two cast-bronze sculptures by John Koga sit atop a field of lava, referencing a molten flow and making a powerful connection with the landscape.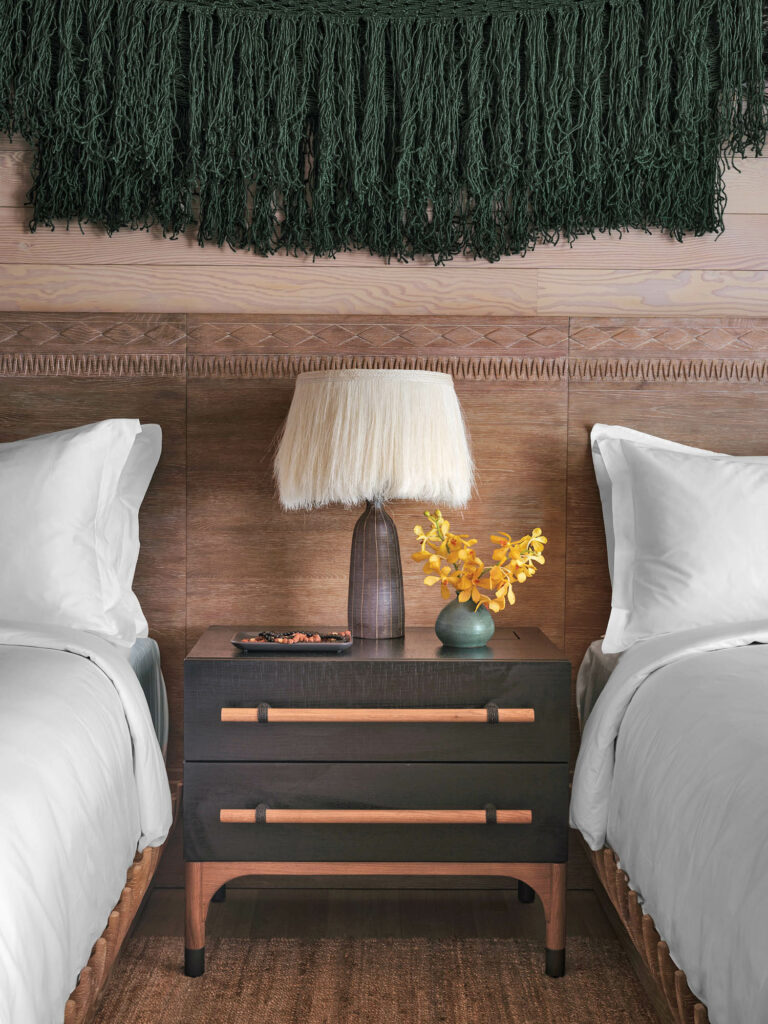 Inside a Hawaiian Hotel That Showcases Local Art and Materials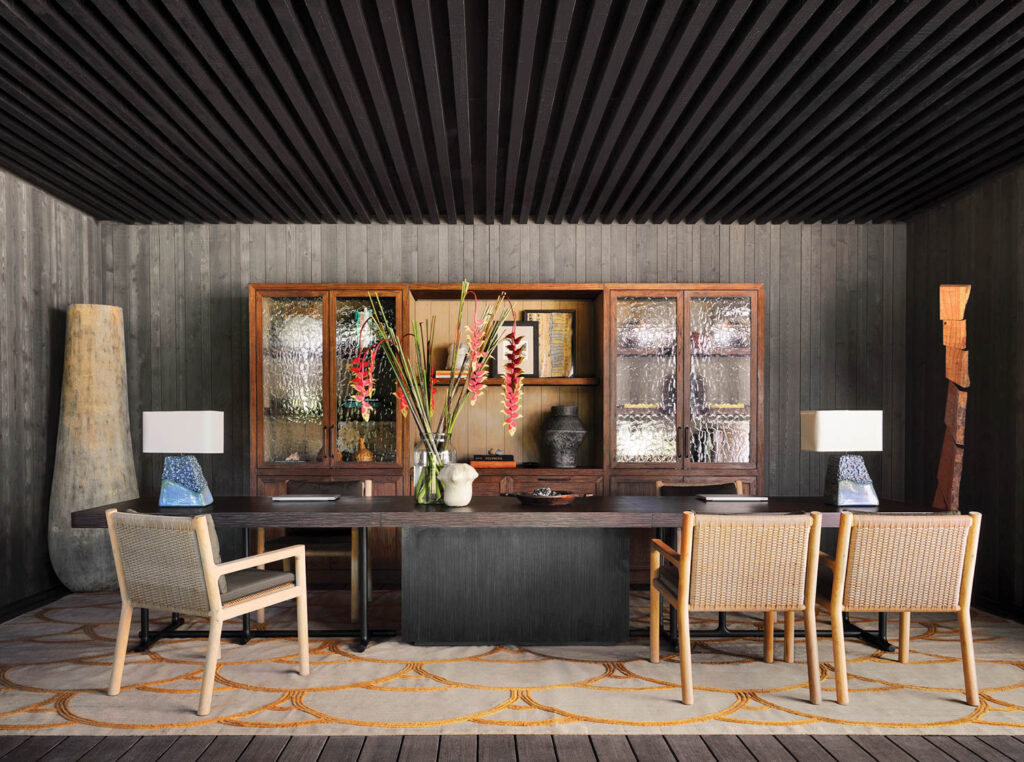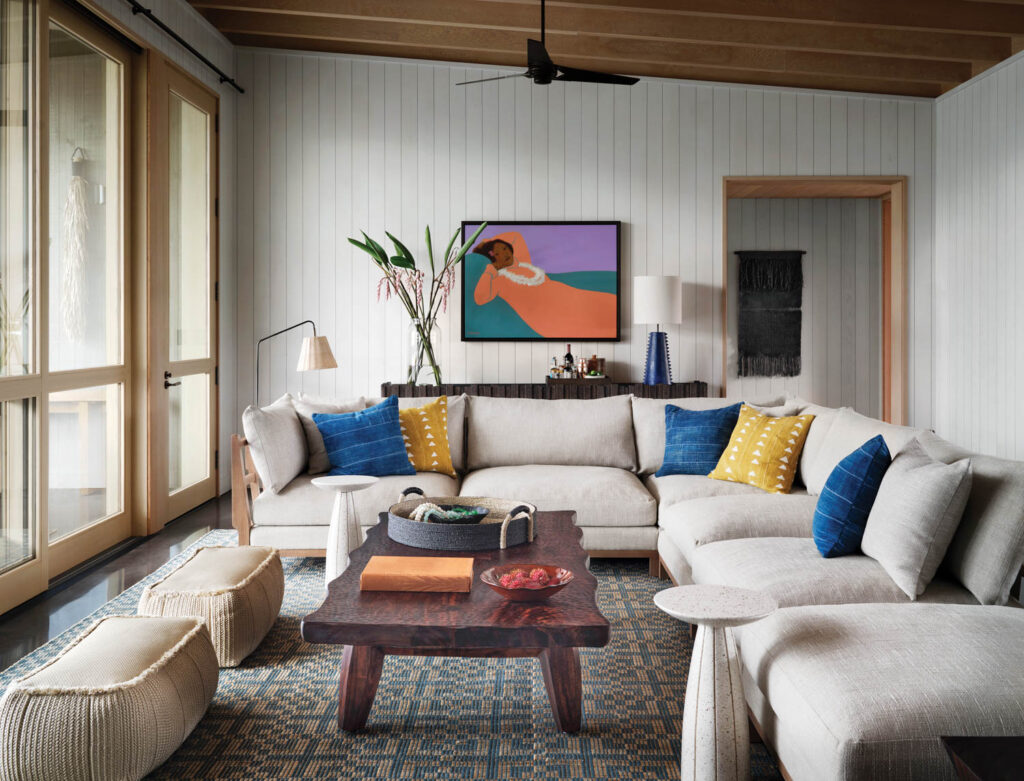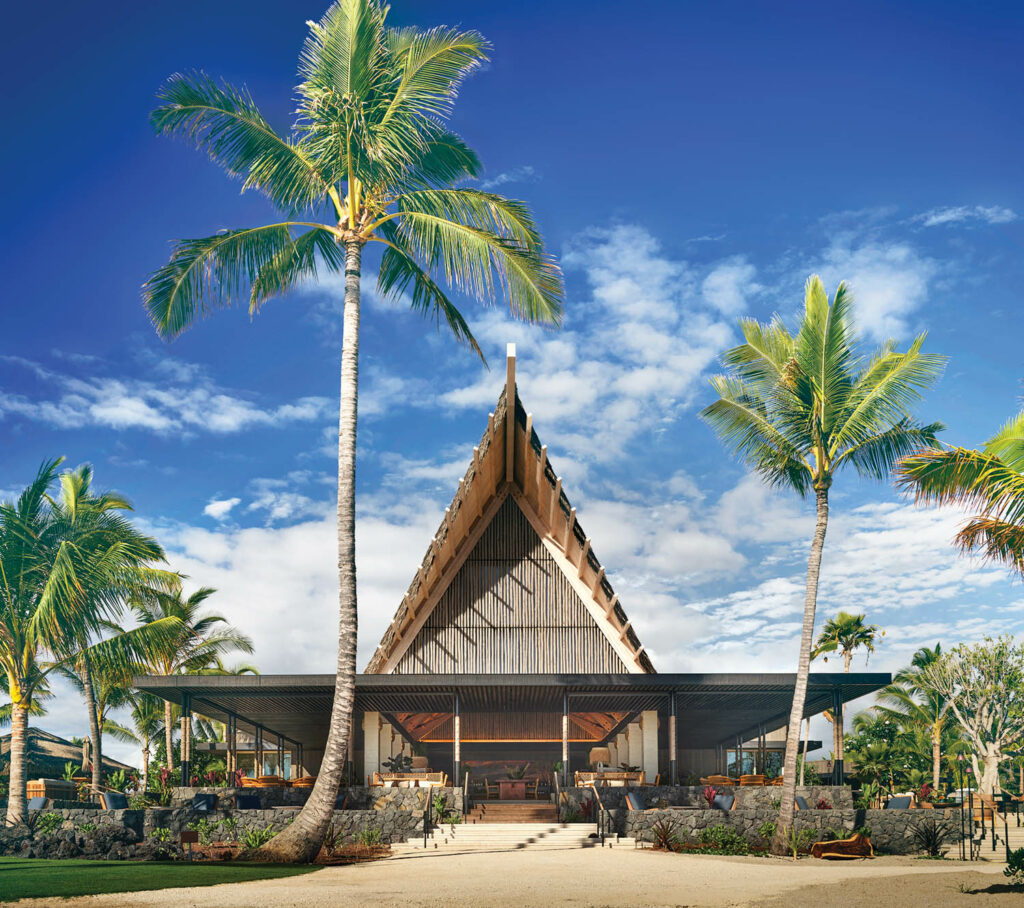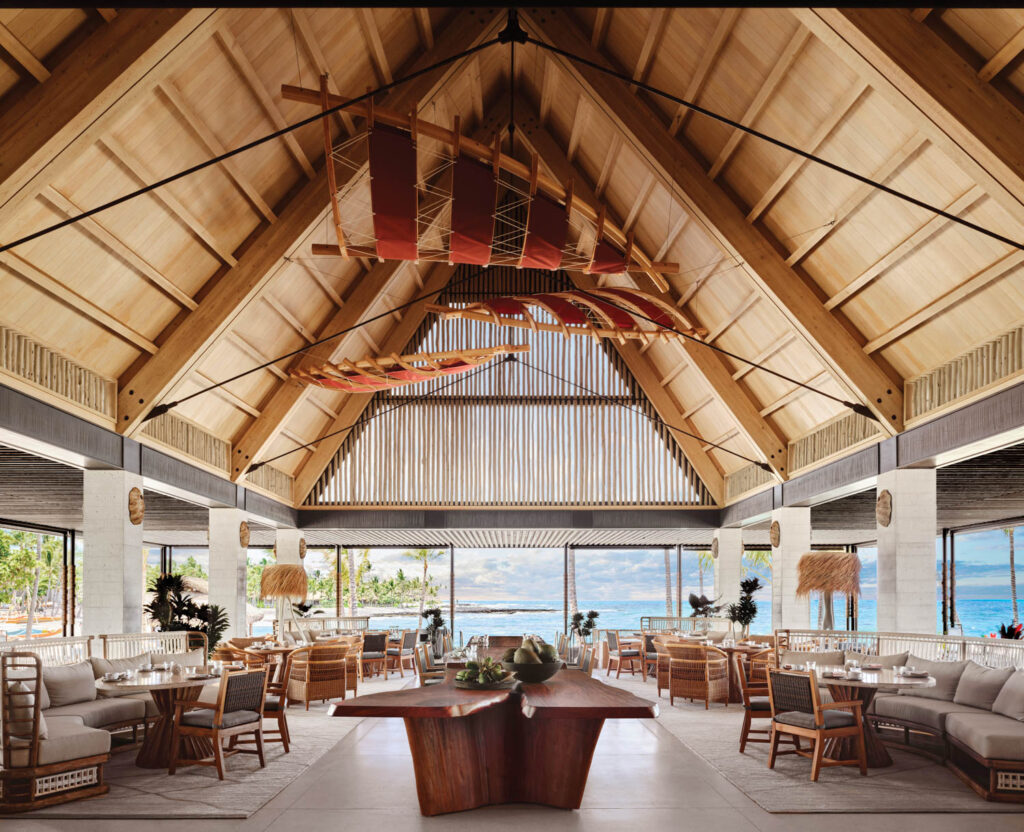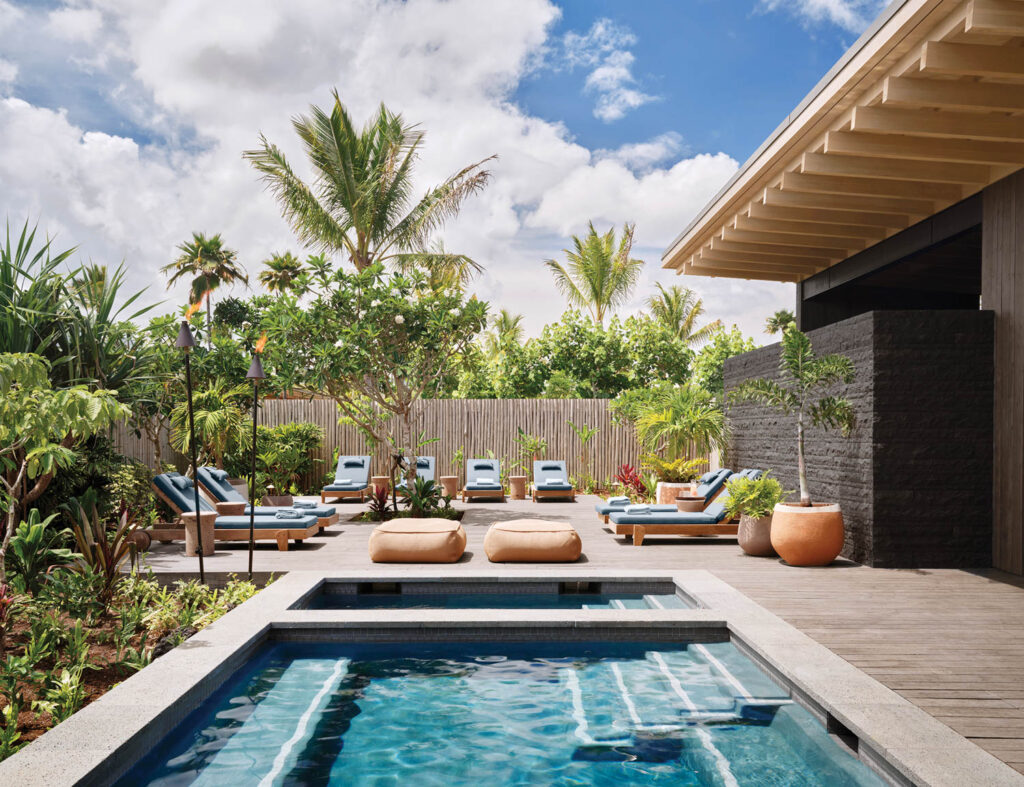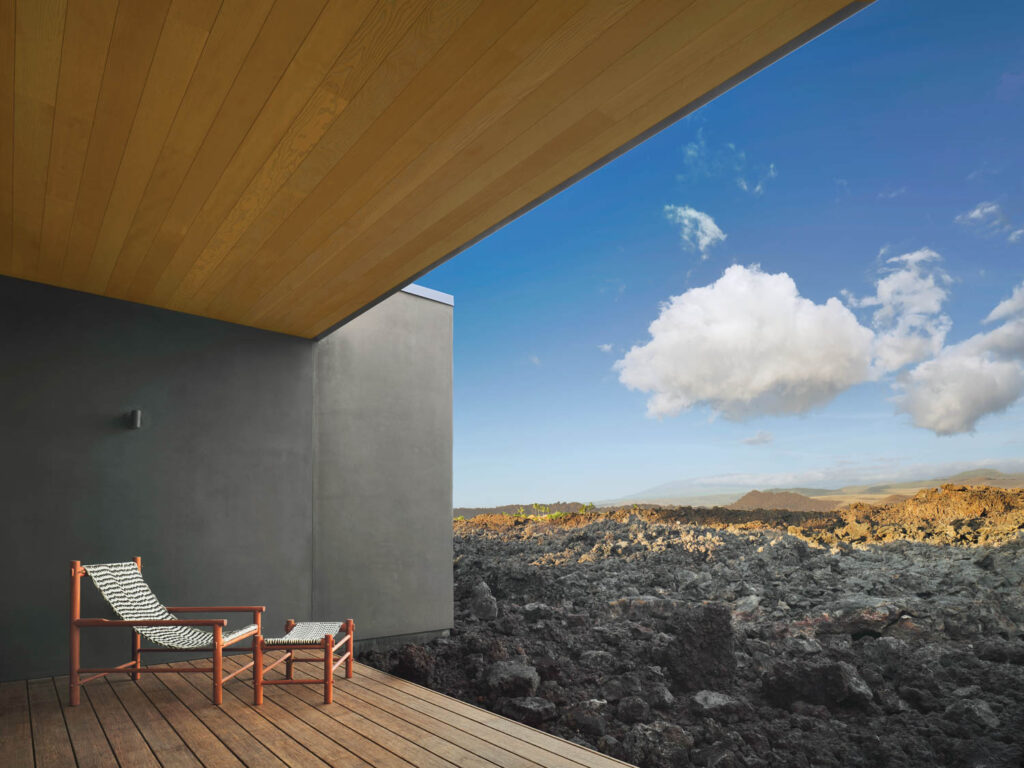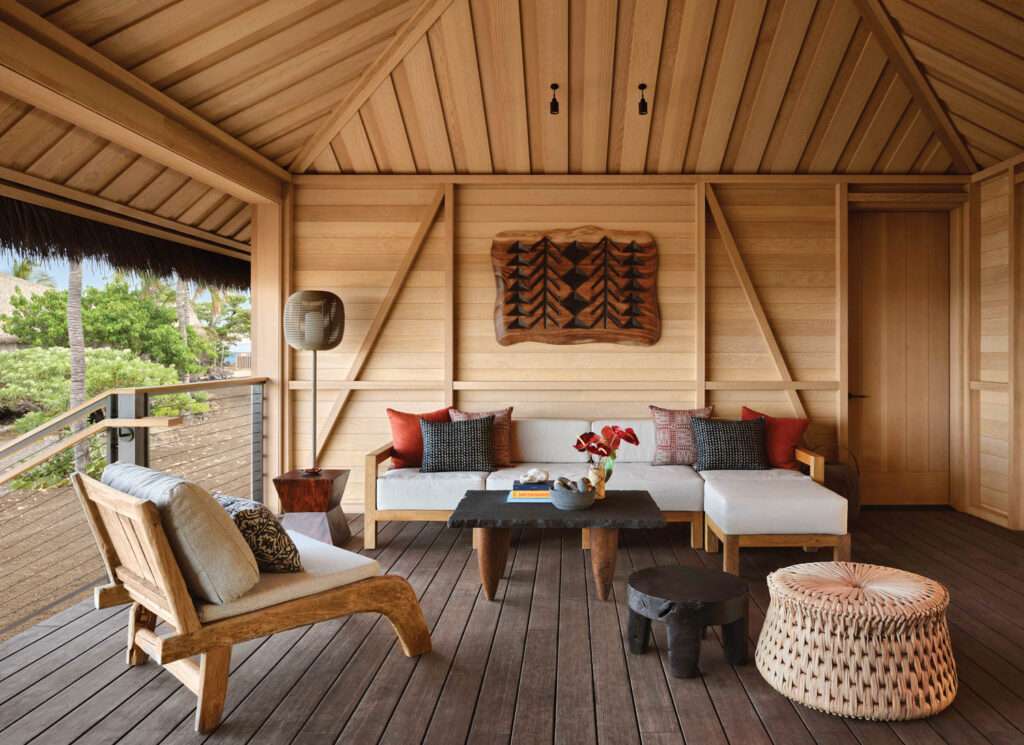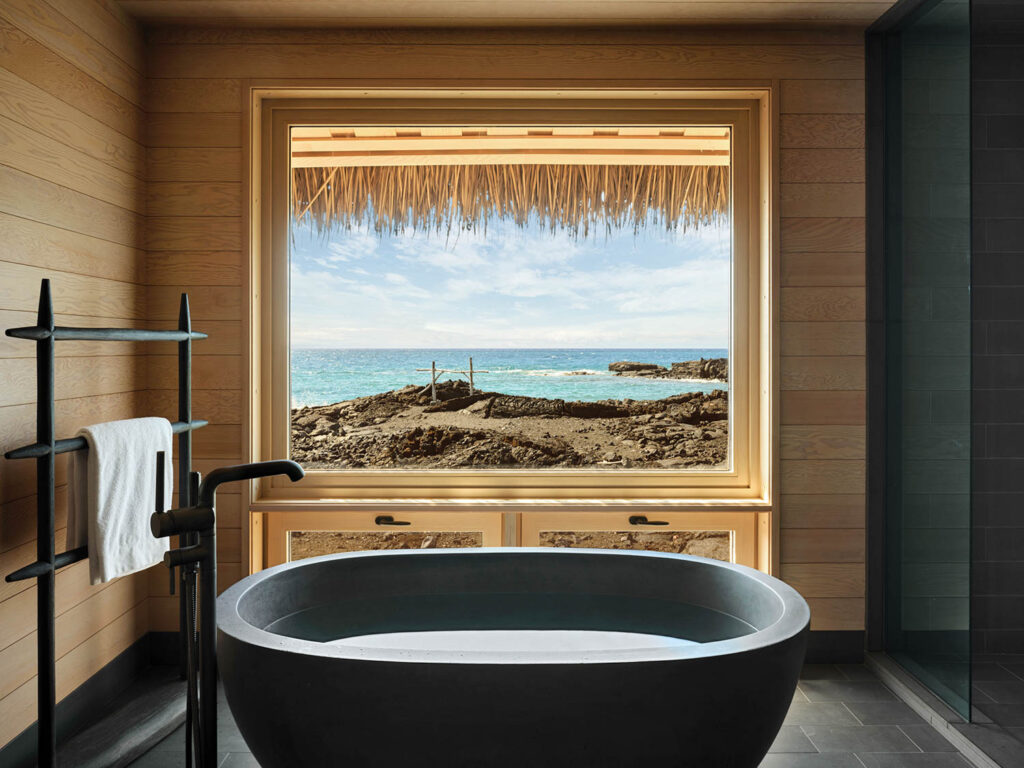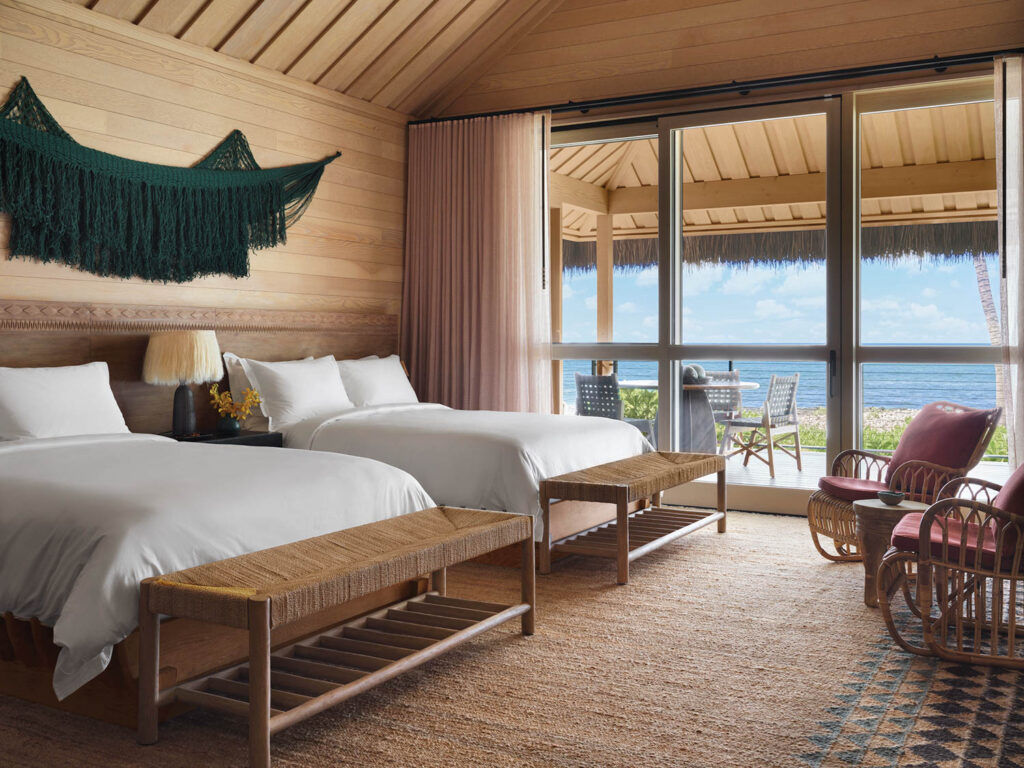 PRODUCT SOURCES
FROM FRONT
sutherland furniture: armchairs (reception), chair (king suite).
lgs studio: lamps (reception, living area).
atra: banquettes (restaurant), drink tables (living area).
kamuela hardwoods: mahogany table (restau­rant).
suzanne wang: sconces.
fong brothers co.: armchairs.
saniharto through bridge collective: tables.
espasso: woven chairs (restaurant), chaise lounges (pool areas).
paola lenti through dzine: ottomans (living area, spa pool).
blaxsand: coffee table (living area), side table (outdoor living room).
itz furniture: chair, ottoman (treatment room).
dumais made: desk lamp.
palecek through the ferlin group: mirror (king suite).
uniqwa: lounge chair (outdoor living room).
luteca: ottoman.
native trails: tub (bathroom).
waterworks: Tub fittings.
de santana stone: side tables.
sika design: chairs (guest room).
THROUGHOUT
flitterman collection: rugs, wall­hangings.
delawie: architect of record.
vita: landscape architect, lighting designer.
ruzika: lighting designer.
c2c designs: custom furniture work­shop.
nordic pcl construction: general contractor.