25 Modern Pool Designs Around the World
Ah, the swimming pool. There's nothing like it to beat the heat on a hot summer day or to add a splash of luxury to any spa, hotel, or weekend home. Research shows being near water soothes the nervous system, so the next time stress starts to surface, try swimming your troubles away. From Peru to the Hamptons, here are 25 modern pool designs so cool they'll have you racing for your swimsuit.
Editor's Note: This story was initially published May 24, 2019 and has been updated to reflect more modern pool designs. 
Explore Stunning Modern Pool Designs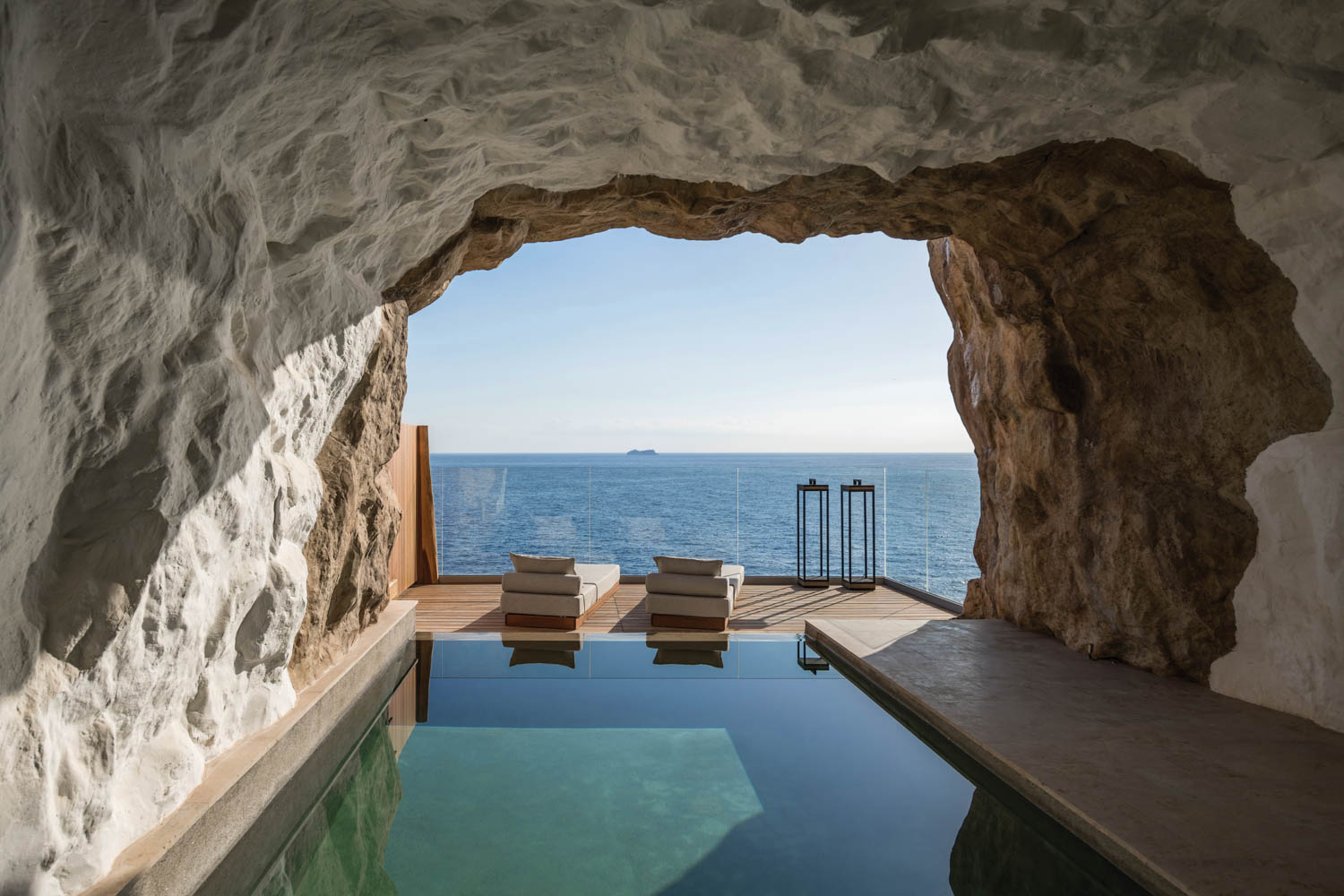 Nearly 4,000 years ago, on the Greek island of Crete, the Minoans, one of the few societies believed to have been matriarchal, birthed the first advanced civilization in Europe. It's an achievement worth mulling over when savoring a glass of kotsifali, a red wine made from grapes native to the island, and looking out onto the Sea of Crete from the terrace of the bar at Acro Suites, a new wellness resort near the fishing village of Agia Pelagia. While the stunning property, conceived by two local sisters, Danae and Konstantina Orfanaki, may not represent the birth of a more advanced civilization, it surely heralds the dawn of a more enlightened and environmentally responsible approach to Aegean hospitality design. Read more about this resort design.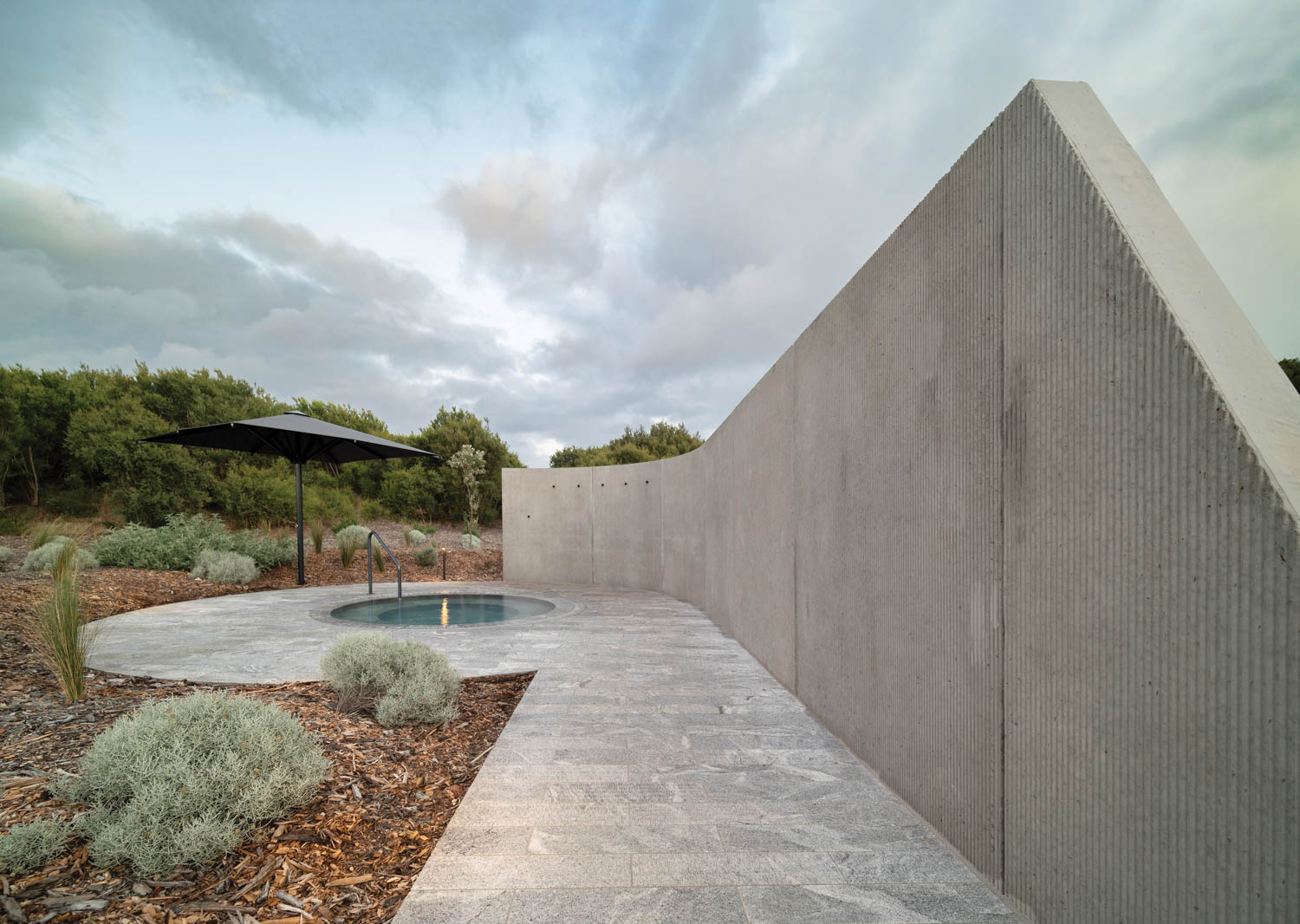 The Mornington Peninsula, a 280-square-mile enclave about one hour's drive southeast of Melbourne, Australia, has long been the city's coastal getaway. Fringed with sandy beaches, rocky shorelines, and rugged cliffs, the semirural landscape blends rolling hills with natural bushland—an ideal setting for the wineries, restaurants, hotels, resorts, and health and wellness properties that dot the area. Among the most recent additions to the latter, the Alba Thermal Springs & Spa by Australian firm Hayball is distinguished by both its sensitive design and its use of 100 percent geothermal water for its luxurious pools and services—only the second such facility on the peninsula to do so. Read more about thermal spa design.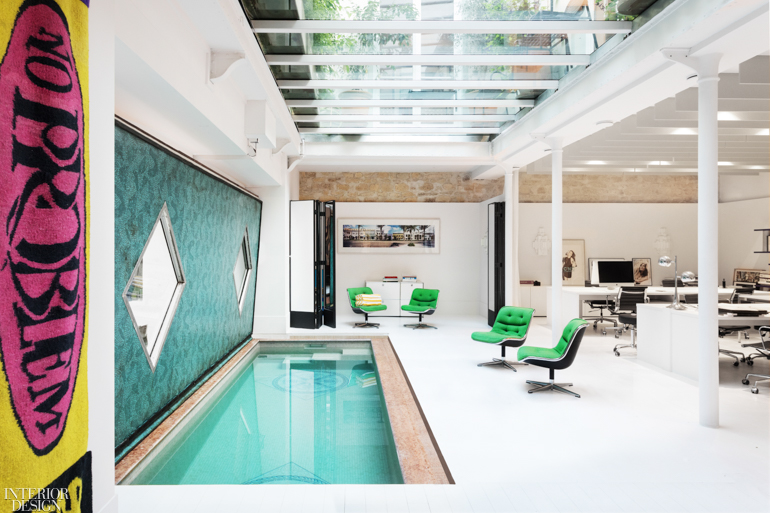 The phrase al dente conjures images of perfectly cooked pasta, perhaps made by hand in an Italian kitchen. So, naturally, when designing the Paris office of creative agency Al Dente in the 10th arrondissement, Roman architecture came to mind. The space, a collaboration between agency founder Patrizio Miceli and local architect Hadrien Breitenbach, can easily be mistaken for a boutique hotel, rather than an office. And much like a traditional Roman home, or domus, the office features a central body of water—in this case, a swimming pool that discreetly awaits use beneath a retractable floor. Read more about this aquatic office.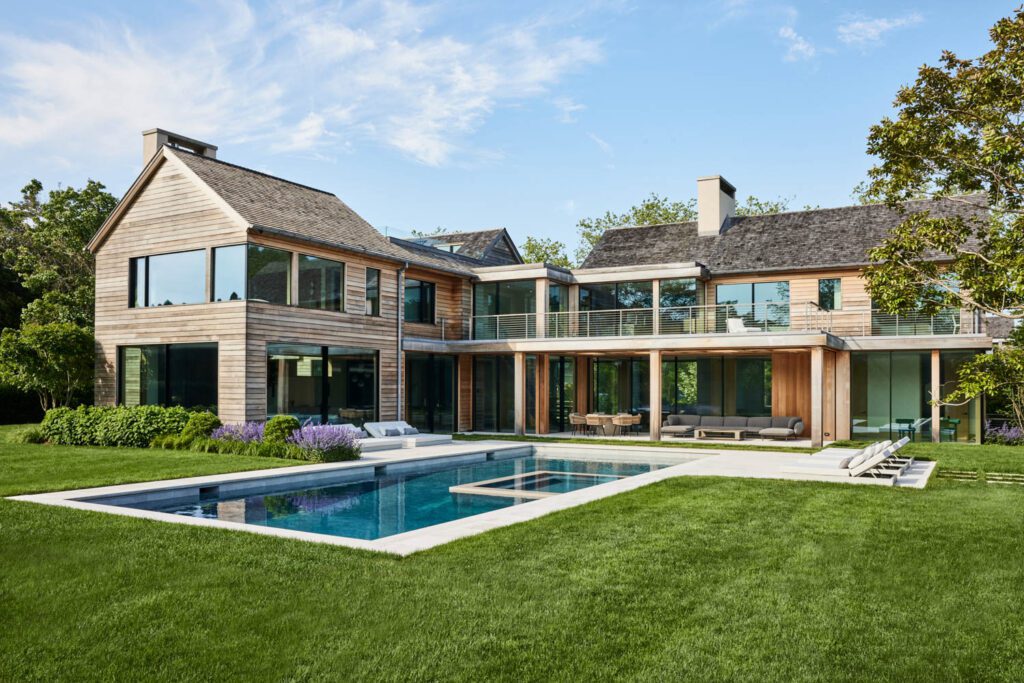 After purchasing a 2-acre lot in the Hamptons—within walking distance to the beach—a New York City couple with college-aged children turned to designer, Monica Fried, for advice on envisioning their oceanside retreat. Spread over approximately 7,000 square feet, the modern new build by Thomas Heine Architect and Cardel Development features an open-plan living area on the ground floor sans formal walls. The large entry and living room meld into the kitchen, dining area and family room while an L-shape shows off the pool in the interior courtyard, which is framed by a pool house on the opposite side. Read more about this luxurious swimming pool design.
The fourth in the quartet, the Downtown L.A. Proper is Kelly Wearstler's most complex and layered hotel for the brand yet. "Since the 13-story building is historic, it was important to keep its integrity, its original and odd architectural details," the acclaimed designer begins. That includes an existing basketball court on the sixth floor and an indoor pool on the seventh. The interiors of the four-year project, a standout on the city's gentrifying Broadway cor­ridor, are a multicultural visual feast, a mashup of everything Wearstler is known for and loves: color and pattern; vintage finds mixed with custom pieces; art, both sourced and commissioned; and tiles galore, some 100 different types. Read more about this hotel pool.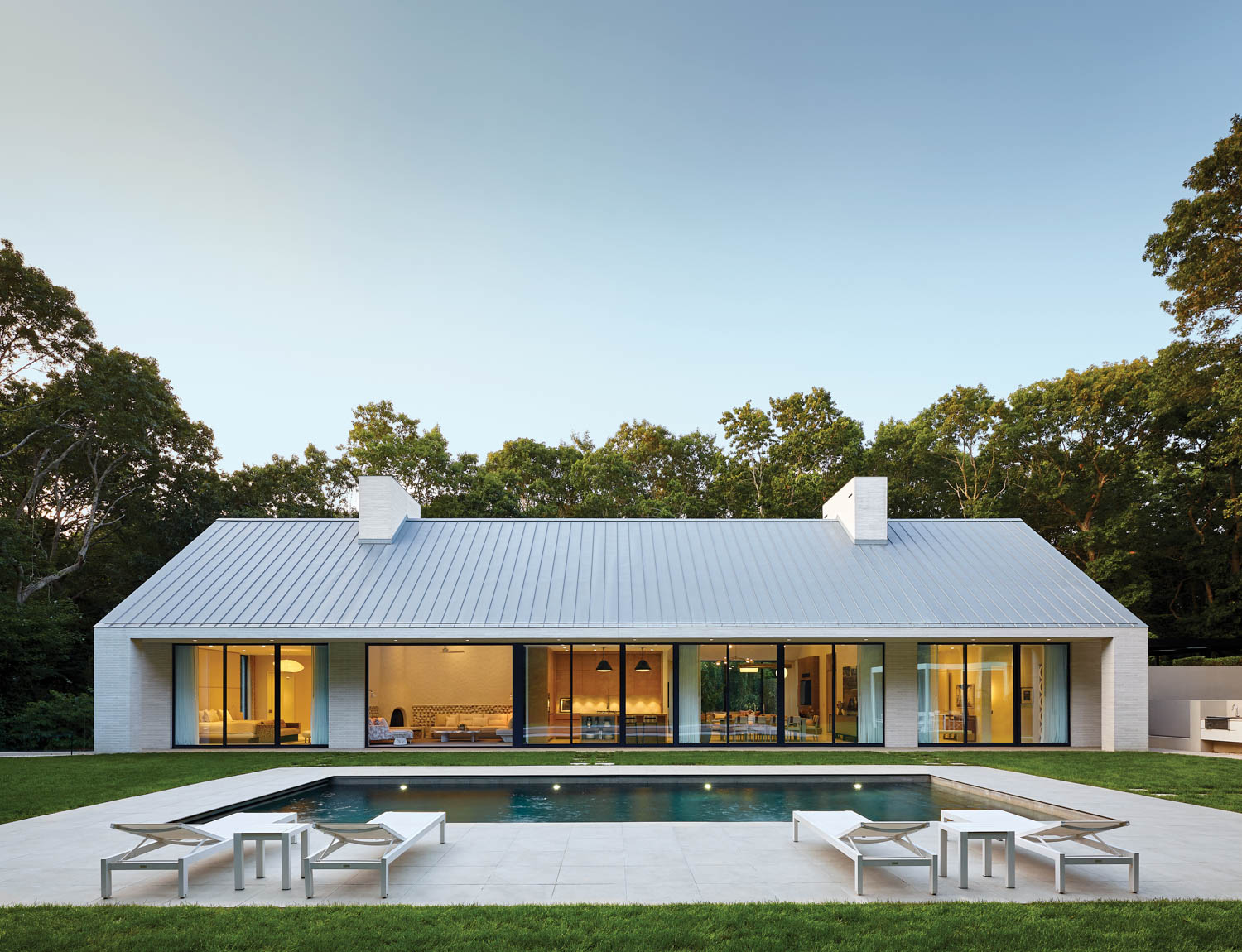 The focal point of the rear grounds of this Southampton home by New York architecture firm Sawyer|Berson and Dune CEO Richard Shemtov is a minimalist swimming pool, surrounded by porcelain-tile coping and a sweep of precisely graded lawn. There's an outdoor kitchen and a poolside dining pergola, as well as a covered terrace that's become one of the family's favorite hangout spots. Shemtov imagines spending weekends and summers here with his family for many years to come. "Labor of love is a commonly used term," he says, "but with this house, it resonates a lot." Read more about this luxurious home design.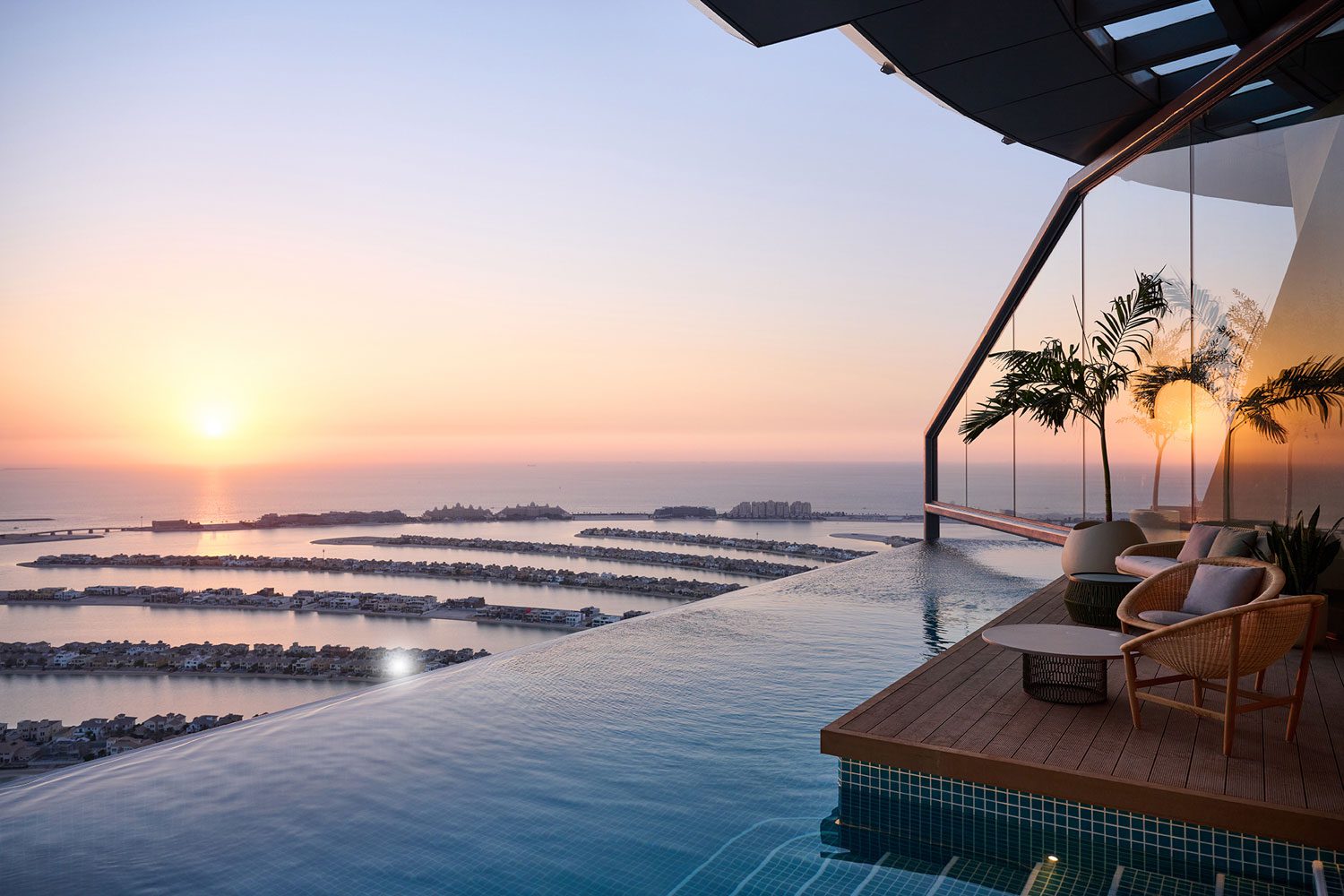 What's more enticing than a relaxing day at the pool? Try one with sky-high views. Kokaistudios recently completed a wraparound infinity pool roughly 688 feet above ground in Dubai. Situated at the top of the Palm Tower skyscraper on the Jumeirah archipelago, the Aura Skypool spans two floors and is designed as an island in the sky complete with a sculptural wall reminiscent of a rock formation, greenery, and wood accents. Read more about this modern pool design.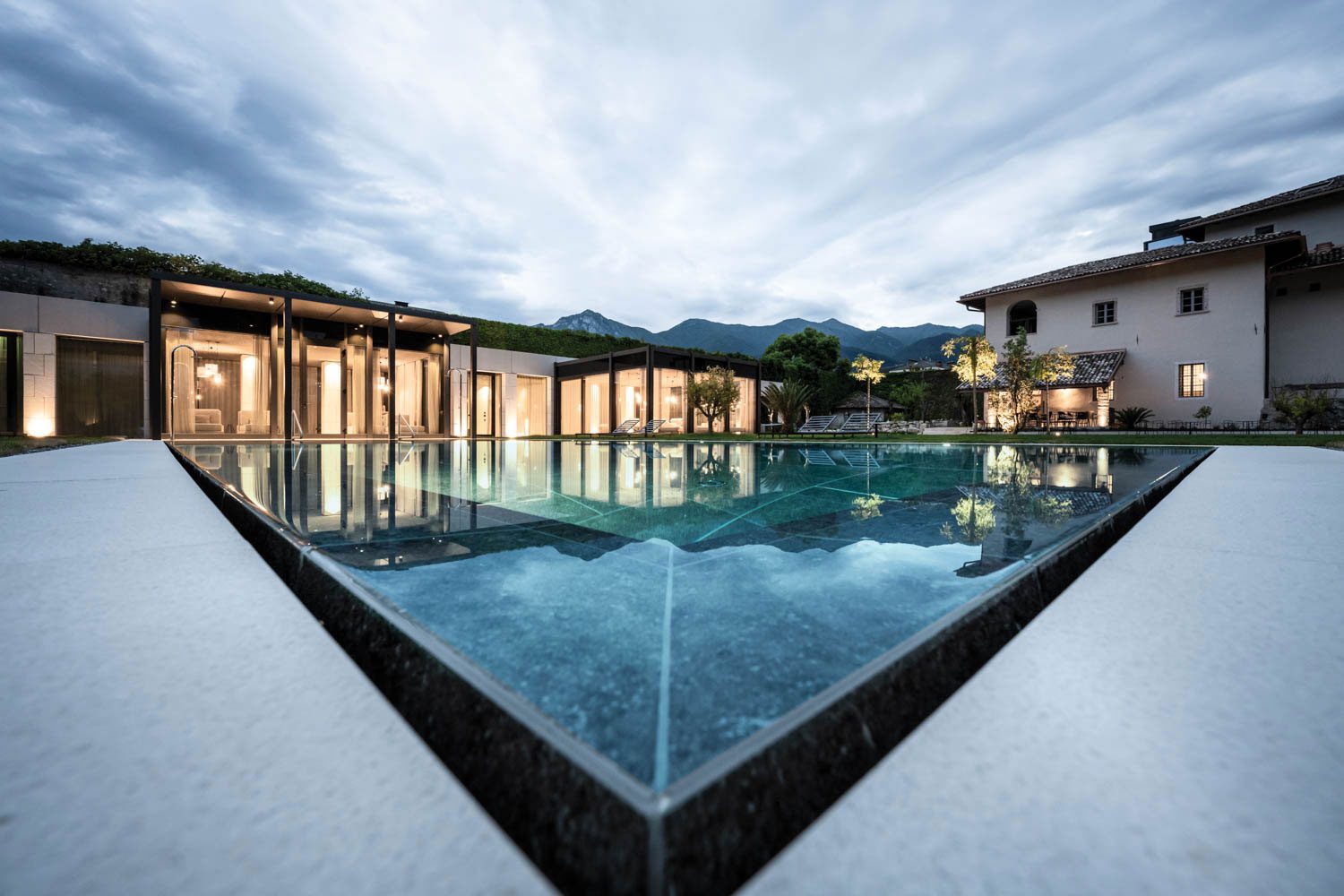 For centuries, residents of Arco, a northern Italian commune overlooking Lake Garda, could only guess what was behind the 25-foot-tall stone walls of Serve di Maria Addolorata. There was nothing to see from the road, and passersby on the way to the lake could easily miss it. But an imposing structure on the edge of town housed a monastery and an overgrown garden dating to 1689, which NOA* Network of Architecture converted into a 40-room hotel and spa, a serene sanctuary now called Monastero Arx Vivendi. Outside, a new black-tiled swimming pool is at the center of the redesigned garden, now planted with lemon, pomegranate, fig, and olive trees. Read more about this swimming oasis.
From the city of Cuzco, Peru, the journey to the Inca citadel of Machu Picchu offers staggering beauty, with snow-topped Andean peaks and Spanish colonial villages full of Quechua color and buzz. Much of that trip, 35 miles, is through the magical Valle Sagrado de los Incas, aka the Sacred Valley. At the foot of the mountains in the town of Huayllabamba, the lush scenery has now been joined by a low-key hotel, Explora Valle Sagrado, a completely fresh and inventive statement by the award-winning José Cruz Ovalle Estudio de Arquitectura. Surrounded by Incan ruins, the pool offers jaw-dropping views of the Andes. Read more about this chic swimming hole.
The natural landscape of Namibia, from its desert dunes to vast savannas, draws visitors around the globe, so when hospitality brand Habitas envisioned a new hotel there, preserving the natural balance was top of mind. Habitas Namibia, a modular build crafted mainly from sustainably-sourced wood, marks the brand's second hotel (the flagship property opened in Tulum, Mexico in 2017). Set on a sprawling private wildlife reserve near the Windhoek airport, Habitas Namibia features 15 guest rooms, a swimming pool, an outdoor cinema, a communal dining area, and a fire pit. In place of solid walls, rooms are lined with floor-to-ceiling canvas, immersing guests in panoramic views. Read more about this sustainable resort design.
The textile designer Nani Marquina's 1970s dwelling in Esclanyà, Spain has a whitewashed simplicity that renders it a perfect backdrop for her assorted ephemera, including straw brooms, woven baskets, and succulents. Purchased several years ago from a painter friend, the home offers a perfect backdrop for the couple's assorted ephemera. "The most important thing is not the container, but the contents," Marquina says. Marquina designed the pigmented cement pool to blend into the hillside, with the Costa Brava coastline visible in the distance. Read more about this modern pool design.
Amidst midcentury bungalows designed by the one and only William Francis Cody, this refreshing pool at L'Horizon Resort and Spa by Steve Hermann Design Studio bursts with Palm Springs modernism. The geometric shape of the pool offers an inviting space to swim and escape the desert heat. Surrounded by palms and minimalist white loungers, guests are sure to dive in. Read more about this mordern pool design.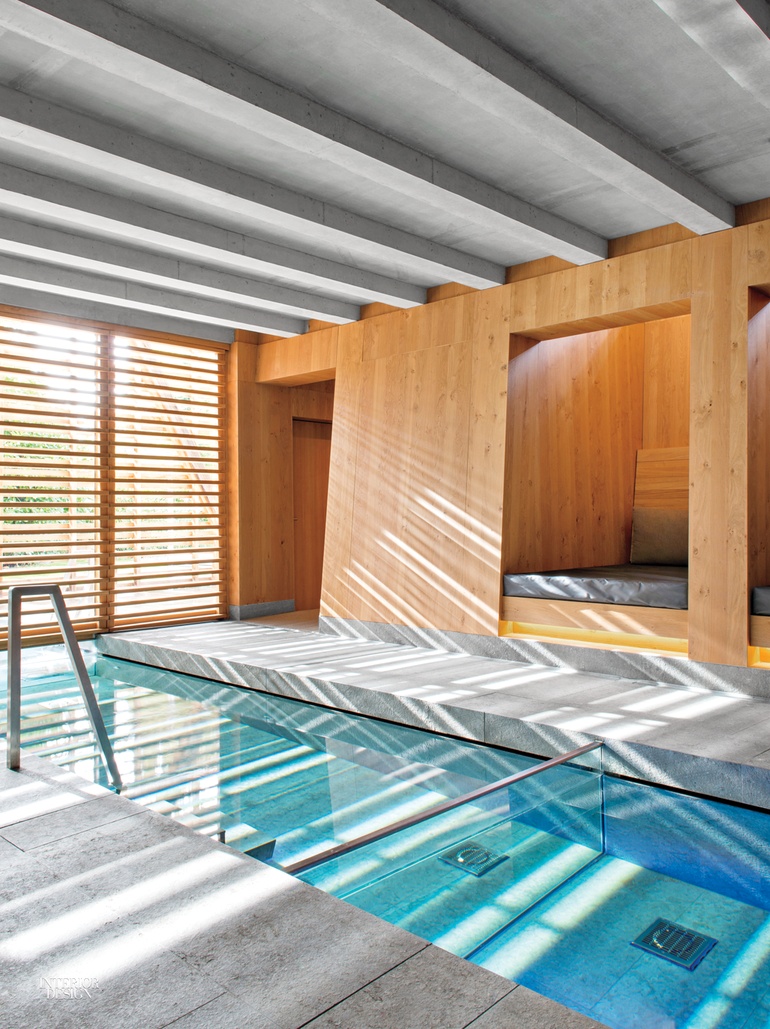 Take the form of a timber barn traditional in Alsace. Add a trace of ancient Roman baths, a soupçon of American Shaker style, an aura of Zen, the savoir faire of local artisans, some high-tech spice, and tons of contemporary zest. Mix well. That's the design recipe for Jouin Manku's ground-up annex for the Hôtel des Berges. In this photo, the warmer of the two plunge pools flows outdoors to become a hot tub. Read more about this modern pool design.
In traditional Arabian style, Tihany Design's C-shaped Dubai manse—its first residential project in 25 years—centers on a courtyard, pool included. "From November through March, the weather is spectacular," Interior Design Hall of Fame member Adam Tihany says. "It's like Southern California." Read more about this luxurious pool.
This 50-foot long custom lap pool in Austin, Texas was co-designed by Lake Flato and Abode. The pool is a must for the homeowner's triathlon training regimen. "We had to measure his arm reach to make sure he didn't hit the bridge when doing the crawl," says project architect Brian David Comeaux. Read more about this pool design. 
GilBartolomé Architecture's waterfront residence overlooks the Mediterranean Sea in Granada, Spain. The pool is situated on the lowermost of multiple terraces, each shaded by an undulating roof. The residence itself is built directly into the cliffside—need we say more? Read more about this home design.
For this Vero Beach, Florida, residence, designer Dorothee Junkin aimed to create a sleek, sophisticated home that didn't look like a typical Floridian oceanfront house. A proponent of thinking outside the box, the client was curious to discover what an international design perspective would bring to bear on the contemporary architecture. With this in mind, Junkin felt free to introduce a host of global influences and added an infinity-edge pool with uninhibited views of the Atlantic Ocean. Read more about this oceanfront home
A few years ago, the late Ali Tayar of Parallel Design completed a house on a mountainside on the edge of Beirut. His clients, a couple with three children, two of them young adults, had been living in an apartment crowded not just with family members, but also with a large collection of furniture and art, much of it French and Italian mid-century. Incorporating those elements, the designer created a living room that cantilevers over the waterfall-edge pool. Tito Agnol lounge chairs populate the pool deck. Read more about this home design
Experiencing déjà vu? Fans of Santa Monica–based Minarc will recognize the firm's imprint on this Los Angeles residence, owned by a Senegalese photographer and his wife, a commercial real-estate owner. All homes designed by principals Tryggvi Thorsteinsson and Erla Dögg Ingjaldsdóttir are built from the duo's patented prefabricated steel-frame panel system. All are minimal in aesthetic and maximally efficient. And all feature an easy-breezy floor plan and blurred boundaries between indoors and out, like the lower level lined with sliding doors that open directly onto the pool deck. Read more about this pool design.
The hillside neighborhood of Los Feliz is no stranger to modern design. Home to Frank Lloyd Wright's Ennis House and a stone's throw from Griffith Observatory, the neighborhood is much opposed to the over-the-top glamour of Hollywood Hills. It's also where Los Angeles-based company Lawson-Fenning crafted the interiors of a sun-filled family home. Read more about this modern pool design.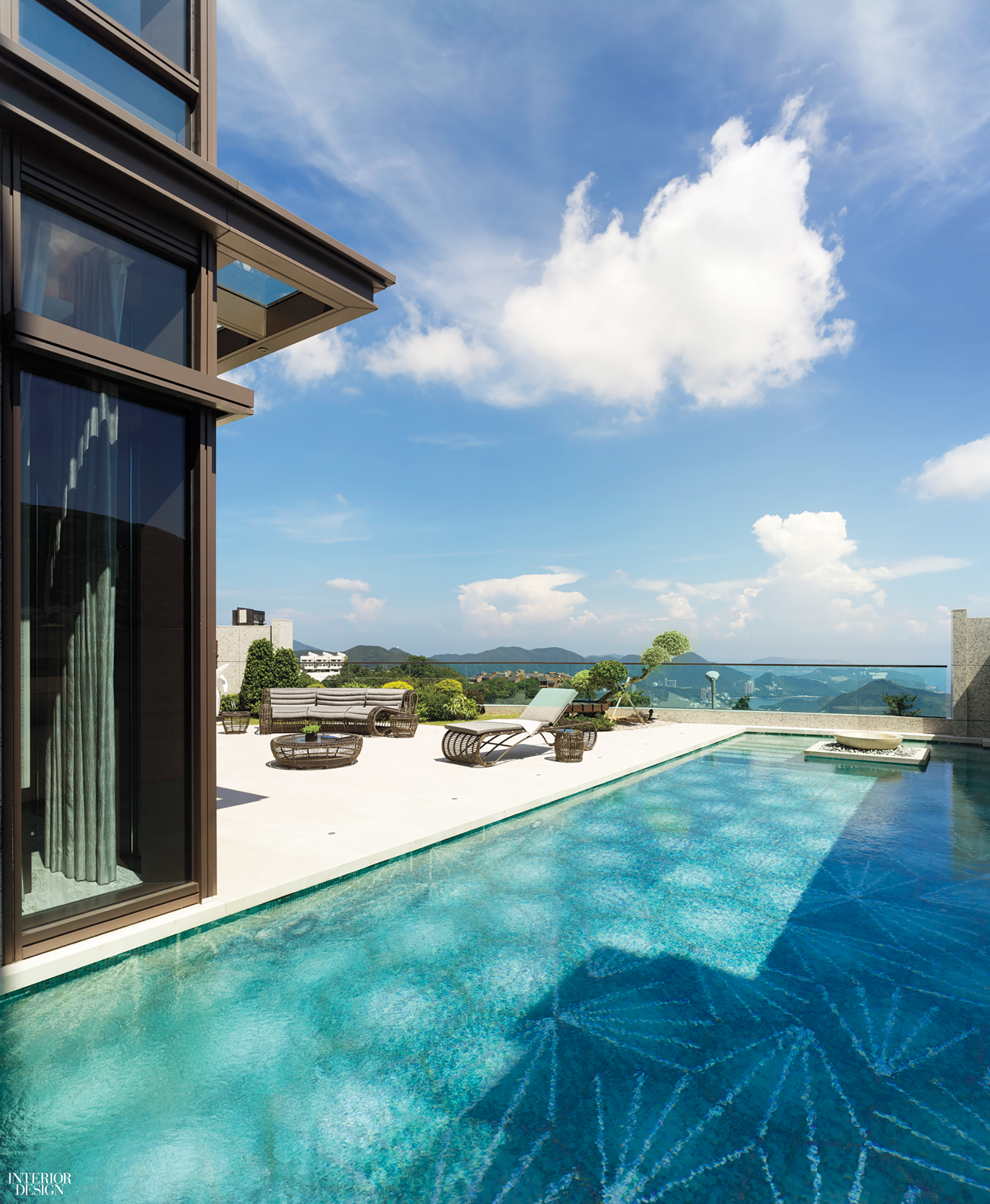 Although this three-story house sits atop Hong Kong's Victoria Peak, it didn't always capitalize on the location's commanding views. Cream intervened with a sandstone terrace and pool, the latter tiled with a custom mosaic. Read more about this luxurious pool.
FAT–Future Architecture Thinking's Sobreiras–Alentejo Country Hotel, outside the town of Grândola, is an unexpected minimalist oasis in a fragile, savanna-like, arid landscape. Ceramic tile surfaces the terrace connecting the lounge, restaurant, and pool, which tops a 1,000-square-foot events space. Read more about this pool design.
Just north of Tel Aviv, Herzliya is best known for its beautiful coastline and booming tech sector, which makes it the perfect spot for Marriot's debut property in the area, the Publica Isrotel. The 159-room hotel includes a stage for music and theatrical events, a lobby lounge, an extensive fitness center, and shared co-working spaces, all designed by Dana Oberson Architects with a focus on custom pieces and art objects sourced from around the world. Visitors to the rooftop pool deck are treated to sweeping views of the Herzliya city skyline. Read more about this luxurious design.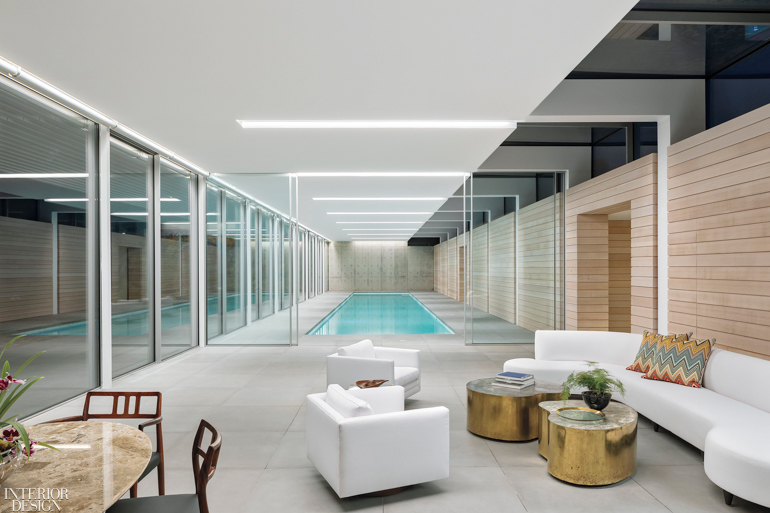 "The more refined and simple something looks," Roger Ferris + Partners principal Roger Ferris begins, "the more complicated it is to execute." This 4,280-square-foot pool and guesthouse in Westport, Connecticut, proves his point. Set into an incline overlooking the Long Island Sound, the green-roof structure is barely visible from the rest of the 4-acre property, its scale managed by lowering it into the landscape, most of it concealed behind a berm. A grass entrance slopes down from the lawn between concrete retaining walls, leading to an airy pavilion with a lounge/bedroom and a 75-foot saltwater lap pool. Read more about this luxurious pool house.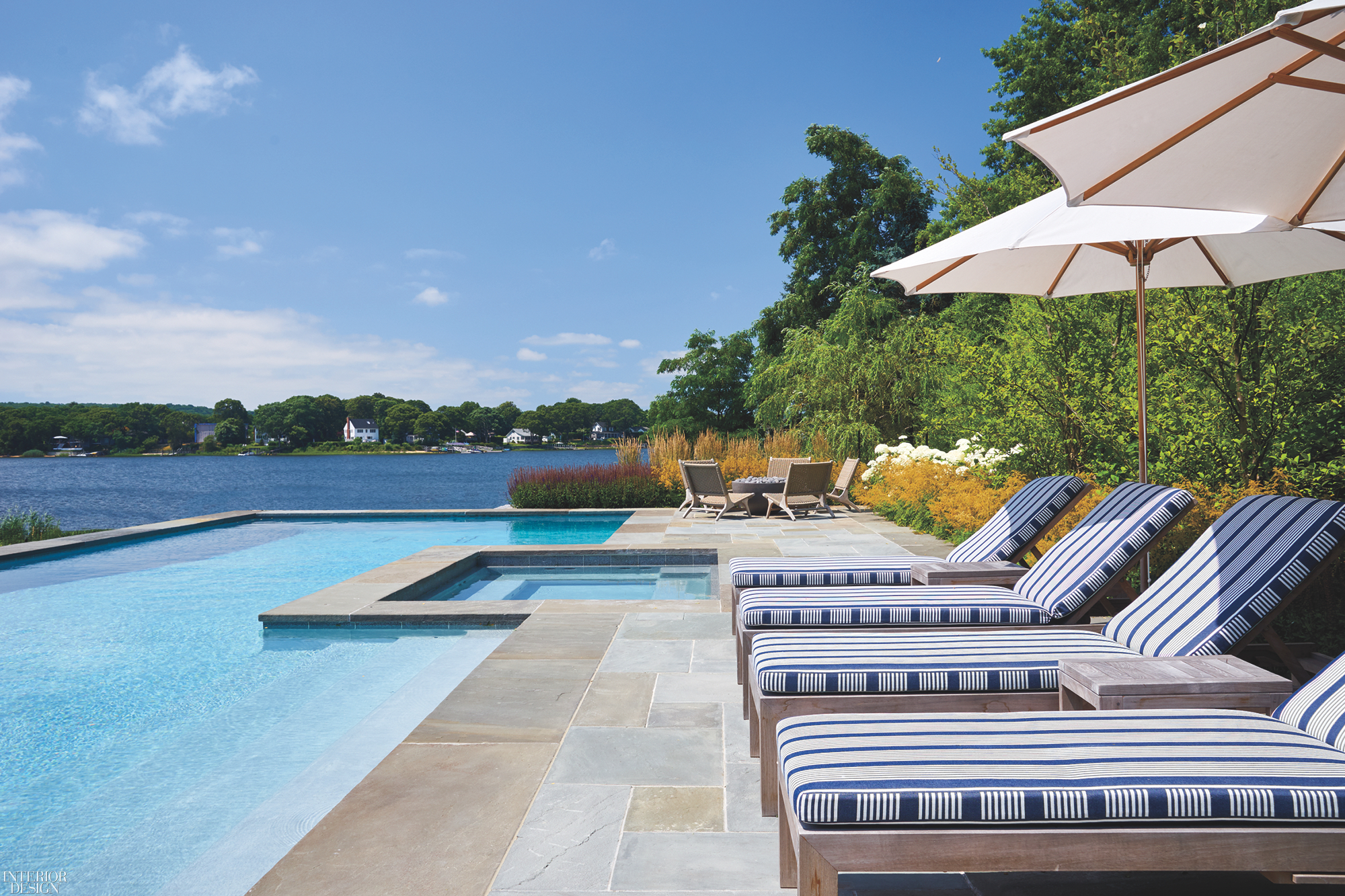 The owners of this Sag Harbor, New York, getaway use the entire residence for entertaining, including the poolside patio, where guests can experience true submersion in their surroundings. To bridge the attitudinal divide between art and architecture, Groves & Co. embraced eclecticism. Read more about this modern pool design.