17 Incredible Pools from Around the World
Ah, the swimming pool. There's nothing like it to beat the heat on a hot summer day or to add a splash of luxury to any hotel or summer home. From Peru to the Hamptons, here are 17 pools so cool they'll have you racing for your swimsuit.
Editor's Note: This story was updated in May, 2022 to reflect more recent poolside coverage.
1. Kokaistudios Envisions an Island in the Sky in Dubai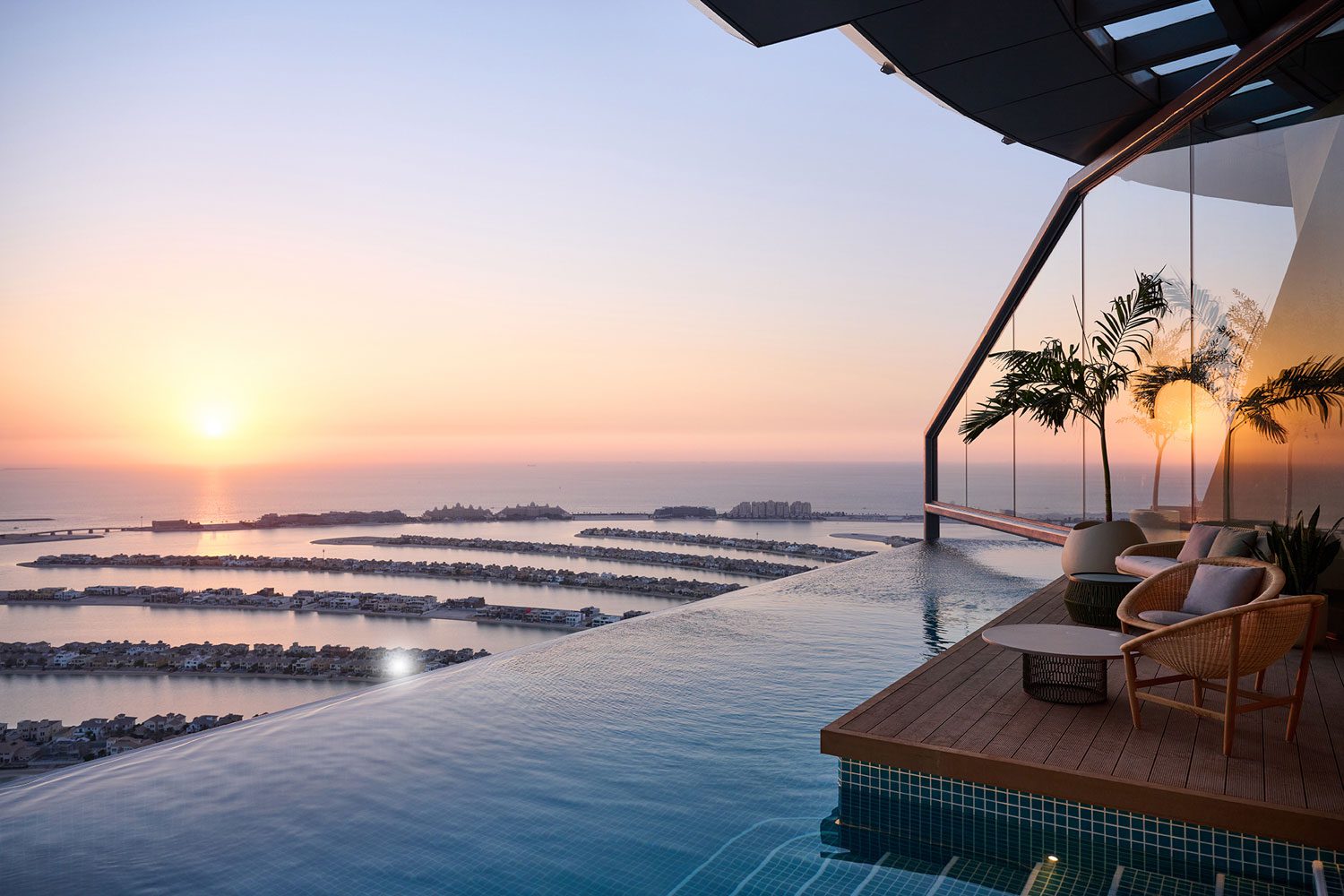 What's more enticing than a relaxing day at the pool? Try one with sky-high views. Kokaistudios recently completed a wraparound infinity pool roughly 688 feet above ground in Dubai. Read more
2. NOA* Network of Architecture Transforms a 17-th Century Monastery into a Chic Hotel and Spa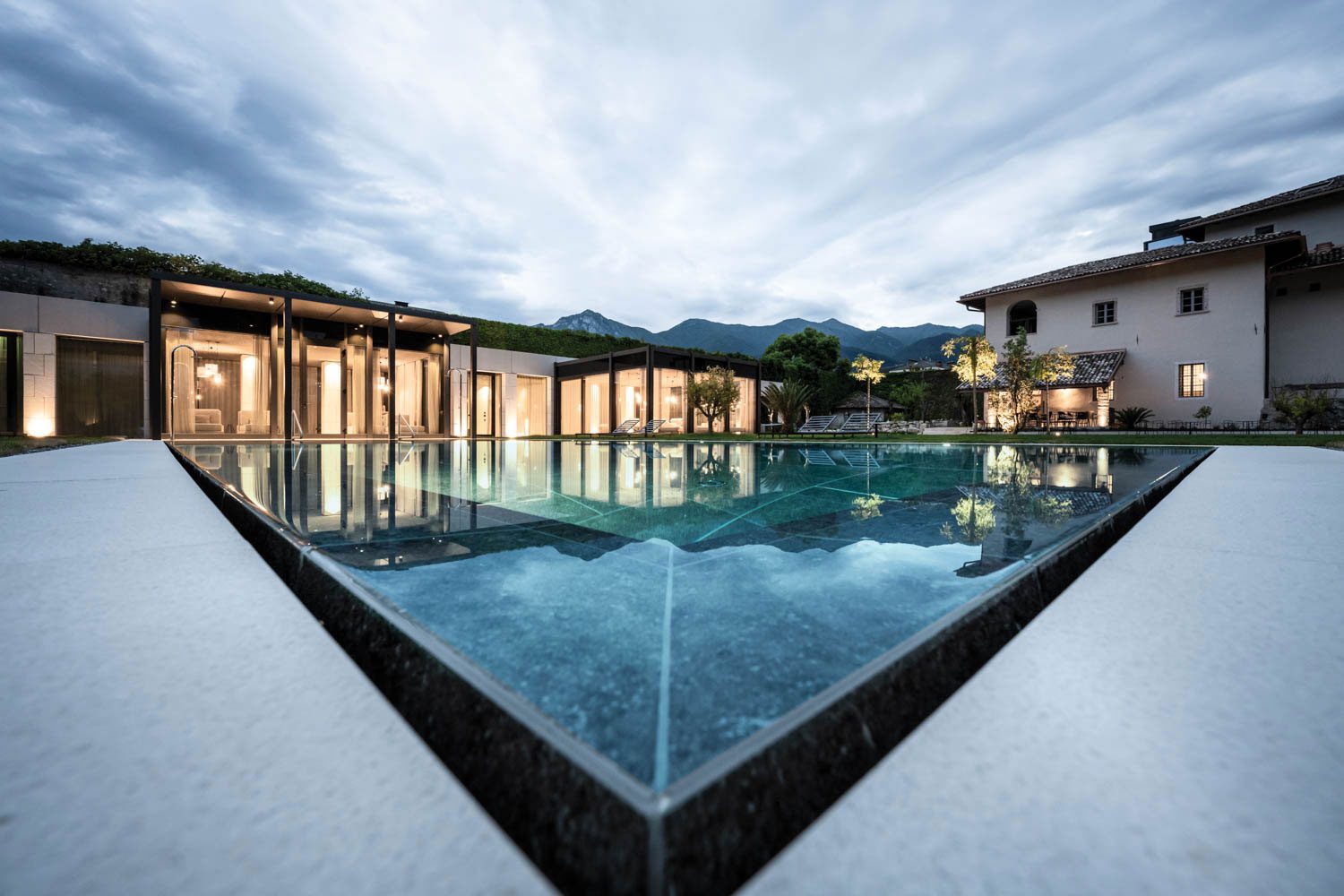 Wooden panels laser-cut in a geometric pattern of pomegranates that refers to the hotel's logo embellish the otherwise spare interiors, covering parts of the walls, ceilings, and benches. Outside, a new black-tiled swimming pool is at the center of the redesigned garden, now planted with lemon, pomegranate, fig, and olive trees. Read more
3. Architecture Meets Archaeology at Explora Valle Sagrado, a Peruvian Hotel by José Cruz Ovalle
Surrounded by Incan ruins, the pool at the Explora Valle Sagrado hotel in Huayllabamba, Peru, offers jaw-dropping views of the Andes courtesy of José Cruz Ovalle Estudio de Arquitectura. Read more
4. Nani Marquina's Costa Brava Retreat Is a Collector's Paradise
The textile designer Nani Marquina's 1970s dwelling has a whitewashed simplicity that renders it a perfect backdrop for her assorted ephemera, including straw brooms, woven baskets, and succulents. Marquina designed the pigmented cement pool to blend into the hillside, with the Costa Brava coastline visible in the distance. Read more
5. L'Horizon Resort and Spa by Steve Hermann Design
Amidst midcentury bungalows designed by the one and only William Francis Cody, this refreshing pool at L'Horizon Resort and Spa by Steve Hermann Design Studio bursts with Palm Springs modernism. Read more
6. Jouin Manku Designs Sensory Annex for Hôtel des Berges in France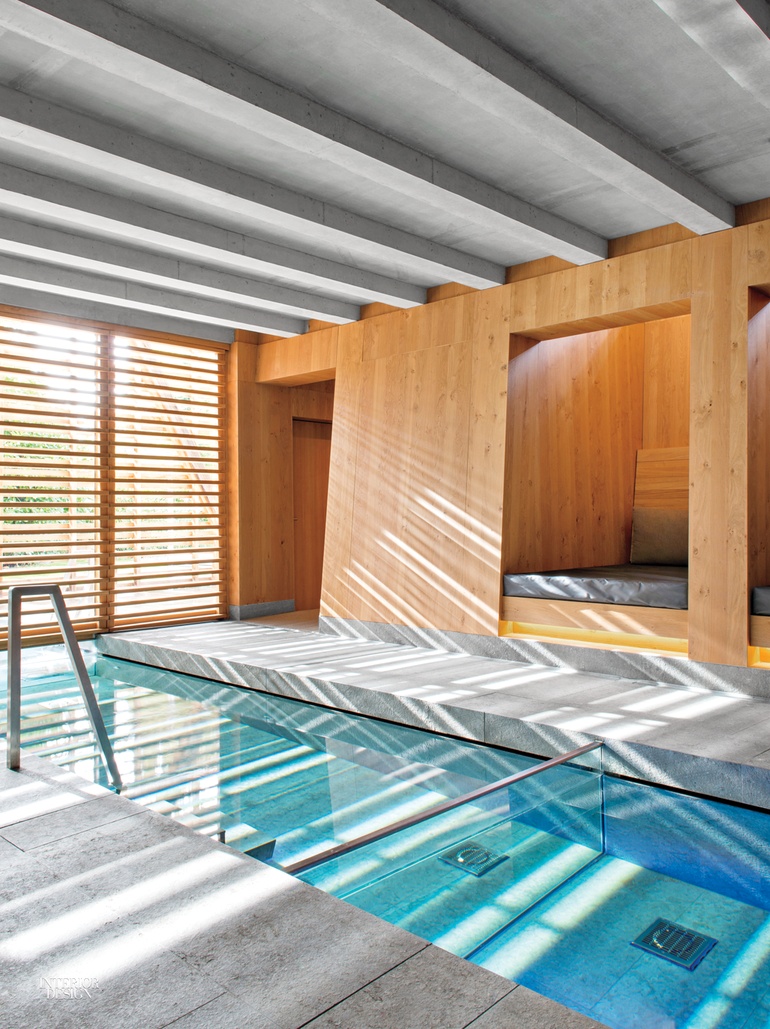 Take the form of a timber barn traditional in Alsace. Add a trace of ancient Roman baths, a soupçon of American Shaker style, an aura of Zen, the savoir faire of local artisans, some high-tech spice, and tons of contemporary zest. Mix well. That's the design recipe for Jouin Manku's ground-up annex for the Hôtel des Berges. In this photo, the warmer of the two plunge pools flows outdoors to become a hot tub. Read more
7. Tihany Design Completes First Residential Project in 25 Years in Dubai
In traditional Arabian style, Tihany Design's C-shaped Dubai manse—its first residential project in 25 years—centers on a courtyard, pool included. "From November through March, the weather is spectacular," Interior Design Hall of Fame member Adam Tihany says. "It's like Southern California." Read more
8. Austin City Limits: Lake Flato and Abode Transform Texas Lake House
This 50-foot long custom lap pool in Austin, Texas was co-designed by Lake Flato and Abode. The pool is a must for the homeowner's triathlon training regimen. "We had to measure his arm reach to make sure he didn't hit the bridge when doing the crawl," says project architect Brian David Comeaux. Read more
9. GilBartolomé Architecture's Evocatively Edgy House Pushes the Notion of Indoor/Outdoor Living to the Extreme
GilBartolomé Architecture's waterfront residence overlooks the Mediterranean Sea in Granada, Spain. The pool is situated on the lowermost of multiple terraces, each shaded by an undulating roof. The residence itself is built directly into the cliffside. Read more
10. Oceanfront Home by Dorothee Junkin Brings Florida's Lush Vegetation Inside
For this Vero Beach, Florida, residence, designer Dorothee Junkin aimed to create a sleek, sophisticated home that didn't look like a typical Floridian oceanfront house. She added an infinity-edge pool with uninhibited views of the Atlantic Ocean. Read more
11. Ali Tayar's Penultimate Project Epitomizes His Rational Yet Utterly Humanistic Vision
The living room cantilevers over the waterfall-edge pool at a Beirut home designed by the late Ali Tayar of Parallel Design Architecture. Tito Agnol lounge chairs populate the pool deck. Read more
12. Indoor-Outdoor Living Refined by Minarc in Los Angeles
This Minarc-designed house's lower level is lined with sliding doors that open directly onto the pool deck, the layout conducive to the homeowners' indoor-outdoor Los Angeles lifestyle. Read more
13. Lawson-Fenning Enlivens a Sunlit Los Feliz Home with Modern Charm
The hillside neighborhood of Los Feliz is no stranger to modern design. Home to Frank Lloyd Wright's Ennis House and a stone's throw from Griffith Observatory, the neighborhood is much opposed to the over-the-top glamour of Hollywood Hills. It's also where Los Angeles-based company Lawson-Fenning crafted the interiors of a sun-filled family home. Read more
14. Cream Reconfigures a Hilltop Hong Kong House to Take Advantage of Sweeping Views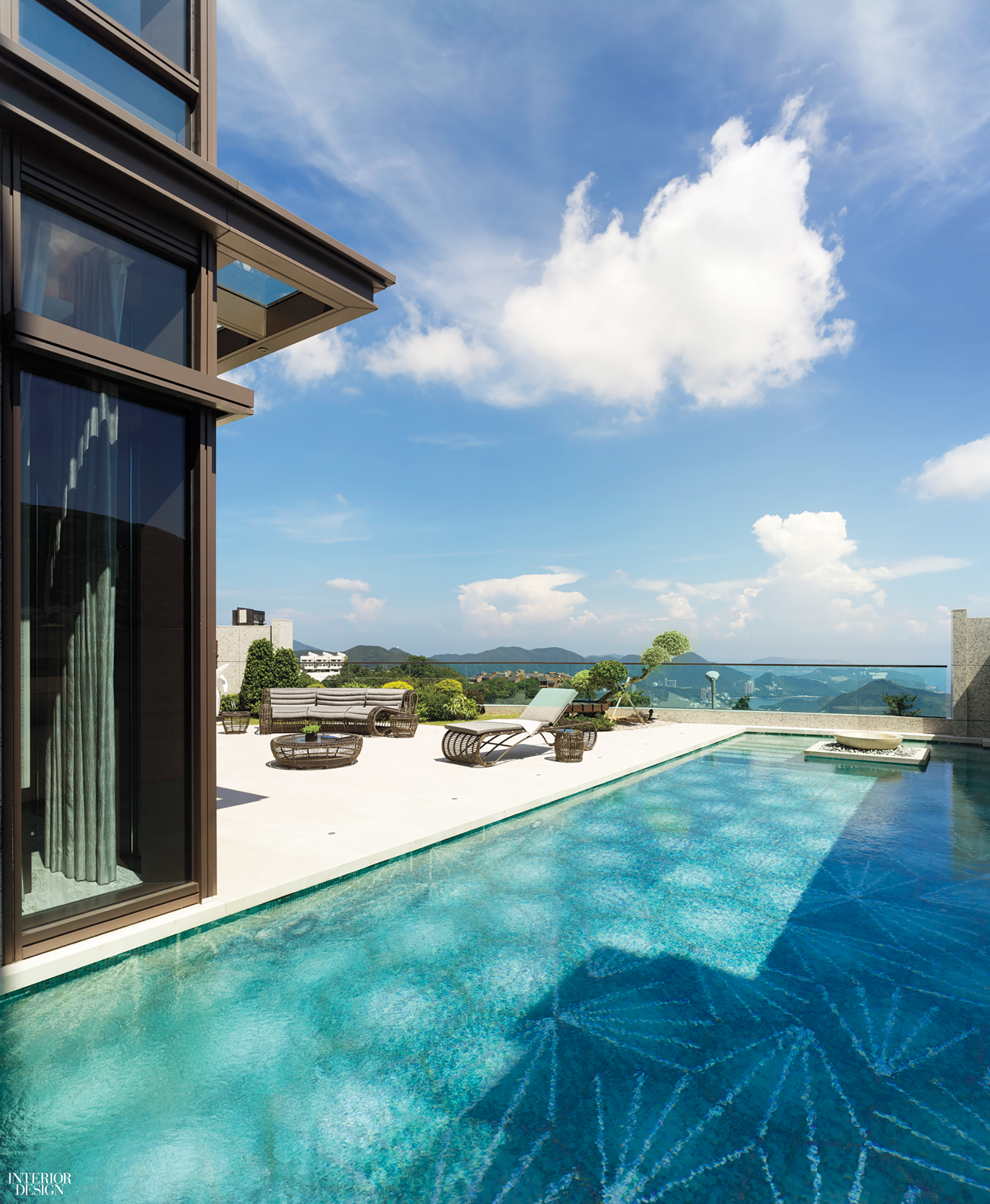 Although this three-story house sits atop Hong Kong's Victoria Peak, it didn't always capitalize on the location's commanding views. Cream intervened with a sandstone terrace and pool, the latter tiled with a custom mosaic. Read more
15. Miguel Correia's Green Design for Sobreiras-Alentejo Country Hotel
FAT–Future Architecture Thinking's Sobreiras–Alentejo Country Hotel, outside the town of Grândola, is an unexpected minimalist oasis in a fragile, savanna-like, arid landscape. Ceramic tile surfaces the terrace connecting the lounge, restaurant, and pool, which tops a 1,000-square-foot events space. Read more
16. Dana Oberson Brings an Eclectic Touch to Israel's Publica Isrotel
Visitors to the rooftop pool deck of the Publica Isrotel, designed by Dana Oberson Architects, are treated to sweeping views of the Herzliya city skyline. Read more
17. An Artsy Sag Harbor Retreat by Groves & Co. Is All About the Mix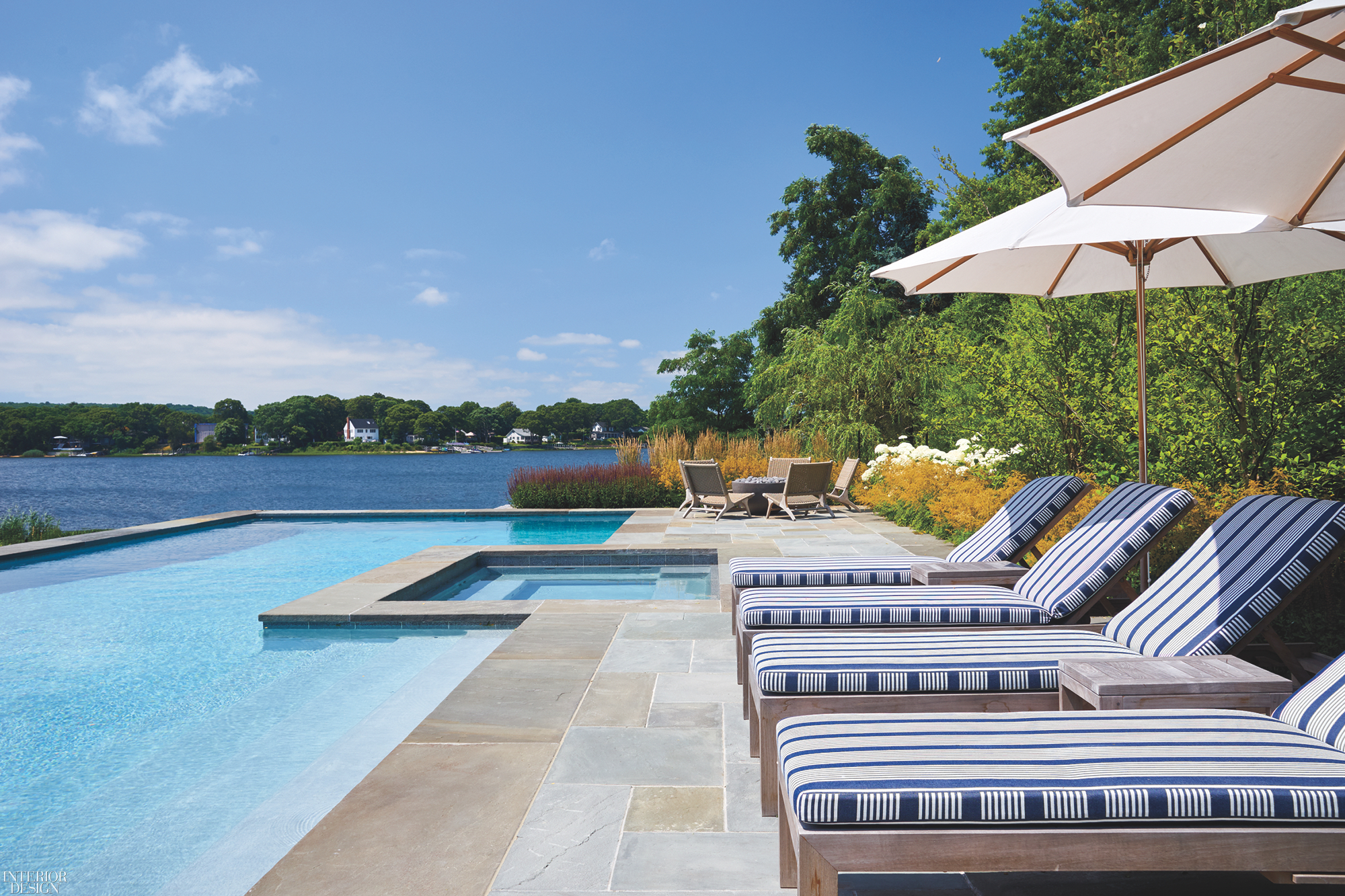 The owners of this Sag Harbor, New York, getaway use the entire residence for entertaining, including the poolside patio, where guests can experience true submersion in their surroundings. To bridge the attitudinal divide between art and architecture, Groves & Co. embraced eclecticism. Read more