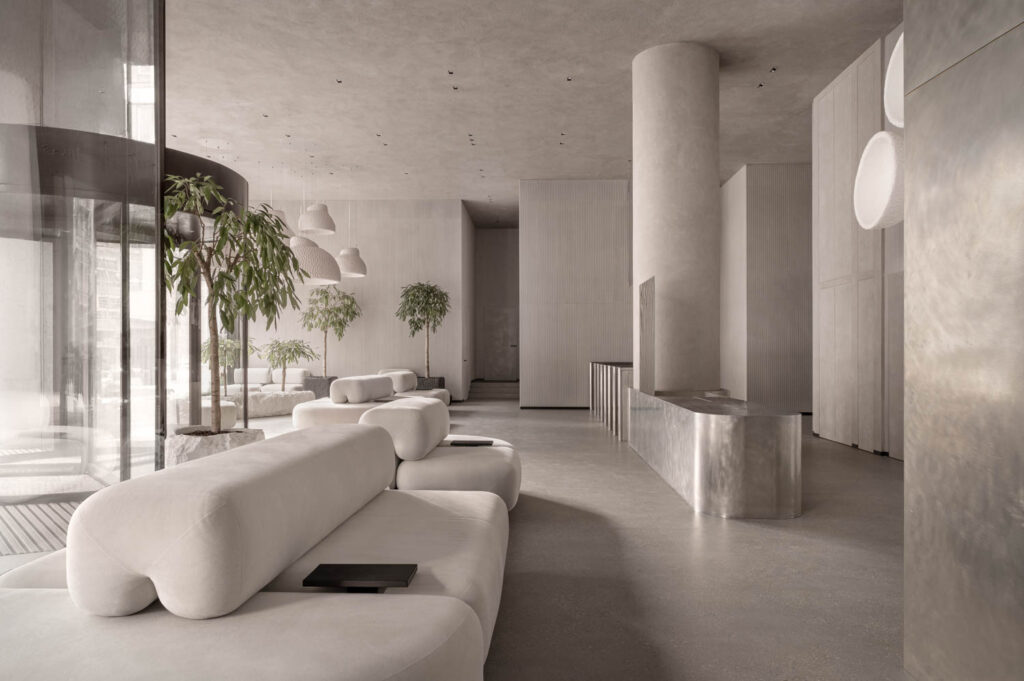 A Kyiv Tech Incubator With a Sleek Yet Earthy Entrance Hall
Defying all the odds, Kyiv, Ukraine, is rapidly emerging as a hub for technological advancement. Helping to lead the charge is the recently opened Unit City; a sprawling workspace campus fashioned out of a former industrial district. Serving as a first entry point to the complex, the 700-square-foot Unit Space reflects a sense of inclusive sustainability articulated throughout the repurposed office park. Award-winning designer Victoria Yakusha treated this double height lobby by masterfully combining aspects of mechanical efficiency, comfortable minimalism, and contrasted texture.
"We managed to represent the soul of Unit City," she explains. "The most interesting part of the project was the inclusion of three 13-foot Soniah lamps emerging like flower stems high above the reception desk. These are the largest I've created to date. The word soniah means sunflower in Ukrainian, a visual correlation that is best expressed in this context."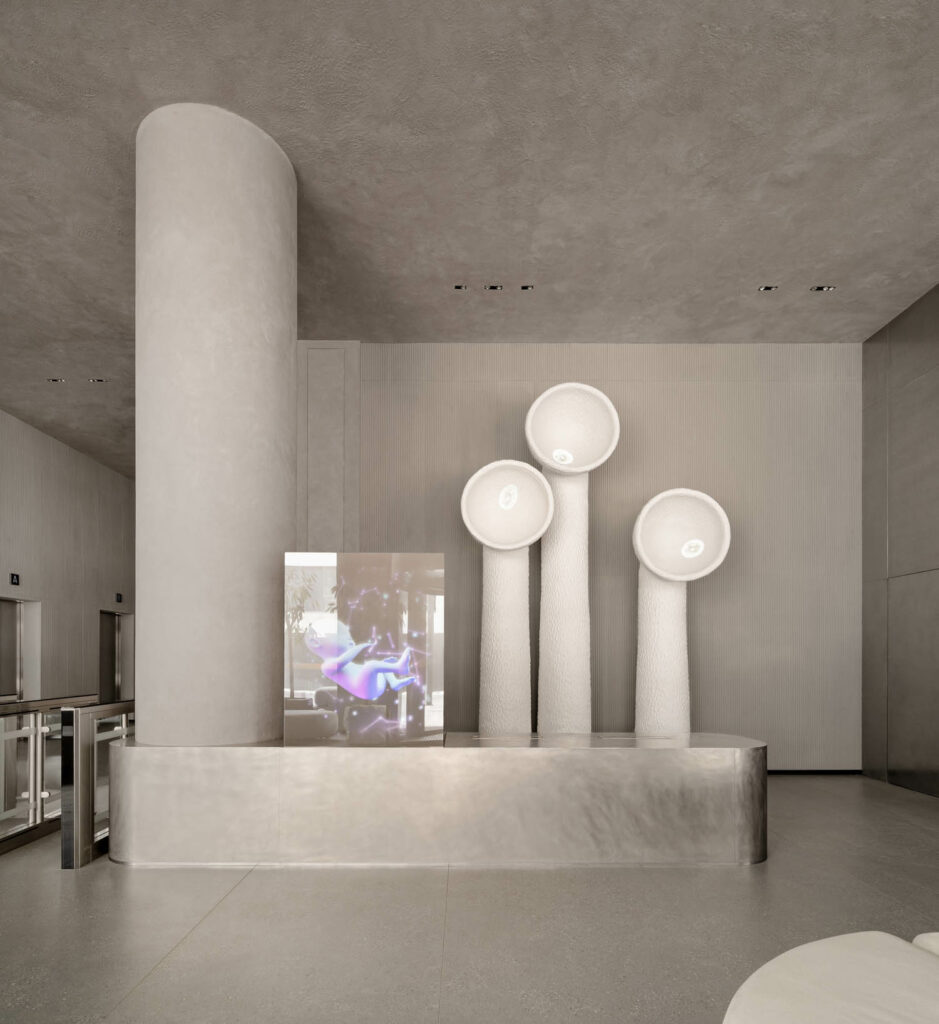 Upholding Tradition Through Contemporary Design Experimentation
The local talent made headlines this spring by debuting her Faina product line at New York furniture fair ICFF. Deeply rooted in Ukraine heritage, Yakusha harnesses the full potential of hyper sustainable materials and reinterpreted handicraft traditions to create substantial furnishings and luminaires that maintain the imprint of the human hand at work. Much of the formal language she employs harkens back to folkloric symbolism but with a paired back sensibility that aligns with contemporary taste.
It's a similar approach the multifaceted designer tapped into when, under the auspices of her eponymously-named Yakusha Design architecture practice, she conceived Unit Space. While Unit City's progressive mandate is expressed in the implementation of a large transparent glass screen displaying different digital holographic sculptures and informational widgets, viscerally-hewn Faina ceramic lamps—inspired by celestial shapes—play off the curvatures of arched mirrors affixed to rear walls. Richly upholstered pill-shaped sofas arrange in different modular configurations; juxtaposing geometrically-patterned surfaces throughout. Patinated and semi-iridescent metals render monolithic desks and wall-cladding panels, adding additional depth.
The spatial intervention centers on a biodynamic lighting system that illuminates the space in four different modes, evoking different times of day. A palette of muted earth tones perfectly accommodates this feature. A peppering of indoor plants factors in as a calming and grounding counterpoint. "In modern society when technology and design are evolving so fast, it's important to maintain a connection with nature," Yakusha concludes. These seemingly opposed themes neatly coalesce in this cautiously layered and laid-out entrance hall; a sophisticated calling card for the rest of the workspace complex.
Inside Unit Space, a Tech Lobby Designed by Victoria Yakusha