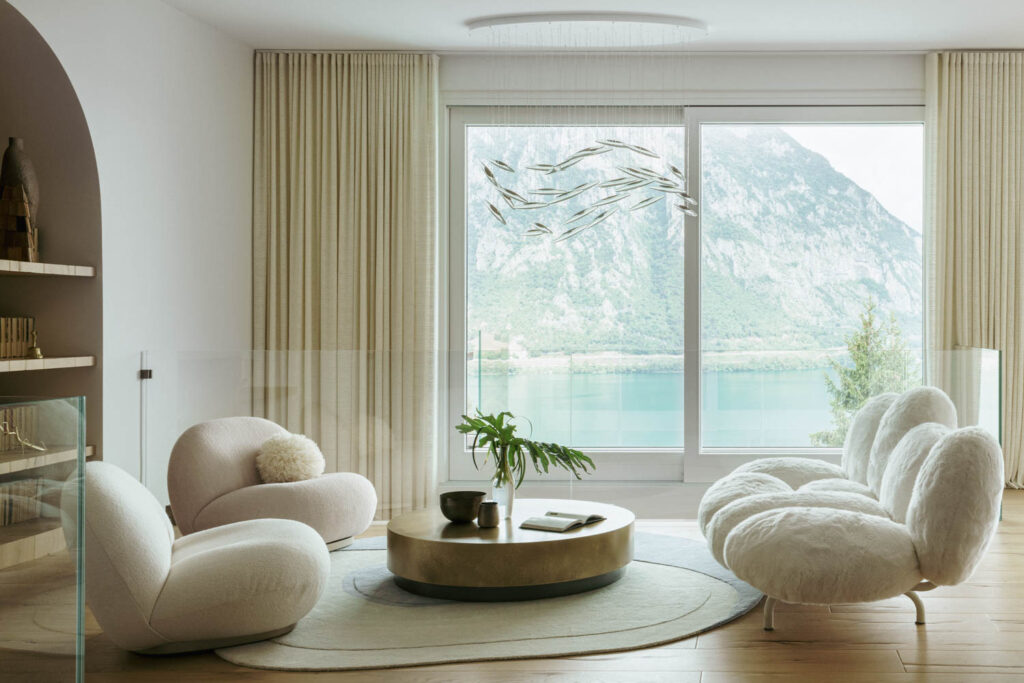 Lights, Camera, Action: This Italian Abode on Lake Lugano Subtly Reflects the Homeowners' Film Careers
Located in the charming town of Campione d'Italia, this two-story apartment is as stunning inside as it is outside with its panoramic view of the mountains and Lake Lugano. Once the main work was done on the home, interior designer Yana Molodykh jumped into the project and took care of shaping peaceful spaces for her friends, Sergey Sozanovsky, who owns Ukranian media company FILM.UA Group, and his wife, film producer Iryna Kostyuk.
Since the beginning of her design career, Molodykh has been working with the couple. For the three friends, who are originally from Ukraine, this new project came naturally. The brief consisted in creating a cozy place for Sozanovsky and Kostyuk, from which they could easily visit their daughter who studies at a private boarding school in Lugano, and to entertain and enjoy life with family and friends during holidays.
To complement the wooden floor and niches, as well as the elements in Ceppo Lombardo stone, Molodykh painted the walls a soft white. On the two floors—each 1,485 square feet— she introduced furniture with rounded shapes and textiles for a warm feel while nods to Ukraine are reflected through objects made by craftsmen and artists. To make the home even more personal, Molodykh designed what she calls a "kind of nest" as a reference to the wagtail, the family's symbol. In the living room. The Ochre pendant echoes the fishes jumping out of the lake and the Edra Cipria sofa is an ode to the clouds that can be observed through the floor-to-ceiling windows. Meanwhile, the CC Tapis rug evokes the circular shapes of a raindrop on the water.
"I was inspired by the scenery outside: the water, the sky and the mountains, which have different colors depending on the seasons," says Molodykh.