Leaping Creative Invigorates the Aesthetic of Chinese Foot Spa with Forest for Rest in Chongqing
Rooted in traditional medicine, the Chinese foot massage has been around for millennia. But it wasn't until the late 20th century that the practice gained mainstream popularity. That was when China's disposable income increased—first in Hong Kong and southern parts of the country, then gradually in other provinces—and people would spend money on visits to foot spas. Today, however, those spas are typically associated with older people seeking relief from the aches and pains of aging. Because of that stereotype, the genre struggles to attract new and younger generations. But Zen Zheng, founder and design director of Leaping Creative, is changing that with Forest for Rest, a 29,000-square-foot spa in Chongqing for which he devised an innovative narrative and branding package.
Situated in the heart of Chongqing, a sprawling megacity, Forest for Rest is the brainchild of Siwei Liu, a second-generation spa entrepreneur. Occupying one end of a mall filled with trendy eateries and bars, the building itself is in Chongqing's former central business district, which has relaxed in recent years into a tourist hotspot with a mix of contemporary and traditional attractions. Forest for Rest is accessible by its main entrance in the mall via a softly glowing escalator tunnel or by elevators to a secondary entry.
"Initially, we weren't sure about the design direction," Zheng begins, explaining his firm's approach to the development of the leisure and wellness brand. "After weeks of researching the market, we decided to offer something fun and intriguing, different to what's currently available and what young customers expect. The primary goal was to shake off preconceptions about the industry by upgrading the foot spa experience, showing that it can be cool and fashionable."
To do so, Leaping Creative conceived a story centered on the Hercules beetle. Native to rain forests, the insect is known for its incredible strength and vitality. Zheng developed a narrative for the beetle as an avatar for fatigued Gen Y and Z customers arriving at Forest for Rest. In Zheng's story, the beetle discovers an oasis wonderland in the green forests of his native home after an exhausting journey across a desert wasteland. In the forest, he rejuvenates, indulging in nourishing water treatments. "Our narrative of relaxation during, and energized after, a spa journey was established at the beginning of the process, and we designed the project based around that," Zheng continues.
"The logo and icon followed." He's referring specifically to
a three-foot-high beetle in laser-cut steel that appears in the entry and guides customers along their journey. That installation extended to print materials, screens, and 3-D installations "in a holistic way," one being the looping brand animation that's viewed through a cutout in one of the café's plywood walls. "The layout plan follows the narrative," Zheng says, "while the spa's product packaging introduces whimsical details." Twin doors open to an expansive café and a reception area beyond. Large swaths of arching taupe-painted partitions not only mimic sand dunes but also the mountainous terrain surrounding Chongqing. Stones embedded in the otherwise uniformly gray terrazzo floor further emphasize the desert feel.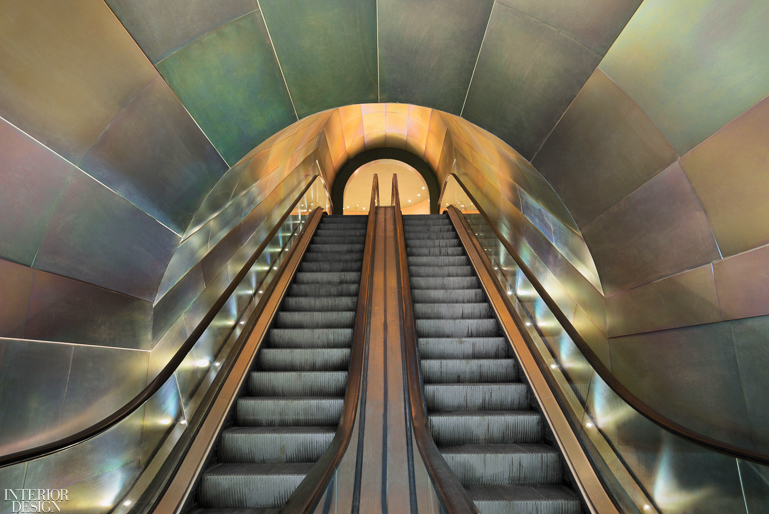 The café acts as a transitional zone: Arrivals can proceed directly to the reception and shoe-change areas for their treatment, while people departing the spa can grab a snack before leaving. "Food and beverage service after a treatment is standard in the local spa industry," Zheng says. "But it's common to provide this service privately within the room." As part of the brand's DNA, the café attached to the entry highlights the youthful communal revitalization that Forest for Rest offers. The café also has a small retail component. A freestanding cabinet resembling a treasure chest displays branded products such as towels and essential oils that are available for purchase.
As customers proceed deeper into the forestlike interiors, vignettes of backlit acrylic nature scenes and metallic beetle installations guide the way. Juxtaposing the bright light found in the desert environs of the cafe, the changing area is bathed in an ethereal glow that resembles moonlight. Serpentine benches topped with a mossy material offer semi-enclosed privacy to minimize the awkwardness of removing one's shoes among strangers. "That area is my favorite," Zheng admits. "With its shallow moonlight concept, it's dreamy and poetic." The peek-a-boo experience is extended to restrooms, where a row of columns housing sinks and mirrors allow glimpses between them into the other genders' handwashing area.
The deep shadows found in rain forests continue into the private and group massage rooms and supporting facilities. The 33 private rooms are minimally furnished, with generous treatment beds, gently glowing pendant fixtures, and gray granite walls. The group room is like a luxe screening room. The two-tiered space includes seven roomy reclining chairs upholstered in green velvet and a 10-foot-wide projection screen; visitors can watch the latest blockbuster while simultaneously receiving a foot massage. "It's turned out to be a popular place for younger customers," Zheng states. Based on recent records, about half of the visitors are between the ages of 18 and 24. It appears that Leaping Creative successfully kicked the foot spa up a notch.
Project Team:
Dongzhi You; C.C. Chen; Evan Chen; Jialu Hong; Linxiong Yan; Dingling Yao; Zhenyu Yao; Yanzhi Tan; Shuming Yang; Leshi Gong; Liwei Chen; Yinjie Li; Minghao Liang; Jiening Huang: Leaping Creative. Zhongshan Siki Lighting Co.: Lighting Consultant.
Product Sources: Dongguan Chaorong Hardware Products Co.: Zinc Ceiling Plating (Secondary Entry). Juchang Lighting Co.: Pendant Fixtures (Entries). Yujin Carpet Company: Rug (Changing Area). Throughout: Hong Tu Fang: Textured Paint. Gui Yi: Synthetic Terrazzo.