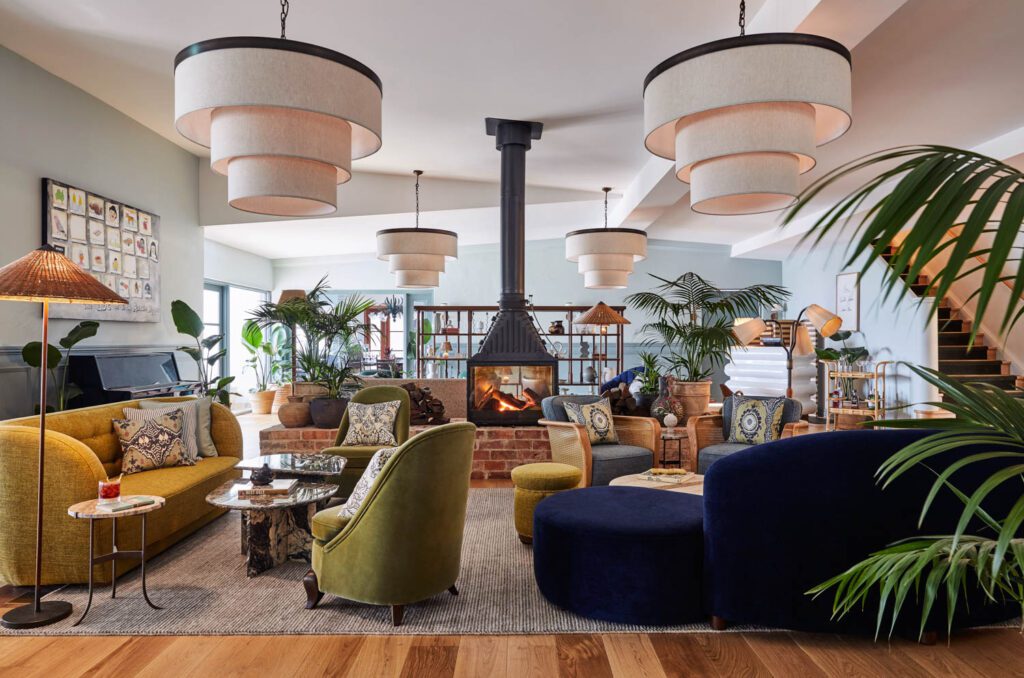 Linda Boronkay and Alan Mc Mahon Bring a Taste of The Cotswolds Down Under
Despite its relative proximity to the bustling metropolis of Sydney, the Southern Highlands of Australia conjures the ambiance of the English countryside, with its rolling hills and charming villages. Here, nestled between the idyllic village of Bundanoon and Morton National Park, sits Osborn House: a decadent 19th century estate, former fitness center, and one of Australia's most beguiling new hotels.
London-based designer Linda Boronkay partnered with Sydney-based interior architect Alan Mc Mahon of Mac Design Studio to restore the heritage-listed property, built in 1892 by homeowners George and Dinah Osborn as a guest house for city-dwelling friends on holiday. The three-story, 27,000-square-foot manor sits upon 8.5 acres of undulated gardens surrounded by a forest of radiata pines, complete with a lap pool, spa, and bushwalking trails.
"The space really emulates a countryside escape," says Boronkay. The former Soho House design director and world-renowned posh tastemaker approached this project through an emotive, cinematic lens, working with Mc Mahon to honor the manor's historic legacy, while creating something comfortable and authentic.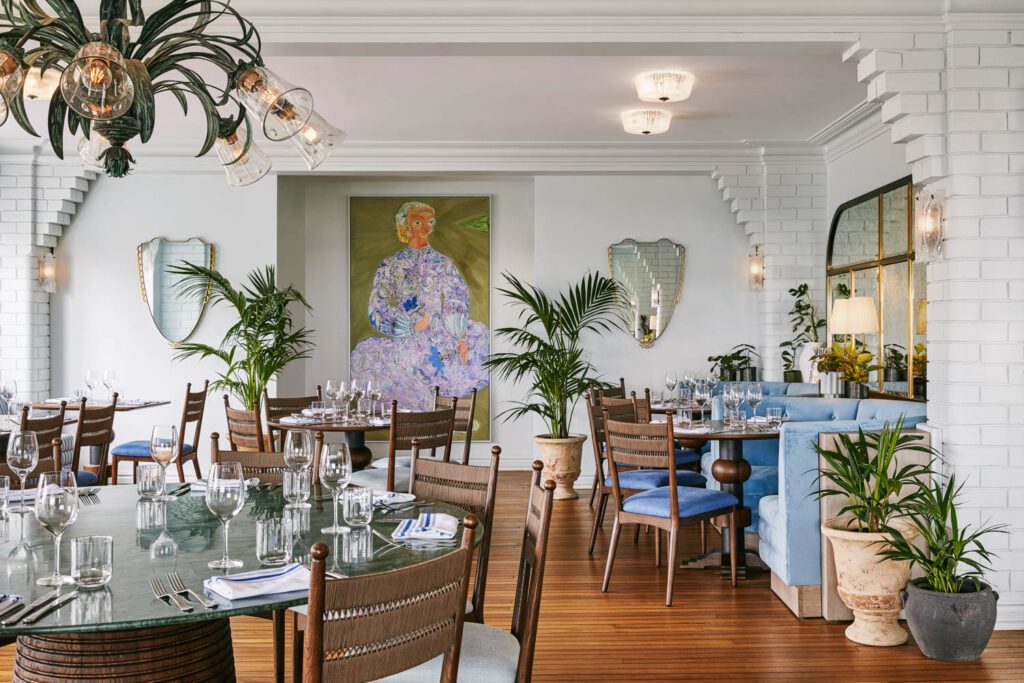 "The brief was to create a whimsical retreat," says Mc Mahon, "A slice of Europe in the Southern Highlands." To manifest this vision, the designers painstakingly restored as much of the original architectural detail as possible, refurbishing interior walls and doorways to their Victorian-era grandeur. A double-facing fireplace, discovered during renovations, is now a stunning focal point between the hotel's reception area and library.
"We wanted the interiors to be an eccentric interpretation of the building's past," says Boronkay, who envisioned a highly residential vibe, complete with tactile fabrics, patterns, and eye-catching color combinations. Indeed, the hotel's glorious gallimaufry of vintage and contemporary pieces, sourced from European flea markets and Australian artisans, evokes an eclectic, sensorial environment. Osborn House's harmonic interiors transport guests to another world—a world that feels like home.
The 22-room luxury hotel does not skimp on details. Bespoke, ornate lights and regal furnishings harken to the estate's early days, while lively linens and rattan chairs add modern elements to the tableau. Neutral Moroccan rugs anchor quirky wallpaper reminiscent of botanical graffiti in the guest rooms, and a vintage chandelier sourced from Amsterdam highlights custom, Venetian light fixtures in the formal dining room.
As the project took place during the pandemic, Boronkay was unable to visit antiques shops firsthand, as she normally would for a hospitality design endeavor. Remarkably, the design team relied on WhatsApp to connect with merchants, curating a lovely collection of vintage pieces without leaving their home base.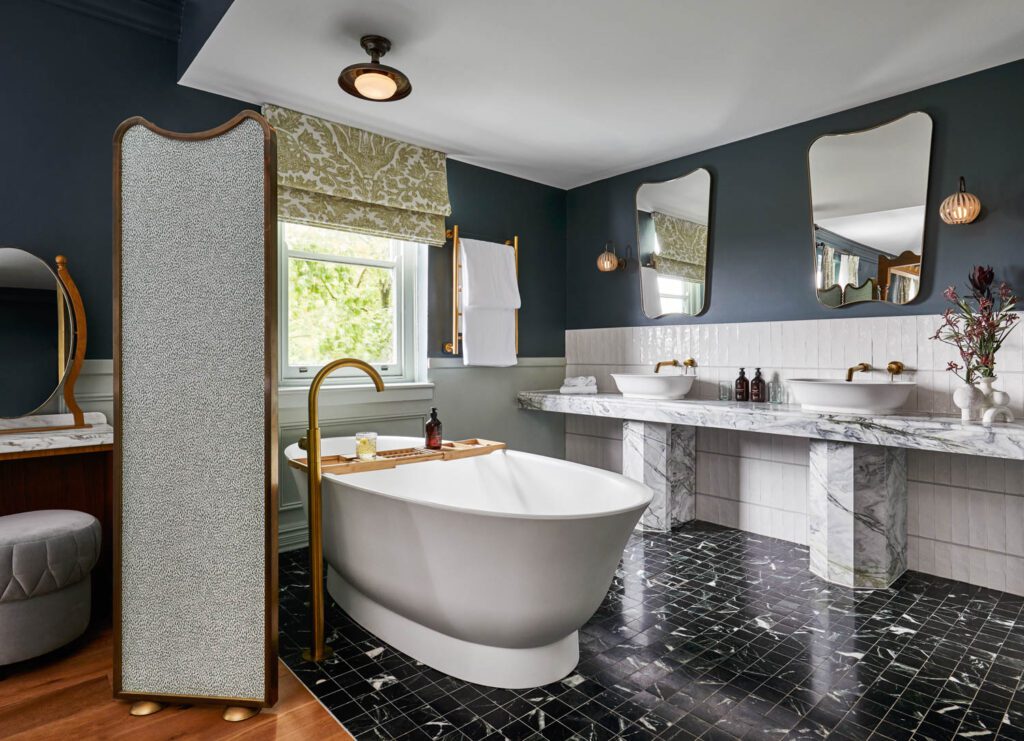 While imbuing the estate with English charm, Boronkay embraced its Australian setting, using a soothing palette of green and blue hues to blur the line between the interior and exterior façade. The verdant tones articulated in the Osborn House design language throughout thematically distinct spaces.
Capitalizing on the property's indoor-outdoor aesthetic, the designers punctuated the sprawling grounds with seven private cabins, each with a sleek yet warm interior palette of limewashed joinery, furnishings swathed in burnt orange fabrics and light blue accents. The details are thoroughly planned and executed, down to the bathrooms. The suites have sculptural, marble vanities and Carrera marble tile flooring, while the cabin bathrooms feature bright tiles and concrete vanities, in keeping with the rustic vibe.
As Boronkay explains, "The combination of reclaimed materials paired with rich and tactile fabrics, curated objects from around Europe and personal touches in the different spaces will make you feel like you are being embraced by an interesting individual."