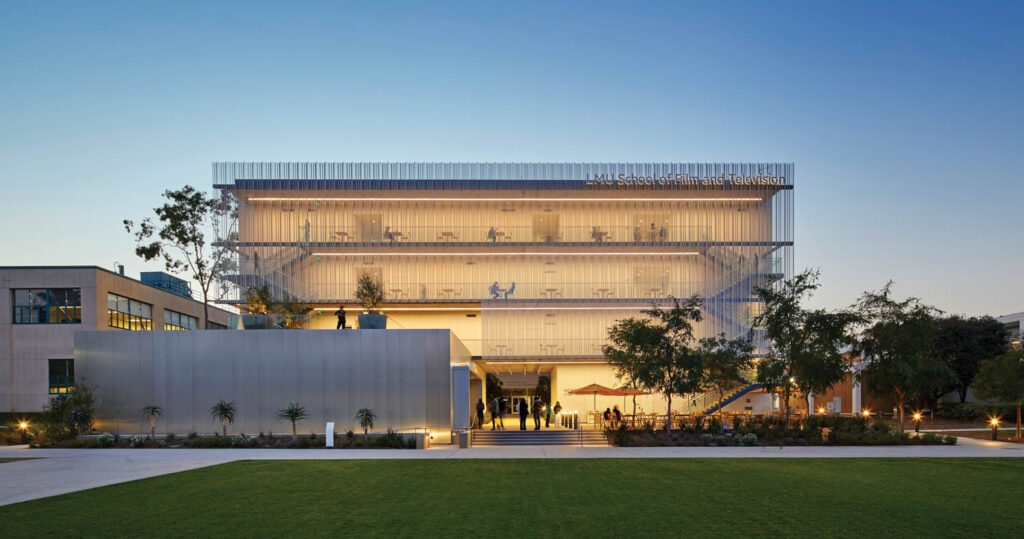 Loyola Marymount University Gets a Theatrical Addition
The word design may derive from the Italian verb segnare, meaning to sign, but Skidmore, Owings & Merrill senior associate principal Carlos Madrid III eschewed a splashy signature in favor of cultivating a sense of community in two recent projects at Loyola Marymount University in Los Angeles. The School of Film and Television Undergraduate Building, a four-story slab of teaching spaces with an attached theater—24,000-square-foot in all—and the Drollinger Family Stage, an outdoor performance pavilion, both serve as student magnets that foster and sustain campus life. "The main driver was creating and activating people-oriented buildings," says Madrid, who led both projects.
The main SFTV building is straightforward, a no-nonsense block of concrete finished in troweled stucco. Its upper levels host flexible multipurpose classrooms while staff offices, post-production classrooms, and a camera directing studio occupy the ground floor, which is pierced by a wide breezeway leading to a landscaped courtyard and the existing SFTV graduate building in back. The 86-seat theater, housed in a separate yet adjoining volume clad in matte silver aluminum panels, sits in front.
SOM Designs The School of Film and Television Undergraduate Building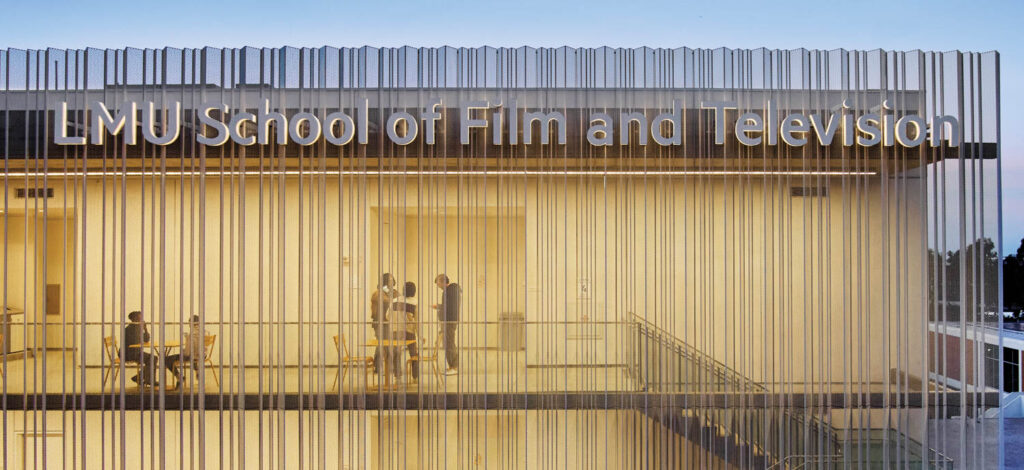 For Madrid, form did not mean shape—or at least, not unusual shape. Rather, the architect used it to organize patterns of movement and rest around the simple slab, to create an armature for all the in-between moments of student life: getting to and leaving from class; hanging out; sitting down to chat, read, check phone messages. Some interiors have windows but most do not, so Madrid extroverted the introverted program. "We started thinking about how to activate the building's exterior, putting all the circulation outside," he says, "so we would see people moving up and down the stairs, like an ant farm." L.A.'s mild climate allowed him and his team to service the classrooms with outdoor corridors—a stack of cantilevered aerial sidewalks, wide enough to accommodate tables, chairs, and casual encounters alongside bustling foot traffic—with staircases at each end. The whole east facade is populated and alive, a human terrarium, not simply a designed composition.
Madrid veiled the vertical streetscape with a gauzy brise-soleil. Made from pleated sheets of perforated powder-coated aluminum, the semitransparent screen lets breezes flow through the corridors while shielding them from the direct morning sun. The space between the veil and the facade acts as a passive buffer, a naturally regulated microclimate that augments building energy efficiency, exemplifying why SOM is ranked not only 19th among our Sustainability Giants but also 49th amid the 100 Giants.
The firm put additional outdoor square footage to use by turning the adjoining theater rooftop into a planted terrace, which Madrid calls a "meditative space," while the plaza next to the theater, outfitted with bright yellow umbrellas and café furniture, serves as a shaded patio. All the outdoor zones overlook a wide, landscaped pedestrian mall—the spine of the university complex—which has a pleasingly symbiotic relationship with the SFTV building. "The patio has become one of the most popular places on campus," Madrid reports. "It's always active, with people hanging out and classes being taught there."
Building Interiors Feature Mobile Furnishings
In what was a soup-to-nuts project, Madrid and the SOM team designed and furnished the school's interiors, addressing requirements for a high-tech electronic infrastructure and highly mobile furniture that's easily moved or stored for multipurpose classroom flexibility.
Loyola Marymount is a repeat client for which SOM has helmed eight projects over the last decade. The architects have taken contextual clues from the existing modernist buildings, conceiving structures with a simplicity and clarity that fit into the larger ensemble, seeking agreement rather than disruption—a strategy Madrid continued with the Drollinger Family Stage. Asked to design an outdoor theater to support film, dance, and drama, he was able to take the program further, in part because the pandemic proved the relative safety of gathering outside. "The building could be more," he explains, "a classroom for everyday use, plus a facility for health, wellness, movement, and meditation—not just a place for a performance several nights a week."
An Innovative Outdoor Theater Designed by SOM
In devising the 3,200-square-foot open pavilion, Madrid took the formal restraint of the SFTV building to the point of minimalism. Located on a central grassy plaza, the stage comprises a low concrete podium with a row of eight slender columns on each side supporting a canted roof that seems to hover weightlessly 24 feet above the ground. In fact, the canopy incorporates a hefty grid of 2-foot-deep perforated steel beams, its coffered underside packed with lighting and audiovisual systems. Thanks to its anodized aluminum–clad perimeter soffit, which extends some 10 feet beyond the columns while tapering to a razor-thin edge, the roof appears to have no mass. Slimmer than the trunks of the surrounding palm trees, the steel pillars have no visible lateral bracing to break the structure's floating spell or block audience sightlines and yet are sturdy enough to accom­modate conduits running up to the ceiling apparatus.
This futuristic bandshell is more than a feat of sophisticated engineering, however. In its purity and symmetry, the pavilion is like a modern take on a garden folly or a cyber-age version of a classical tempietto. Full-length curtains hang ready to encircle the performance area if required. Stirred by breezes from the nearby ocean, the billowing drapes turn the stage into a sailing vessel—a poetic moment singular on campus.
Inside Loyola Marymount University's New Film and Television Building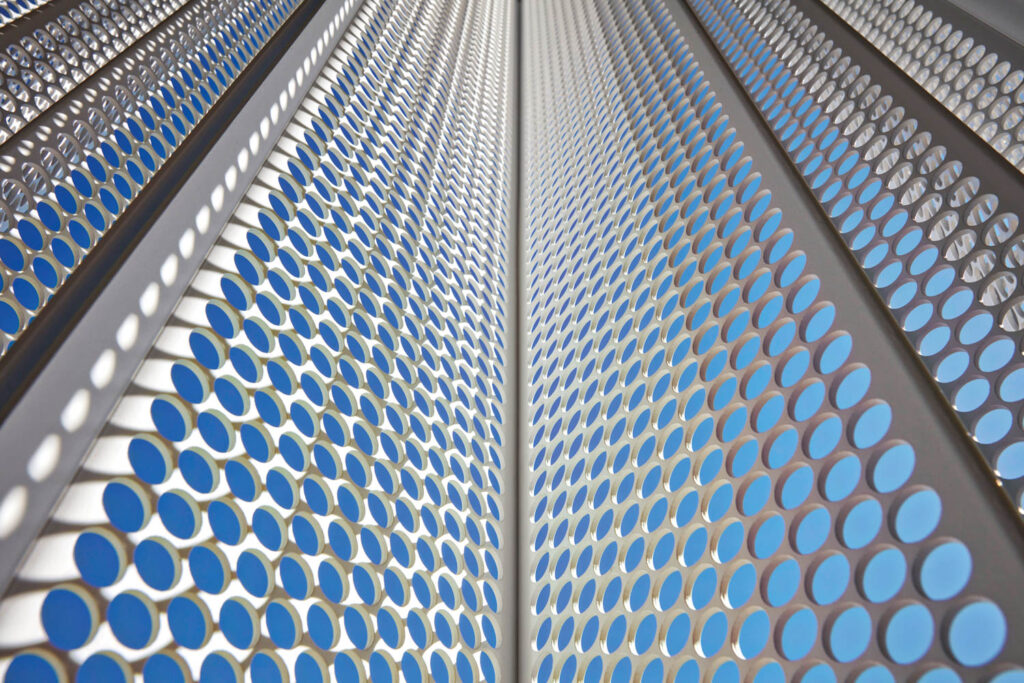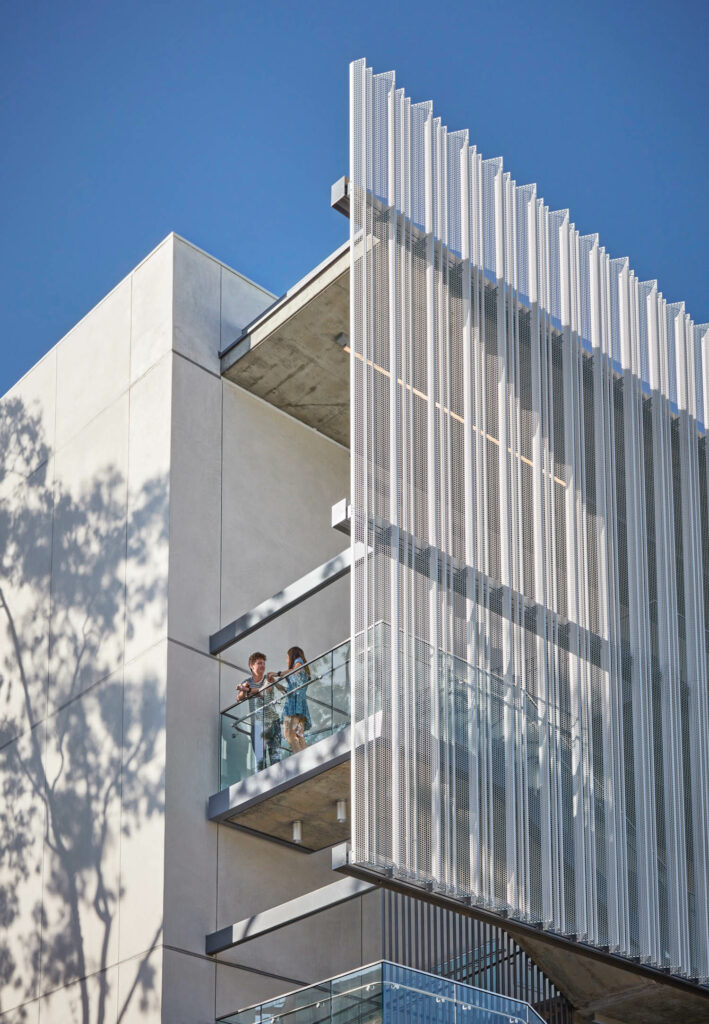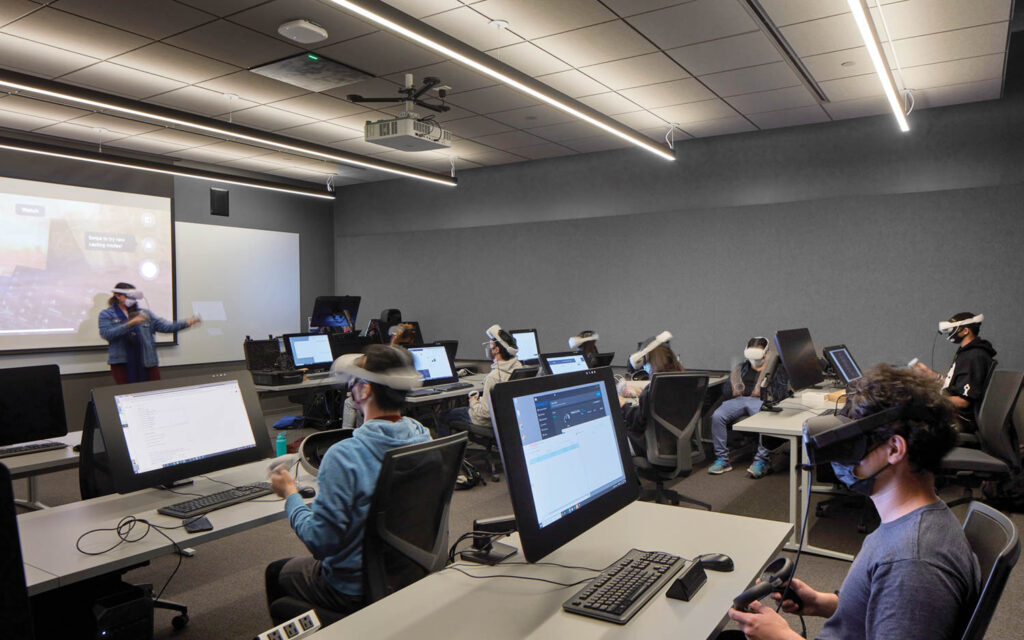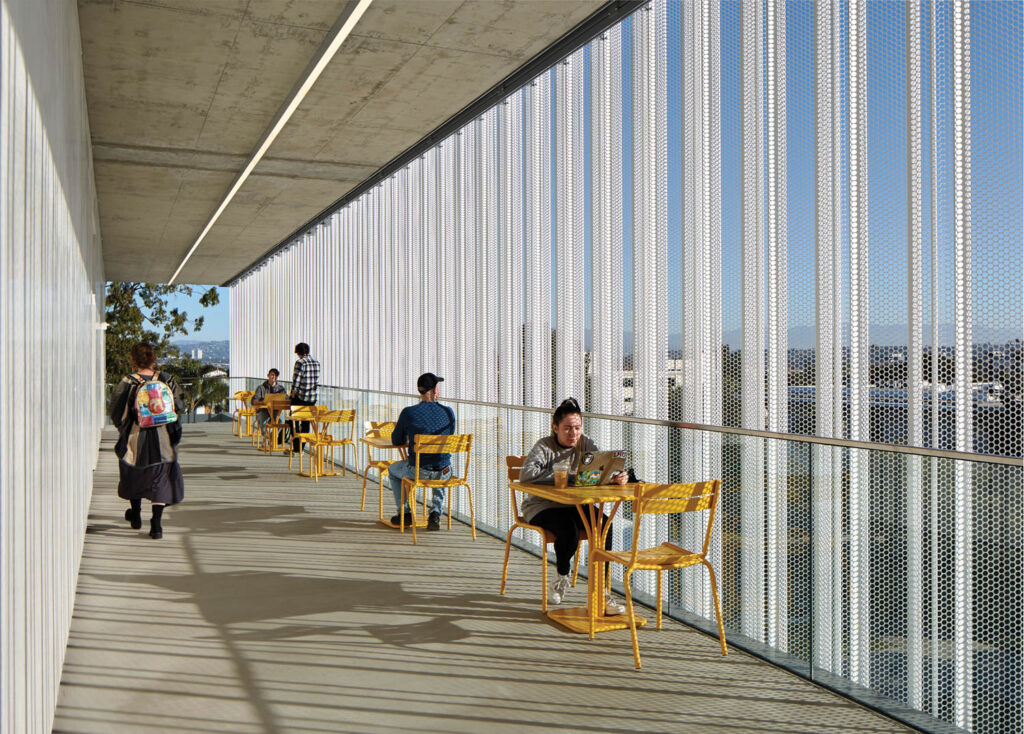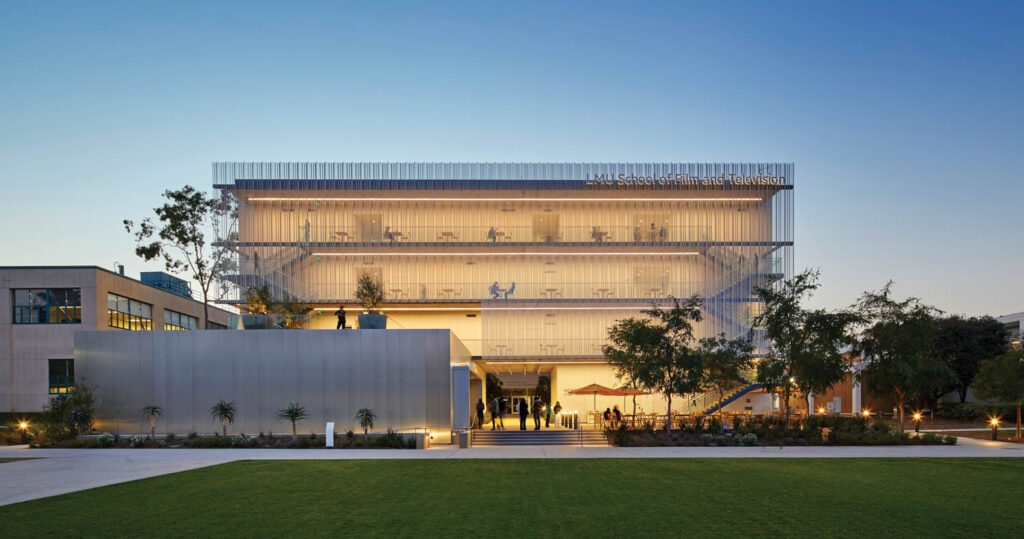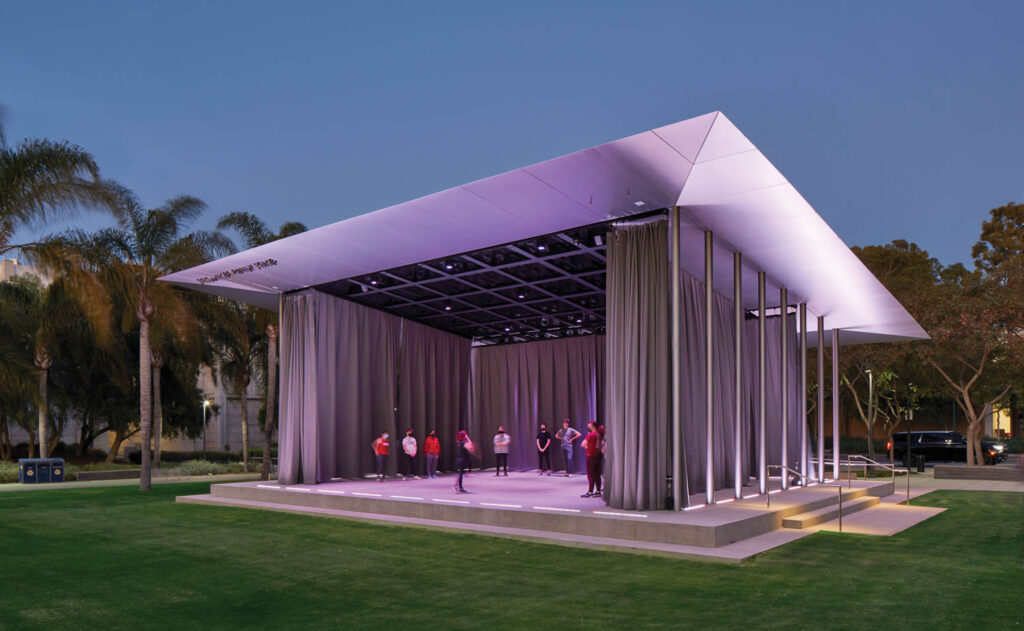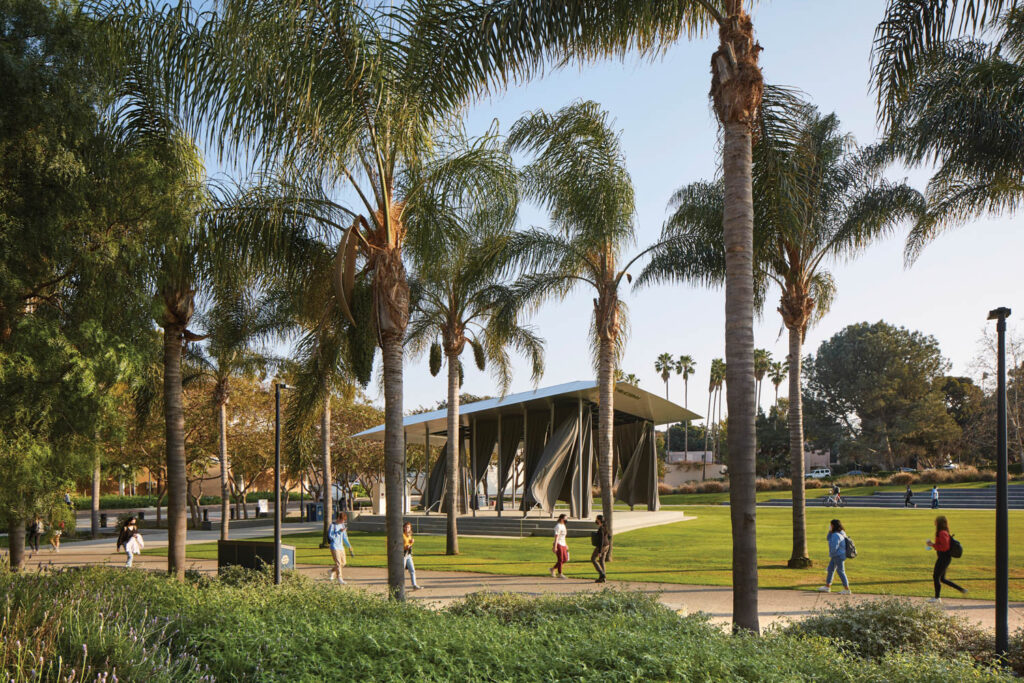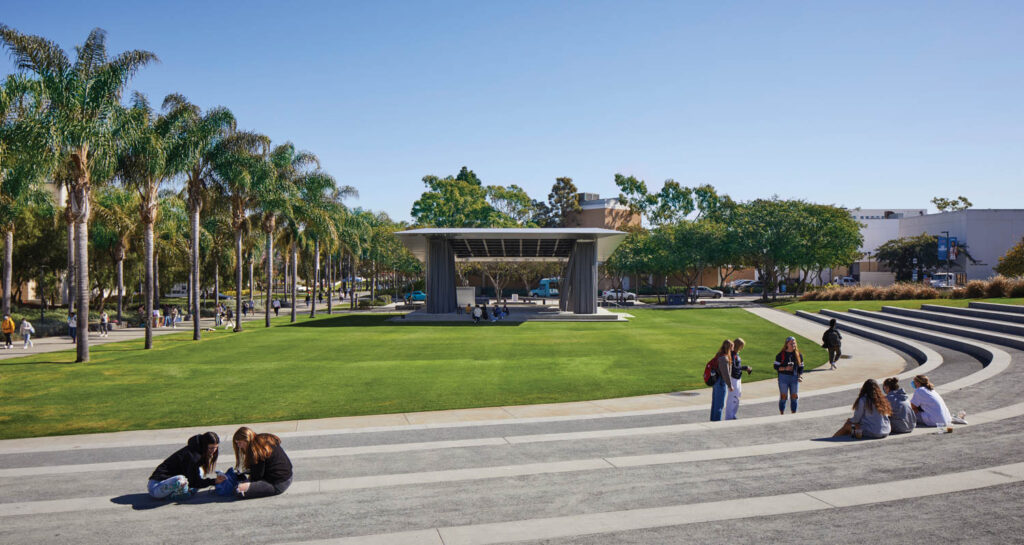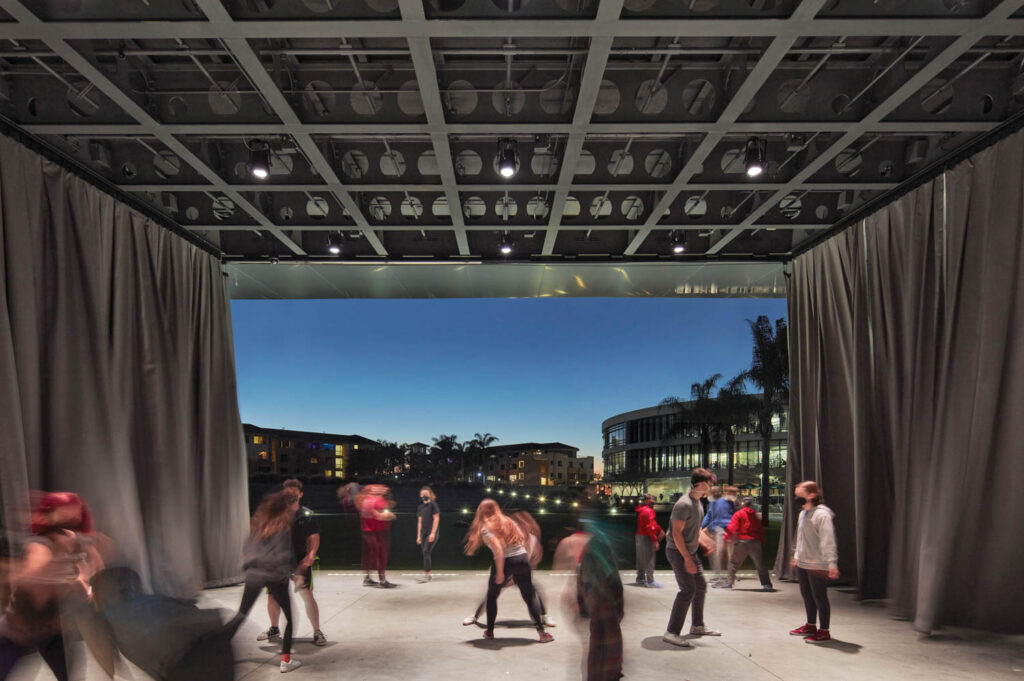 PROJECT TEAM
PROJECT SOURCES
FROM FRONT
THROUGHOUT