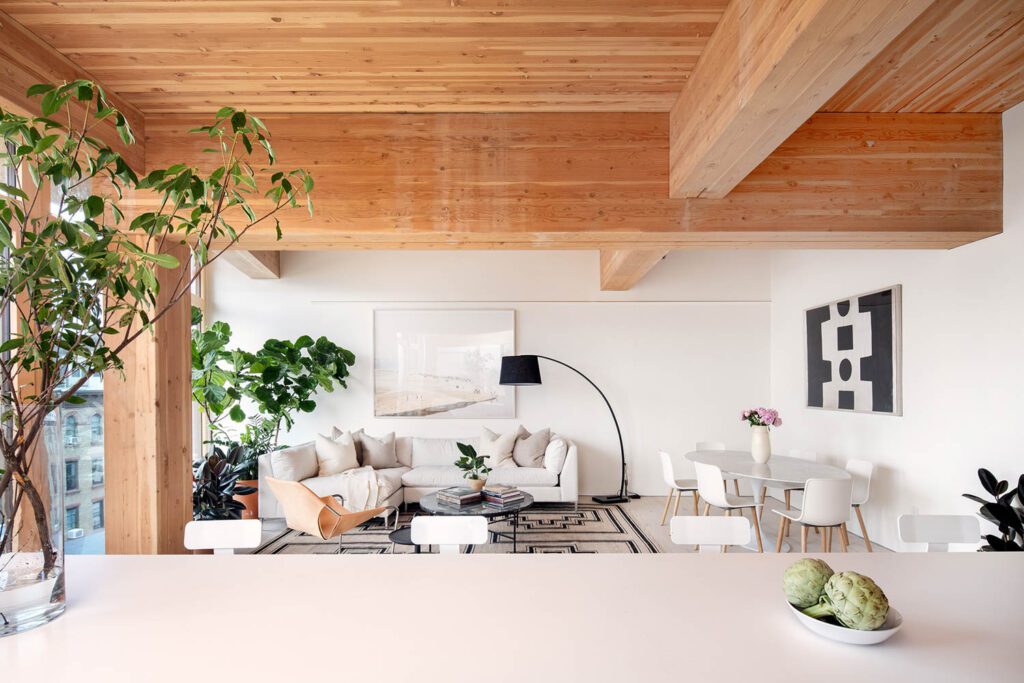 MESH Architectures and The Brooklyn Home Company Complete New York City's First Mass Timber Condominium
Last year, the International Code Council approved the use of mass timber as a tall building material. Meanwhile, MESH Architectures principal Eric Liftin had seen Pratt architecture students experimenting with the material, and wanted to try it out for himself. The alignment of timing and curiosity results in this summer's opening of 670 Union, co-developed with The Brooklyn Home Company, a 22,000-square-foot building with 14 condos from studios to 3-bedroom residences.
"The materiality of a space affects our energy and our mood much more than most people realize," Liftin says. "When the material of the very structure of the building is visible and also beautiful, a special, tectonic quality emerges." The six-story building integrates a modular brick façade and 17-foot-width into its mass timber, matching its neighbors; what sets it apart, of course, is the rich character of the wood, left visible across ceilings and structural elements. "Concealed joints fasten the timber beams and columns together," he says. "Concealing these interlocking aluminum plates protects them from potential exposure to fire's heat, while leaving the joint looking simple and effortless."
Speaking of heat, the building was also constructed with Passive House principles, with triple-glazed windows, Zahnder energy-recovering ventilation, air-source heat pumps for heating and air conditioning, and solar photovoltaic panels on the roof. And the timber itself is GLT, produced mostly from softwood trees sourced in second-growth forests—proving that mass timber buildings might just be the next cool idea.