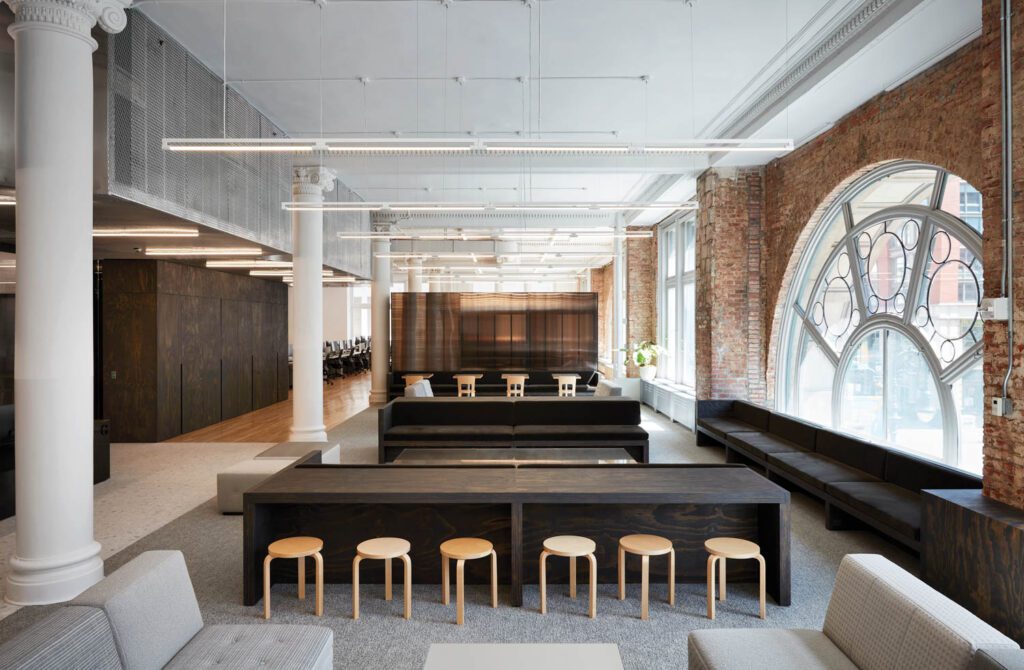 Neal Beckstedt Studio Transforms a Beaux-Arts Building into a Modern Office
Ever since Neal Beckstedt opened his eponymous studio in 2010, he's had the good fortune of working with creative clients like fashion designer Derek Lam and eyewear maven Robert Marc. Another is innovative entrepreneur Albert Sebag, who approached Beckstedt for help with "his office" one day in 2019.
"I thought he meant his personal office," Beckstedt says with a laugh. What Sebag actually had in mind was new headquarters for Guidepoint, the information-age business he founded in 2003. Guidepoint is a matchmaker of sorts, connecting clients, specifically global companies, in need of specialized information with the experts that can provide it. Currently, some 3,500 clients in a broad spectrum of industries—from healthcare to TMT—have at their disposal a network of 1,250,000 authorities for virtual or in-person consultations of practically any size. Almost half of the company's 1,100 international employees would be based in the facility. What Guidepoint needed from Beckstedt, then, was an open and transparent arrangement of work spaces for clients, advisors, and full-time staff. Efficiency and versatility were stated goals.
After a six-month search, Sebag and Beckstedt found the ideal site in Chelsea: the entire 38,000-square-foot second floor of 675 Avenue of the Americas, a landmarked beaux-arts stunner built in 1900 as the Adams Dry Goods department store. "It was a bit of a mess inside," the designer acknowledges, "but it had beautiful columns, high ceilings, and tons of light—all on one level." That the building incorporated a central atrium also helped with the layout. "Most offices of this scale are worms' nests of dark corridors; the atrium allowed for a completely open plan flooded with natural light."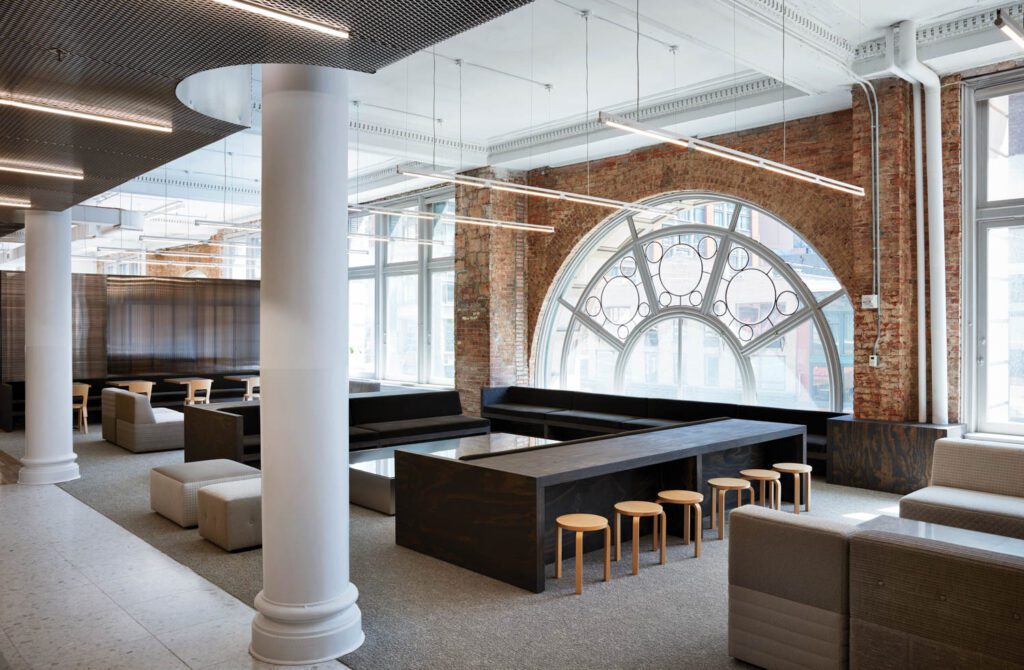 After demolishing the many interior walls and partitions, Beckstedt went about creating a unique config­uration of work zones in a controlled materials palette that invokes Gotham's loft-conversion aesthetic. "I wanted the design to be straightforward," he explains. "It's about elevating mundane building materials— plywood, metal mesh, stainless steel—so the environment is clean and modern with a streamlined element, but still warm and interesting in a way that isn't boring or overpowering."
Beckstedt's sense of delight helped raise visual engagement. He left much of the original brick exposed and enlivened the palette of blacks, whites, grays, and beiges with shots of a hot yellow taken from Guidepoint's logo. The designer even opted to keep a pink wall, daubed with a bit of whim­sical graffiti, which had been revealed when plasterboard was stripped away during demolition.
The department store's original wood flooring still existed, but much of it was not salvageable after more than a century of renovations. The designer repaired the best-preserved parts and installed matching oak elsewhere. The new boards were left uncovered during construction, vulnerable to dings and dents, to speed up development of the "patina" Beckstedt admires in the old wood. He used LEDs throughout in a variety of applications, suspending tubes from the ceiling to create greater intimacy in some spaces, or surface-mounting them in other areas to mark circulation pathways. He added light-reflecting sheen via bronze-tinted polycarbonate partitions and soffits made of
aluminum mesh.
He also played with exposed edges, like those of the partially removed brick walls in the café, which is also used for large meetings. "To me those elements are cool," Beckstedt says. "I mean, why design them away when they look so good?" The designer carried the raw-edge aesthetic into the furniture, opting to leave the unfinished ends of plywood tabletops visible beneath laminate tops and designing a long communal table from reclaimed oak planks.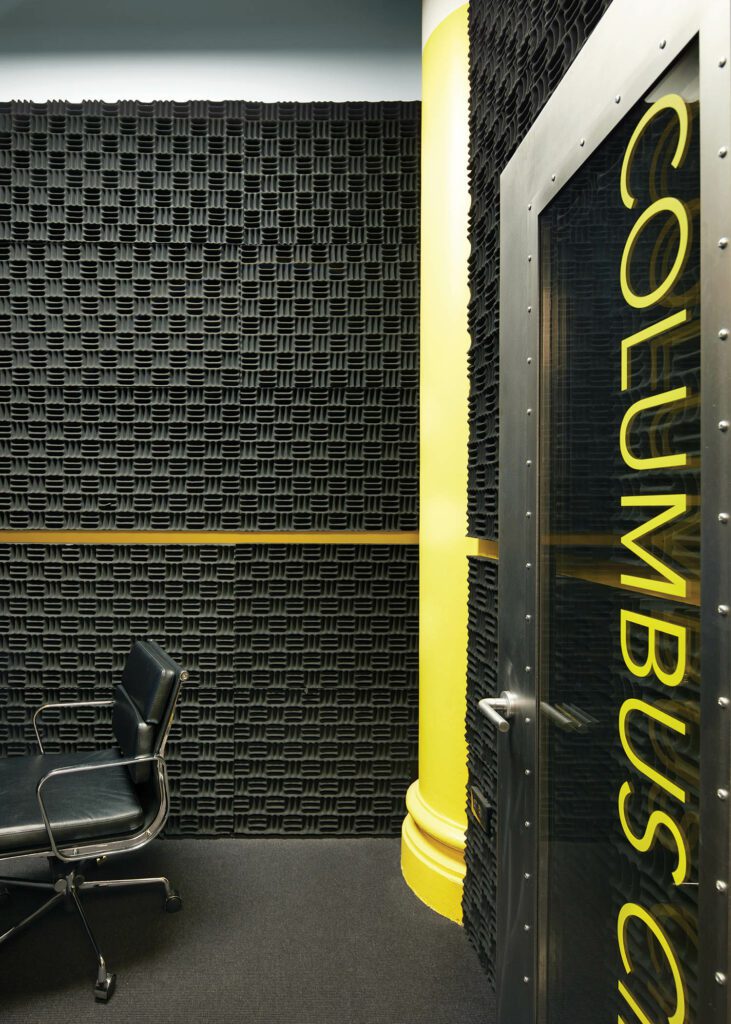 Most of Beckstedt's custom pieces are modular, and much of the purchased FF&E is versatile, such as the adjustable-height workstations. He limited the selection of furniture, focusing on familiar mid-century pieces by the likes of Alvar Aalto, Charles and Ray Eames, and Mies van der Rohe. "It keeps things calm and consistent," he notes. "So many offices try so hard to be interesting that they wind up with visual chaos."
Beckstedt spent a great deal of his time developing the program, accommodating as many people as Guidepoint needed into the square footage. "The overall strategy was about being functional, about letting the function become the design," he explains. "Ornamentation wasn't going drive it, and that informed every decision, from the layout to not replacing missing sections of the crown molding. This project is about work and the history of the building and the city."
Even the lobby, which stretches along a wall of commanding arched windows, is an interactive work space. "It's not just a place for people to wait," Beckstedt says. "It's where team members can meet, use laptops, have a quick chat, or just take a break." In theory and praxis, the genius loci at Guidepoint is connection.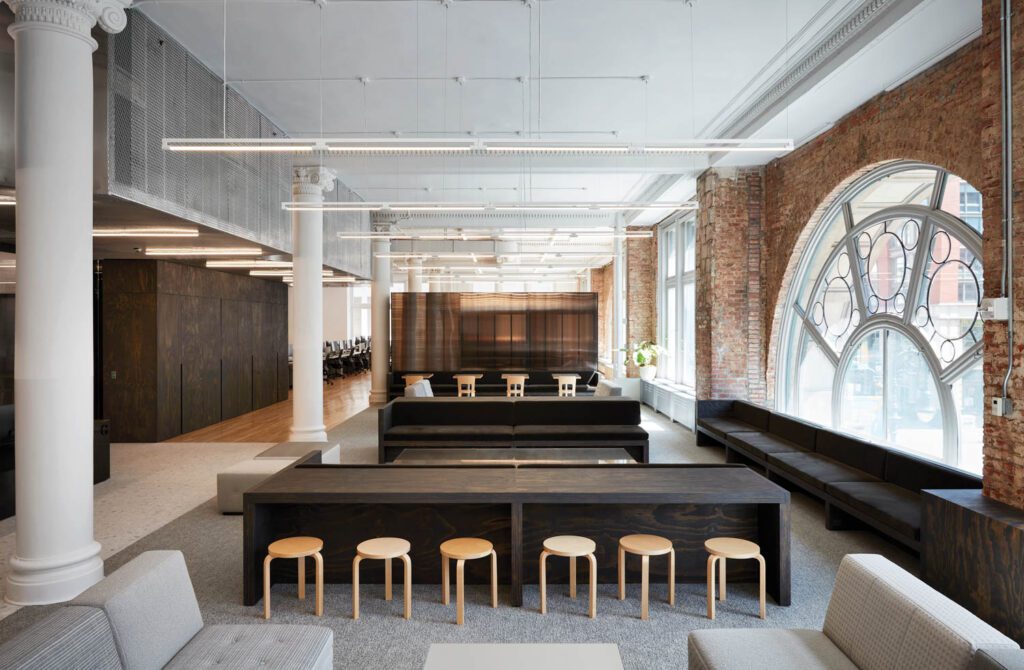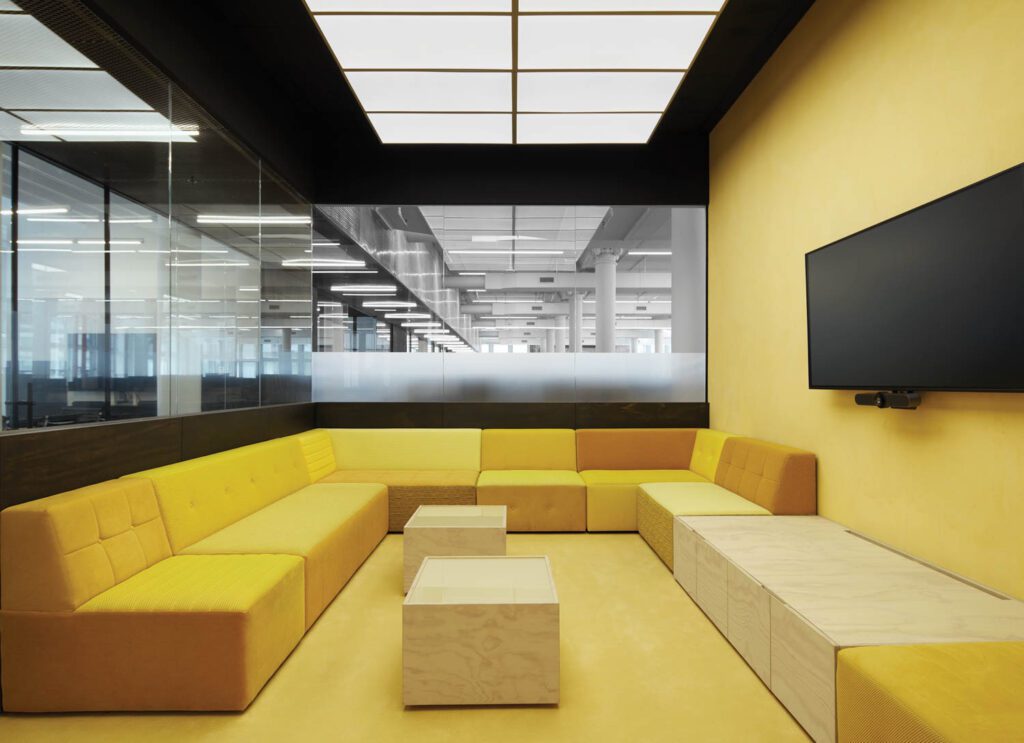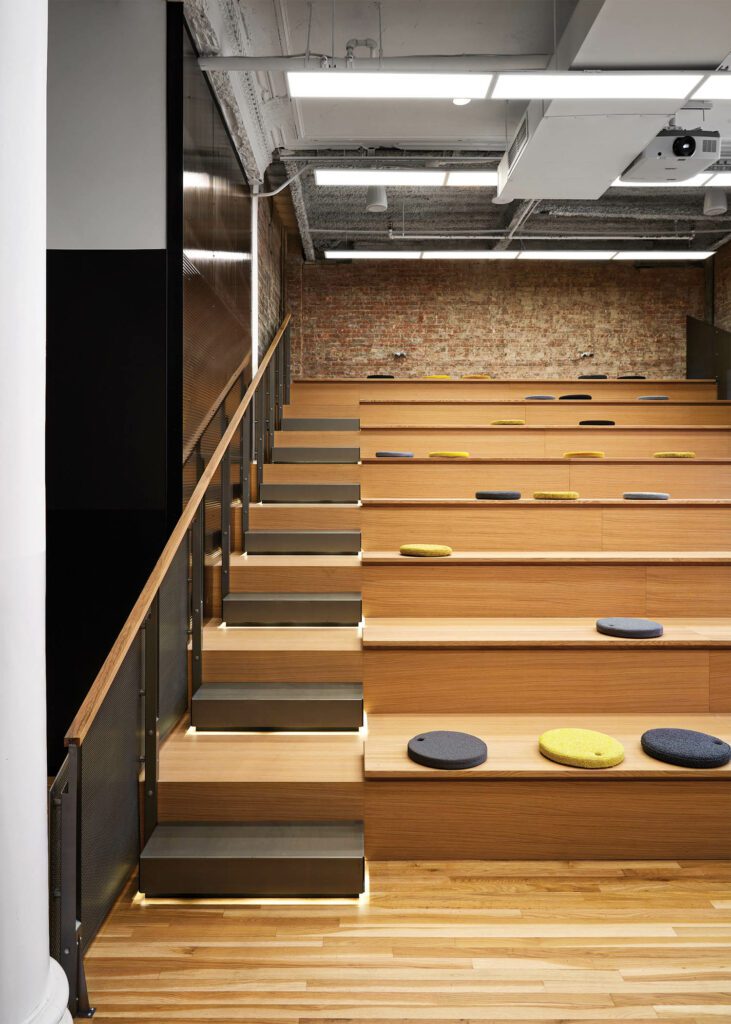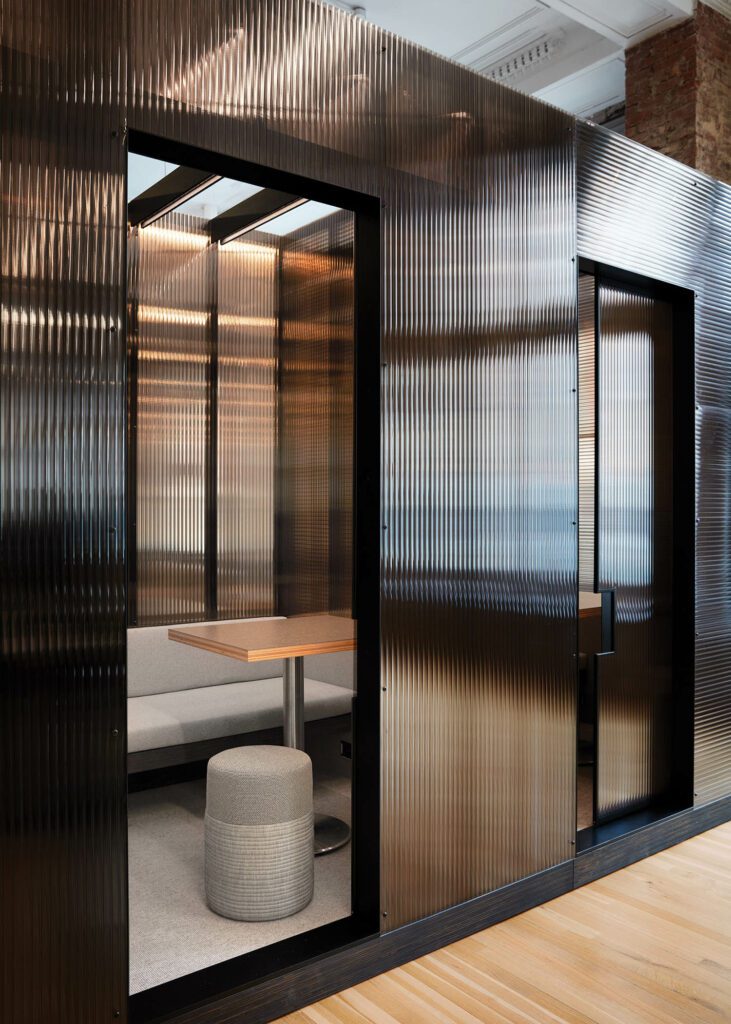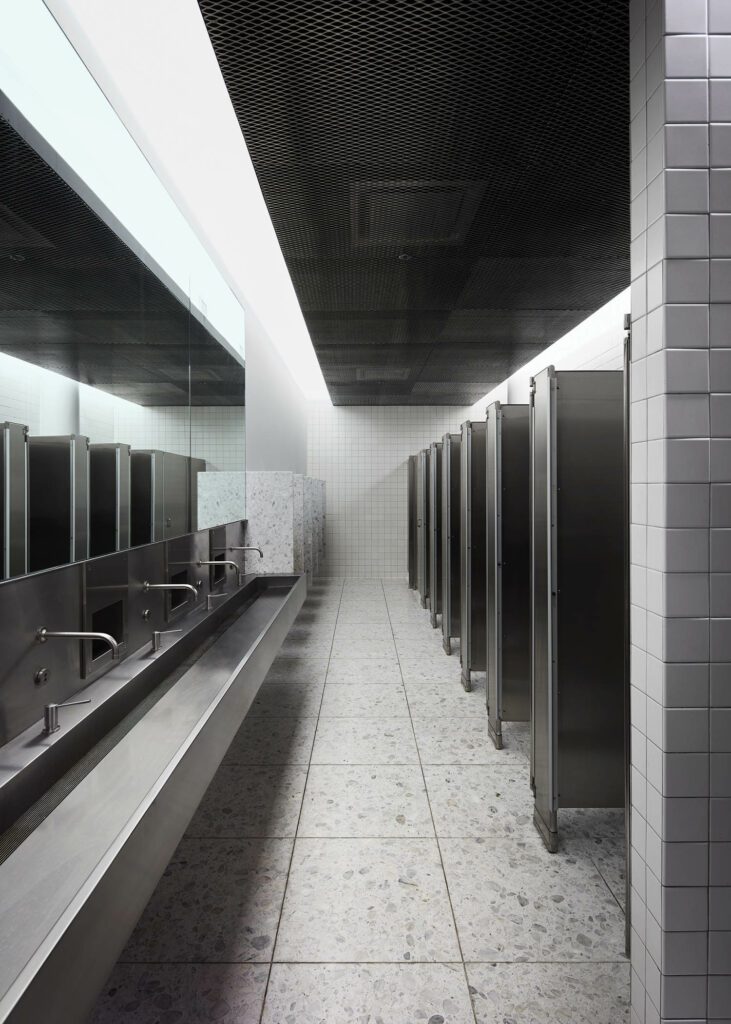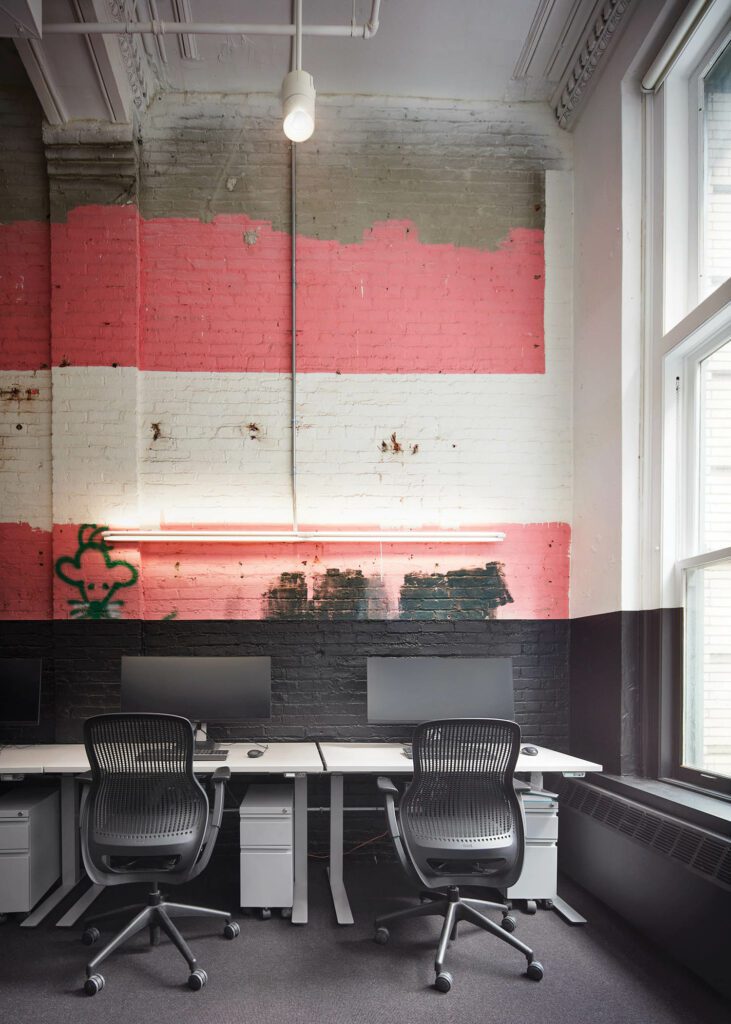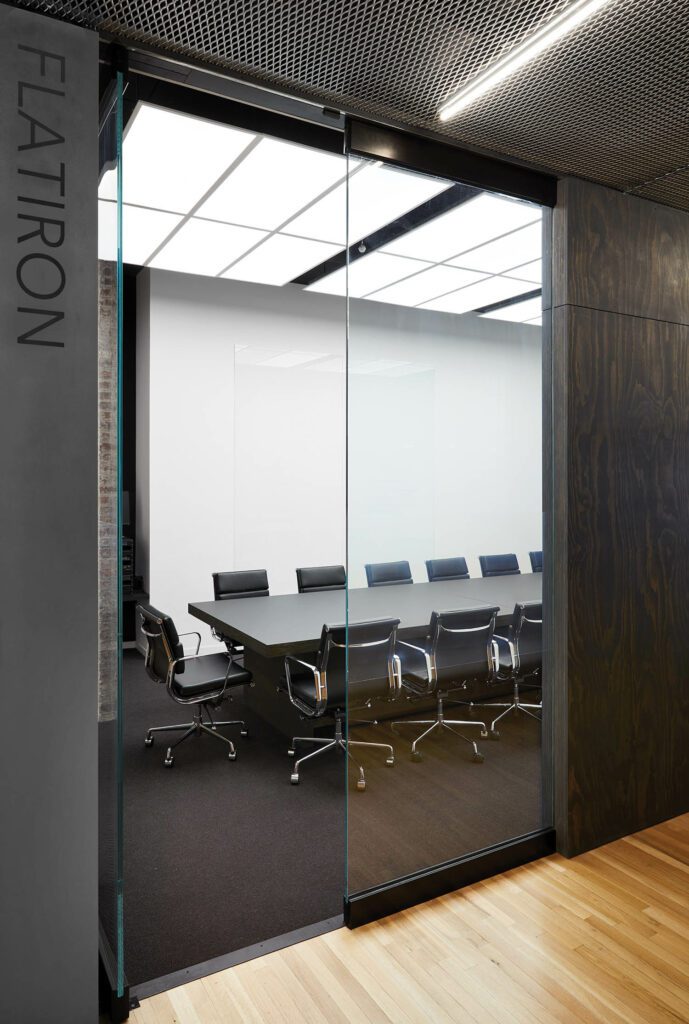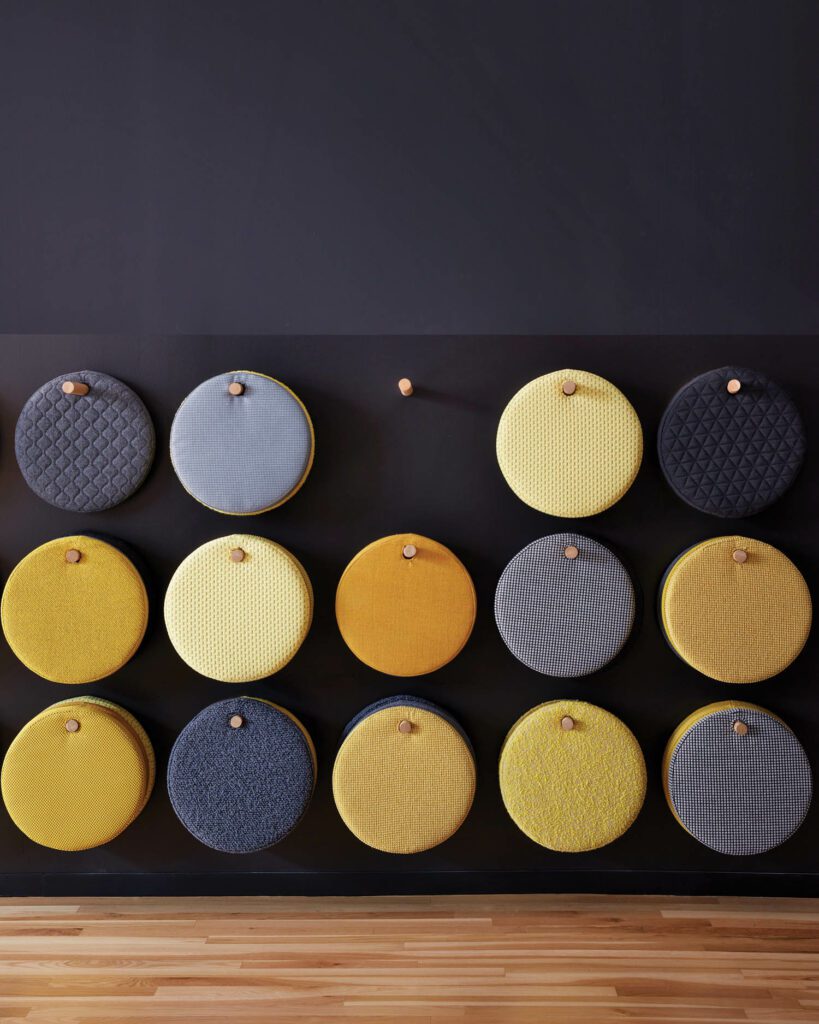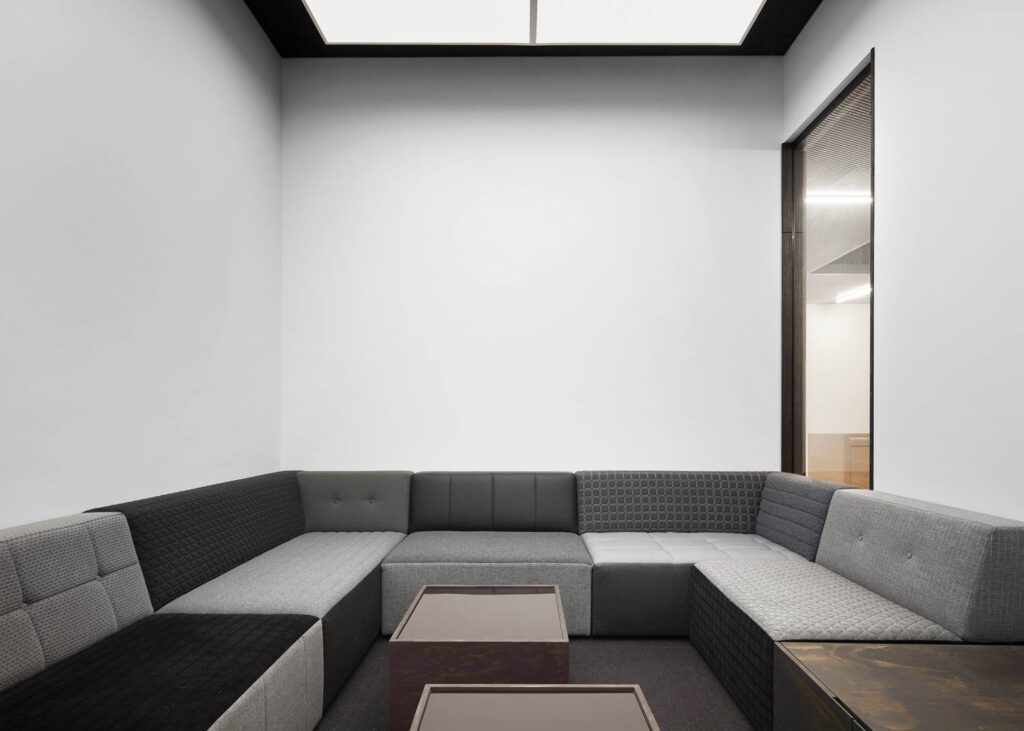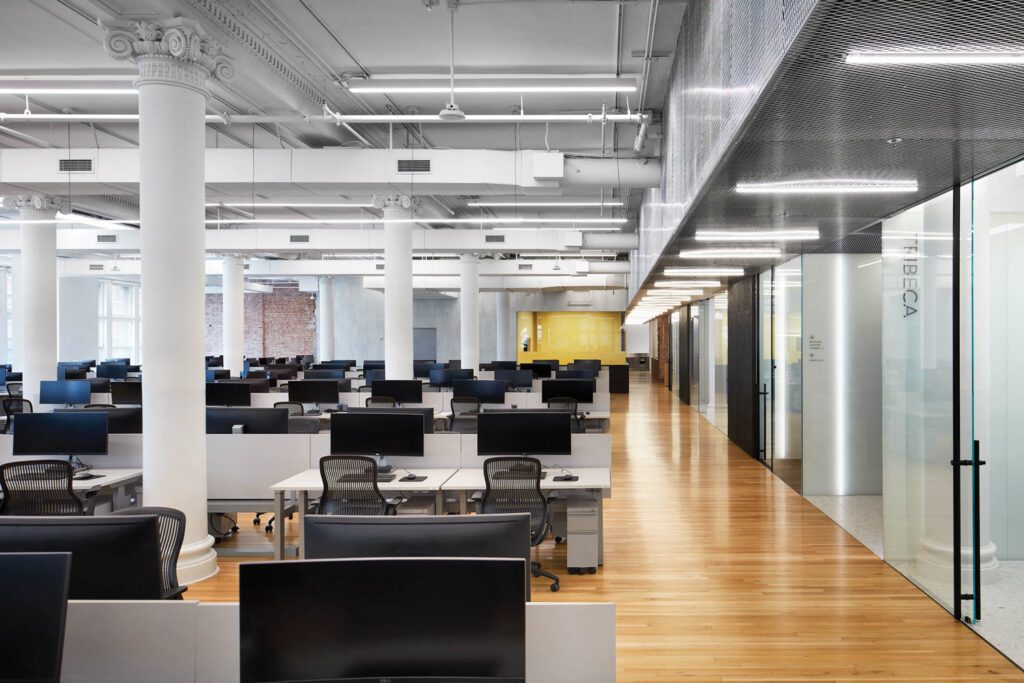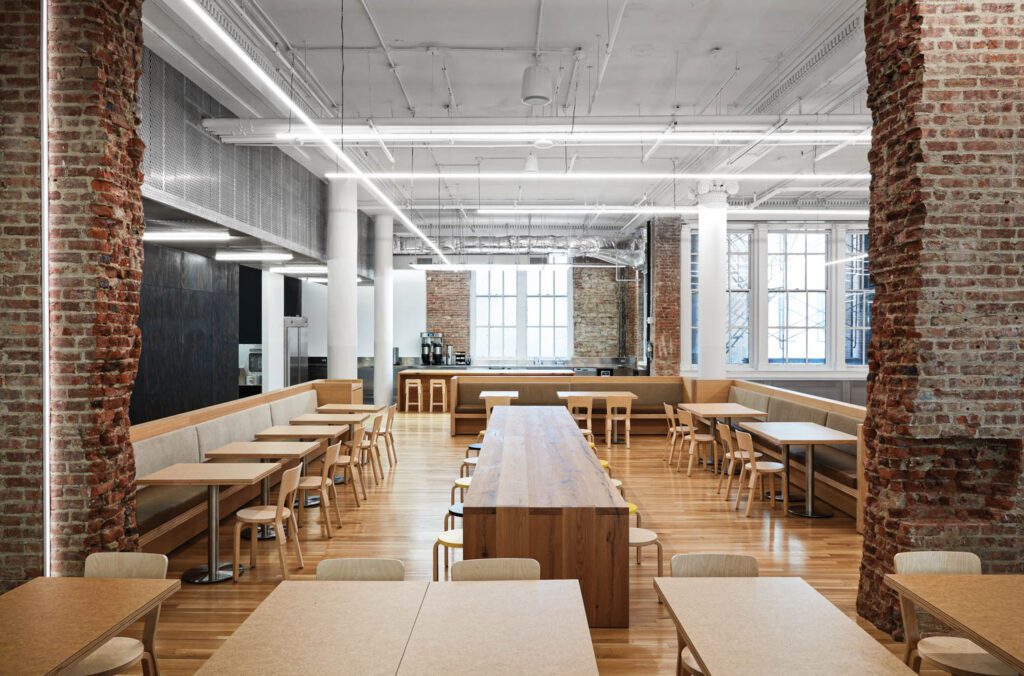 PROJECT TEAM
PRODUCT SOURCES From Front
THROUGHOUT