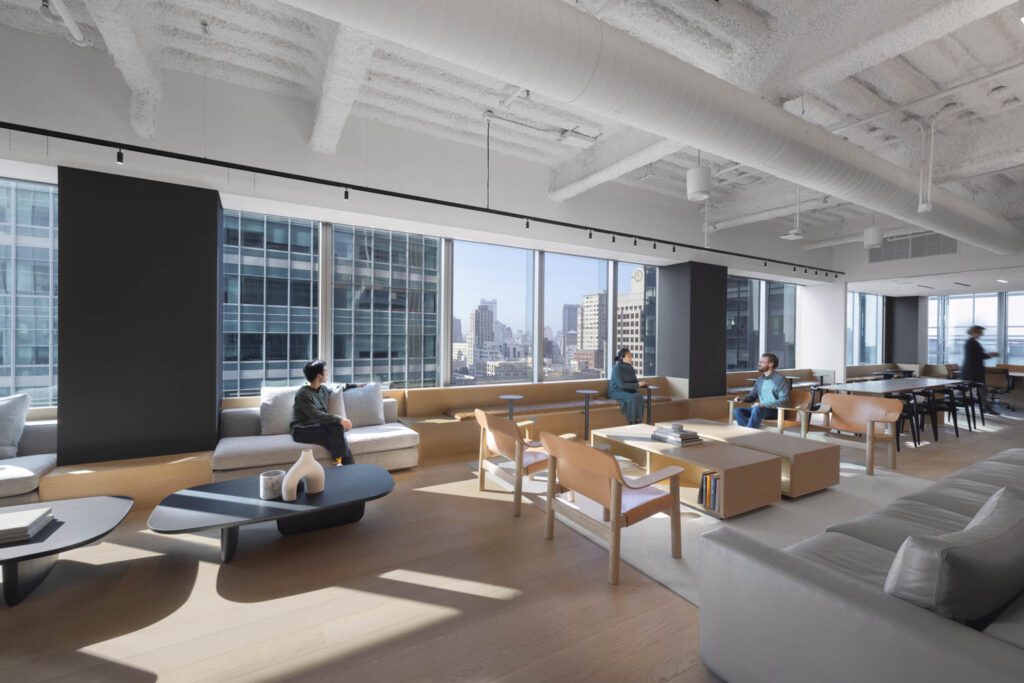 Studio Sarah Willmer Architecture Makes All the Right Moves for Turn/River Capital in San Francisco
Despite the vicissitudes of Covid and the financial markets, Turn/River Capital is expanding if not booming. No longer could the seven-year-old software investment firm feel at home within tightly squeezed WeWork quarters. When it leased 7,000 square feet on the 17th floor of a San Francisco tower, managing partner Dominic Ang naturally brought architect Sarah Willmer on board. After all, she had designed his lower Pacific Heights house nearly 11 years ago, and home was an operative word in his program. Ang wanted a similar environment translated to his workplace. That meant "detailed, open to the light, and modern," begins Willmer who had honed her progressive leanings and interests in craftsmanship during a two-month artist-in-residence program in the Netherlands.
In broad strokes Willmer and project architect Julia Schütz conceived the interior as transparent, its 50 workplace desks out in the open, Ang's included. Their initial big move was a formal entry, "important to him," with a slatted canopy over clean monolithic desk, all in pale oak. Ergo the vital first impression: a super-clean, contemporary setting as reception segues to a lounge meant for staff and guests alike. Far from a pass-through space taking up valuable real estate, it entices folks to linger in a living room-like setting established with seating groups simultaneously comfy and appropriately chic. Credit Willmer's friend and ex-Genslerite K Chun with selections including: Hay's Bernard seating by Shane Schneck, Minotti's Powell sofa by Rodolfo Dordoni, and Barber Ogersby's Tobi-Ishi table by B&B Italia. Meanwhile, the contiguous dining-collaboration zone has long custom tables flanked with Hans Wegner's inimitable Elbow chairs and extensive millwork in pale and stained black oak conferring measures of craft and detailing to the area's pantry and coffee bar. Overlooking all this is the board room, quasi out in the open. A clear stacked-glass divider wall allows it to be conjoined with that dining sector for all hands events. Yes, transparency and flexibility are the name of the game.
That's one side of reception. Occupying the floor's center is a collection of meeting and Zoom rooms, the latter particularly in demand given the new reality. They too portray the ebony-stained and pale oak palette through framing and inside paneling, while huddle spaces, out in the open, are delineated by 8-foot-high partitions. Taking over the far corner is the workplace proper. Again, woodworking reigns supreme, taking form as a stunning storage wall similar to a library gracing any upscale home. Aside from aesthetics the element helps anchor Antenna workstations. All told, the plan provides "circulation on all sides," Willmer notes. "The staff uses the loop around these rooms for informal walk and talk."
Wrapping up the interior is Willmer's "wood liner." In other words, the element is a low wall cum bench running along window walls "to mitigate glazing and link different uses," she explains. "At the board room, it offers additional seating and serves as an extended dining area and lounge. It continues weaving through the huddle rooms and terminates at the workstations."
Naturally, the pandemic played a role. At the beginning it slowed the process. Yet, the Turn/River staff was able to move in midway through Covid's course. For this the architects credit the determined executive. Says, Schütz, "It took pressure from the client to make us move quicker."