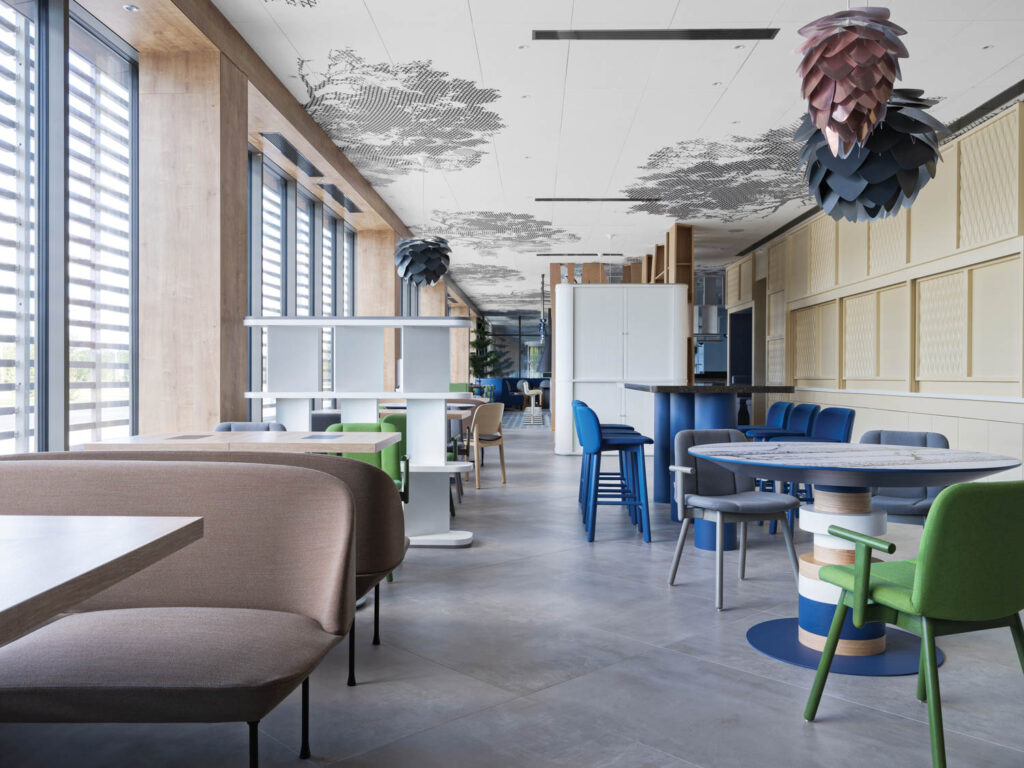 Studio Shoo Designs a Winter Wonderland in Western Siberia
Contemporary geopolitics renders travel to Russia verboten. But that has not meant the nation's hospitality designers have ceased creative output. Witness Studio Shoo's most recent hotel, in Kogalym, Western Siberia. The 123-key property for Ibis Styles—a French brand of no-frills budget destinations owned by Accor—was slated to open to the public last year but, for obvious reasons, never did. When or if this Ibis eventually welcomes guests, its 7,600 square feet are primed and ready to go, conceived as a winter wonderland that draws inspiration from the location's subarctic climate.
Studio Shoo was founded in 2017 by architect Shushana ("Shoo") Khachatrian, who specializes in interiors and furniture for clients such as Novotel that evoke what she terms "vivid minimalism": bold but simple shapes, bright colors, and a dash of ironic whimsy. Based prior to 2022 in both Moscow and Yerevan, the capital of Armenia, Studio Shoo has since decamped to the latter for good.
Icy Blue Hues Add to the Ibis Styles Hotel Design Aesthetic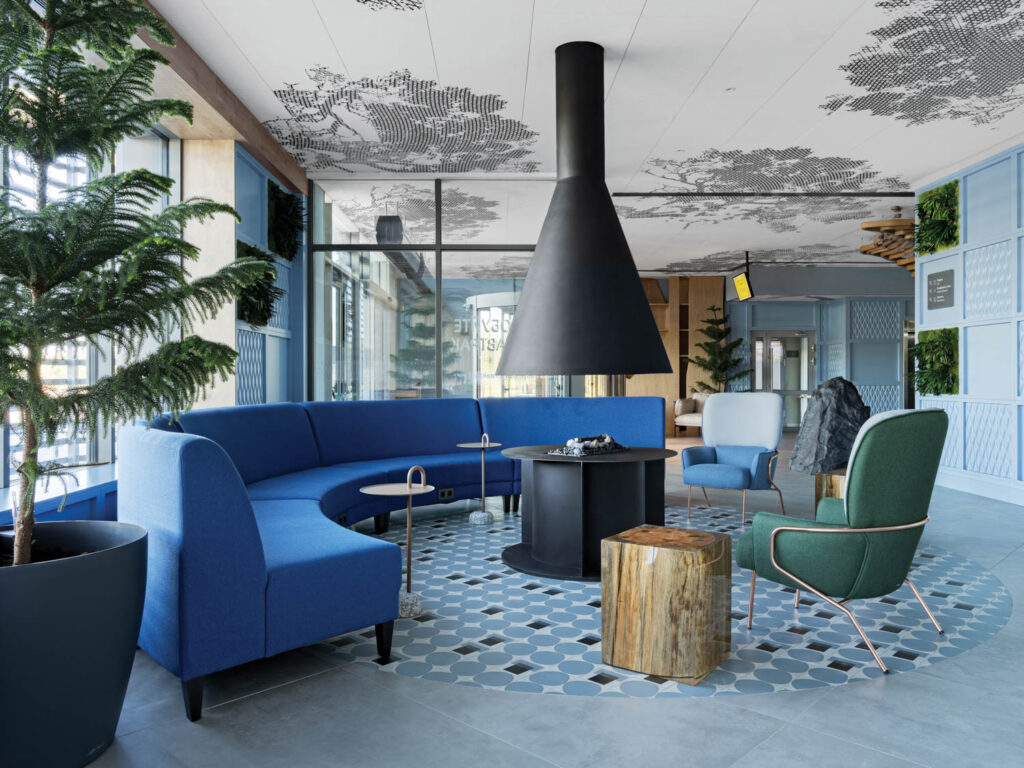 The Russian Ibis—now in essence an empty dressed set—is more fanciful than Khachatrian's typical designs, with an icy palette evoking hues of snow and sky. Level one houses reception and lounge, a restaurant and bar, and a pair of meeting rooms; guest accommodations are located on the next five stories. "We did our utmost to create a multisensory approach and came up with the concept of taiga, a magnificent fairy forest with a one-of-a-kind ecosystem," the designer says.
Generally referred to in North America as boreal or snow forests, taiga feature thick coniferous groves of pine, spruce, fir, or larch. Naturally, real evergreen specimens dot the lobby lounge, joined by a curved glacier-blue sofa, forest-green armchair, and tree-stump side table arrayed around a midcentury-style fireplace with a flared black-metal hood. It's a cozy vignette capped by an acoustic ceiling custom-printed with a ghostly crosshatch of branches and foliage—a motif that repeats on guest room walls. "I was inspired by engravings," Khachatrian says, noting the intriguing push/pull effect of viewing the abstract details close up and the larger photorealistic image from afar.
Elsewhere, guest room carpeting has lichenlike variegation; in the restaurant, wood-look shingles are a postmodern pastiche of the cladding on traditional alpine ski lodges; and geometric blue, white, and black tiles and mountainous wall graphics add pop. The narrative through line is clear from the get-go, as even the reception desk is a piece of taiga theater: an enormous real boulder embedded with a cantilevered tabletop.
Inside the Ibis Styles Hotel in Western Siberia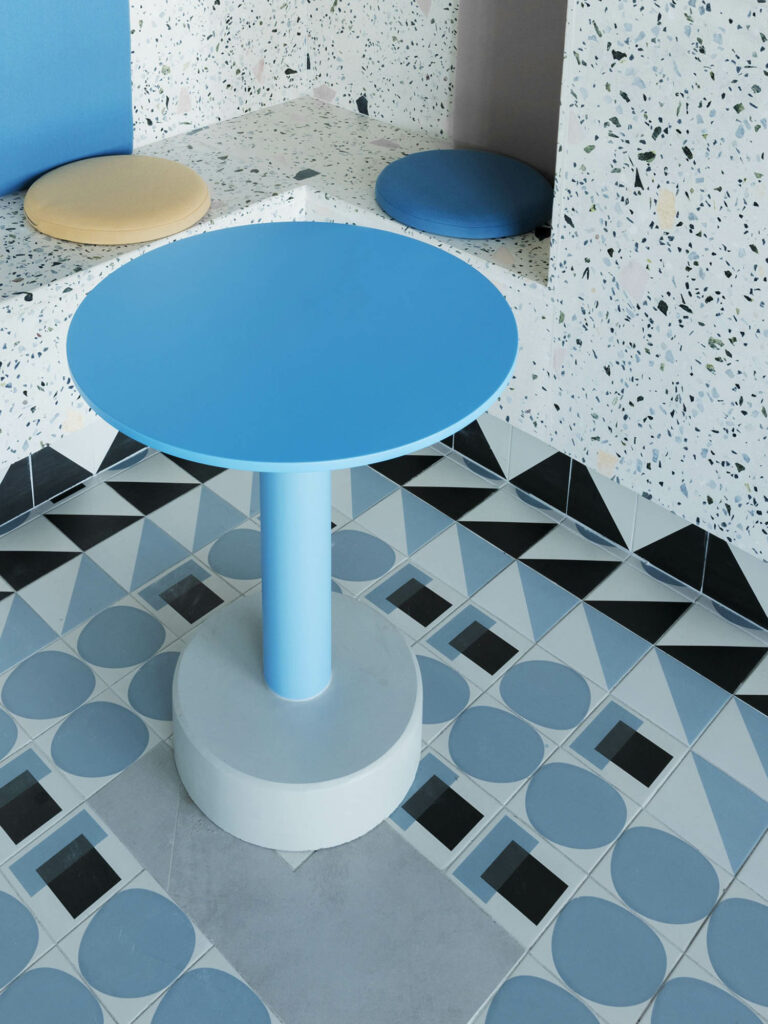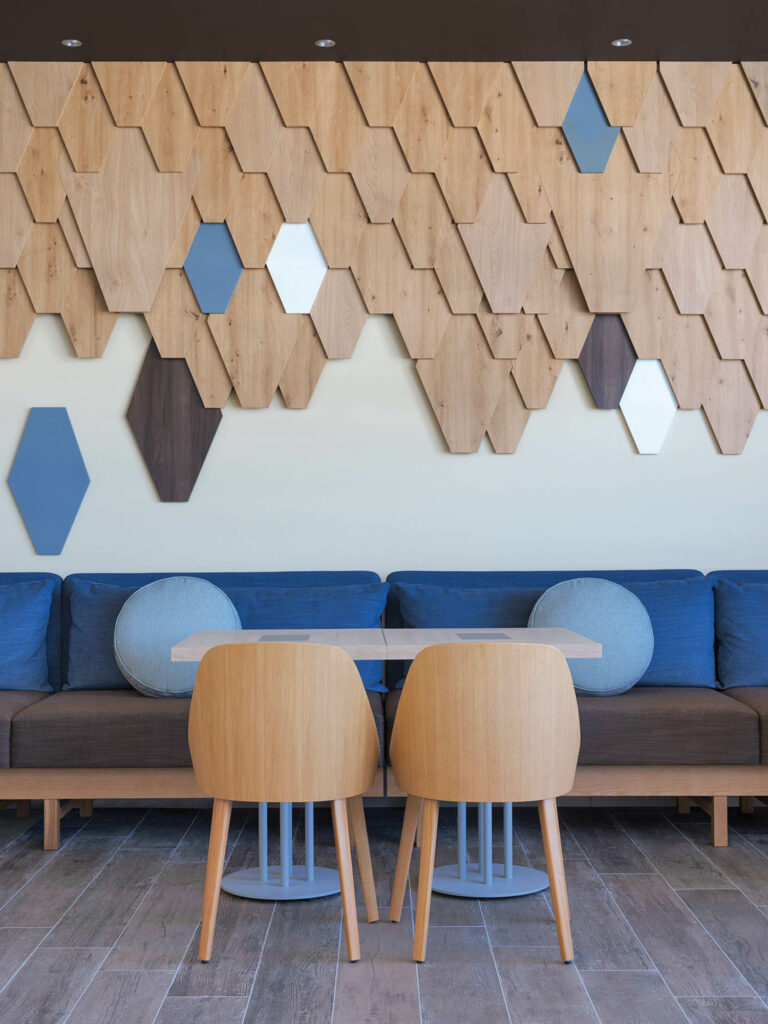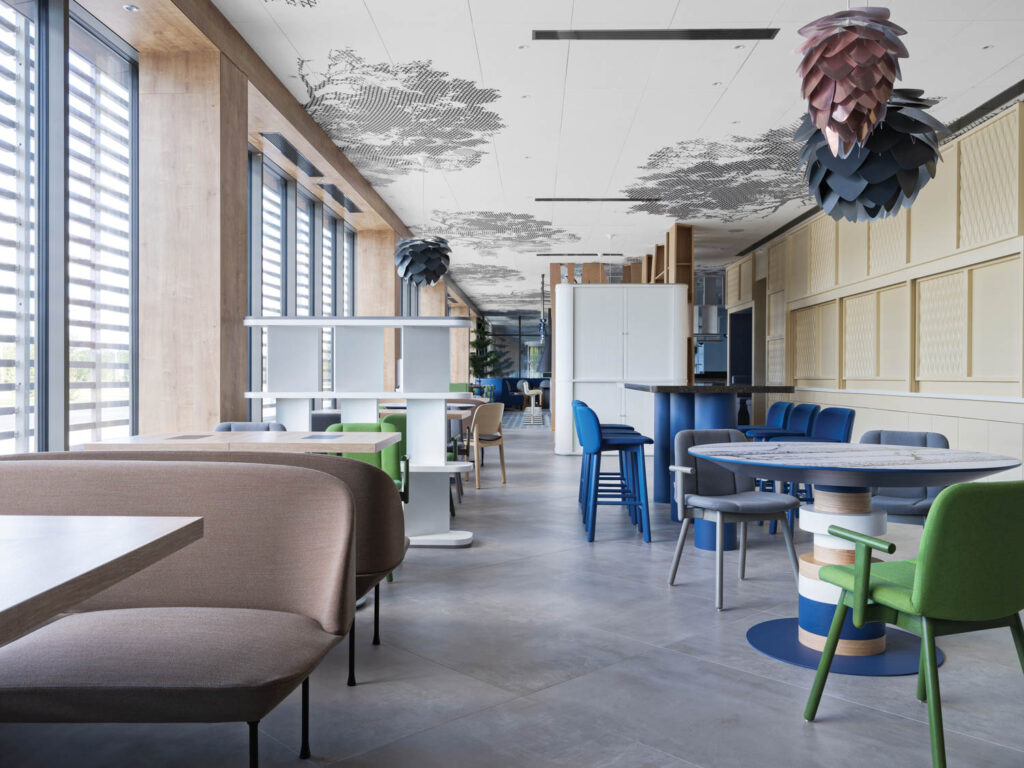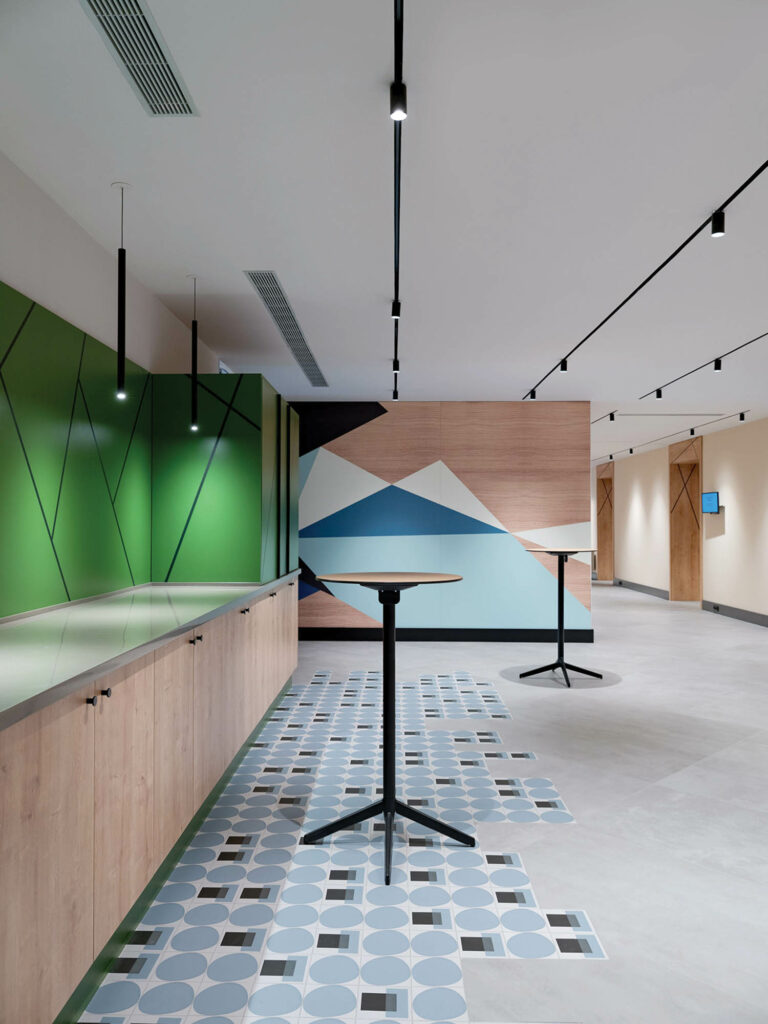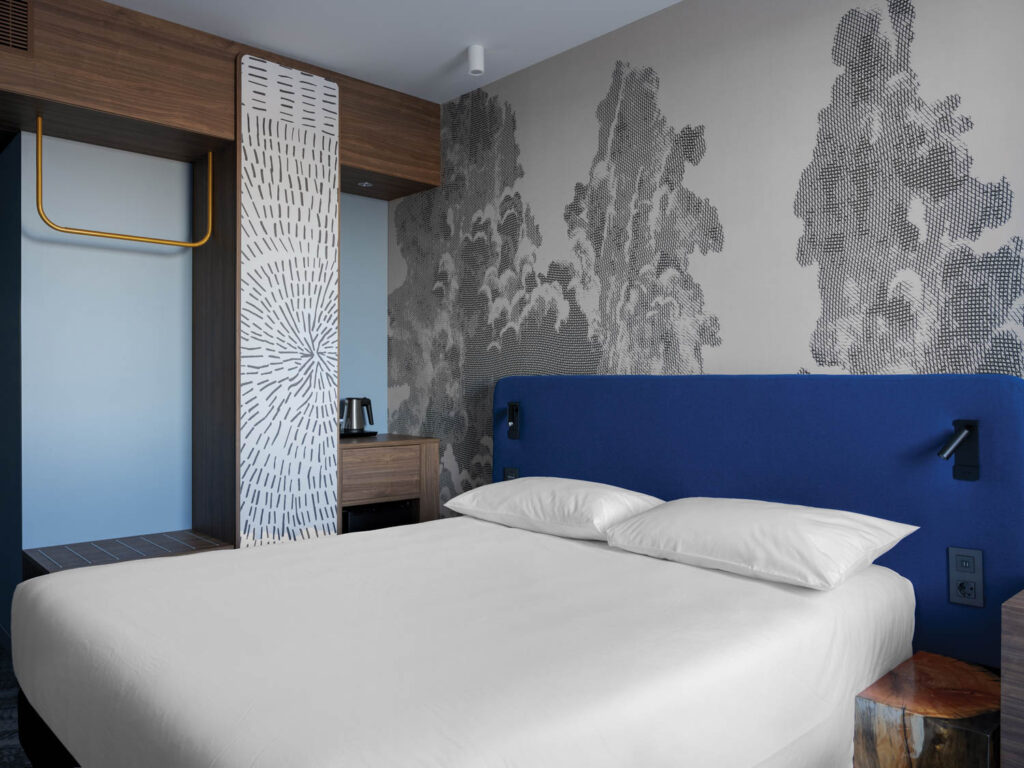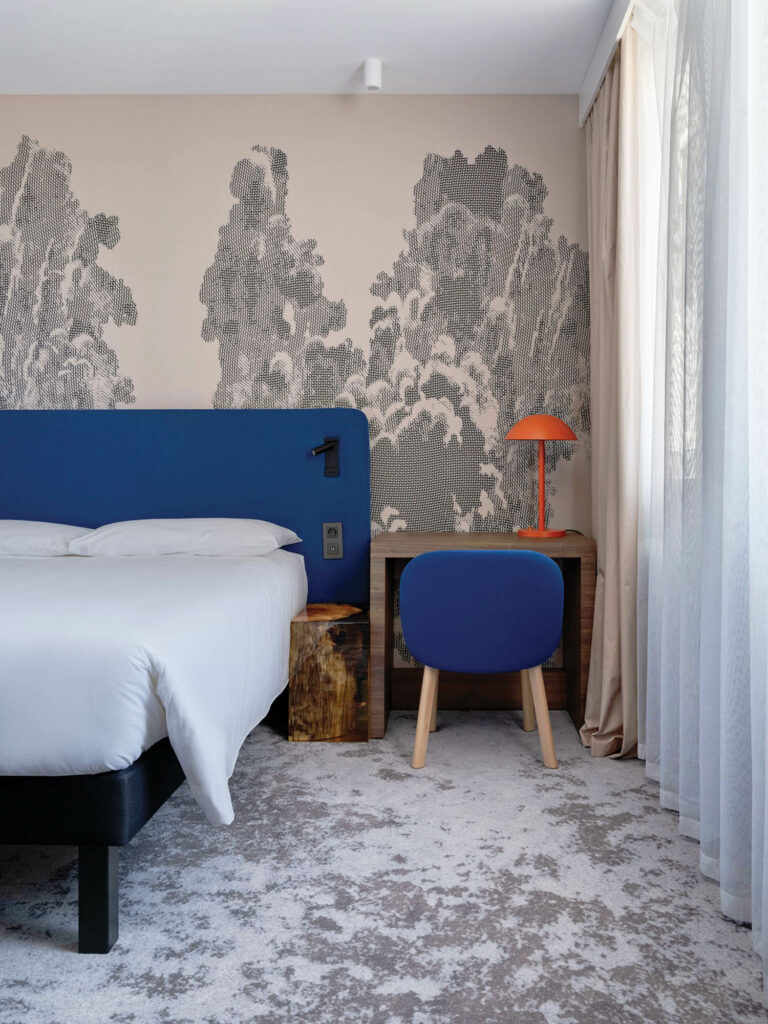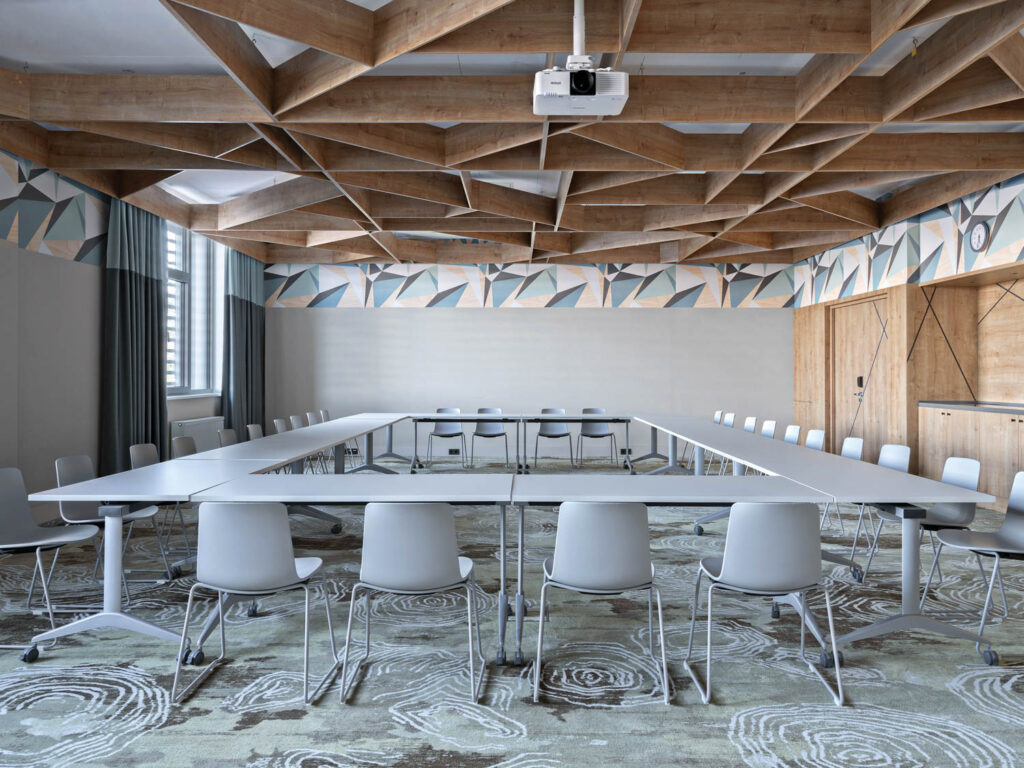 PRODUCT SOURCES
from front
&tradition; missana: seating (lounge).
hay: side tables.
halbmond teppichwerke: carpet (guest room).
delius: sofa fabric.
billiani: gray chairs, white chairs (restaurant).
muuto: banquettes.
enea design: stools, wood chairs.
umage: pendant fixtures.
enea design: chairs (meeting room).
ceramiche refin: wall tile (bathroom).
hansgrohe; ideal standard: plumbing fixtures.
throughout
atlas concorde: gray floor tile.
41zero42: graphic floor tile.
ecophon: acoustic ceiling tile.
read more