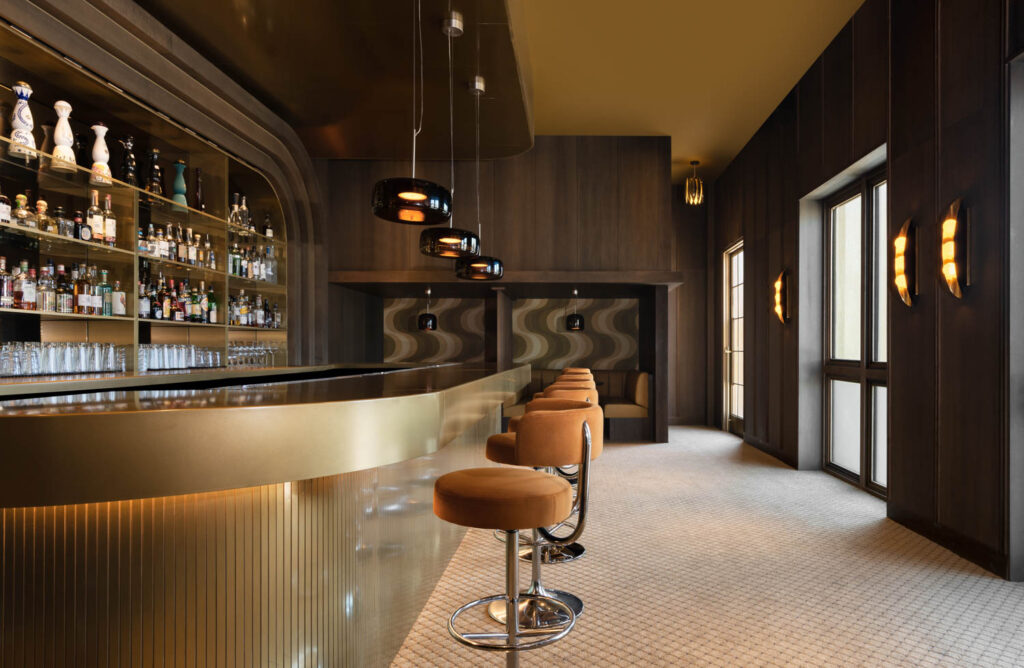 This Austin Nightclub Embraces Disco Era Design
Since opening last December, Central Austin's new club, Superstition, has become a veritable hot spot, boasting the city's largest dance floor, a multi-room VIP experience, and attracting patrons with EDM headliners from Diplo to Justice. Yet the venue's aesthetics harken to an earlier era of artistic expression: the heyday of disco decadence.
"The client wanted visitors to immediately feel transported to the Studio54 era," says Austin-based designer Rebekka Glass, owner of boutique firm Casa Metta, who transformed the 12,000-square-foot building (previously vacant for 15 years) into an ornate and provocative masterpiece, where every detail is artfully curated. The club takes its name from Stevie Wonder's titular song, which, according to co-owner Charles Ferraro of NoCo Hospitality, embodies the alchemic splendor of the seventies.
Comprised of three distinct spaces: the nightclub, a separate cocktail bar, and the mezzanine VIP lounge, the sensorial interiors span two floors and multiple decades of nostalgia. Despite it being her first foray into nightclub design, Glass managed to complete the project in less than 10 months for its New Year's Eve grand opening, while honoring her clients' vision for each zone.
Behind the Design of Superstition, Austin's New Hot Spot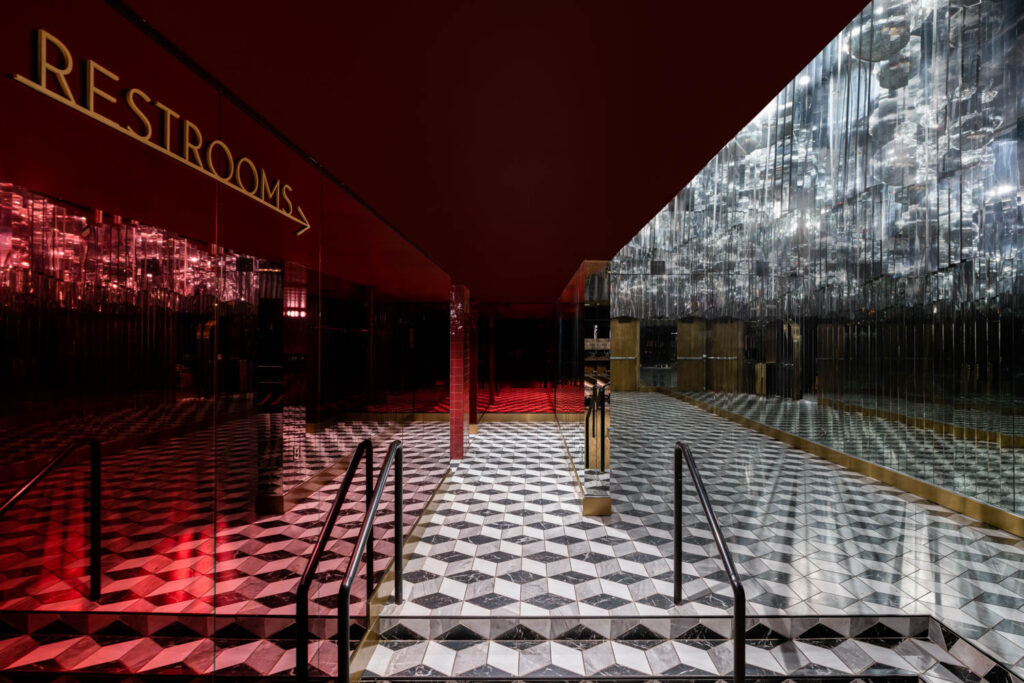 "It had to be Instagram-able, but not kitschy," Glass recalls. "Because there are multiple spaces to navigate, we were able to combine all the flavors of the 70's into the nightclub," explains Glass. "From groovy wallpaper to trippy floors, disco balls to saddle color leather sofas and shag covered walls—we covered all the bases."
The designer took advantage of the entry hall's lofty ceilings and 50-foot-long hallway, creating a runway of floor-to-ceiling mirrors to reflect the black-and-white porcelain floor tile's Art Deco motif. Above, track lighting with 37 colors illuminates clusters of disco balls cascading from the ceiling.
Reflective elements continue in the main club, where a 12-foot mirrored DJ booth is backed by a digital screen framed with rainbow arches. A brass bar faces the stage, which is flanked by gold platforms for performers, the walls covered in red-tinted mirrors which reflect movement throughout the sensual, baroque space. Panels wrapped in acoustic baffling fabric clad the walls behind the stage to enhance the sound in the club and allow conversation to flow naturally elsewhere. Glass customized burgundy sofas in contract-grade, antimicrobial vinyl for the bottle service section with discreet storage drawers, so patrons can safely store their belongings and let loose on the high gloss, gold dance floor.
A secret door covered in Kelly Wearstler's geometric black and white tile leads to a porcelain-tiled staircase, transporting guests to the second level VIP lounge, which, while still planted firmly in the seventies, is a stark contrast to the glitz below. Walnut-clad walls, kaleidoscopic wallpaper, avocado green velvet upholstery and mod, mustard yellow accents offer a relaxed ambience, akin to a recording studio or midcentury speakeasy. Custom shelves house bric-a-brac which is, as Glass notes, all from the seventies, sourced from a local shop. Pillows made from seventies era, Aztec-print fabric were the result of an late night Etsy purchase on Christmas Eve, less than a week before the grand opening.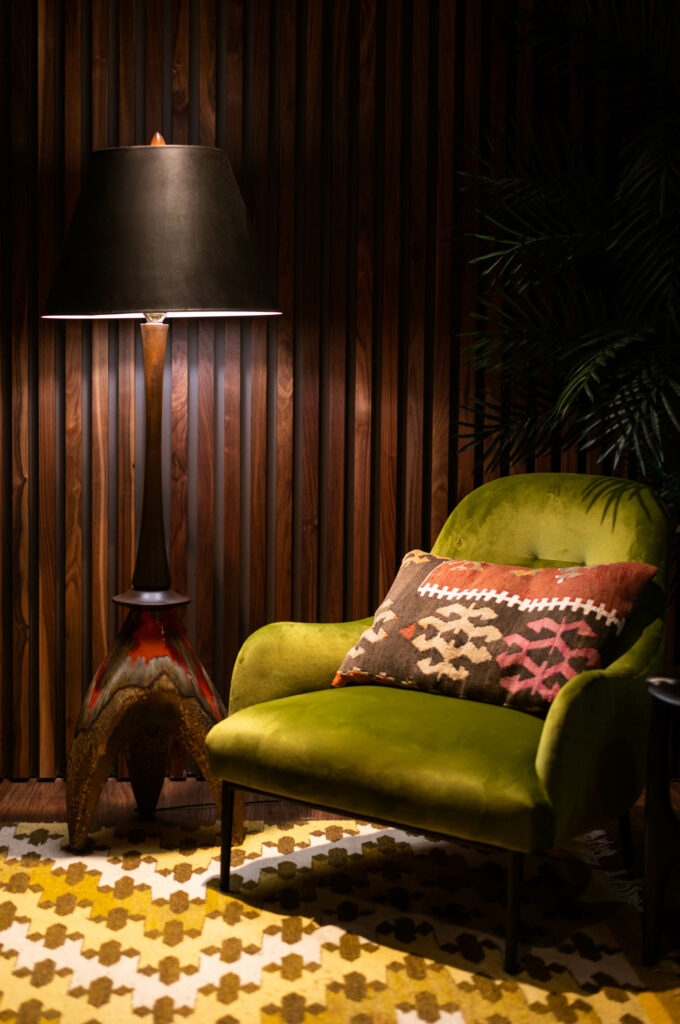 A Cocktail Lounge With Custom Details
Midcentury vibes continue in the cocktail lounge, aptly named the Gold Room and inspired by Mad Men, with floor-to-ceiling oak paneling and wall-to-wall carpet. "We were hesitant to use carpet, but it turned out great," says Glass. "It plays such a key role in making the room feel like you went back in time to the 70's." A grand, 21-foot-long bar features a fluted brass base and gold powder-coated top. Glass collaborated with textile artist, Sharon Jane, for the lounge's custom wavy-print wallpaper, and worked with a local carpenter to build custom cocktail tables with gold tulip bases. Behind the bar, more rainbow arches reveal gold inlays between curved oak, framing glass shelves with a bronze, mirrored backsplash. It's opulent and elegant, fit for a Texan cattle baron, crypto billionaire, or anyone looking to relax in style.
"We took a sophisticated extraction of the 70's materiality and iconic style to bring Austin a little taste of an era worth revisiting through a new lens," Glass affirms.