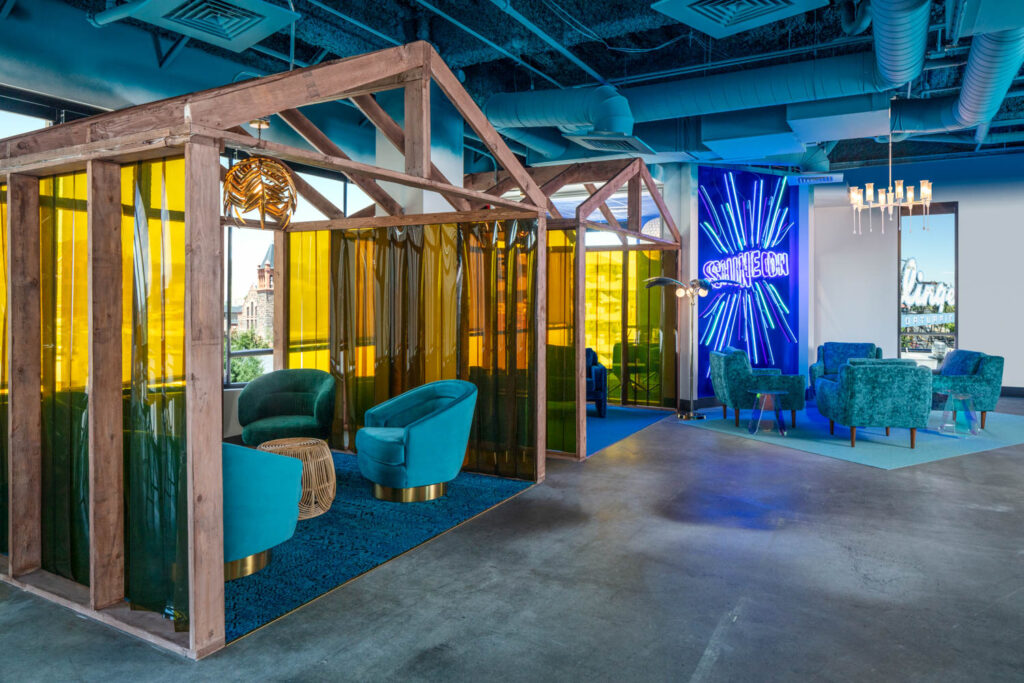 Maximalist Designs the Shinesty Office to Keep the Party Going
For Denver-based apparel company Shinesty, irreverent, thematic 'fits—think Day-Glo overalls, shamrock-printed suits, and star-spangled sundresses—are intrinsic to the brand's identity. Founded by three college friends with a love for thrift shops and Burning Man, the e-commerce start-up caters to likeminded adults: millennials whose obsession with sartorial pageantry matches their spending power.
When it came time to design a headquarters for Shinesty's growing employee base, founder and CEO Chris White reached out to local creative agency Maximalist. The aptly named firm, helmed by experiential designer Abigail Plantier, blends storytelling, insatiable curiosity, and bespoke aesthetics to amplify a client's vision. For Shinesty, this meant transforming a traditional office into a destination, full of groovy art, functional spaces, and quirky objects to serve as living inspiration for employees working on new campaigns and product lines.
"We've curated an office space that embodies fun, and energizes the workplace in a playful but authentic way," recalls Plantier. "The existing space didn't leave much to be desired and was full of cubicles. Needless to say, it all had to go."
The Shinesty Office in Denver Reflects Its Team's Spirit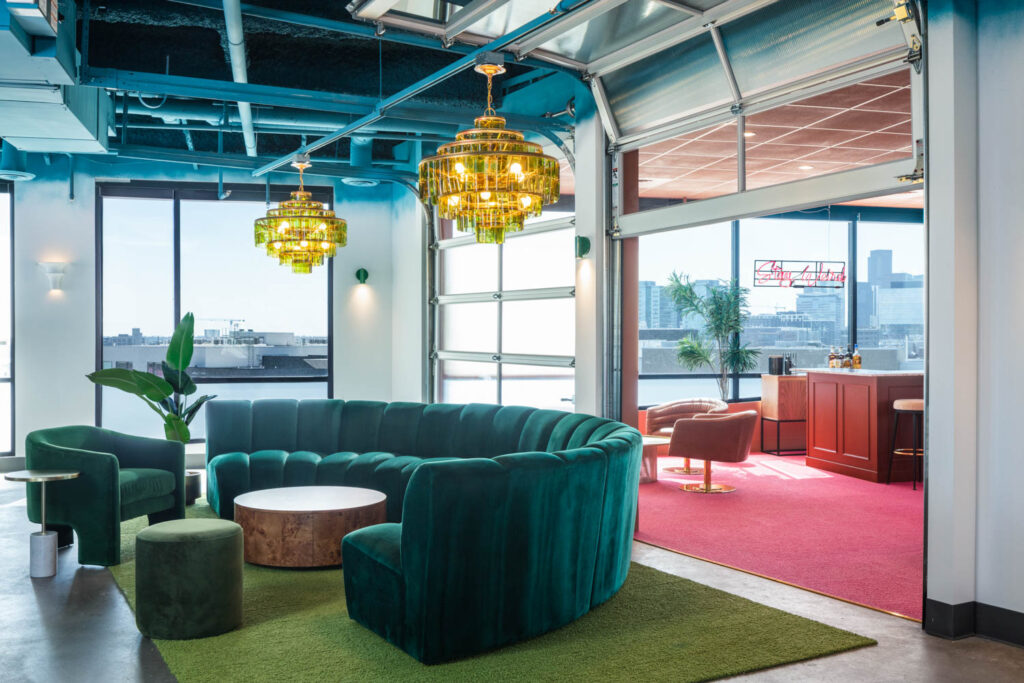 With that, Maximalist's design team harnessed Shinesty's self-expression via curated zones throughout the 5,200-square-foot headquarters, each with its own name and vibe: the Hot Tropic Conference Room features custom wallcoverings inspired by Shinesty's wonky motifs, while the Pink Panther Room is actually a private nook for phone calls decked out in pink fuzzy upholstery.
Part Office Design, Part Boutique Hotel
Plantier's background in hospitality design is evident, as the headquarters resembles a boutique hotel or funky residence more than an office. In the lounge, a conversation pit with a curvilinear sofa swathed in emerald velvet and a kiwi-colored shag carpet harken back to the glamorous 70s, and the kitchen encourages more than just water-cooler chats, with gold-leaf pendants, saffron-hued barstools, and appliances tucked behind a custom banana-themed freestanding feature wall.
While the new digs exude glitz and glam, the designers worked within a tight budget and thriftily salvaged elements from the previous space, customizing a chandelier out of old pendants and reupholstering chairs and stools. Plantier also sourced lockers and coffee tables from Facebook Marketplace and transformed existing cabinetry with a fresh coat of cinnamon-hued paint in the boardroom, a thoroughly sustainable redesign that nods to Shinesty's roots as an online hub for tag-sale scores.
"We approach design through the lens of the sensory experience," says Plantier, "Connecting with people and making spaces not just usable, but memorable." And Maximalist is in a unique position in the design industry as a woman-owned firm with an all-female staff. "We empower our team to take risks and push design boundaries," affirms Plantier. "We approach design with meaning and balance, respect, and freedom of choice. Our passion shows in the result."
Step Inside the Shinesty Office by Maximalist