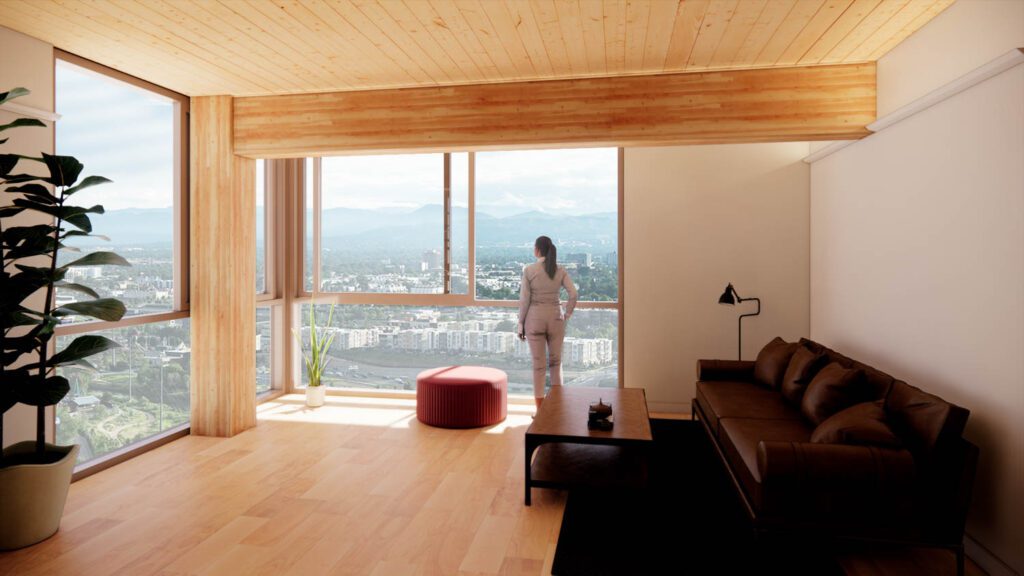 This Mass Timber Apartment Building in Colorado is Designed to Reduce Carbon
A 12-story mass timber apartment building, Return to Form, is planned for Denver after being recognized for its sustainable properties, as announced at the AIA Conference on Architecture. The building is one of six proposals selected for the Softwood Lumber Board and USDA Forest Service's Building to Net-Zero Carbon competition. Winning projects were awarded based on their ability to demonstrate mass timber's role in reducing the built environment's carbon footprint.
Local development group Katz Development was recognized for their efforts to reduce carbon—and awarded a $250,000 grant—for the development. "We have assembled a world-class team including some of the leading mass timber experts in the country to execute the vision," founder and principal Andrew Katz says.
The architects and designers of the project are Denver-based studio Tres Birds. "It's modern and exciting to be reimagining buildings, especially tall ones, in mass timber wood," principal Michael M. Moore adds. "Working with regional wood on this scale allows us to create high impact design with minimal fossil fuel usage in the construction process."
The building is inspired by local Denver structures, including brick-and-timber lofts in the area. The team aims to modernize these buildings while creating an environment surrounded by wood harvested from U.S. forests. Once completed, it will be the tallest mass timber structure in Colorado, and one of the tallest in the United States.