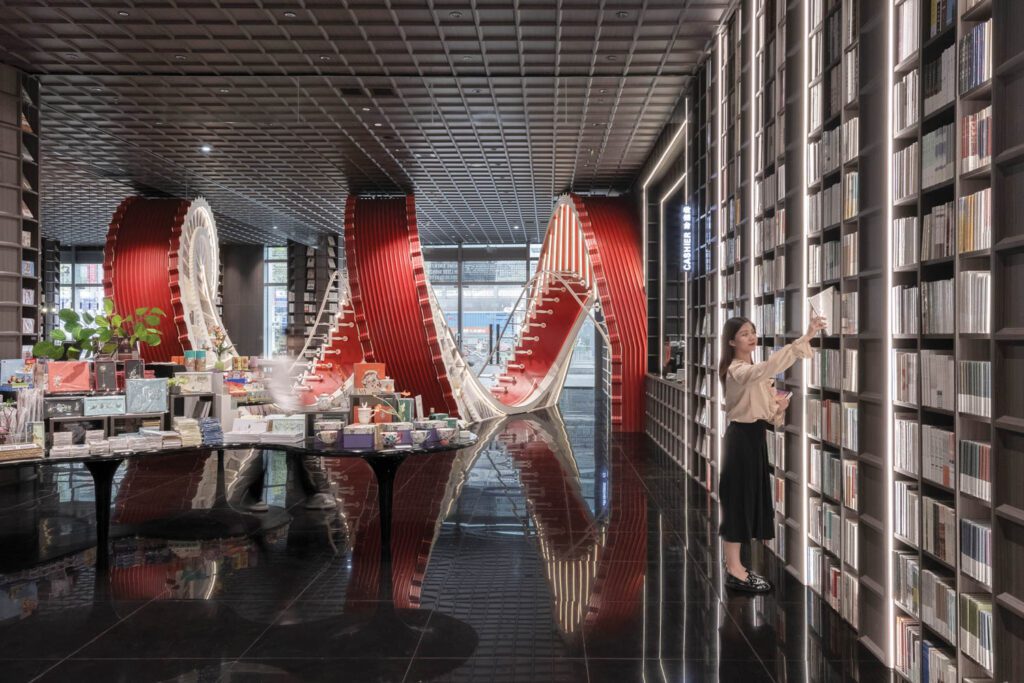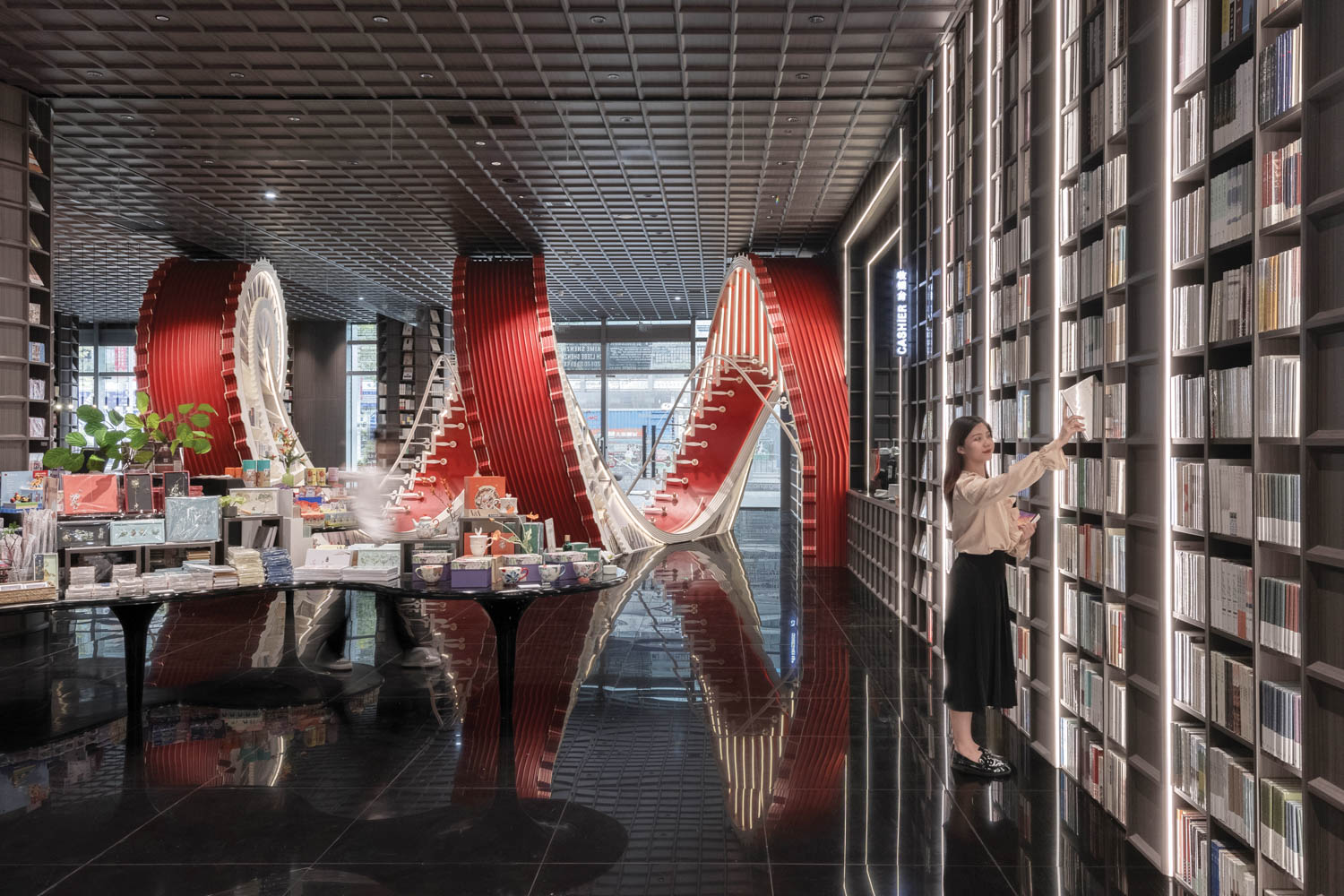 The Latest Bookstore by X+Living in Shenzhen Serves as a Physical Manifestation of its Surroundings
2022 Best of Year Winner for Mixed Retail
Shenzhen is China's version of the Wild West. Five decades ago, it was a sleepy backwater in south Guangdong province. But due to its proximity to Hong Kong, former Chinese leader Deng Xiaoping earmarked Shenzhen as the country's first Special Economic Zone as part of his ambition to open the country. Less than two generations later, the city is the fourth most populous in China, with 18 million residents, and is home to tech company giants DJI, Huawei, and Tencent. Its reputation as a place where a quick buck can be made has long been solidified by its mushrooming start-ups and skyscrapers. For those seeking fortune there, Shenzhen's relentless development pace can be mind-boggling—and alienating.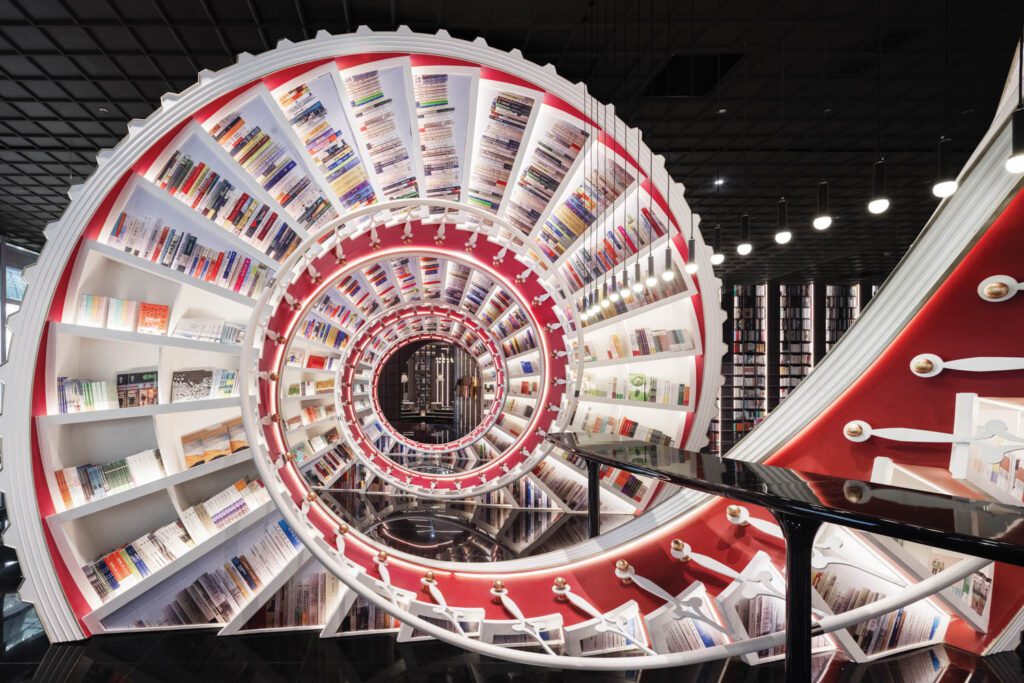 Architect Xiang Li is fascinated by Shenzhen's meteoric ascent to the summit of global economic prowess. The founder and chief designer of X+Living sought to capture its tension between familiarity and strangeness in her concept for bookstore chain Zhongshuge's first shop in the city. After 16 previous iterations of the brand in key Chinese destinations, including Beijing and Chonqing, she was entrusted again with a completely new identity for Shenzhen. "Zhongshuge's strategy is one city, one store—a thousand stores with a thousand faces," Li explains. "When conceiving each Zhongshuge, we integrate local culture and history, creating that particular city's reading room."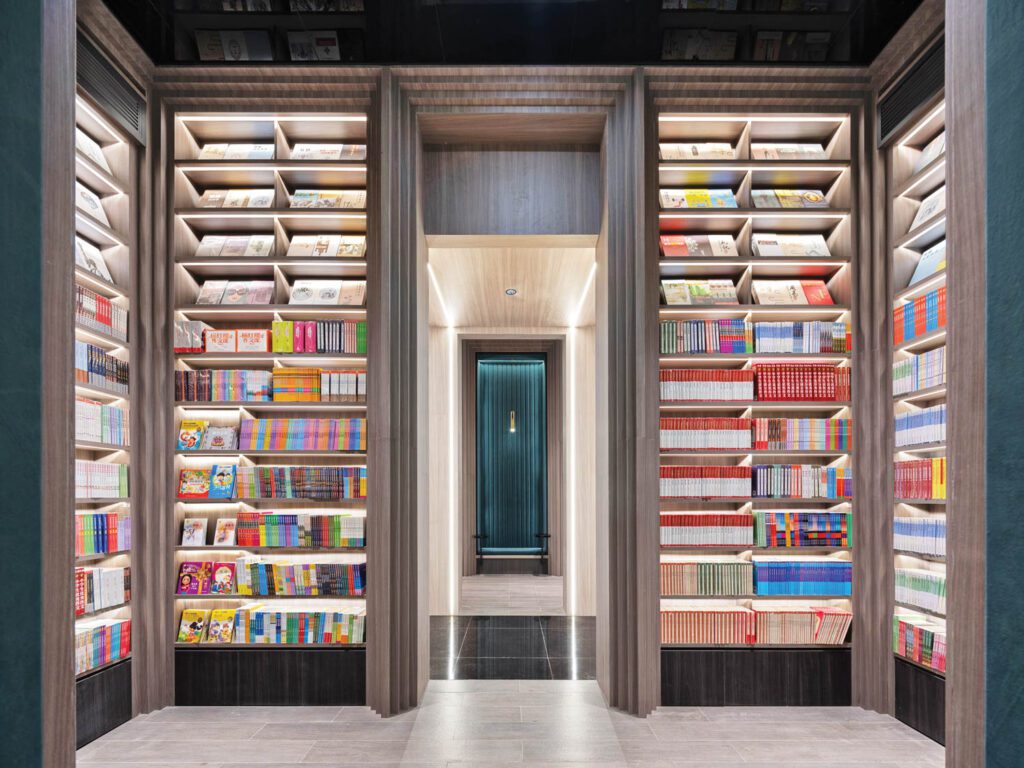 Li was further inspired by Memory, Anish Kapoor's 2008 Cor-Ten steel sculpture, its enormous tank shape playing with perception and scale, and tapped into this part of her mind vault while manifesting her impressions of Shenzhen. "It's an inclusive and vibrant city of migrants," Li observes. "While researching, I realized that I could design a space which is a symbol for the city itself, paying tribute to the countless pioneers who created this land." Although not directly referenced, Salvador Dali's surrealistic masterpiece The Persistence of Memory also approximates the feeling the project elicits.
It's sited in Qianhai, a district built on reclaimed land that was formerly part of the Pearl River Delta. Qianhai OCT is a recently completed mixed-use development that encompasses office towers, hotels, public parks, and retail shops, including the 14,000-square-foot Zhongshuge store. Visitors enter through tall glass doors, the glazing flanking them etched in white with inspirational messages in Chinese, Korean, and English. But even before coming in, the project's main intervention is clearly visible: a massive spiral staircase that is actually a bookshelf lying on its side dominating the store's central area. Like a sci-fi serpent snaking toward the reading, events, and children's rooms beyond, it's formed by two red metallic ribbons sandwiching LED-lit slots for books, complete with stairwaylike balusters and handrails.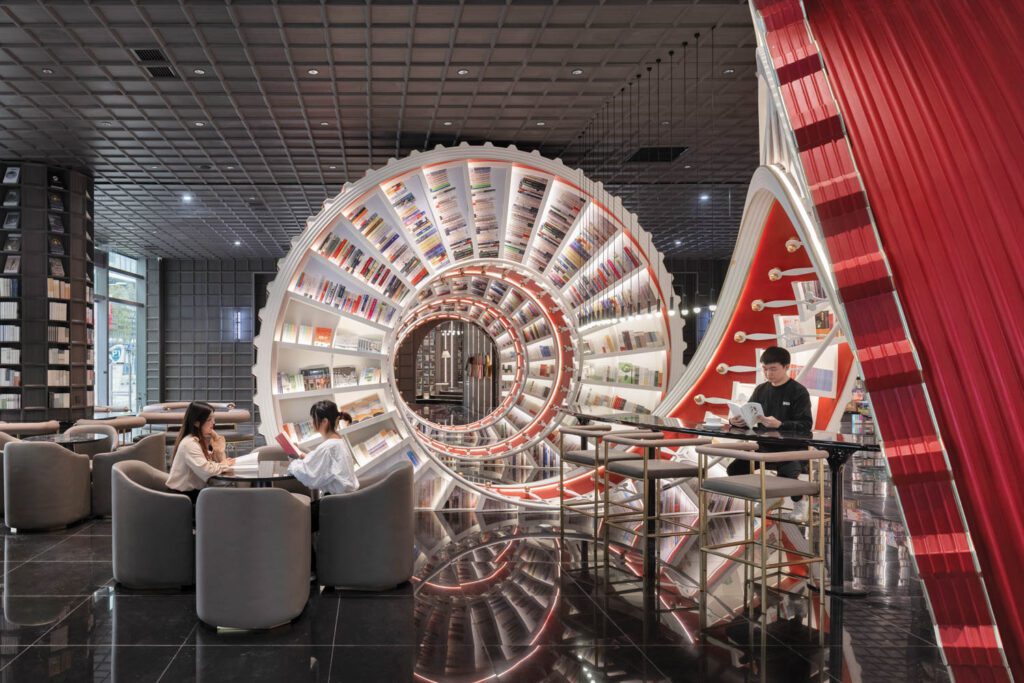 As the 122-foot-long structure corkscrews, its shelves twist and turn to surround visitors with books from all directions. The shelves within easy reach are filled with real books, approximately 5,000 of them, that can be pulled out, browsed, and purchased. The spines that appear upside down are images printed on peel- and-stick paper. "The spiral's cut-out looks like a clock dial, alluding to the ladder of history that has been built over time while also conveying the sense that its progress has been pushed rapidly," Li says. "And just as we used the spiral bookshelf as a metaphor for the rapid development of Shenzhen and the flow of time, it also represents the accumulation of literature through time." The spiral also serves another function: containing the shop's café portion, where stools line a bar-height table finished in a glossy black powder-coat and club chairs are upholstered in matching inky leather. More black, in the form of terrazzo flooring with a reflective finish, acts as a mirror to exaggerate the mind-tripping effects of the spiral. To anchor the otherworldly environs, the shared wall between the main area and the three other spaces contains traditional full-height stacks, also lit by LEDs.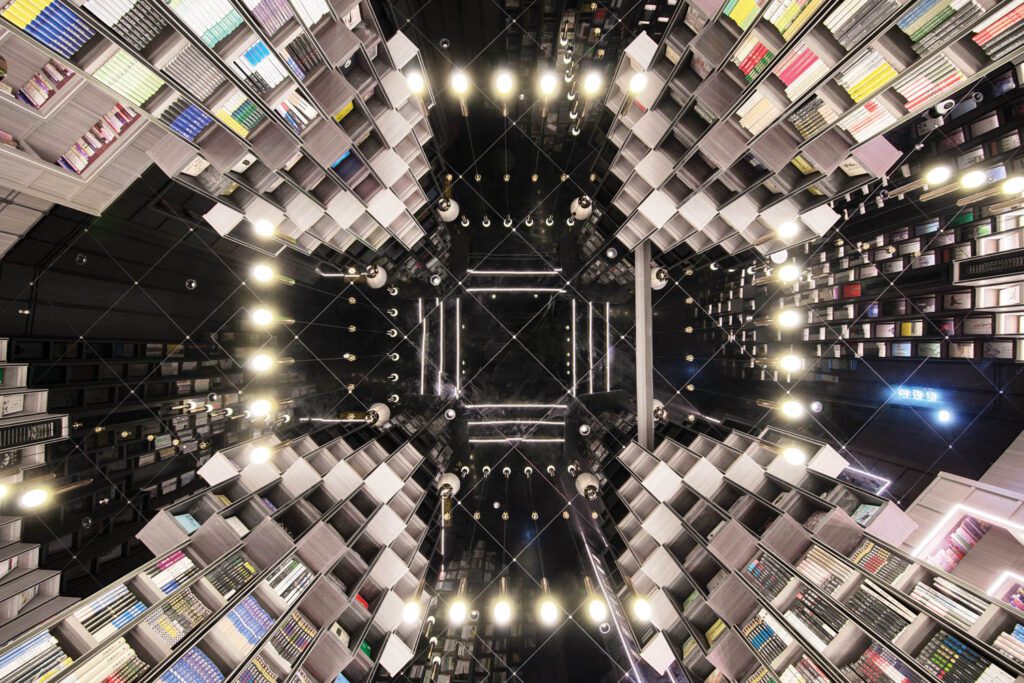 The other rooms, all together called the forum, are accessible via a wide corridor off the main area. Featuring multiple levels with a central pit, the forum can be used for readings and book signings as the steps double as seating and is surrounded by more floor-to-ceiling bookshelves. Like the store's main area, the ceiling here is mirrored so that it appears to stretch the shelves infinitely upward. Different, however, is the forum's art deco motifs, specifically the floor lamps around the pit and the myriad pendant fixtures overhead.
The adjoining children's area, awash in "happy, dreamy pastels," Li notes, continues the art deco theme via graphics and integrates reading nooks into a Ferris wheel–shape wall treatment. Soft furnishings include a cushioned train that doubles as a reading table for budding bookworms. "We tend to use richer colors in children's spaces and incorporate urban cultural elements into the bookcase design to create a fun area for kids to read in," Li says.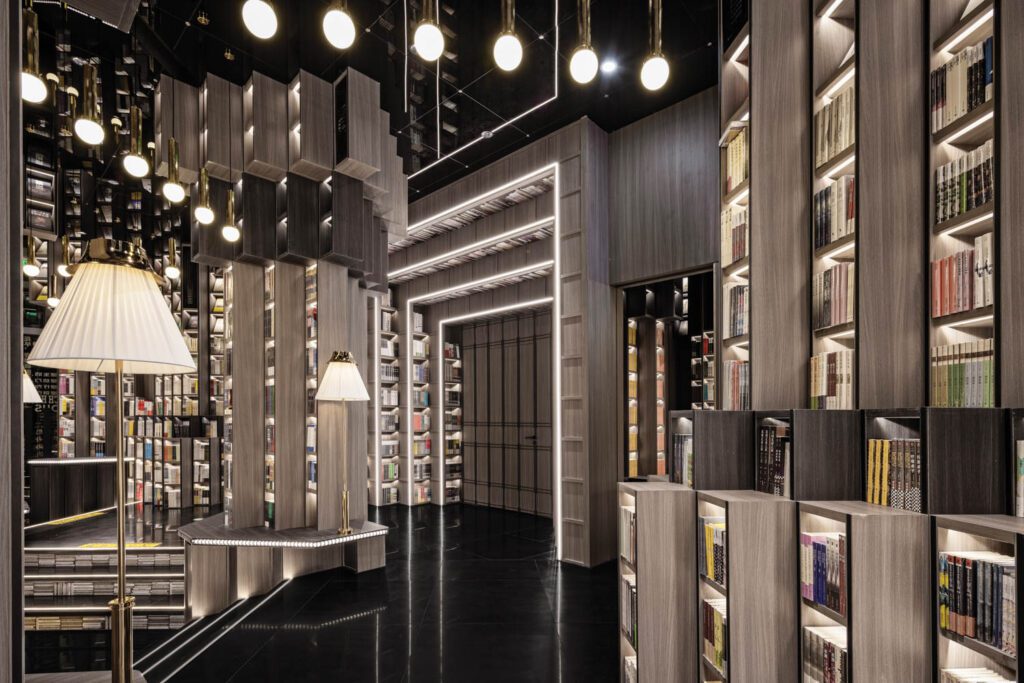 She admits that brick-and-mortar bookstores are challenged by the prevalent online shopping culture yet acknowledges that the Chinese government is still encouraging their development. It has led to Zhongshuge's strategy of selling more than books. "This project presents a different way for consumers to experience a bookstore," Li states. "I hope visitors can take away thoughts on what a bookstore can be for them going forward. Of course, it would be great if they buy a book or two to take away as well."
---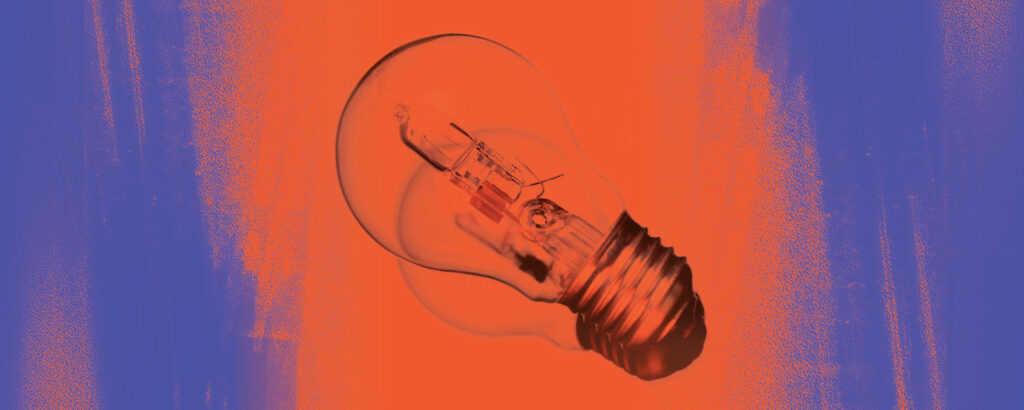 See Interior Design's Best of Year Winners and Honorees
Explore must-see projects and products that took home high honors.
---