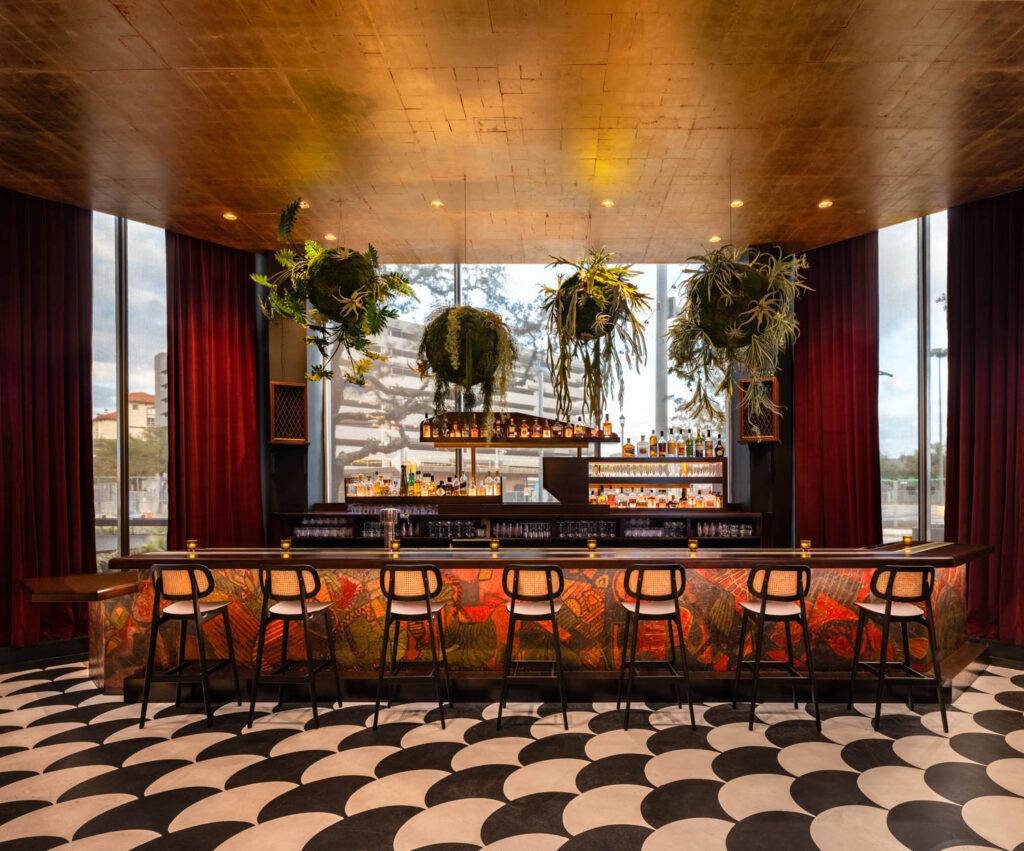 A Tree Grows in Houston, Texas at The Lymbar Restaurant
Like Shel Silverstein's book The Giving Tree, the design for The Lymbar, a Houston restaurant that nods to the beloved tale, centers around the idea of generosity. With a leafy tree that canopies over clusters of red velvet booths, Gin Braverman of Gin Design Group and the restaurant's chef, her childhood friend David Cordúa, succeed in creating a space that reflects the vibrant community around it.
"Chef Cordúa and I grew up in the same neighborhood—one of the more culturally diverse neighborhoods of Houston. Quite a few of our friends' parents, including David's, had restaurants that helped shape Houston's early cultural food scene," shares Braverman. The Lymbar takes its name from a street in that neighborhood, Lymbar Drive, where Cordúa's grandparents settled after leaving Nicaragua. "In some of our early conversations about the design of The Lymbar, we talked about bringing in that cultural diversity in different ways."
A combination of mid-century modern, Mediterranean, and South American styles makes stepping inside the restaurant feel, at once, like stepping back in time, and beyond it. Drawing on Silverstein's book, a favorite of the chef, as well as the whimsical designs of lauded landscape architect, Burle Marx, the team created a one-of-a-kind interior centered around an expansive tree that seems to sprout from scalloped floors.
The Lymbar Restaurant Reflects a Fushion of Design Styles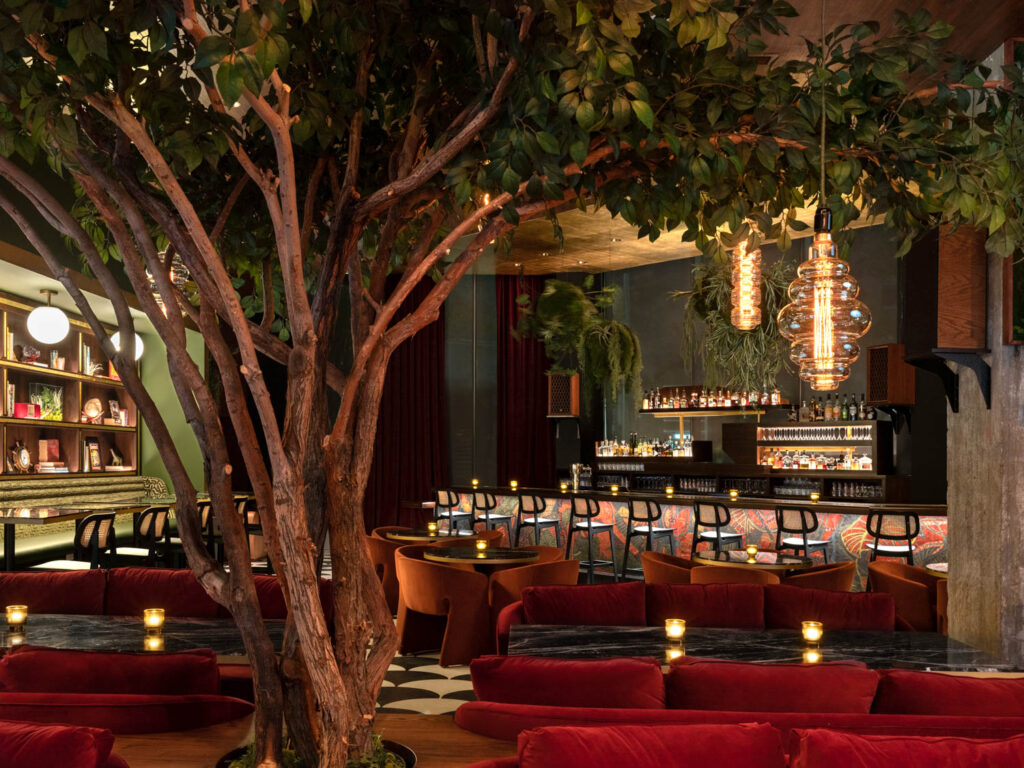 Local artist, Carissa Marx, hand painted the black and white floor pattern as well as a mural on the facade of the bar, adding layers of visual depth. "We worked with a myriad of local artists and artisans to bring the space to life, including Marx," Braverstone says. Original works by Nicaraguan artist Vernon Caldera, another favorite of Cordúa's, further enliven the space, including a collage in the main dining room.
The private dining room, tucked inside a formerly vacant nook, invites visitors into a sultry monochromatic dream. Punctuated by tones of mauve and burgundy, as well as custom mid-century-inspired dining chairs, the space features cove-lit walls draped on two sides to block the light from the main restaurant area, adding to the overall ambiance.
Regardless of where diners opt to indulge, The Lymbar offers a portal into a literary-inspired world. Located inside the Ion, an expansive, mixed-use development in Houston, the restaurant also anchors the bustle of activity around it. "There was lots of energy surrounding the development and this project," Braverman adds. "The Lymbar is the cornerstone of this massive development."