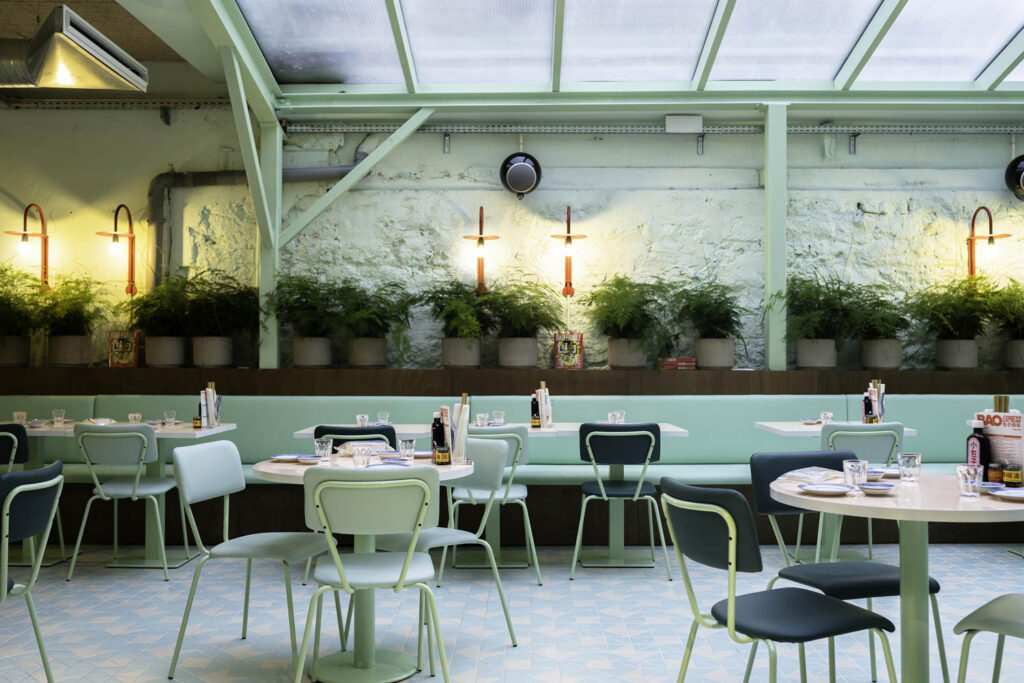 A Button Factory Transforms into a Retro-Inspired Diner
Parisian architect Tala Gharagozlou has a unique understanding of Hong Kong culture and cuisine as a project manager at Soho House for nearly five years, overseeing the Hong Kong clubhouse. Thus, when her firm, Atelieriamo, was hired for two collaborations with Bao Restaurant Group—the sophisticated Bleu Bao, an upscale bao and dim sum restaurant that nods to the Chinese tea house, and Bao Express Paris, the group's fourth and largest concept inspired by 1970s Hong Kong diners—she aimed to provide a unique yet cohesive brand experience.
Located in a former button factory in the 11th arrondissement, the 500-square-meter Bao Express features a bakery, diner, and basement bar, each with cheerful hues and bespoke furnishings. The initial raw nature of the building and lean budget lent itself to a challenging construction process with alterations to the floor plates, a new staircase, and improved circulation. Yet, with room for up to 150 covers per night, this meant an equally exciting opportunity "to do something bold and bring people throughout the space without having dead zones," says the architect.
Pops of celadon and jade, colors often found in Chinese arts and crafts, pair with custom plywood bulkheads, industrial-style lacquered red fixtures, neon lights, and patterned floors. "We didn't have a lot of natural light, so we wanted something that would cheer up the space," she says.
The subterranean bar, The Underpool, is a satisfying juxtaposition with a hammered metal ceiling and an installation from French artist, SupaKitch, which evokes the sense of a "fun and cheeky upside-down pool," Gharagozlou says. There's even a metal staircase and striped diving board. Bao Express channels the best of a vintage-meets-modern Hong Kong diner, full of surprise and whimsy.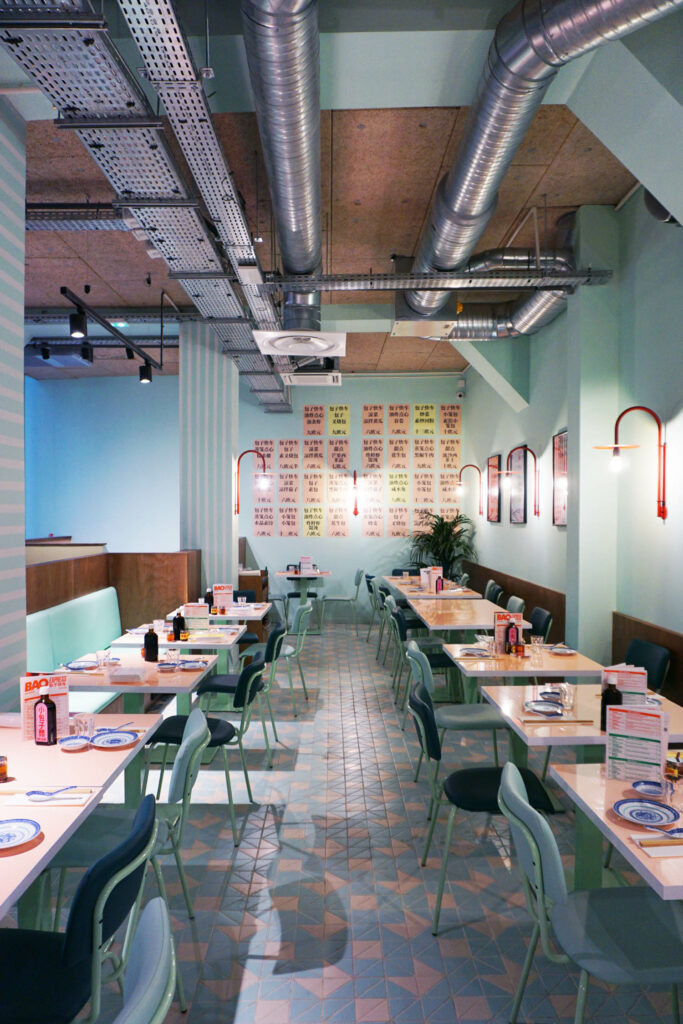 Bao Express In Paris Channels '70s-Era Hong Kong Diners