Inside a 19th-century Paint Factory Turned Creative Office
Spring Studios is in the creativity business; to be precise, they're an integrated creative agency grown from origins as a photographic studio. So it makes sense that they wanted their own London office to be infused with that same DNA. For a workplace revamp focused primarily on the café, the CEO's office, and the main working space, they tapped the London-based yet global firm of Tomèf, led by Tommaso Franchi. The Kentish Town building was once home to Winsor & Newton paints, and naturally Tomèf opted to work with that 19th-century industrial soul rather than against it. That's why features like structural beams and columns, brick, and parquet flooring were kept original, and why nearly all the furnishings are vintage (save for some custom-made by the Tomèf team).
That industrial vibe is most apparent in the café, where a modern graphic wallpaper by Los Angeles-based artist Marco Lorenzetto in collaboration with manufacturer Wall&decò is juxtaposed with rustic leather and zinc furnishings, adding a splash of color to an otherwise muted palette. For the CEO's office, Art Deco furnishings and concrete flooring are offset by brightly colored patterns on new upholstery, a nod to artists' chromatic paint tubes. Meanwhile the main workspace, a unique zone nestled under the roof with exposed steel girders, embraces the natural light being on the top floor offers, and a simple black and white color palette reflects the studio's brand identity. A rubber flooring by Bolon brings a clean, sophisticated touch, while the high ceilings create airiness that Tomèf hopes will inspire outside-the-box thinking. For phase two of the project, due to begin later this year, the firm will revitalize reception and meeting rooms as well.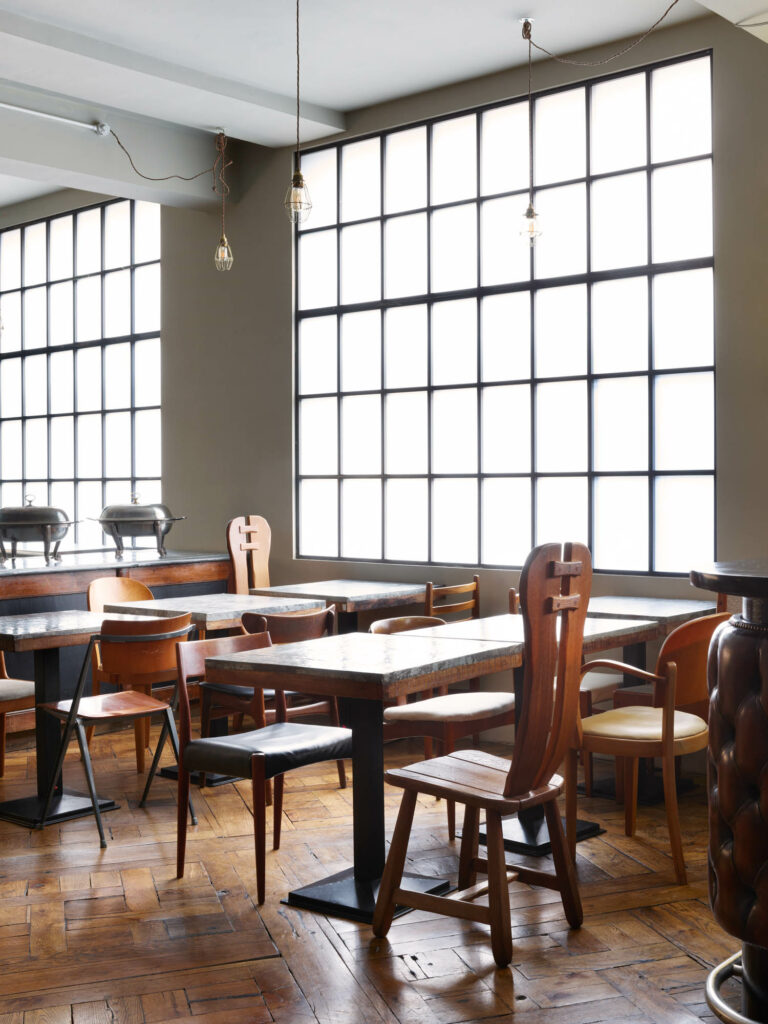 A Modern Office Design With Vintage Accents