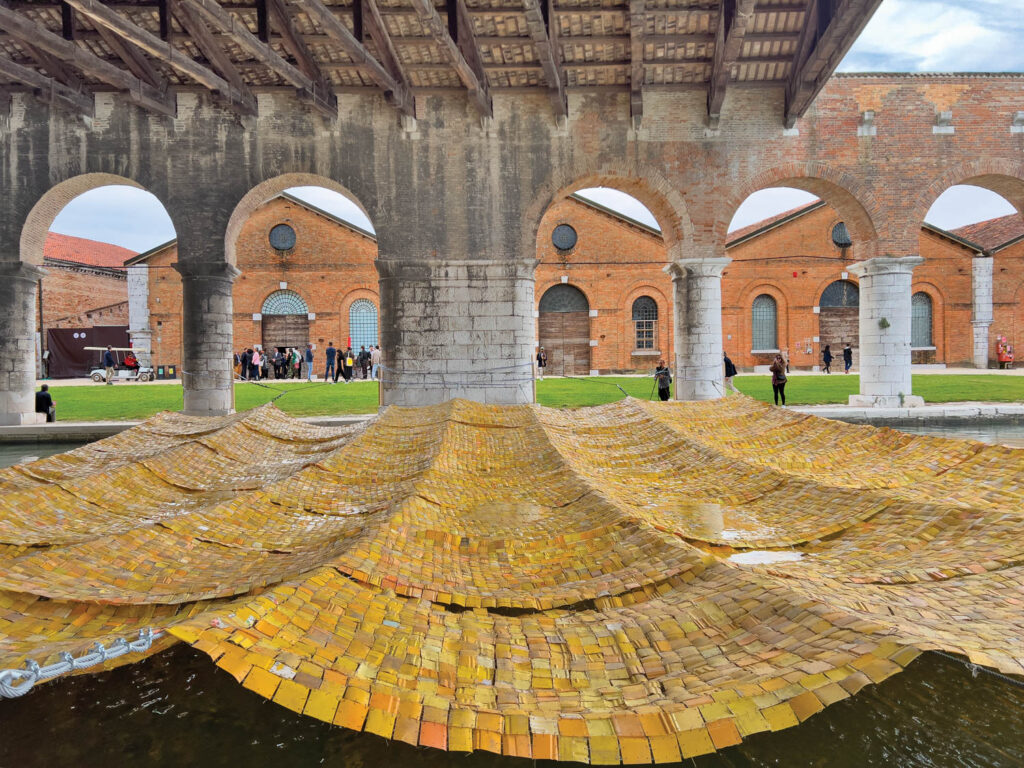 Sustainability Spotlight: The Biennale Architettura in Venice
Earlier this year, Interior Design offered an inside look at the 18th Biennale Architettura, in Venice, Italy, rounding up eight must-see installations centered around architectural impact on power structures and social systems. But there's even more to see. Take a look at these show-stopping pavilions, which spotlight environmental issues and show how designers are paving a more sustainable path forward.
12 Impactful Installations from the 18th Biennale Architettura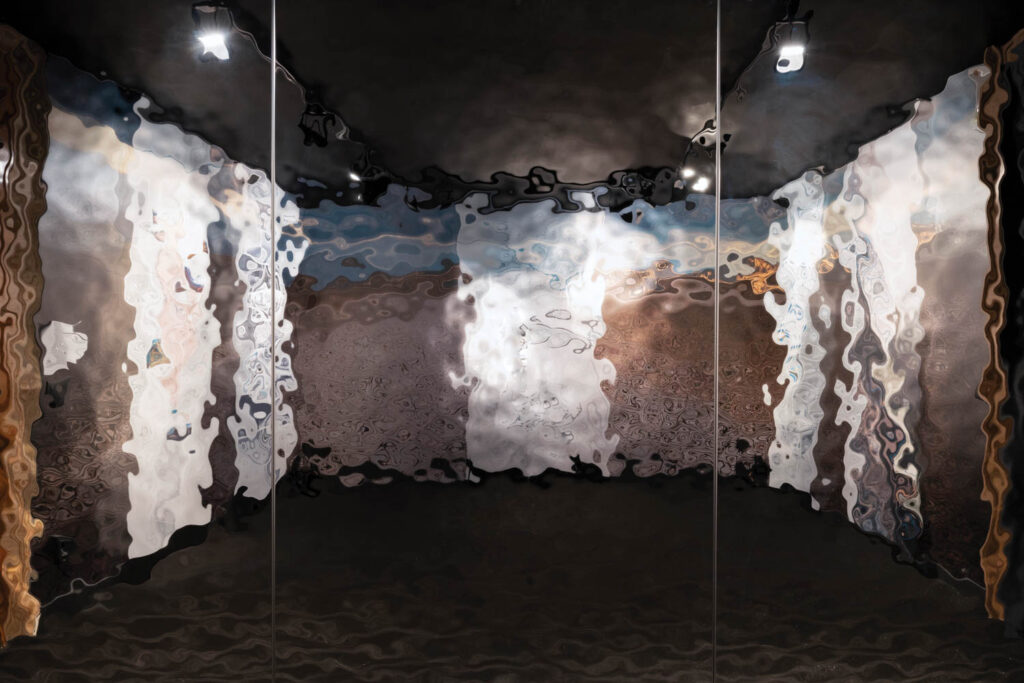 Redefining Beauty is an image of the dry Colorado River Delta by National Geographic photographer Peter McBride on reflective steel panels inside the site's European Cultural Centre.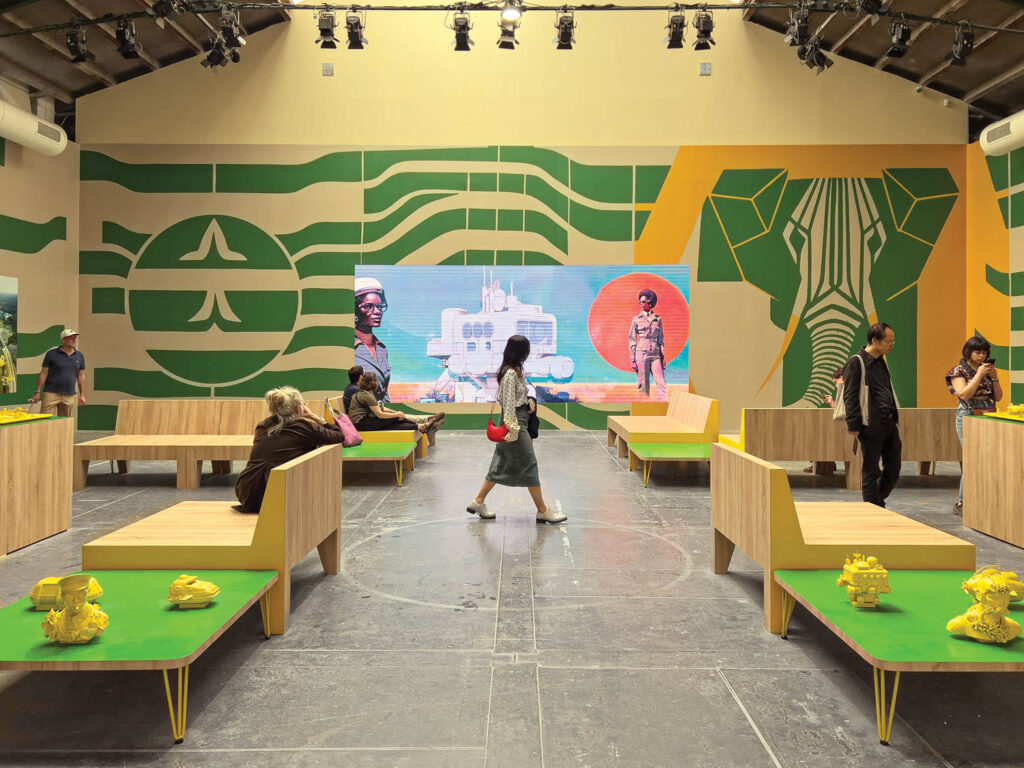 For the Nigeria pavilion, ACE/AAP imagines a multimedia departure lounge for a fictional transportation company, a prototypical transport hub for low-impact, zero-emission land, sea, and air travel.
Belgium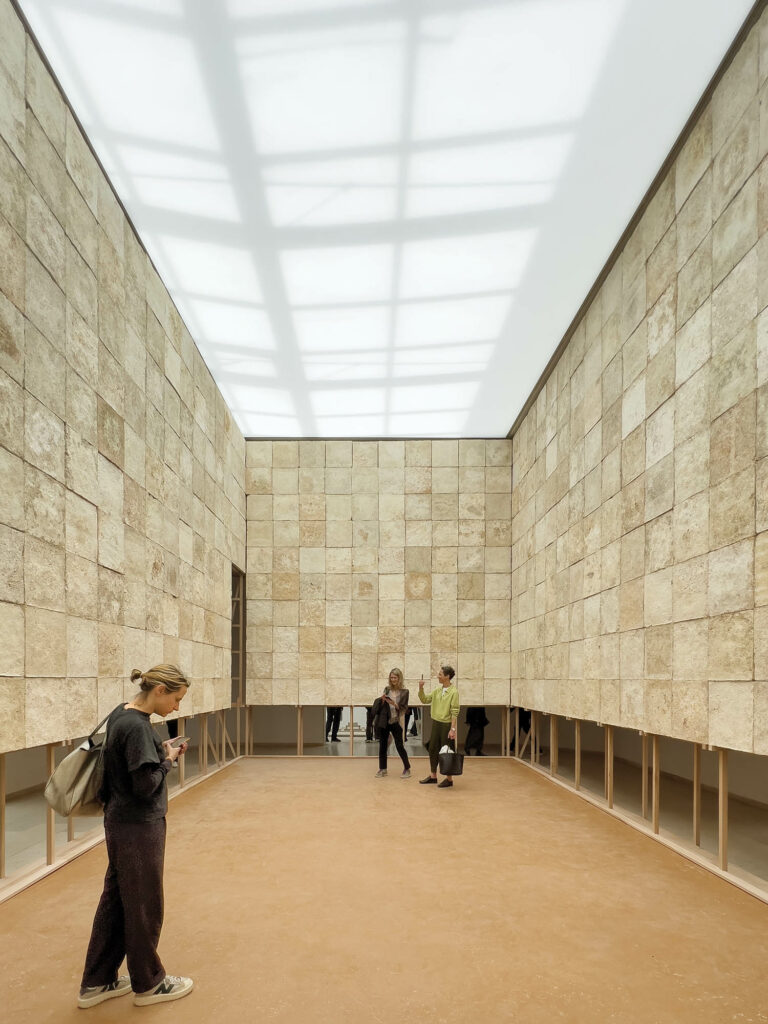 In Vivo, curated by Bento Architecture and University of Liège professor Vinciane Despret, presents alternative construction methods using living substances like raw earth and fungi in a contemplative setting.
Kingdom of Bahrain
Sweating Assets is an installation of micro-climates curated by architects Maryam Aljomairi and Latifa Alkhayat that suggests ecological reuse for condensation and examines past, present, and hypothetical future water use in the Kingdom.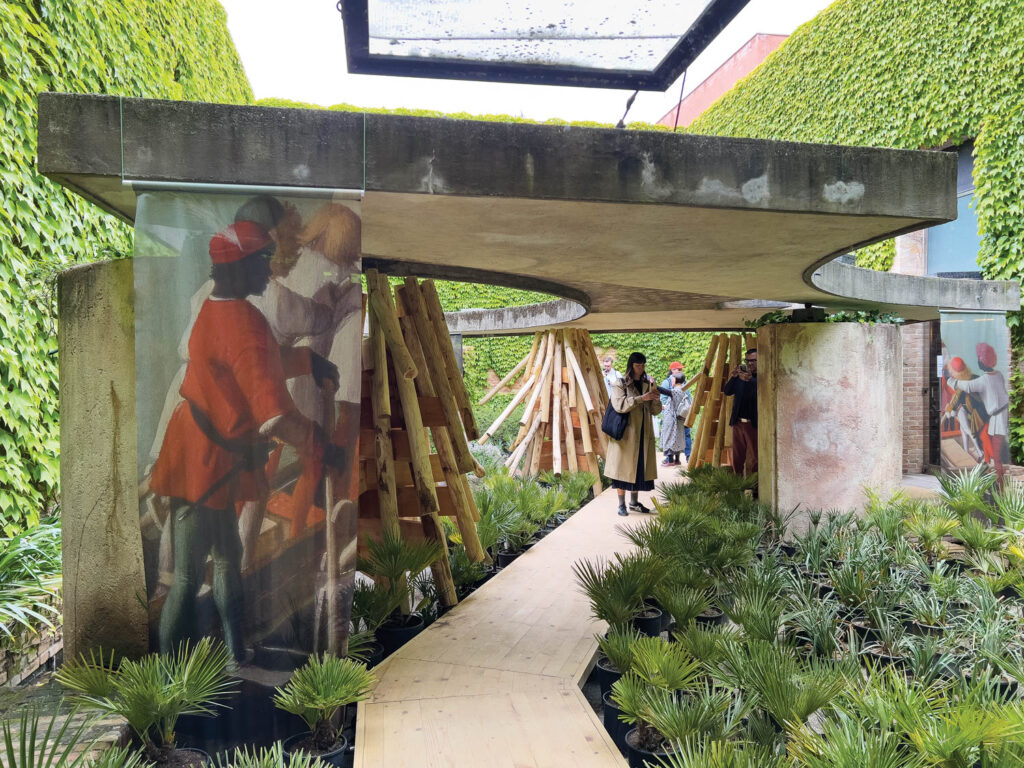 Examining the history of basket-making as it relates to a former plantation site in South Carolina, Sweet Grass Walk in the Carlo Scarpa Sculpture Garden features palmetto columns crafted from the same wood used for the mooring poles throughout Venice.
Serge Attukwei Clottey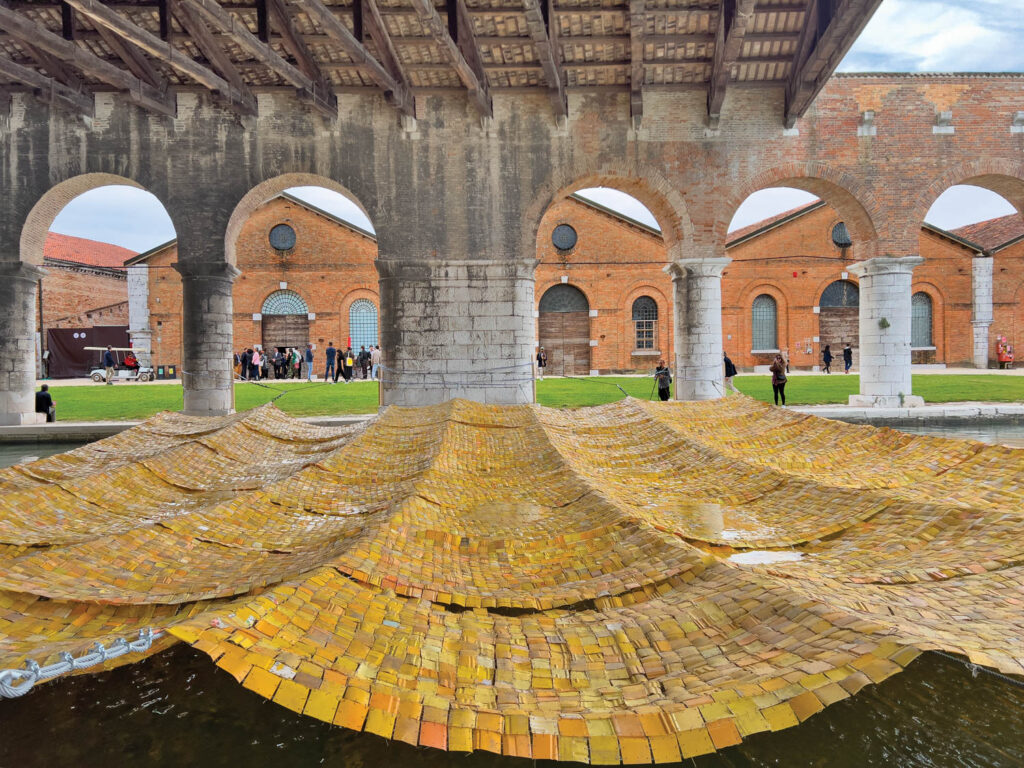 Time and Chance is the Ghanaian artist's patchwork tapestry of thousands of squares cut from plastic gallon containers, strung to­gether with wire, and suspended from the Gaggiandre shipyard.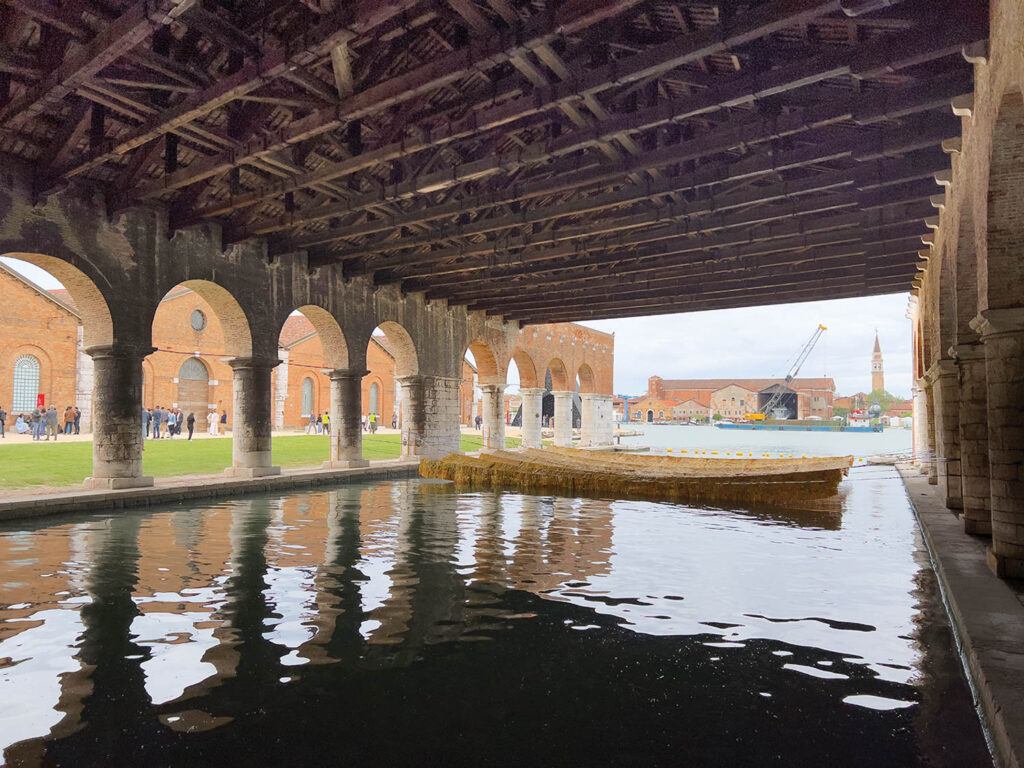 Korea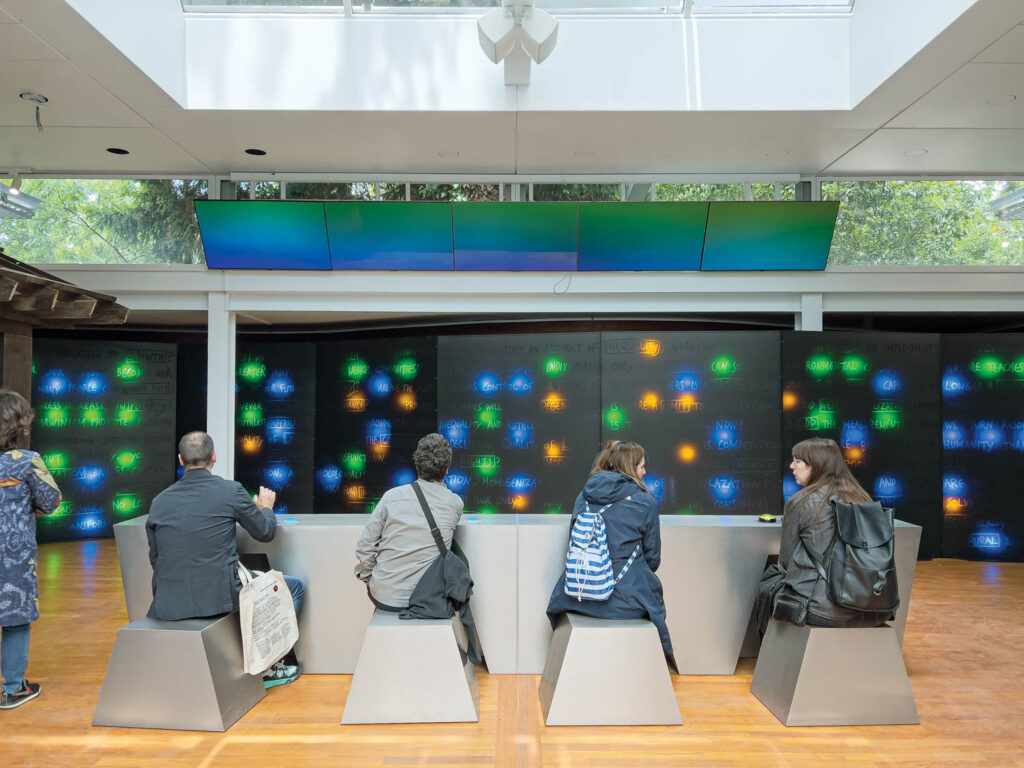 At the heart of 2086: Together How?, curators Soik Jung and Kyong Park created a game show where audience participants make choices on questions of environmental crises as researched by architects and civic leaders from three small communities in South Korea.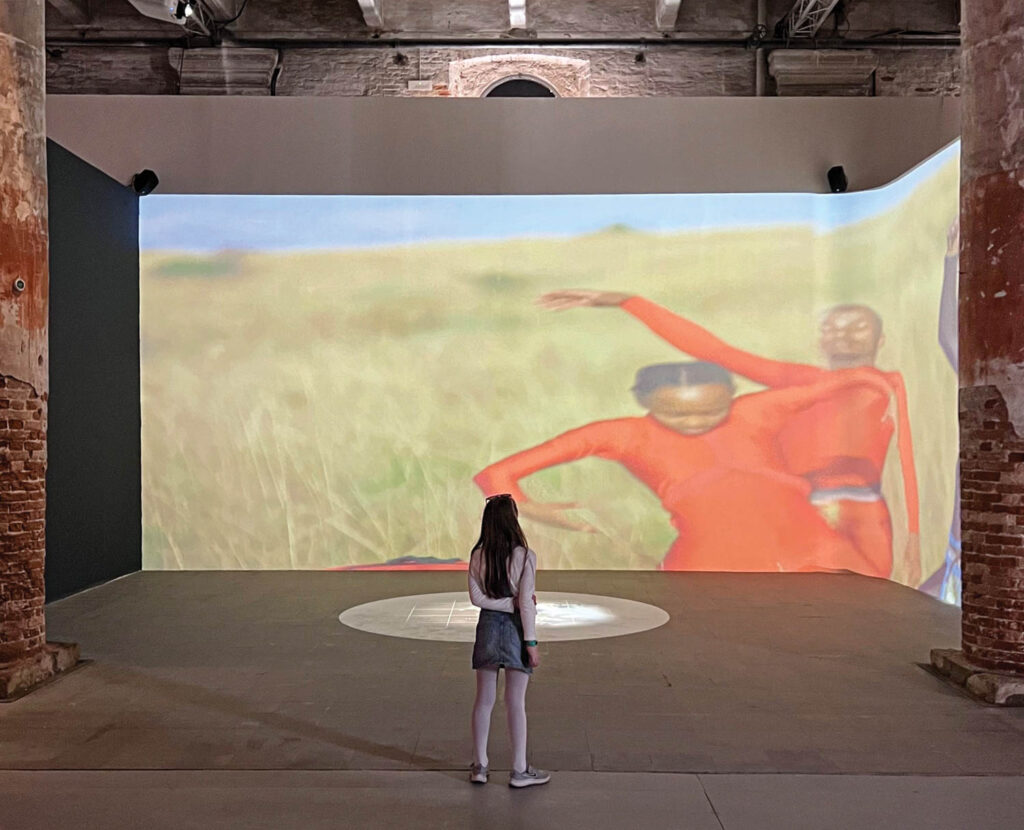 Origins, a video installation by the Johannesburg firm, depicts the hidden ruins of Kweneng, the precolonial capital of the Tswana people occupied from the 15th to 19th centuries.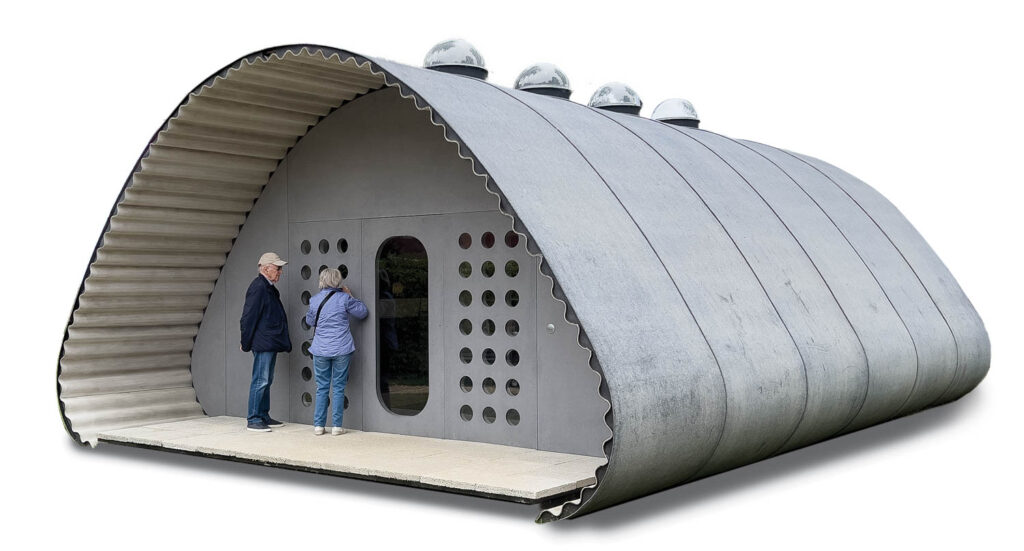 Essential Homes Research Project, a prototype for displaced people, is a low-carbon, energy-efficient, semipermanent dwelling made of concrete sheets with a comfortable, light-filled interior.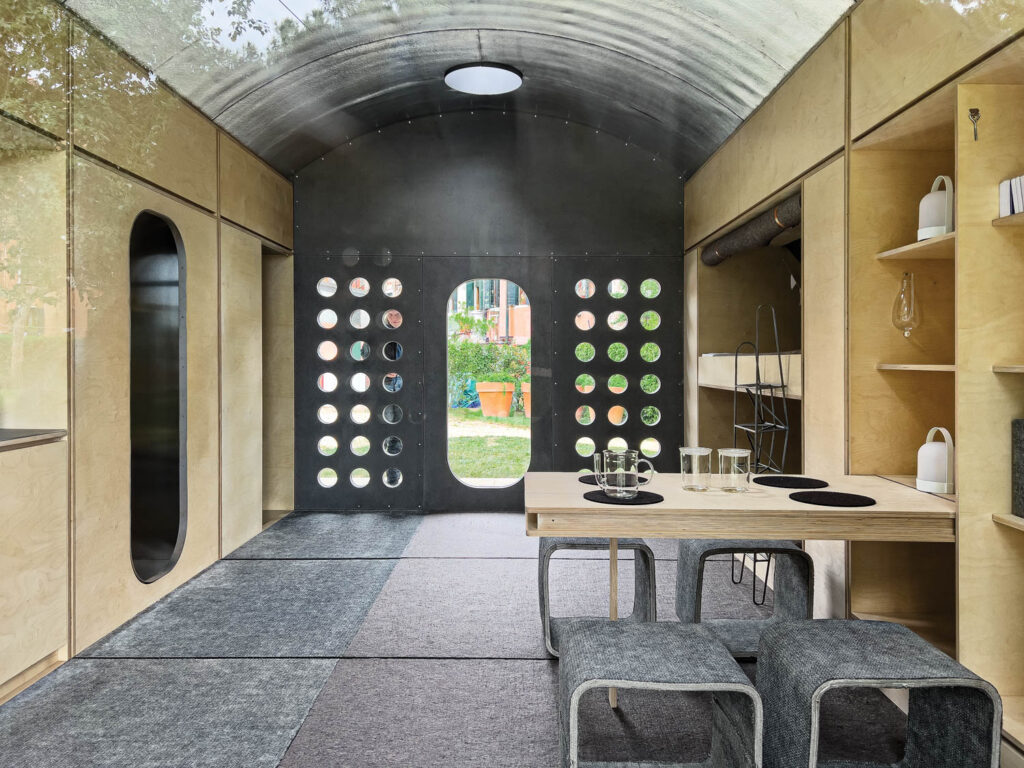 Ireland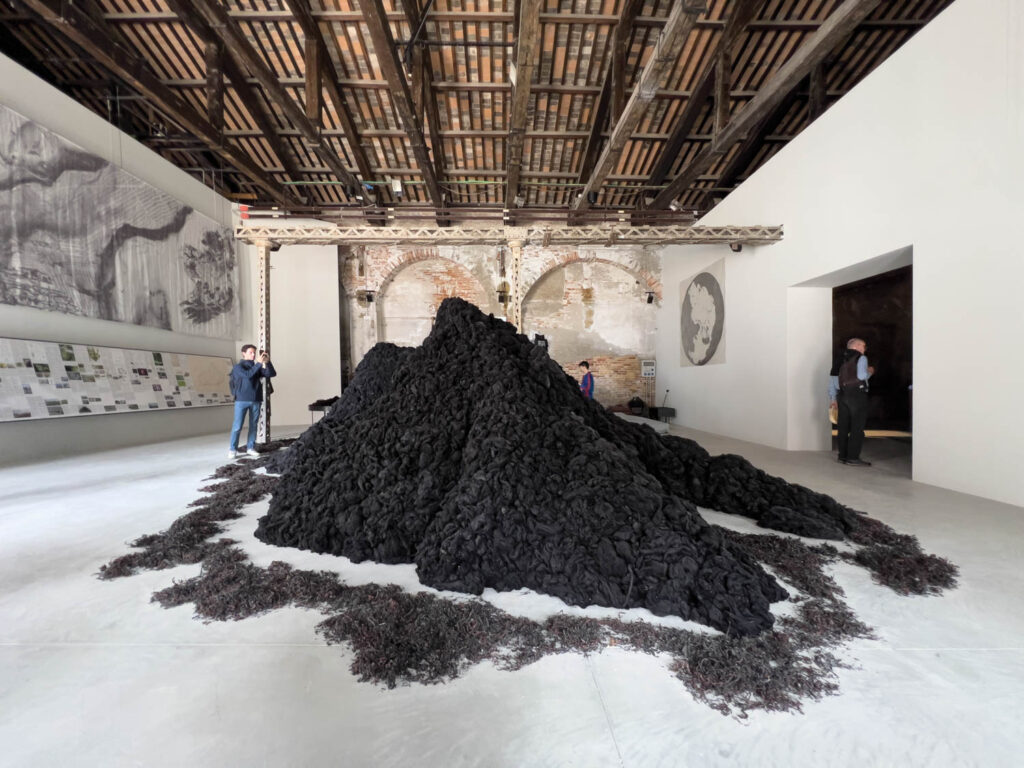 In Search of Hy-Brasil, curated by architects Peter Carroll, Peter Cody, Elizabeth Hatz, Mary Laheen, and Joseph Mackey, represents ecological fieldwork from the country's remote islands, with local materials in innovative forms, like an abstraction made of sheep's wool from Sceilg Mhichíl.
Lesley Lokko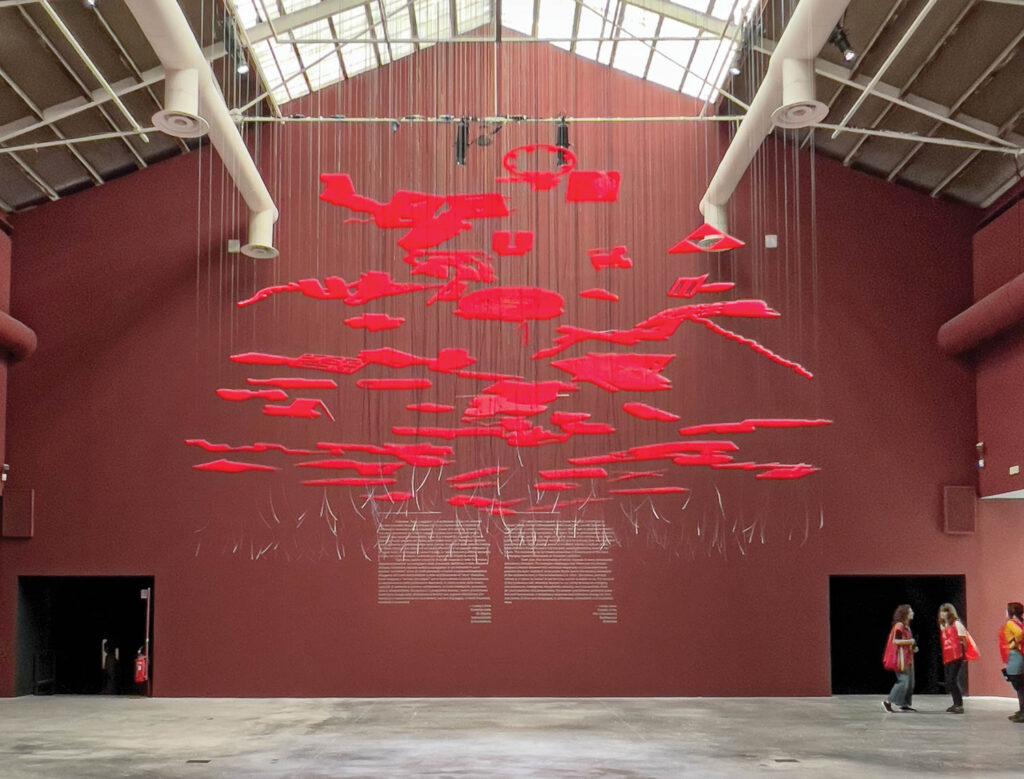 The Ghanaian-Scottish architect, novelist, and curator of the Biennale Architettura 2023 created Loom for the entrance of the Central Pavilion. Although not a textile, the construction summarizes the whole show—themed the laboratory of the future—its dozens of crimson components alluding to the ensuing projects and the wire supports metaphorically weaving them altogether.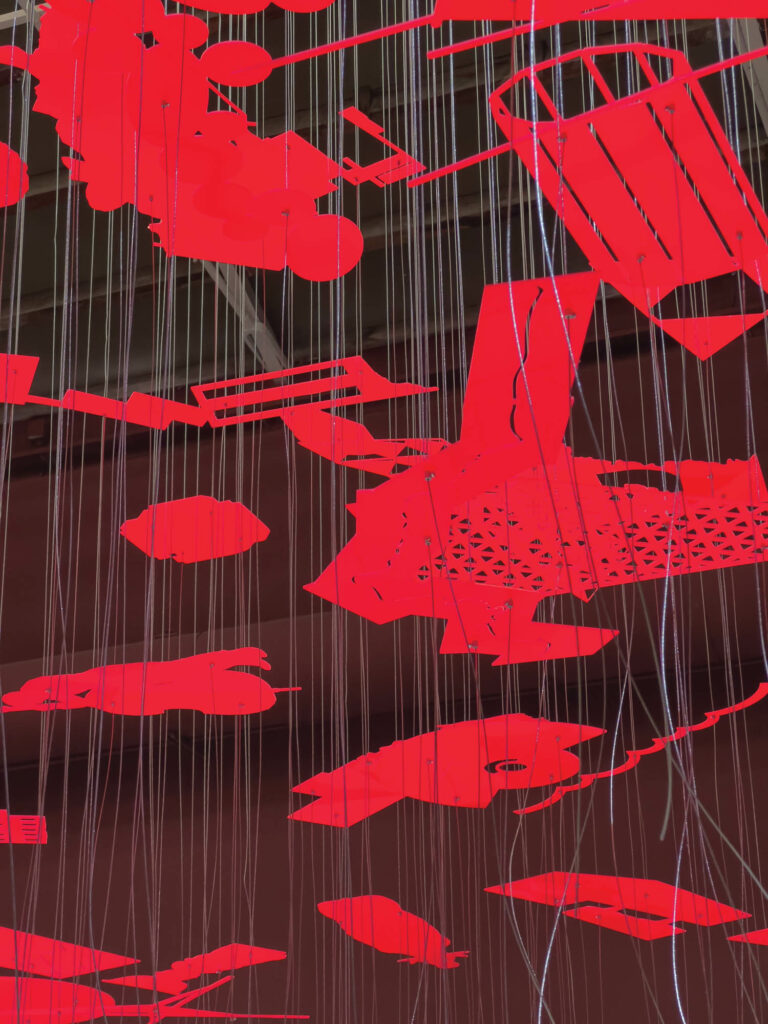 China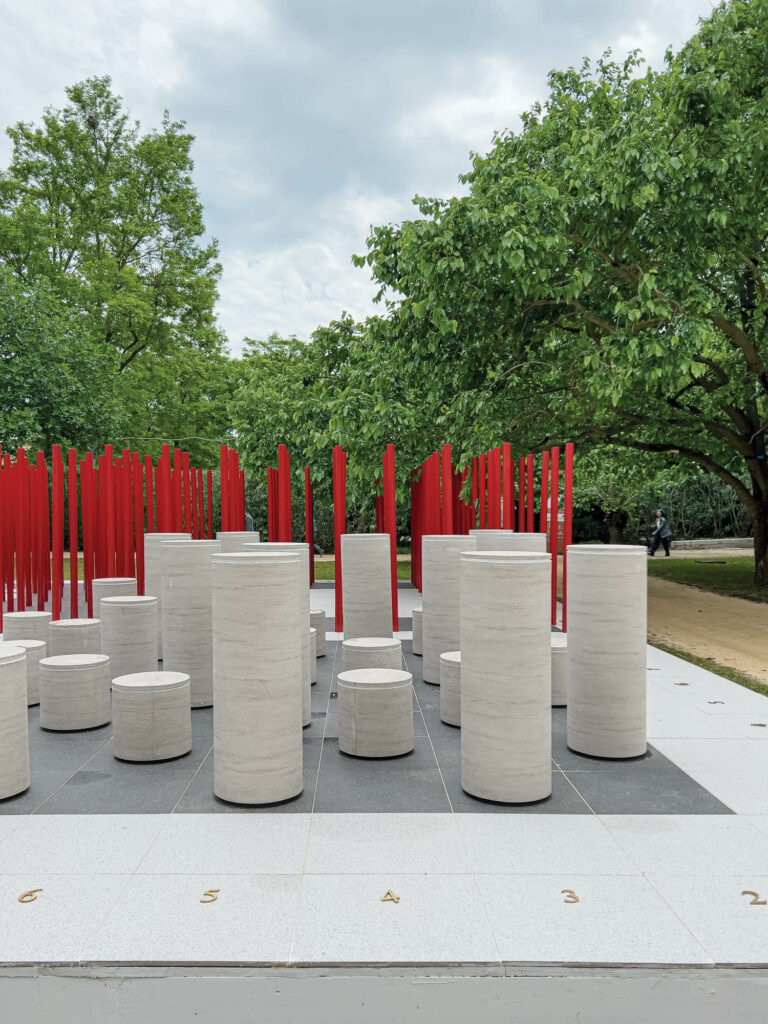 In Renewal: A Symbiotic Narrative, curated by architect Xing Ruan, 50 massive scrolls invite visitors to stroll through and contemplate cities of the future, be they modernist towers, traditional courtyards, a symbiosis of the two, or other possibilities—all with clean energy.