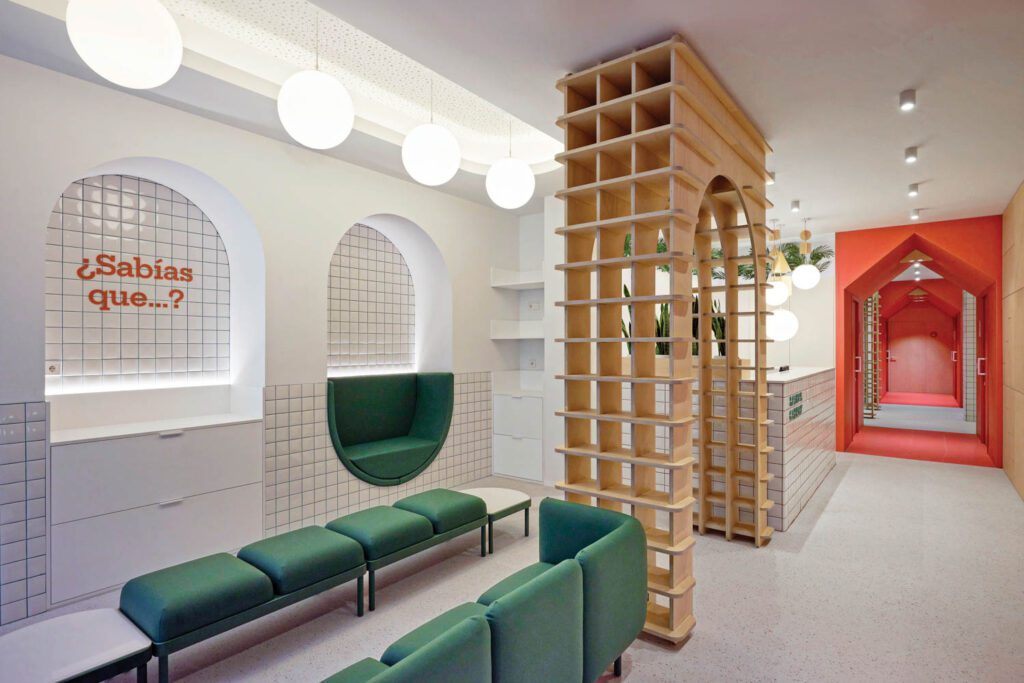 Vitale Design Directors Envision a Playful Dental Clinic in Castellón de la Plana, Spain
There's nothing fun about cavities, especially for kids. Keeping that in mind, design directors Lucía Chover, Carlos Folch, and Santiago Martín—who founded Vitale in eastern Spain's Castellón de la Plana in 2006 after meeting at its Universitat Jaume I—envisioned a playful clinic that would actively destress anxious children and parents for Isabel Cadroy, Dentista Infantil, a local pediatric dental office.
Cheery neo-Memphis colors, simple geometries, and a dash of biophilia suffuse the two-level, 3,760-square-foot space. It's a stark contrast to Dr. Cadroy's previous office, which had "no person­ality and was on an awkward mezzanine level," Chover explains. To inject creativity into the new city center location, the Vitale team employed wood and tile to draw on tropes of learning, since teaching children about oral health is the fundamental principle of Dr. Cadroy's work. At the entry, a plywood arch slots together like a construction game. Farther in, doors and paneling are routed with a puzzle design. Walls, columns, and restrooms clad in uniform white square tiles take inspiration from the gridded notebooks children use to learn to write. Birch-plywood chandeliers incorporating minimalist shapes nod to mobiles over a crib yet don't descend into infantilism. "We focused on the sensations of comfort, warmth, familiarity, and well-being," Folch notes.
Throughout, rounded shapes and indirect lighting soothe. Additional fear-reducing measures include the waiting area's capsule-shape seating nooks, which cocoon and foster a sense of protection. In the main corridor, a series of pitched roof structures provide a homey feeling. One serves as a transition between the waiting area, restrooms, and radiology and post-treatment rooms. Beyond, the second roof structure, or "tunnel," as Martín refers to it, funnels little patients to the pair of skylit treatment rooms, which both look out to a mood-boosting vertical garden. In fact, green is one of the three main colors in the project's palette. Pantone 7723 C, a calming fern, Pantone 1635 EC, a warm terra-cotta, and Pantone 121 C, an optimistic yellow, appear in everything—from the tile grout, vinyl flooring, and logo typography to the waiting-area and treatment-room seating.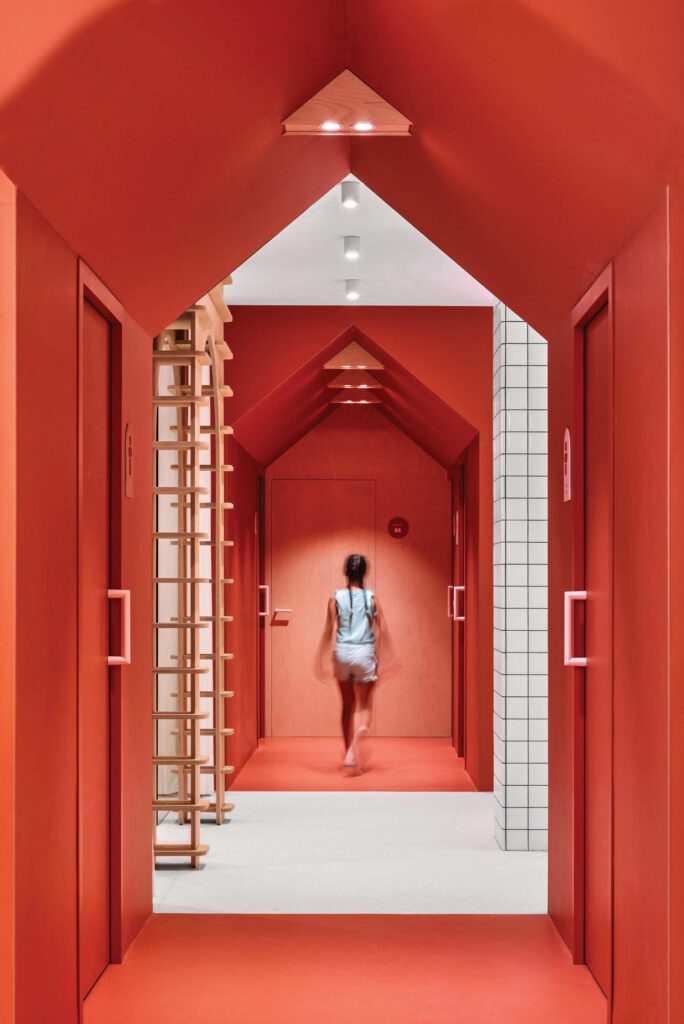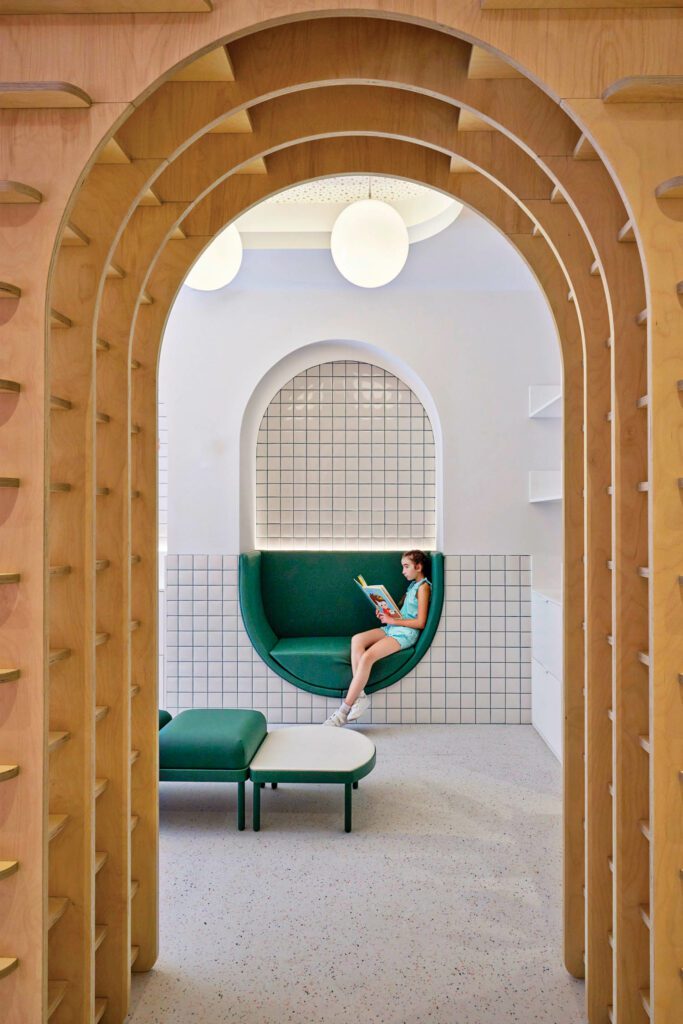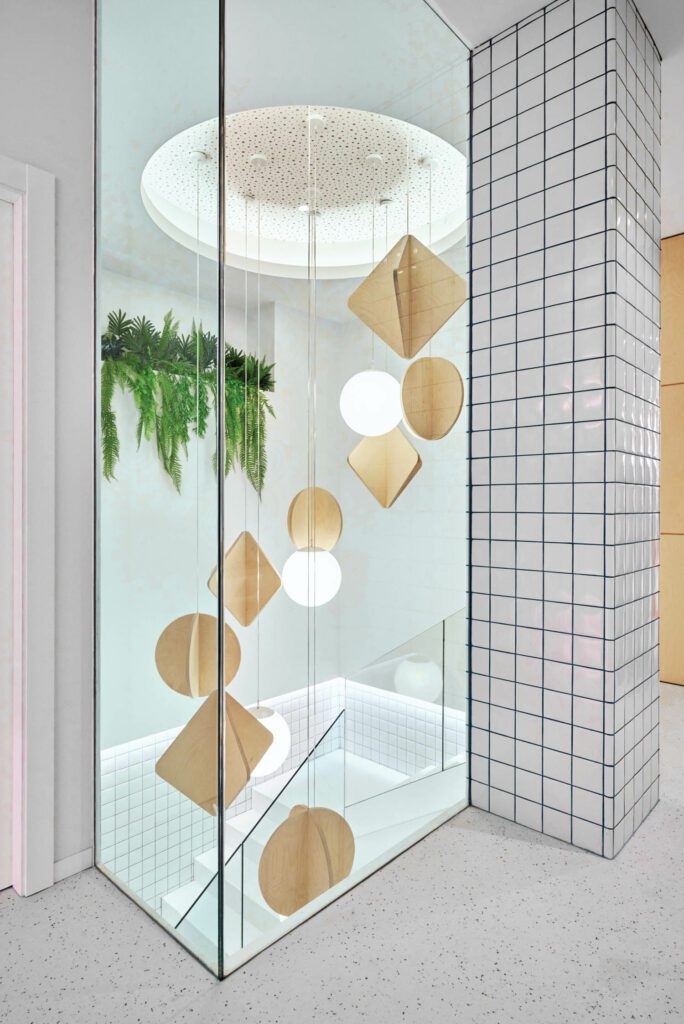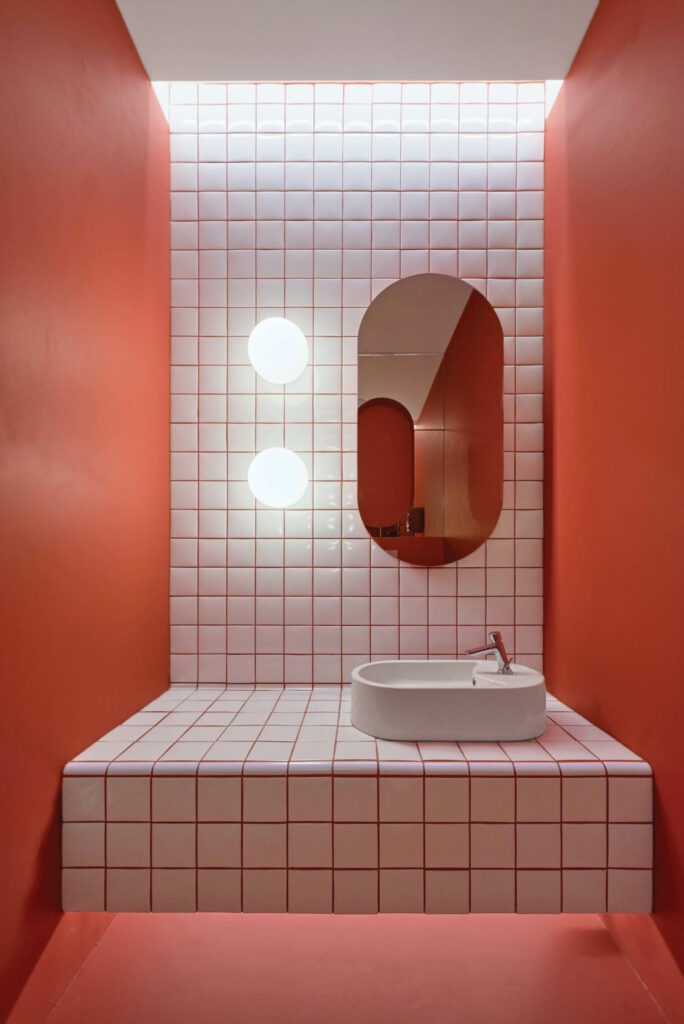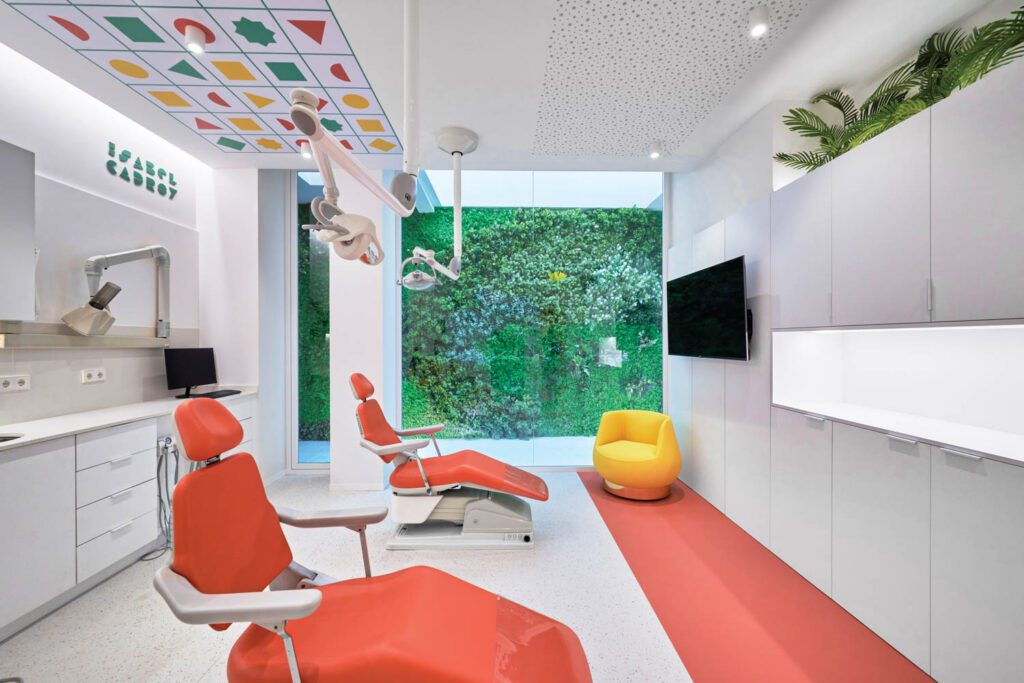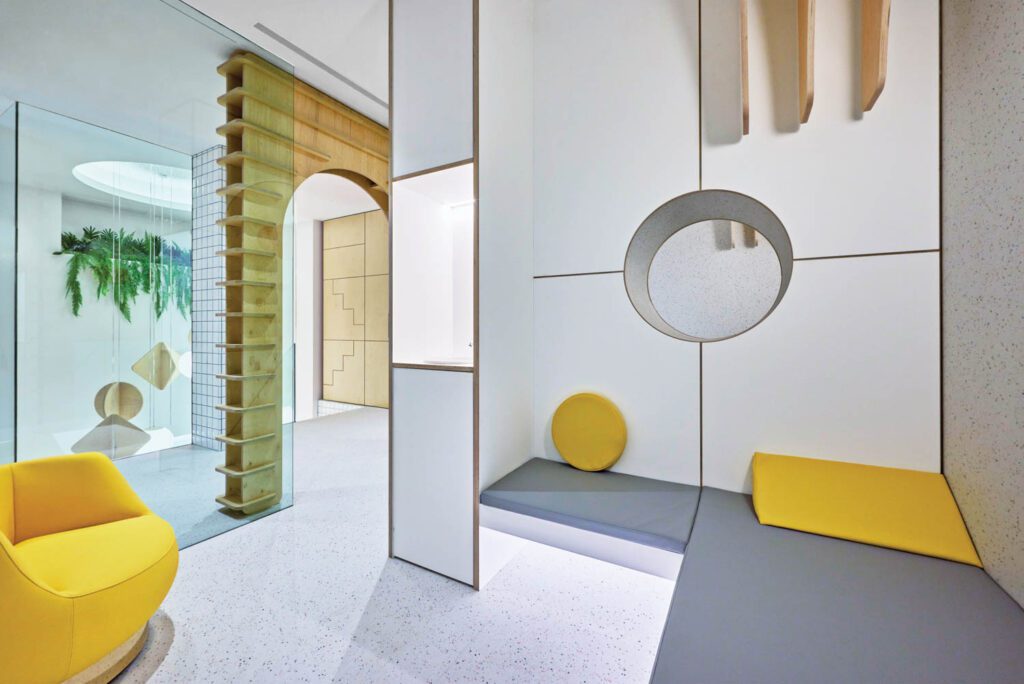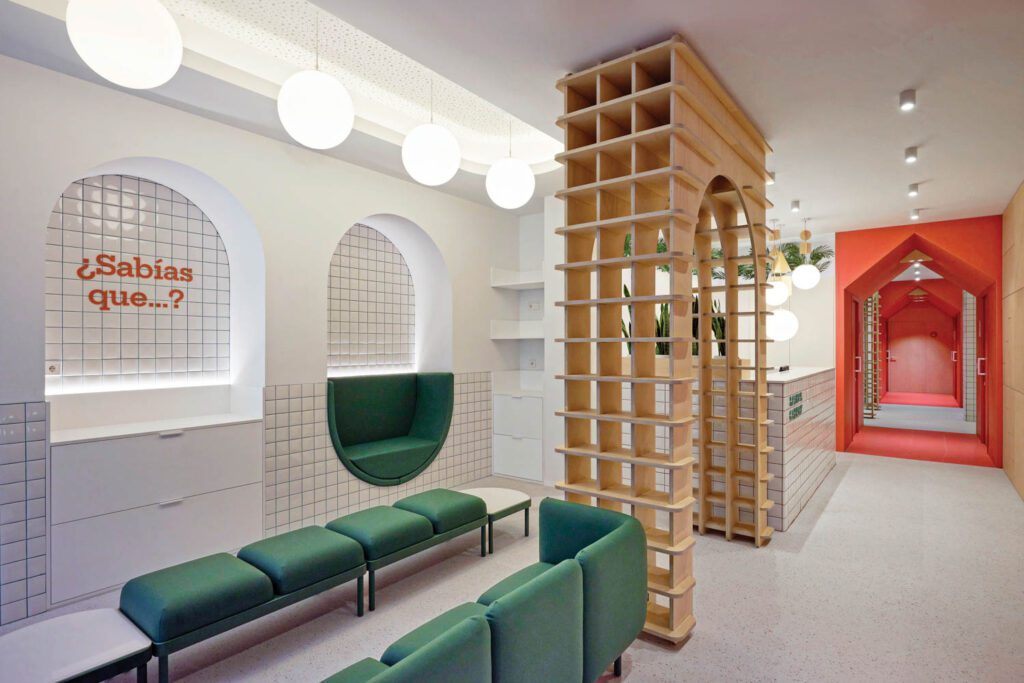 product sources
FROM FRONT
THROUGHOUT