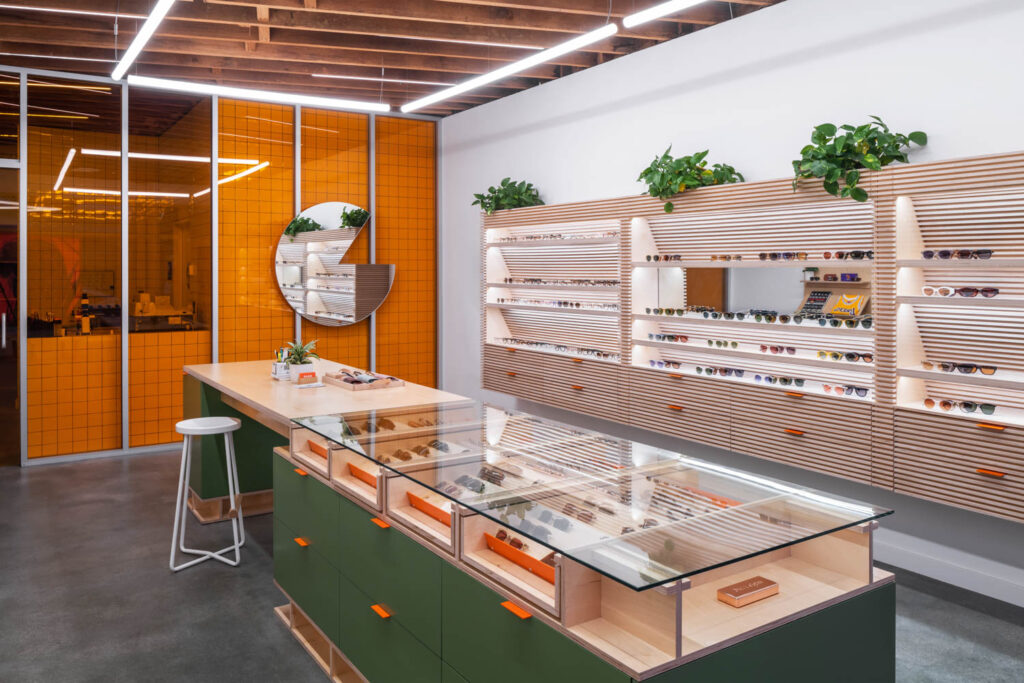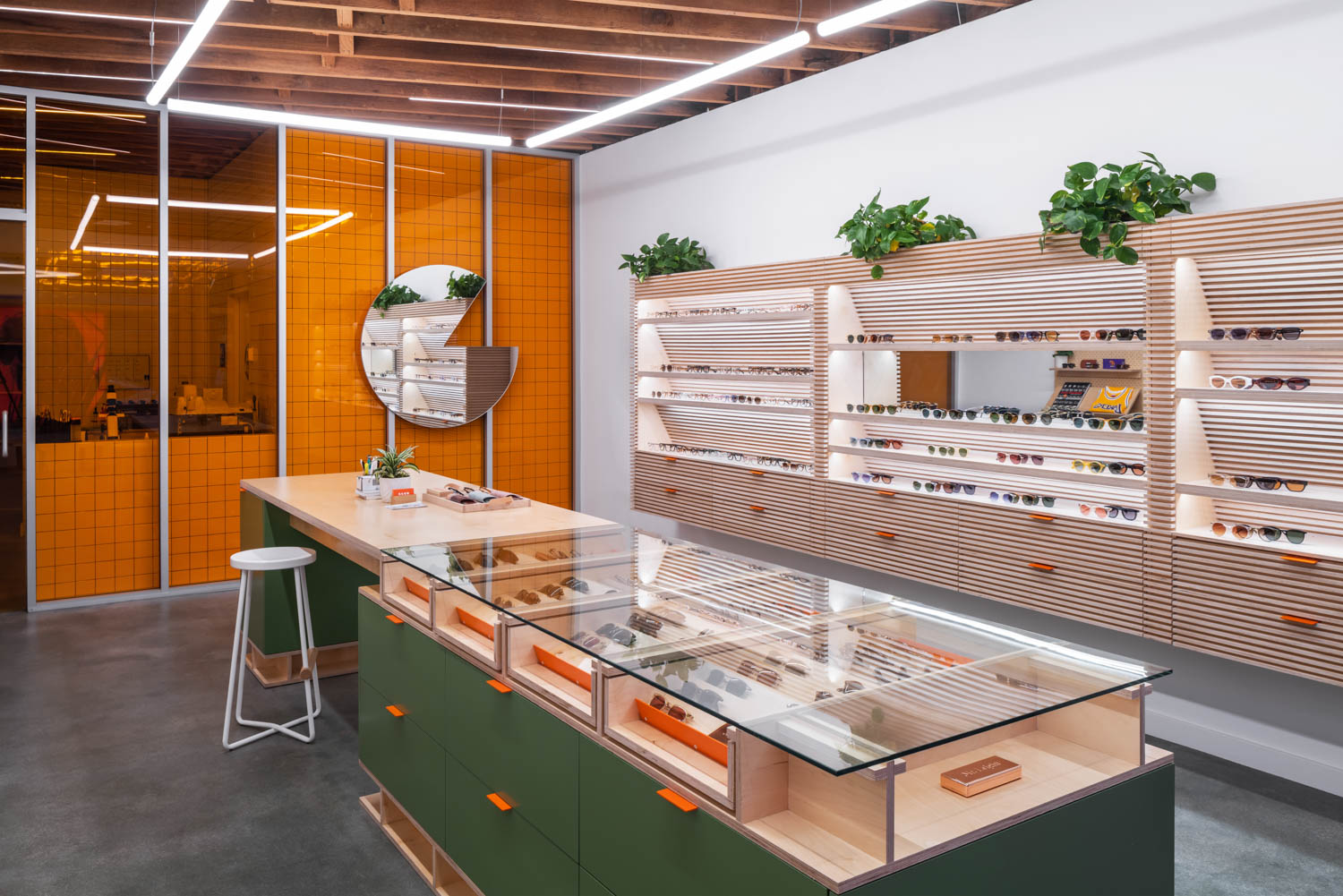 A Closer Look at a Trio of Optical Stores by West of West
If anyone is true to their DNA, it is Garrett Leight. His father, Larry Leight founded the esteemed eyewear brand Oliver Peoples back in 1987, now owned by Luxottica. It quickly became a cult favorite thanks to design—not only of the glasses themselves, but of their freestanding shops and sales venues such as Fred Segal (owned by Sandow). In 2010, drawing on inspiration from Leight Sr. and Venice Beach roots, Garrett started his own eponymous company, Garrett Leight California Optical, calling on his UCLA pal Jai Kumaran to give the architect's nascent studio West of West its first project. Fast forward to present. GLCO has nine stores stretching beyond California's borders to include Austin and Toronto. West of West, with offices in Los Angeles and Portland, has designed all except the Toronto locale, including a new trio: in Brooklyn, on Mulberry Street in Manhattan, and in the Silverlake section of Los Angeles. In one sense, they are similar. Within a restrained palette, birch plywood predominates taking form as a slatted unit custom designed with shelving and drawers for display and storage. Common, too, are on-site optical labs, the enclosures for fitting and special tinting defined by crisp white tile and tangerine-tinted glass. Yet of course shops differ given sites and locale vibes. Best of all? Two have an area dedicated to Mr. Leight, GLCO's top-of-the-line collection created as a father-son collaboration. So, Garrett has come full circle. Let's take a look.
3 Retail Locales Showcase Their Shared Design DNA
Inside Garrett Leight California Optical on Mulberry Street in New York 
At 1,600 square feet, the Nolita shop stands as the largest. It also gives Mr. Leight the greatest visibility via a moody, rose-colored environment calling clientele to the rear. A series of 8-foot-tall fins, clad with metal laminate below an exposed ceiling, defines the area. Meanwhile, illuminated display boxes are set within the fins. Together, these light boxes and the metallic surfaces "enhance the quality of light and shadow as one moves through the store," comments Kumaran, who shares credit with project designer Mayola Tikaka. Along the way, customers encounter the optical lab in the center and plywood unit along one wall. About the material's overall predominance, Kumaran calls plywood "an L.A. material at its core, coming from the lineage of the post-World War II era, and used as utilitarian in the 1950s through its use by [Frank] Gehry. I felt like it was a material to tap into and celebrate its associated craftwork."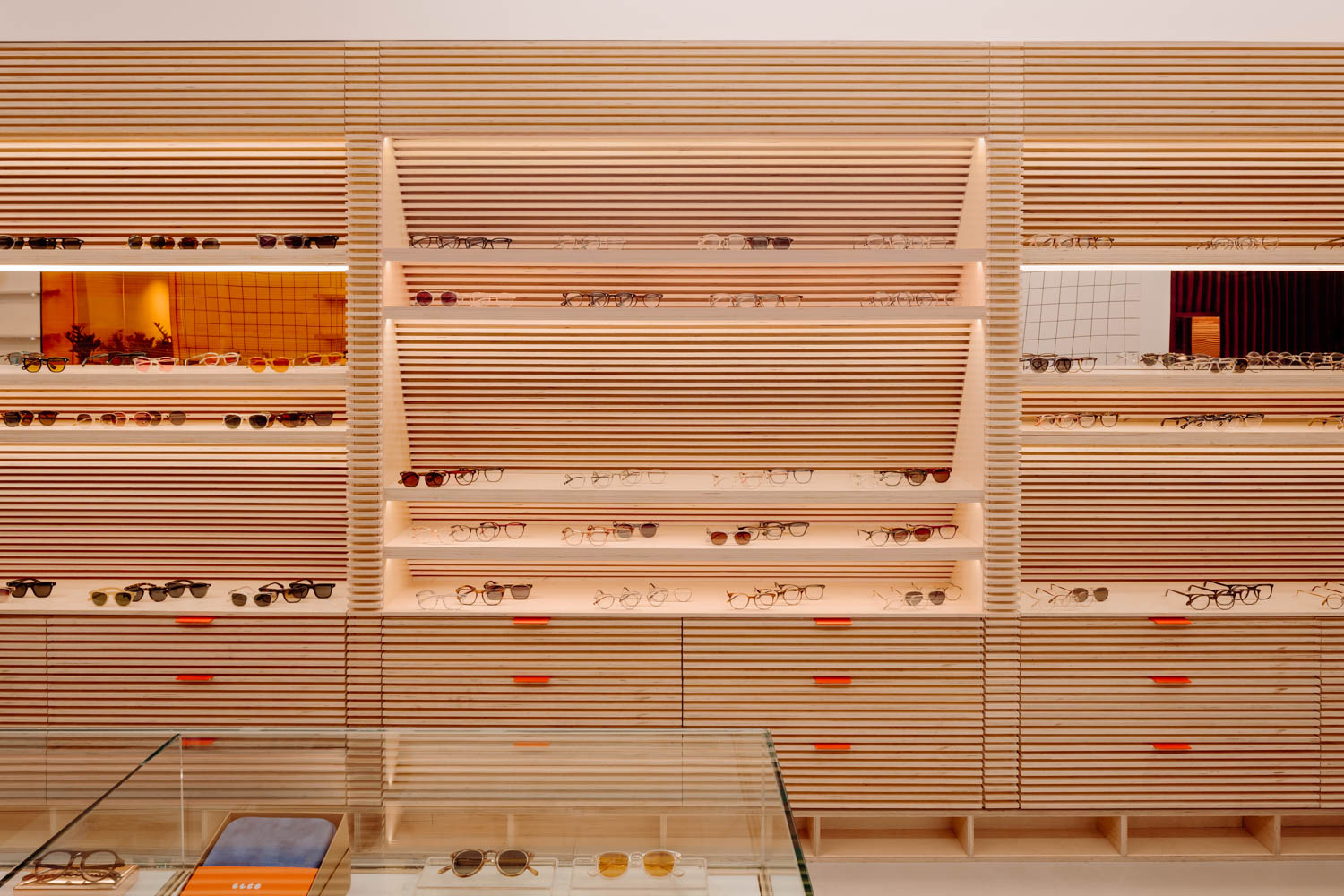 Behind the Design of The Eyewear Brand's Brooklyn Locale
GLCO occupies 1,110 square feet on the first floor of a corner commercial brick building in Williamsburg, Brooklyn. The big deal here is a vibrant mural by L.A.-based artist Topher Chin, seen as part of the store-through vista provided by the glass façade along Berry Street. In this project Kumaran takes plywood to new heights as upright structural components for a shelving unit running in tandem with the standard piece designed of horizontally stacked slats hugging a wall in each installation. The optical lab stands behind the display wall, and Mr. Leight is showcased as a dedicated display.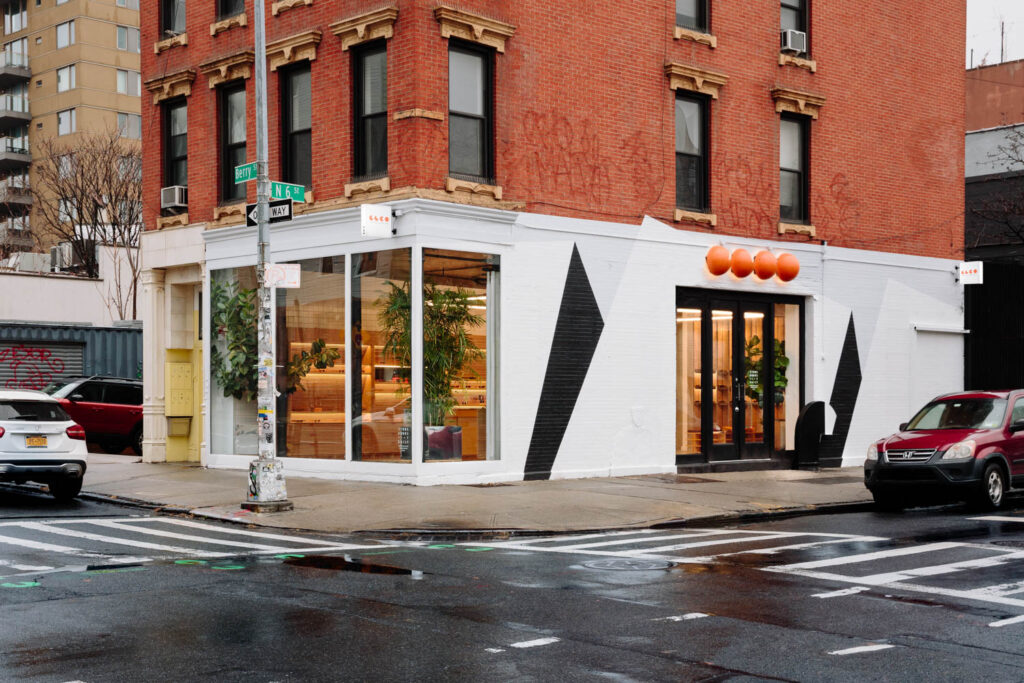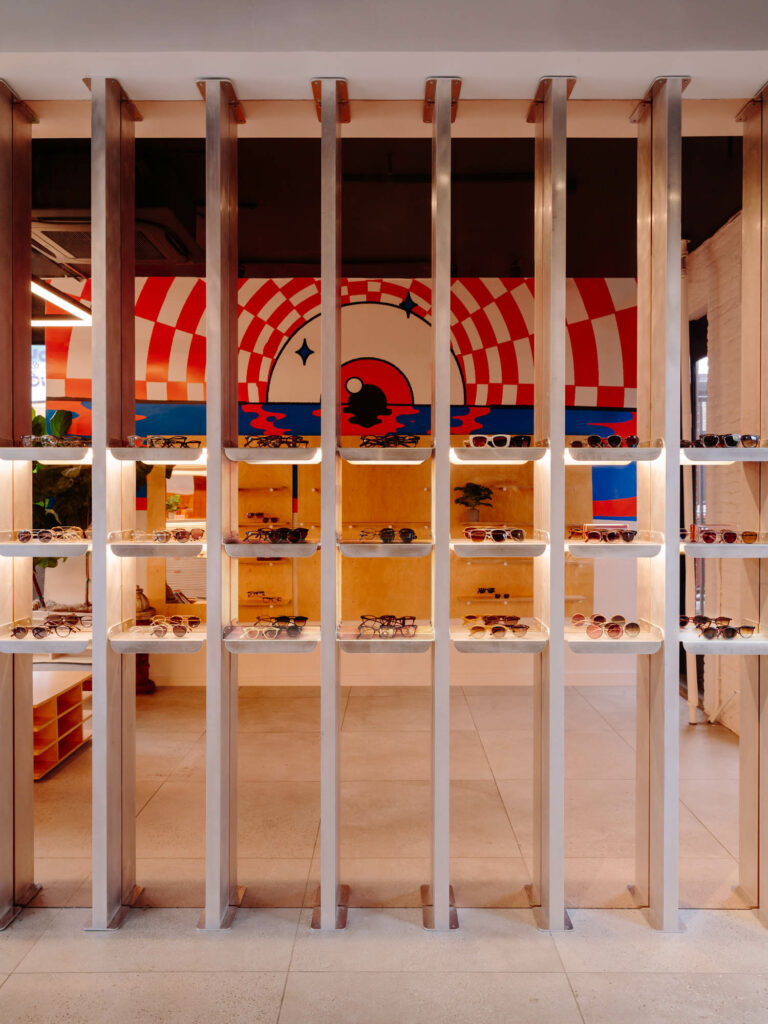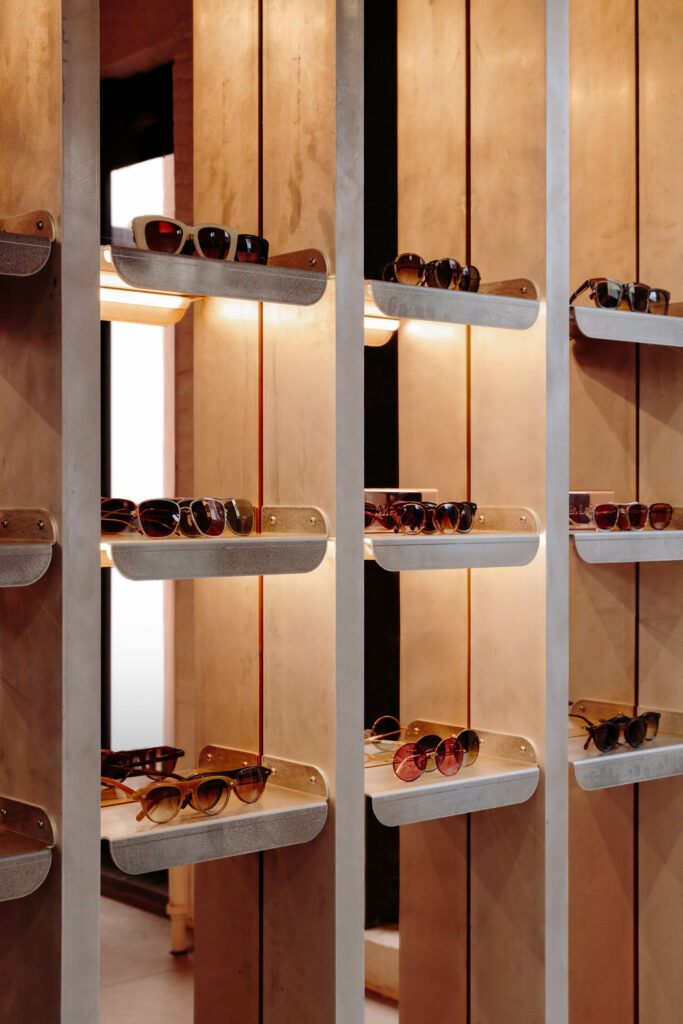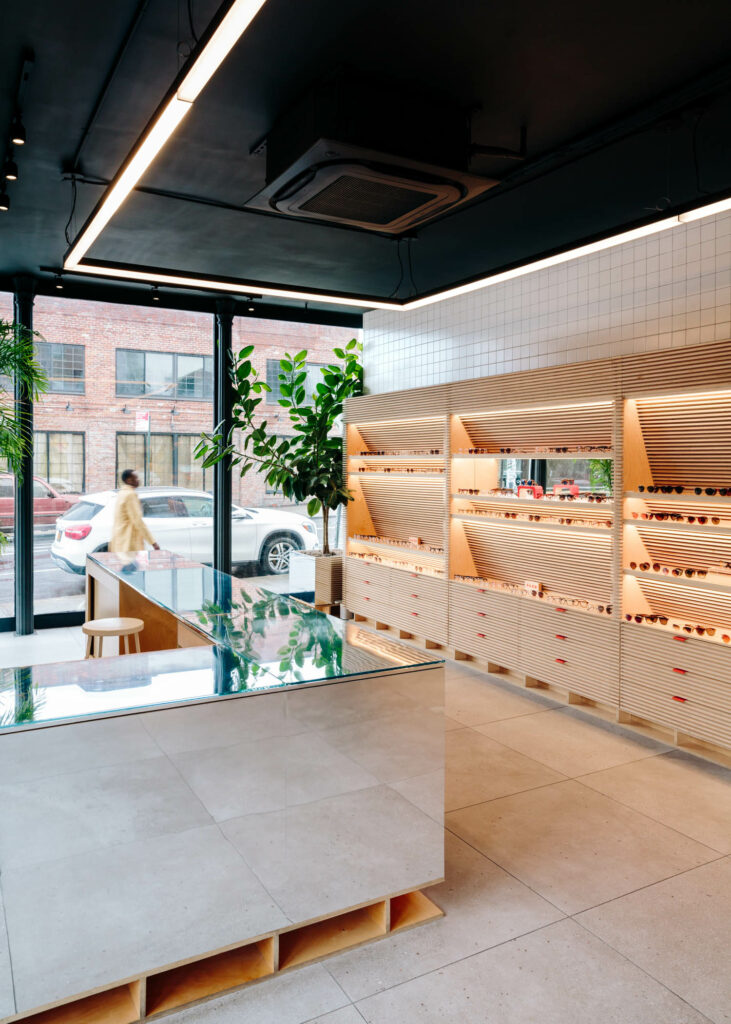 A Crystal Clear Deign Vision Takes Shape in Silverlake, Los Angeles 
Albeit not at the beach, the Silverlake, L.A. setting, a block from the ever-popular Sunset Junction, hits closest to home for Garrett. The 1960's/'70's building had been renovated two years before GLCO leased its 600-square-foot space, and West of West inherited the wood-framed storefront, oxblood-colored exterior tiles, exposed wood-truss ceiling, and concrete floor. Though the limited area precluded a Mr. Leight showplace, Kumaran did create some elements unique to the site. Starting with the pivoting, aluminum-framed light box designed for inside and window graphics. "It's like a flagpole where the square can rotate into the store or cover the glazing as signage, illuminated as a beacon at night," he explains. As for product display, the architect introduced new elements into the mix. A freestanding glass-topped unit of painted plywood adds an option, its pop of sage green a complement to the orange glass of the optical lab stretching across the rear. Also new is an expanded collection of related merchandise, its display flexible thanks to a custom pegboard. Speaking of merchandise, we couldn't resist questioning Kumaran about his personal pick. "I still have the original Brooks frame in champagne." We're green—or black or tortoiseshell—with envy.