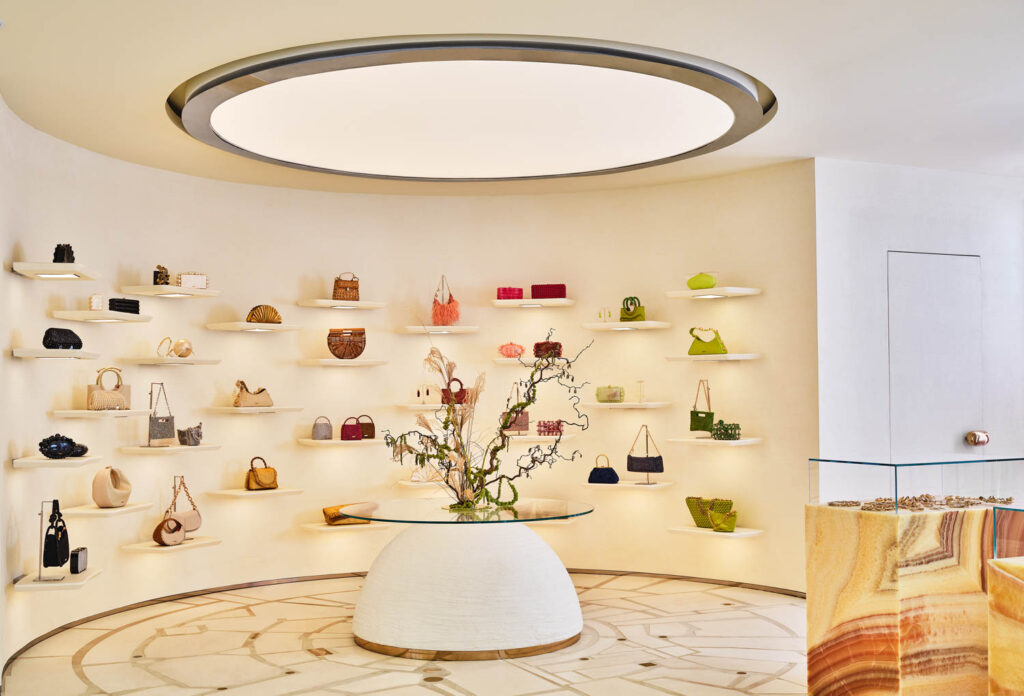 Cult Gaia's New Accessory Flagship is Worthy of Devotion
While Jasmin Larian's Los Angeles-based Cult Gaia's apparel lines are beloved around the world, it's the bags that have inspired obsessions worthy of its name: This winter, the brand's cowl-neck Nano bag, with its unmistakable drape and glittering rhinestones, dangled off the shoulders of every influencer on Instagram and TikTok starlet. Now, there's a flagship for them all to flock to, wedged into a pie-shaped lot on the corner of Melrose and North Croft in West Hollywood.
Designers Alexis Brown and the studio Anno Mille crafted the space for the 'gram, but it's equally stunning in real life: past a façade wrapped in beige and ivory plaster and up the stepped travertine entry, the 3,000-square-foot shop positively glistens. Both have fashionable experience—Brown has designed multiple locations for bohemian brand Ulla Johnson, along with Apiece Apart's SoHo flagship, while Anno Mille's Costantino di Sambuy earned his chops working on hospitality projects for Peter Marino—and it shows. The shop seems to revolve around accessories, with curved walls offering floating shelves for bags beneath circular skylights. Glass rounds top domed display tables which resemble altars. Columns define zones, and a broken arch of mirror-polish stainless steel creates a cash-wrap area.
The Material Palette Reflects Cult Gaia's Signature Designs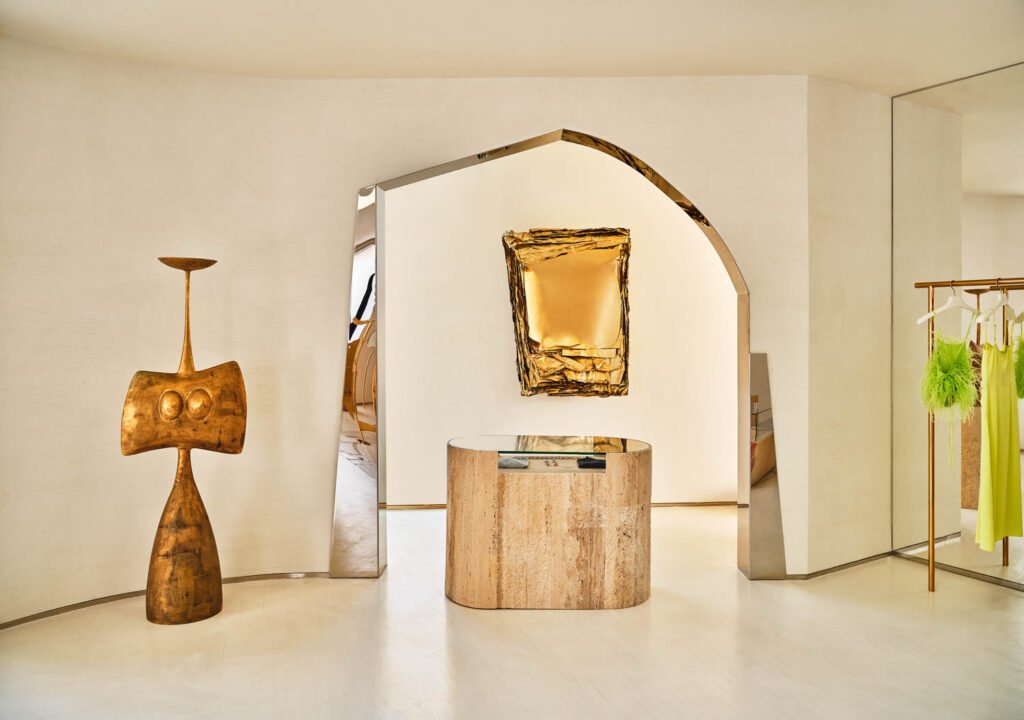 That metallic aspect connects the material palette to Cult Gaia's hardware-laden handbags. As does the ample brass, used not only for the striking, freestanding display stands for sunglasses and bags but also in the fitting rooms, where it forms custom pipe-shaped sconces and glints in details of the mirrors. Both brass and steel also appear as embellishments on the hippodrome-shaped stone floor in the shop center, which the team drew by hand and then machine-cut from six hundred unique limestone chunks.
The designers are clearly aiming for the stars here, and in a dedicated shoe room, they reach them: Pin lights in the ceiling create the Leo constellation, which just happens to be the star sign of the stars' favorite designer, Larian herself.
Inside the Glistening Retail Locale in Hollywood