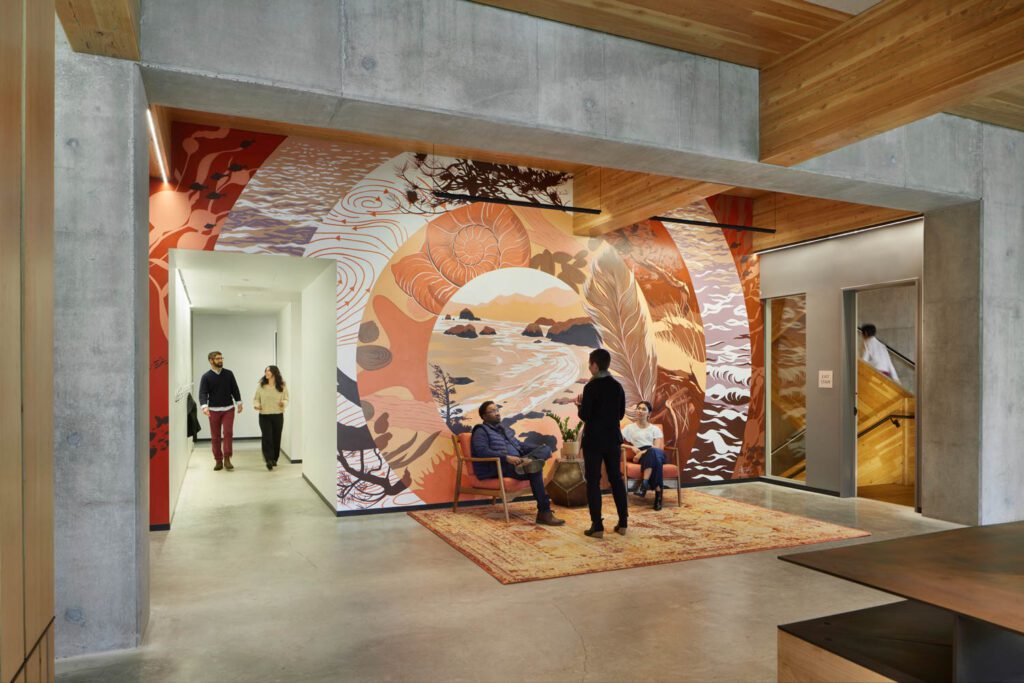 ZGF Architects Rises to the Living Building Challenge With This Office Complex in Portland
It's a tall claim for only a 5-story structure but ZGF's PAE Building in Portland, Oregon, is said to be the first developer-driven and largest commercial urban Living Building in the world. Both a speculative office building and headquarters for the engineering firm PAE, it encompasses 58,000 square feet in the city's historic Old Town/Skidmore district. Assembled by a consortium comprised of Downtown Development Group, Edlen & Co., Walsh Construction Co., and Apex Real Estate Partners, along with PAE and ZGF, the building was designed to last 500 years. Another tall claim. We couldn't help but examine it with ZGF associate principal and project architect, Michael O'Mara.
Though completed in October 2021 following more than a four-year process, the building from the outside looks as if it could have been standing for decades so in tune is it with the scale and industrial nature of the neighborhood. "We took inspiration from the district, Portland's only national historic district and one of two in Oregon," O'Mara launches his explanation. Ergo, the structure's Italianate style constructed with the brick, steel, heavy timber, and glass endemic to the Pacific Northwest. Spatial allotments have retail, mechanicals, storage for 45 bikes, and showers at ground with PAE's 33,000 square feet of offices taking over floors three to five. "PAE is an active group, and they do a lot of walking meetings," the architect notes adding that proximity to the Willamette River front was indeed a factor in site selection. The second floor created with core and shell design for two tenants already has one, Beneficial State Bank.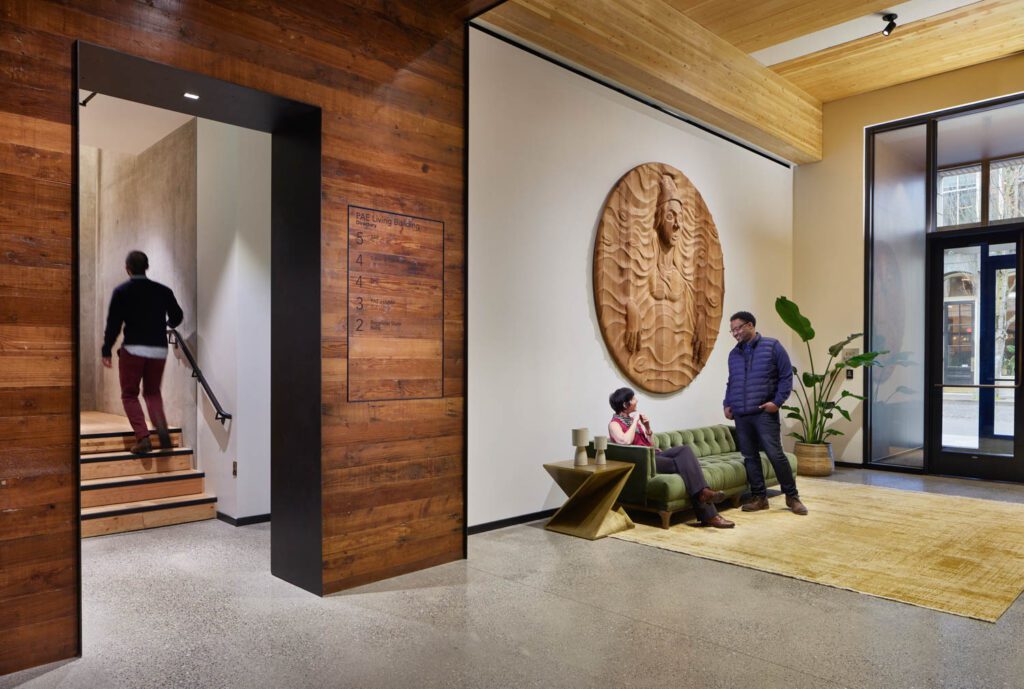 Interiors with were particularly challenging. They adhered to the Living Building Challenge's seven main components, aka petals: place, water, energy, materials, health and happiness, equity, and beauty. For starters that meant "no Red List materials," O'Mara continues. "Nothing harmful to humans." So ZGF's "overarching goal was to limit materials." The simple pervasive palette is composed of radiant heated and cooled concrete slab for flooring, cross laminated timber for ceilings, glulam columns and beams. Beyond that, ZGF used wool textiles, felt for ceiling baffles where needed, and wood, often salvaged, for casework. Plastic laminates were off limits. At 13 ½ feet high, floors have operable windows at 70% of the perimeter for ventilation and ample daylight. No doubt a healthy situation invoking happiness as well.
As for water and energy, the PAE Living Building is self-sufficient. Captured rainwater, stored in a 71,000-gallon cistern meets its needs. Meanwhile a photovoltaic roof not only creates a net positive energy situation but connection to the city grid enables the structure to give back.
How to quantify beauty? Filling in a former parking lot with this new development is one way. Another is to take a look at the PAE quarters. It's third-floor reception is introduced with a mural, painted in warm tones by Portlandian Jess Brinkerhoff. The facing red maple desk is an attractive example of wood re-purposed from trees felled on site. It's crafted by Nick Collins, a ZGF designer and quasi professional woodworker who also created the area's slatted screen wall and paneled partition of vertical grain fir. Meanwhile the connecting stair with its enlarged opening encourages vertical circulation in lieu of elevators, and a cool lighting system changes the color of the stairwell's back wall the more people use the steps. Nearby, a library whose multi-chrome striped rug and teal-upholstered seating fits the beauty bill while addressing the LBC initiative of re-using furniture.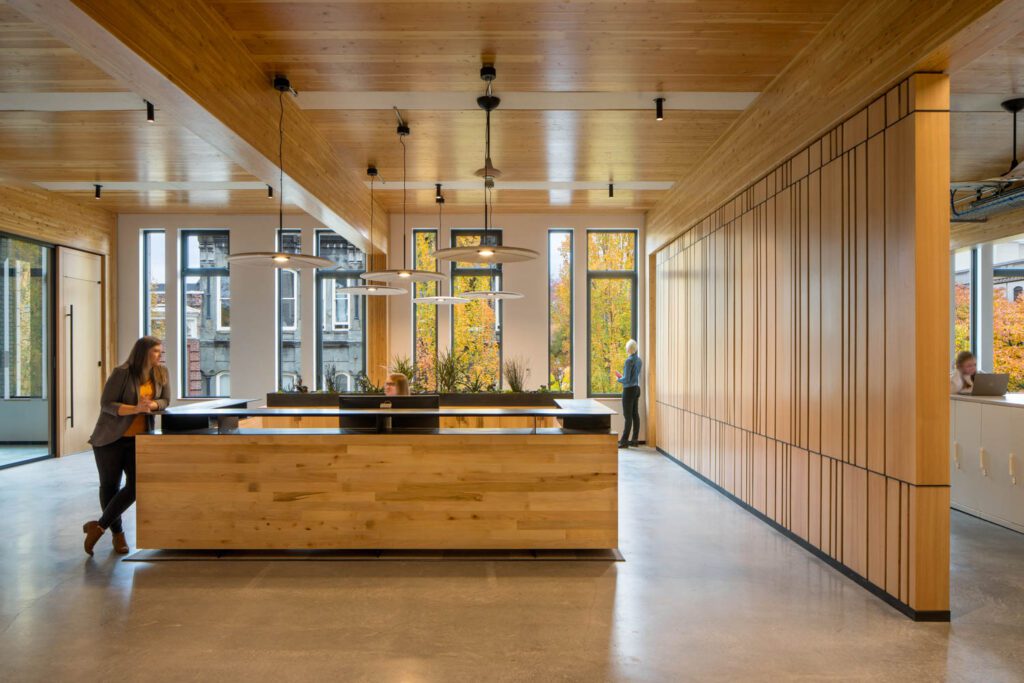 The piece de resistance, however, comes on the fifth floor. Encompassing 1,500 square feet at the southeast corner, the area is called the "deckony" and is ZGF's answer to a roof deck, the real thing precluded by PV panels for one and Portland's weather another. With two walls of workable windows, it's like an open-air lounge that's the social hub of the building. Fully fit out for AV capability, it's also a draw for both PAE events and those of the community's architecture, engineering, and construction industry.
Even pre-COVID, PAE's workforce operated on a hybrid basis. Folks are continuing the practice at open stations on a hoteling basis for maximum flexibility. Overall, the site is designed for 200.
Back at ground, the building's centrally placed entrance speaks of beauty, place, and even the intangible notion of equity. Its carved medallion wall sculpture is a commissioned piece by Toma Villa, a member of the local Yakama Nation. Thematically, it alludes to the winds blowing through the Columbia River Gorge, part of his Native story line, as well as the role of wind in renewable energy, which is so vital today.
LBC certification requires a year of performance evaluation. Come summer 2023, the PAE Living Building expects full accreditation.