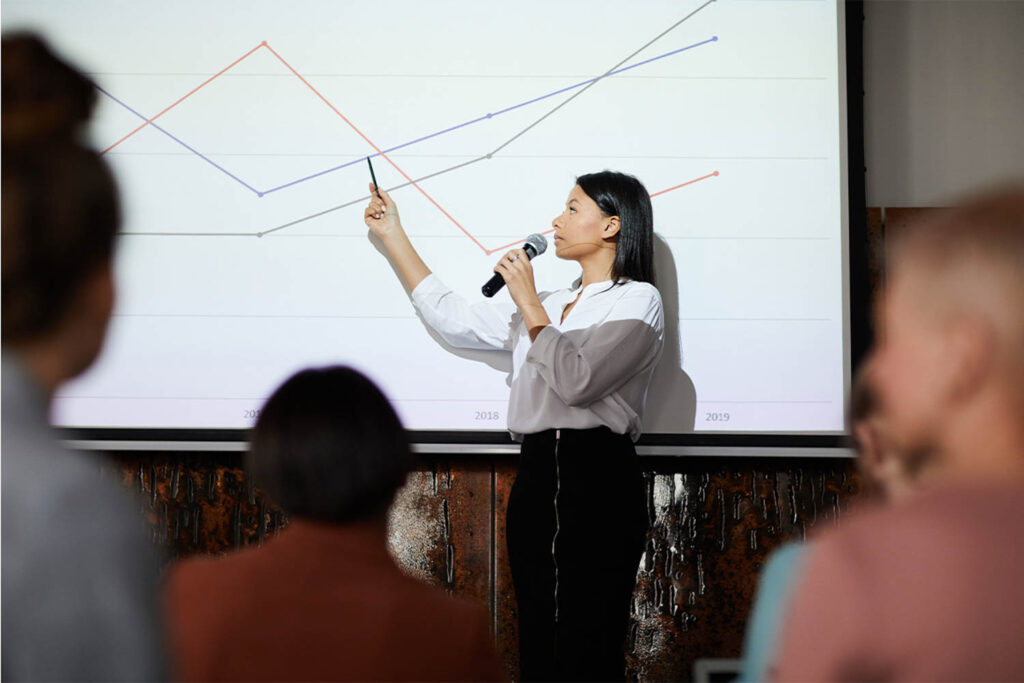 CEU Courses Are Evolving: 3 Strategies Your Brand Should Try to Succeed
It's no secret: The CEU (or continuing education unit) is a cornerstone of the interior design industry. Architects and designers need credits to maintain their hard-earned professional credentials and gain insights to do their job. Brands are well-positioned to leverage CEUs as a way to share their subject matter expertise and connect with designers.
But how best to leverage this crucial tool is changing. ThinkLab has been exploring the ways that CEUs can evolve to better serve the designers who need the credits and the brands going to the time and effort to develop the content.
Designers—whether they sit at an A&D firm, CRE firm, distributor, or end user—are incredibly passionate about product. Even if you aren't calling on them directly, they are the trendsetters for product development and have a tremendous amount of influence over the products selected in projects. The average designer has 26 times as much specification power as the average American has buying power, and that number can rise to 111 times as much for those who work at Interior Design Giants of Design firms.
CEUs can be a powerful way to reach this extremely busy, powerful audience. Many firms have less time than ever for product presentations, but designers will step away to learn something that will enhance their professional development. In ThinkLab surveys conducted throughout 2020 and 2021, nearly half of designers reported that their consumption of CEUs was increasing. In fact, of all the ways designers interact with brands, CEUs were the one that they most wanted to continue to be offered virtually. However, to do it right and maximize your ROI, we like to say that a CEU isn't a silver bullet—it's a springboard.
How CEU Courses are Evolving 
In 2019, a lunch-and-learn was a key tactic for getting a field rep in front of an A&D firm. In 2020, when everything moved to virtual, many markets went from in-person relationships as currency to information as currency. The firm or individual designer was more likely to take an appointment if a rep had insights that would help them get their job done. (Plus, CEUs translated better to digital format than product presentations did.) But consider this: In a 2021 survey by LinkedIn and Edelman, 71 percent of B2B decision-makers felt that less than half of thought leadership they consumed gave them valuable insights.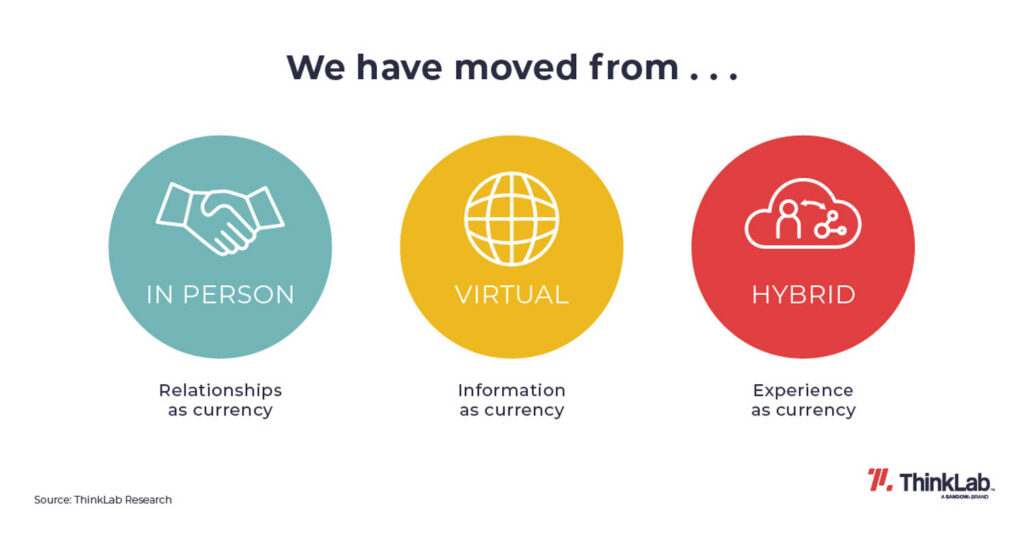 ThinkLab predicts the next evolution will move beyond information as currency to experience as currency. The most successful brands will leverage the best of both the physical and digital worlds to create memorable experiences, while also leveraging their rep's relationships to create more insight-driven interactions.

So, what tactics will help your brand stay ahead? Here are three strategies your brand should consider to find success today:
Consider New Options for the Delivery Format and Presenter of CEU Courses
According to McKinsey, customer behavior now follows a "rule of thirds." At every stage of the sales process, customers rely on "a roughly even mix of traditional sales (e.g., in-person meetings), remote (e.g., videoconferencing and phone discussions), and self-service (e.g., e-commerce and digital portals)." To consider what this means for your channels, ask yourself where you are light on CEU content. By using multiple channels (in person, virtual, panel discussions, and on demand), you can extend and connect the content. For example, perhaps your traditional CEU points to a podcast CEU. Or you devote a section on your website just to learning, so that designers can choose not only the content but also the length and delivery format that they prefer.
According to the same McKinsey study, not only do customers use a balance of traditional, remote, and self-service sales, but the number of channels B2B buyers use has doubled over the course of the past five years, from 5 in 2016 to 10 in 2021. ThinkLab research has identified a similar trend in the design industry: From 2019 to today, face time for reps has been cut in half.
And while ThinkLab does not believe the traditional lunch-and-learn will be going away, three out of four design firms report that they will be somewhere on the hybrid spectrum moving forward, so you'd be remiss not to explore new CEU delivery methods, especially if thought leadership is your lead-in. After all, CEUs are the most interactive form of thought leadership.
Consider the following questions to determine the format of CEU that would work best for you, depending on which role you fall into:
How to Leverage CEUs if you are in Sales
How might you leverage CEUs as a tool to reach clients in a meaningful way and build the trust that turns you into a resource, not "just a rep"? This is a chance for you to up your own game and gain new insights on topics. 
How to Extend Content Reach if you are in Marketing
How can you ensure that you're extending the reach of your content and setting your brand up as a thought leader? New digital formats are providing new opportunities for your internal subject matter experts to get on stage more often, without the need for time-consuming travel.
How to Set Teams Up for Success if you are in Training or Sales Enablement
How do you leverage CEUs to set your team up for success? Remember, the content is only as good as your weakest presenter.
When Selecting your Topic, Start with Empathy for the Designer, not a Product Pitch
Designers are no longer trapped in a conference room with a free sandwich for your CEU. So, with so many new options for content delivery, if yours is not on point, you'll lose them. A great CEU raises questions to which your product is naturally the answer. However, we often hear from designers that they can smell a "thinly veiled marketing piece" from a mile away. So, instead, start by asking yourself this question: "What matters most to my audience from a personal or professional perspective?" Those are the topics that they'll take time out of their day to hear.
For further insights on the kind of thought leadership buyers find engaging, consider these statistics from LinkedIn and Edelman, which we believe are relevant to our industry as well: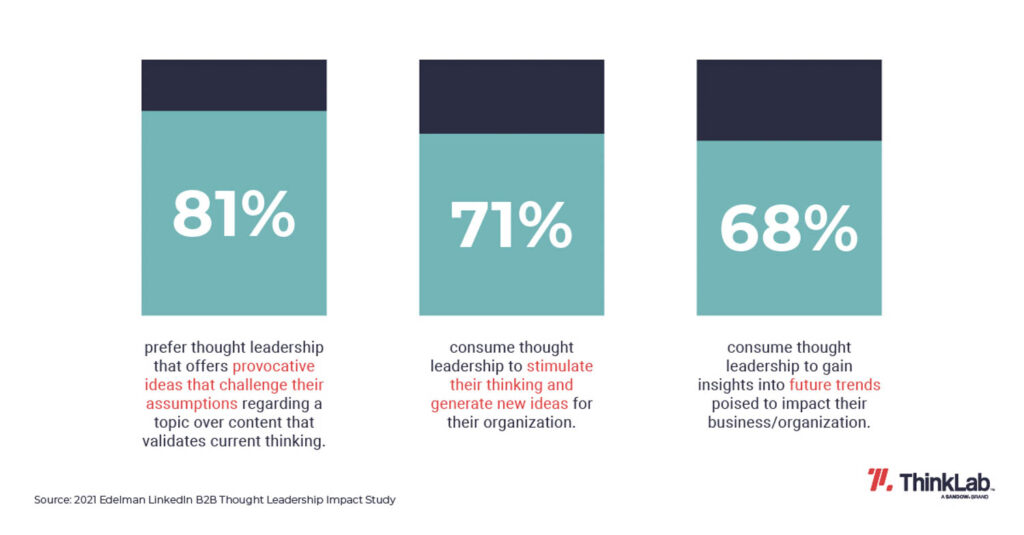 Don't Forget the Basics of CEU Courses
We asked designers, "What are the characteristics of the best CEUs?" These were some of their top responses. Notice how many of these answers hinge on the delivery:
Personal stories
Concise
Relevant
Access to experts
Passionate speaker
Inspirational
Presented dynamically
We also asked, "What are the worst characteristics?" According to our respondents, here's what to avoid:
Reps not having their cameras on
Reps reading straight from a script
"Just presenting at me without any engagement"
"The content is super technical. I'd rather get that information on demand."
If you'd like to learn more, our team at ThinkLab developed a complimentary, research-backed course on how to leverage CEUs to connect with clients. Visit How to CEU, and learn more about the basics of developing a CEU, as well as our tips and tricks for delivering a compelling CEU in a multitude of formats. Plus, when you complete all of the modules in the course, you'll receive a certificate of completion with a credential badge you can use to showcase your expertise.
Meredith Campbell is a member of the Research & Content Development team for ThinkLab, the research division of SANDOW. At ThinkLab, we combine SANDOW Media's incredible reach to the architecture and design community through brands like Interior Design Media, Metropolis, Luxe, and Material Bank with proven market research techniques to uncover relevant trends and opportunities for the design industry. Join in to explore what's next at thinklab.design/join-in.