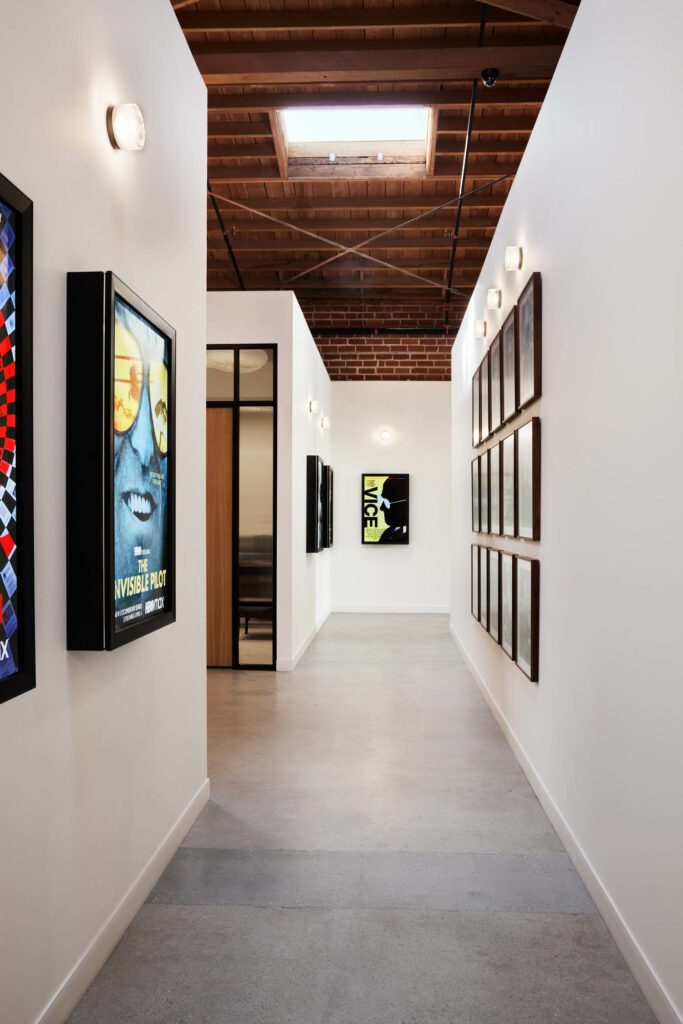 10 Questions With… Hollywood Director Adam McKay and Designer Alison Koch
Adam McKay, the "Saturday Night Live" head writer turned Academy Award–nominated director ("Anchorman," "Talledega Nights," "Step Brothers," "Other Guys," "Big Short," "Don't Look Up") turned climate activist, had only a passing knowledge of design. "I'm a casual fan but recently I worked on a script with an architect as one of the main characters," he explains. What he did know was that he wanted something both sustainable and comfortable for the headquarters of his Hyperobject Industries production company, which is fresh off the success of its HBO hit "Winning Time: The Rise of the Lakers Dynasty." So America's foremost political and cultural satirist enlisted longtime collaborator, Outfit Home founder Alison Koch, to transform the offices of the old RCA record press building in Hollywood.
It's now part of Hollywood Media District, a 1920's area largely owned by the Victor Talking Machine Co. and then by RCA in the '30's and beyond. In addition manufacturing and distribution, there were several recording studios at the complex, many of which are still operating in the neighborhood today. "Our building was part of the massive city block-sized plant where records were pressed, assembled, and distributed," Koch explains. "The record press was in the building next door and our space was used to store the records before they were packaged and shipped out. The two structures were connected by a doorway that passed through what is now our outdoor egress corridor."
Everything needed to either be restored, replaced, or built, "from the HVAC, to the masonry, to the concrete slab, to the roof," Koch says. "Along with Wolcott Architecture, we kept the original concrete floors and raw wood-bow truss ceiling and left hits of the original brick throughout."
Sustainability was extremely important in the build out. "We chose Vedical Group to advise on everything from salvaging/recycling during demolition to efficiency in all our mechanical systems," Koch says. "With their help we were able to build with reduced energy and water usage in mind, install solar, and design with environmentally friendly finish materials (Fireclay tiles, Paperstone counters). We added EV charging for employees and guests. We also eliminated water bottles with Zip Water taps in the kitchen." Now, the space is a Hollywood wonderland where each office has a slightly different feel, with deep warm rusts, curry and olive-green fabrics on the custom sofas and handsome plaids and herringbones in varying shades for the guest chairs.
In a dual interview, McKay and Koch give Interior Design the exclusive tell-all about how the project came about, vintage voting booths, the allure of "All The President's Men," and the relationship between cinema and design.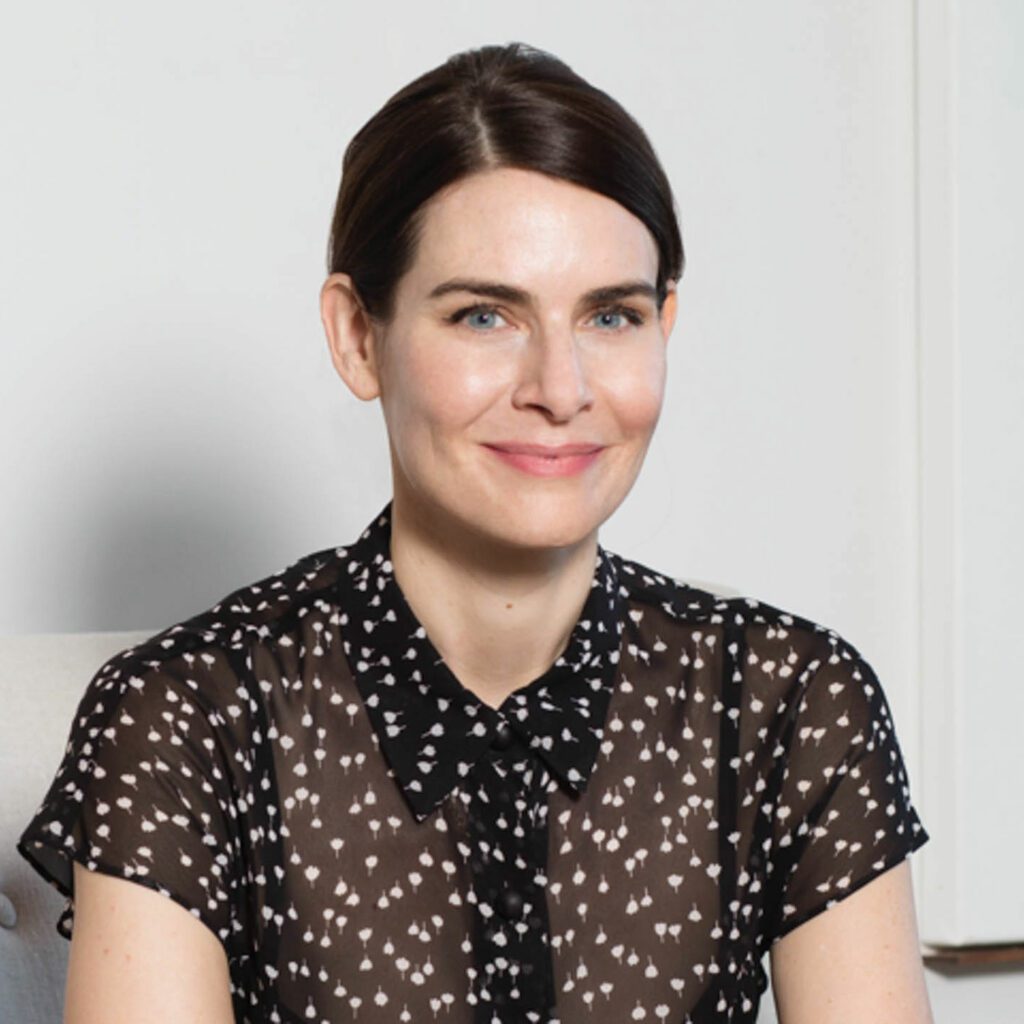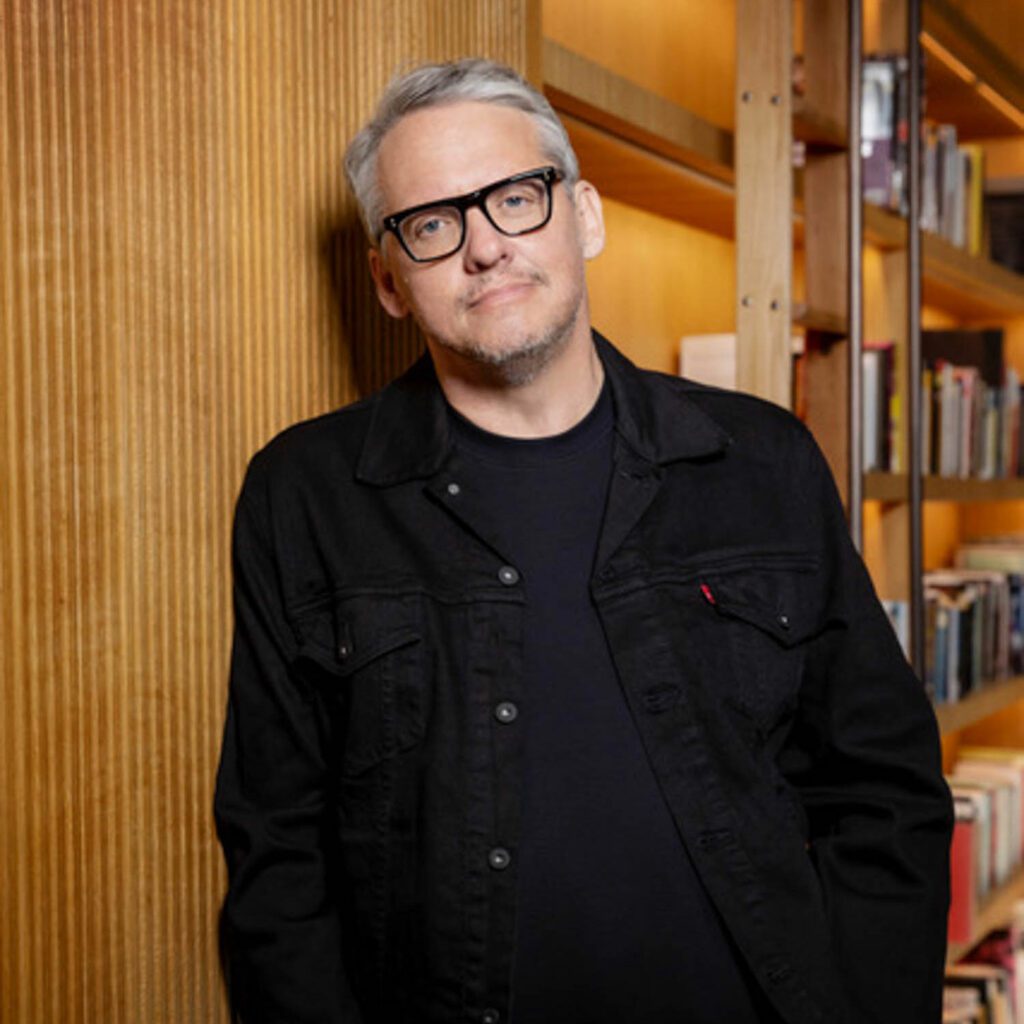 Interior Design: What's your own background with architecture and design?
Adam McKay: I'm a casual fan but recently I worked on a script with an architect as one of the main characters, so I did a bit of a medium depth dive. I'm really interested in where design and architecture are headed with renewable energy and integrating nature into design in a way that is highly functional and visually compelling. The idea of living bioluminescent moss inside a home as insulation both for heat and coolness got me super excited.
ID: How did this project come about?
Alison Koch: I'd worked with Adam on a few projects previously. When Hyperobject decided they needed a new office, we were brought on.
ID: What did you turn to Alison for, Adam?
AM: We wanted a space that people would want to come hang out in, even when they're not working or don't have a meeting with us. Everything is built to be open and inviting. Our needs were a small functioning library, a comfortable screening room, and a big common area where people can cross paths with each other.
ID: What was your goal for the project?
AK: Adam, Robyn (who headed up the Hyperobject team), and I all agreed the new office space needed to feel like home. We wanted to provide quiet spaces for the company to concentrate and communal spaces to come together for meetings, meals, films, and events. We tried to make the office feel inviting, but unexpected with a few elements of surprise sprinkled throughout the space.
ID: What was it like working with Adam?
AK: Adam has great ideas. He is always game to try something out of the ordinary. When it came time to finding art, we spent a lot of time searching everything from obscure graphic prints to vintage basketball cards. He is incredibly open-minded and fun to work with. Aesthetically, we are almost always aligned, which is often rare for a designer-client relationship.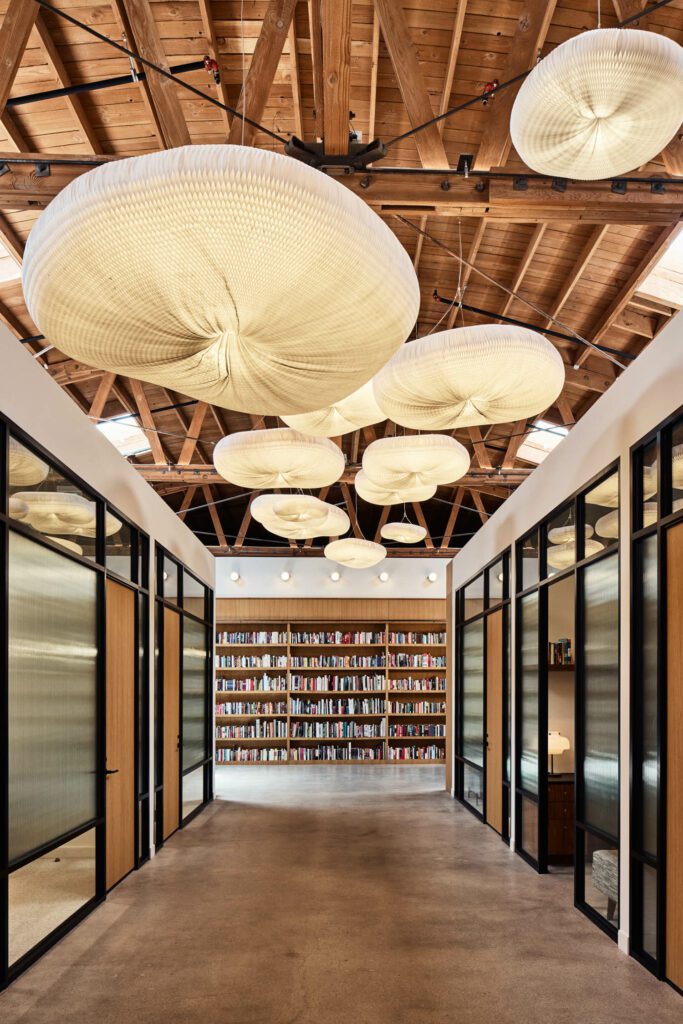 ID: What are the similarities—and/or differences—in the cinematic and design processes?
AM: They're very similar. Making movies is all about the interaction between the practical and the creative. Whether it's budget limitations, scheduling, weather, or sunlight we constantly live with real world restrictions while trying make something that doesn't feel practical at all.
ID: What are your favorite parts of the project?
AK: It's the unexpected elements hidden throughout the office. Hyperobject wanted an entry facade that didn't directly relate to the company. After a few hilarious ideas (wig shop, record store, post office), we landed on creating custom voting booths for the reception. They are not only a nod to political responsibility, but also an interactive focal point for all guests who enter the building. We recreated four vintage voting booths in walnut. Each booth has its own writing table, ribbed glass window trimmed in brass, privacy curtain and vintage sconce. For added authenticity, we collected old voting machines and political pamphlets for each booth. The best surprise lies in the end booth, which has a back wall pocket. Beyond is a small room with a custom inset Mirmir photo booth, which brings in a modern twist to the overall design.
The screening room at the back of the building is also a favorite. The main hall ends in a 21-foot-wide bookcase flanked by walls of solid fluted oak paneling. Concealed within the paneling is an inconspicuous door that opens into a full state-of-the-art screening room clad in tones of deep blue linen and velvet textiles.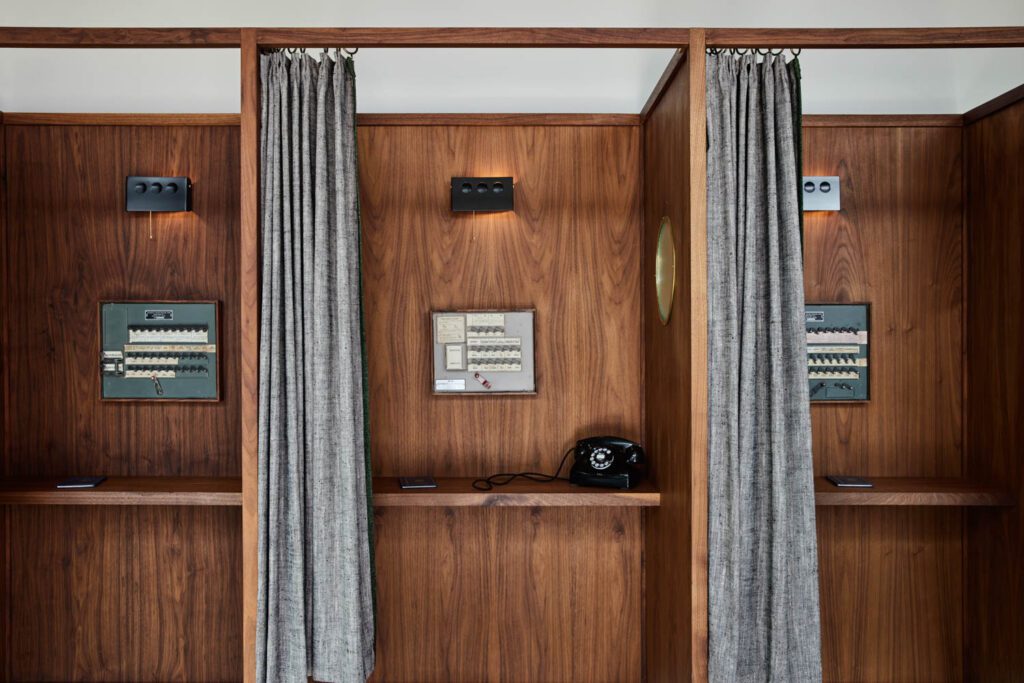 ID: What's the all-time best designed office in a movie?
AM: Easy. "All the President's Men." That Washington Post office looked incredible. A whole generation of journalists became journalists because they wanted to someday be in that exact newsroom.
ID: Who was the most visually design savvy director in history?
AM: For me it's Wong Kar-wai. "In The Mood for Love" alone puts him high on any list. But all his films are visual design feasts. The really interesting thing is that his editor William Chang, was his production designer! You never think of those two disciplines being so connected. Pace, rhythm, story, color, and texture…Maybe it should be tried again. It worked so well for Wong Kar-wai.
ID: What do you have up next?
AK: We recently relocated our offices so getting settled in our new space is a top priority. We are also currently working on interiors for a new media company in Santa Monica and two residences in the Bay Area.