10 Questions With… Chris Wolston
Wicker has entered Chris Wolston's design vocabulary by way of terracotta, in the heart of Colombia's vibrant industrial city, Medellín. The American artist and designer settled there in 2013 on a Fulbright scholarship to study pre-Colombian ceramics after graduating from Rhode Island School of Design. "My point of research was on living material cultures and dissecting their various historical connections," he tells Interior Design.
Although Wolston's design philosophy has remained partially the same, his window has expanded to include another beloved technique of the region, wicker. In 2018, Wolston was in search of a material to contrast the anodized aluminum exterior of a wardrobe and came along the idea to use rattan for the interior. "At the same time, I started making wicker chairs as softer contrasts to my heavy aluminum tables," he remembers. Soon, he started working with a profit-sharing collective studio of 10 weavers started by a craftsperson. Since then, his wicker furniture and lighting fixtures in humanoid forms have taken Wolston across the globe, from Qatar's membership-based hospitality club Culture Pass to collaborations with Fendi, Dior, and soon Dolce & Gabbana.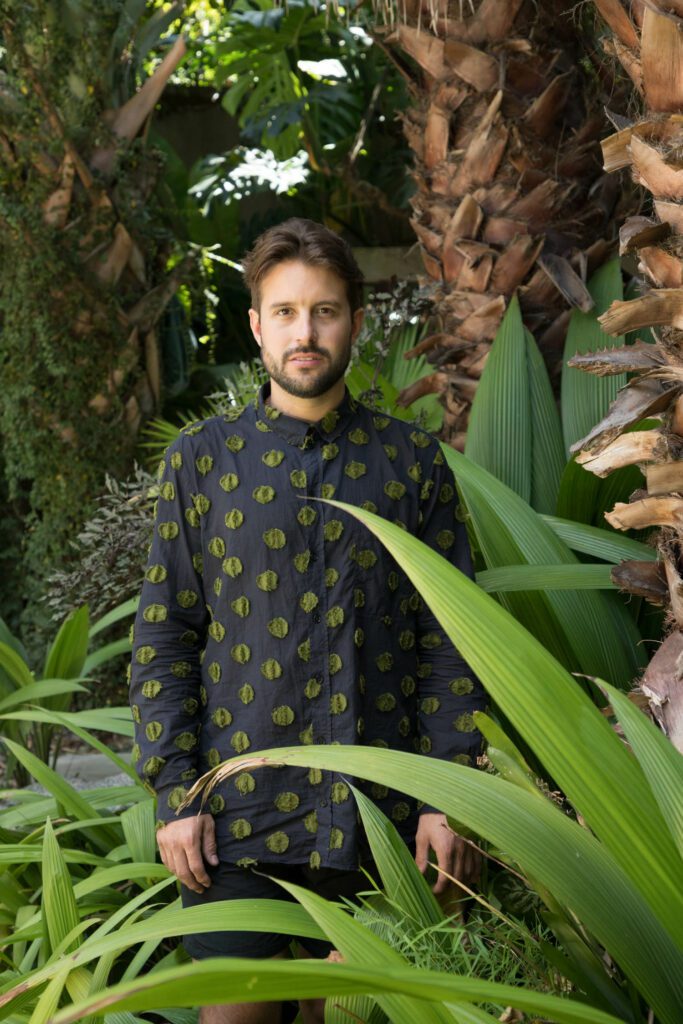 The Nalgonas, which reflect Wolston's design lexicon, is a series of hefty rattan seats with limbs sprouting from their various corners. Playful and bodily, they poke at the notions of gender, performance, camp, and familiarity, all while breathing an alternative life to a material tightly connected to Colombia through agriculture and history.
While Wolston presents his work with The Future Perfect gallery through solo shows and fairs like Design Miami/ and Salone, he works from a Medellín studio in a century-old neighborhood with an eclectic architecture that mixes those heydays with modern buildings. Both inside his blue-painted workplace and out in a backyard, he collaborates with local artisans to create wicker furniture, as well as ceramics in a warehouse next door. "Mother Nature Pachamama is very present here," he says about his life between the studio and a house up in the mountains. "There is a dynamic landscape between the city and the mountainside—we are in the city of eternal spring here."
Interior Design: Wicker is a transatlantic material, with a history that spans Africa, Asia, Americas, and Europe. How does such a culturally-layered material inform your practice?
Chris Wolston: To think materials can connect us with various cultures and civilizations is fascinating, and this is true for archeological ceramics or woven basketry. Although woven baskets haven't survived archeologically in the same way ceramics have, they always had a place and time in history. Materials and techniques shift a bit, but rattan and the wicker technique have existed in various parts of the world. Europe, for example, has a long history of wicker weaving with willow and different species of reed. Speaking this location and Colombia, wicker material comes from yare which is a natural vine harvested by indigenous communities .
I should note that the style of weaving that we use at the studio for furniture-making is just one of many. A lot of the furniture made with this material is basically sofas that go outdoors next to the pool, so aesthetically not everything is so perfected. Working with the master craftspeople is an interesting process because of the opportunity to push the technique to more developed aesthetic directions and create an alternative to what is largely available.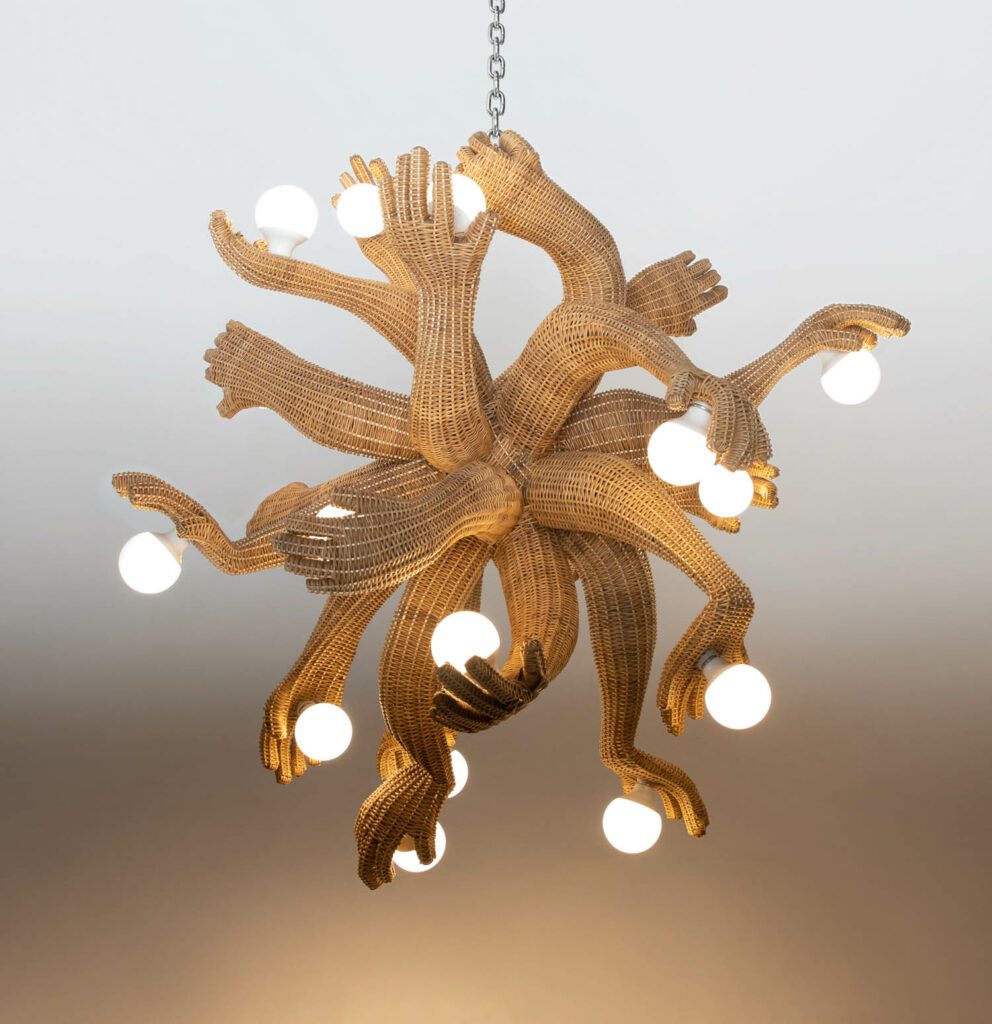 ID: How is your relationship with this material in terms of a learning process? Given its history and potential in use, is this an unending education?
CW: My practice has actually developed out of this very reason, through a personal exploration of the material with new techniques. As a foreigner living here, for instance, this has also been an exploration of the place. There are so many different ways to work with materials, and part of my practice is really based around exploration, even maybe obsessively. This could be about how to use the aluminum in a in a new way or push wicker to new directions.
ID: How does your collaboration with local artisans and craftspeople guide this journey?
CW: Medellín is interesting because we have the studio where we create the majority of the work, and a lot of that work involves artisans from small scale studios nearby. For example, the aluminum foundry I work with is just down the street or the polisher is around the corner. This proximity to material mastery in a localized area is fascinating, especially if we are talking about learning further on materials and develop ideas around them. I'd call here a material paradise. In a city like New York, resources are probably within the tri-state area but actually gaining access to people and materials is pretty impossible. Here, we are in a seamless flow.
ID: Let's talk about the humanoid element of your chairs and light fixtures. There is a boldness in your direct reference to the body. How did you develop this signature silhouette?
CW: I was working at the aluminum foundry for the tables, and I became interested in how fleshy the surface of thin cast aluminum looked. I created a series of tables that had different humanoid forms as a way to bring out that element of materiality. As someone whose studio practice is developed out of research, I am obsessed about how materials are applied in these industrial scenarios and figuring out new ways of applying those techniques. I've always been interested in furniture as sort of a media. Because it's relational and so unpretentious, everybody has a certain level of intimacy with their furniture, or they're able to interact with them in a way that is natural. For me, creating furniture is similar to making relational sculptures. One of the elements think often is this human relationship with materials. It is funny that the chairs have emerged as these very human forms that embrace the sitters. My intention in applying this materiality to the forms was also to create something tactile that calls for a physical connection.
ID: There is an element of surreality in your rendition of limbs in various forms, hugging or zigzagging. Could you talk about your interest in Surrealism and Dalí?
CW: Before I put together my last collection, I had visited the Dalí Museum and the Miro Foundation, in Barcelona. I think that humor and abstraction can be an entry point for people to have a better connection with the materiality, so a lot of my work has an element of humor. That allows people to connect with the work and their material and have a more personal experience.
ID: How about the furniture's genderless-ness? The objects are bodies without distinct markers of any sex or gender.
CW: Everybody is into what they're into. I see Nalgona chairs as [masculine] but other people will refer to them in other genders that aren't at the forefront of my mind, and I think that's great. The idea is that the furniture lets people have an entry point to have their own experience. This shows the variation in perspective. Living between New York and Medellín, the variation in perspectives is very clear, and I find it important to acknowledge that we all do have different perspectives on the body and its expressions.
ID: Could you talk about the invitation for performance? A chair with limbs prompts the sitter to engage with furniture in ways that are beyond the typical ritual of using a seat—the user's body must react to the body referenced in the chair.
CW: The work is an exploration into cultural context. But instead of presenting it in a really formal way, I find humorous presentations which I think is actually more unpretentious and accessible to all.
ID: You also achieve this access with the photography and activate furniture with models.
CW: I work with photographer David Sierra who is a fashion photographer. A lot of the time, the pieces are photographed in a fashion-oriented way or we have even done short films. Furniture in some ways has similarities to fashion: they are materials that humans interact with. Therefore, I am interested in showing how models interact with the forms with a nod to high fashion. This way, there is a story beyond just the object itself—a narrative. David is such an incredible photographer who gives a dimensionality to the furniture. Here in the studio, there are so many stories, different people, and various processes that it's nice to create a story and context for that work. The photography is not necessarily telling the story of the making, but create a narrative that the pieces can live in.
ID: Craft has been a primary tool for queer artists and designers for challenging the status quo on valuation of labor, questioning the hierarchies of making, and emphasizing the process over the finished material. How do you see this social side of being engaged with craft today?
CW: Craft is egalitarian—especially as we previously talked about the unpretentious and accessible nature of the work. Looking at ancient traditions in Southeast Asia, Europe, or the Middle East, these materials and techniques have been used throughout humanity. Clay, weaving traditions, stone, or wood carving—for all, craft is the universal mastery of the technique without added interpretation of a concept, ego or other elements. On a pure level, craft is human interaction with materials. Looking at gender and identity, as well as the exploration of new frontiers within these genres, craft is a really interesting entry point because it doesn't necessarily have a definitive set of rules. Rather, it is more about exploration and discovery.
ID: Has your recent tapestry work at New York's Emma Scully Gallery come out of a similar experimentation with the material? Have you been in search of new directions and textures?
CW: The two carpets in Anti Chairs are parts of a larger series, which are based on abstract oil pastel drawings I created with inspiration from the native bird species in my garden—think of tropical birds in bright colors. This was a personal exploration of abstractionist aesthetic, and later, I worked with a team in Chimichagua which is a town famous for its grass carpets. I had been interested in this weaving technique for some time, so I gave different weaving studios in this town the same drawing, with specifications on the dimension and the dyes but left interpretations of the drawing to the each weaver. When the carpets came back, the results were fascinatingly different although there was still a clear similarity within them. This was an exploration of subjectivity and objectivity in weaving and the role of the personal perspective.