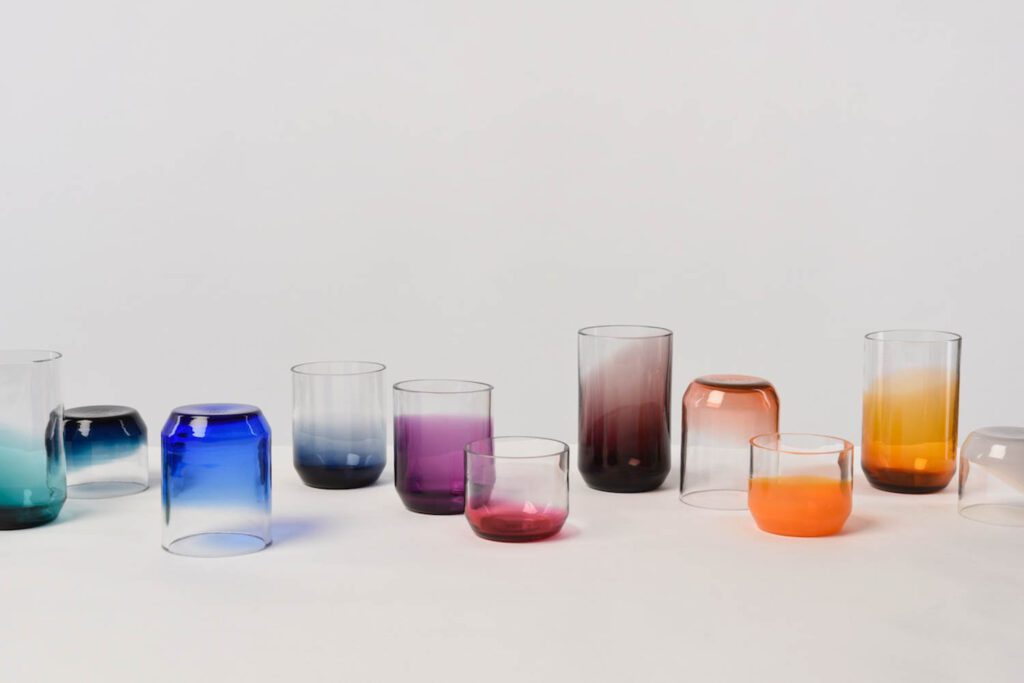 14 Young Designer Highlights from the SaloneSatellite in Milan
Without a platform to showcase their work and forced to learn remotely, young designers suffered during the global pandemic. At exhibition center Fiera Milano last week, SaloneSatellite, Salone del Mobile's celebration of rising stars under 35 returned—to long awaited relief. With the theme Designing for our Future Selves and a focus on sustainability, the 23rd edition featured 600 participants. Once again, the SaloneSatellite Awards program singled out a talented few.
From furniture that dignifies walking difficulties to attractive new use for old tires and a foam-free upholstered furnishing collection, here are 14 of our favorite finds.
1. RemX by Lani Adeoye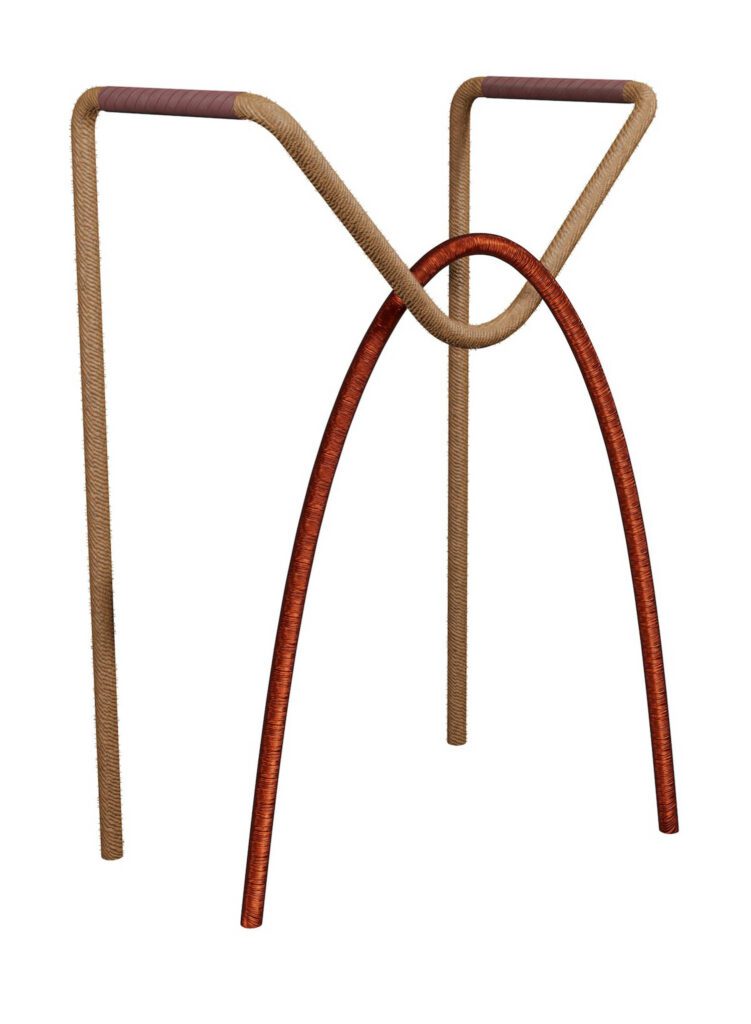 A physical difference shouldn't mean a loss of dignity. So thought SaloneSatellite 2022 first prize winner Lani Adeoye. Her RemX walker is inspired by one employed by her tribe in Nigeria, the Adeoye people, and made of easily found local materials.
2. Lamp by Studio Gilles Werbrouck and Hugues Loinard Studio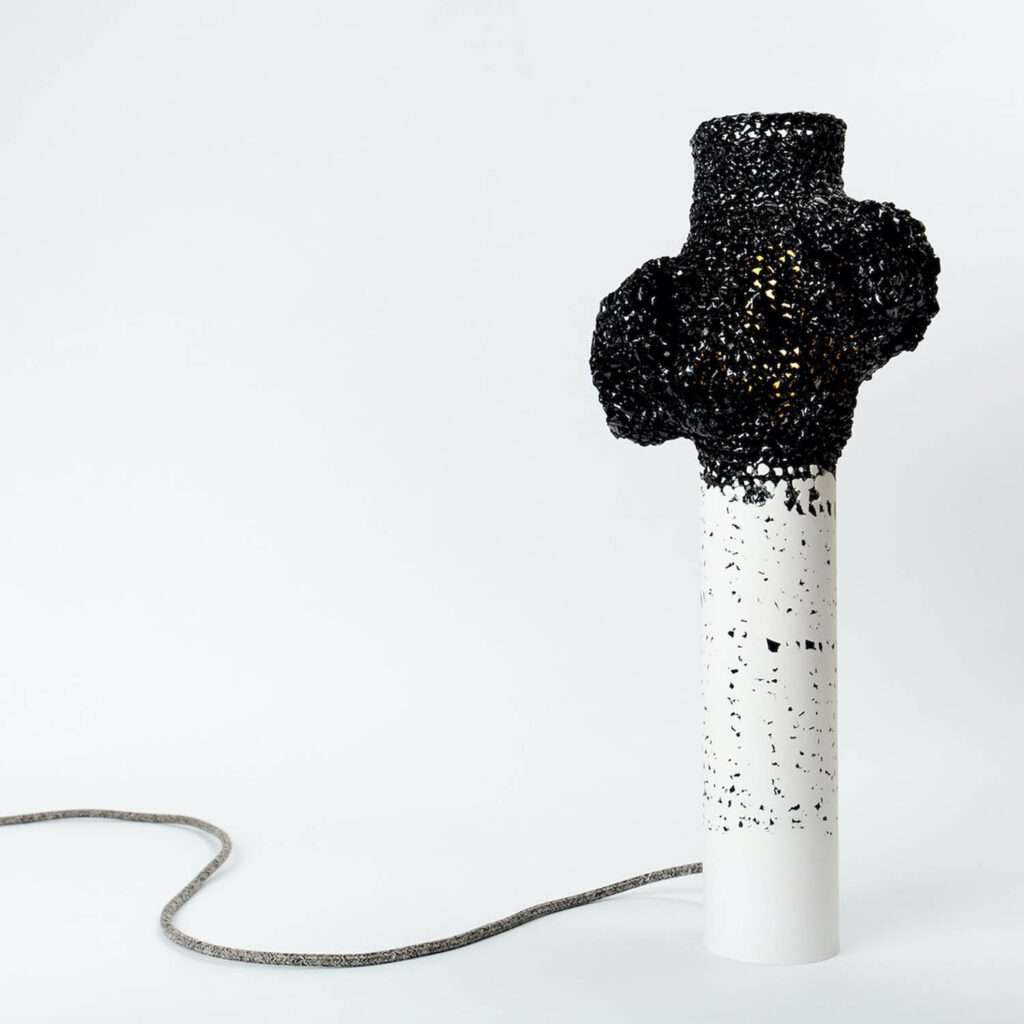 Magnetic tape, crochet fabric, and plaster is behind the unique finish of Lamp, the second prize winner by Studio Gilles Werbrouck in collaboration with Hugues Loinard Studio featured in "Belgium is Design."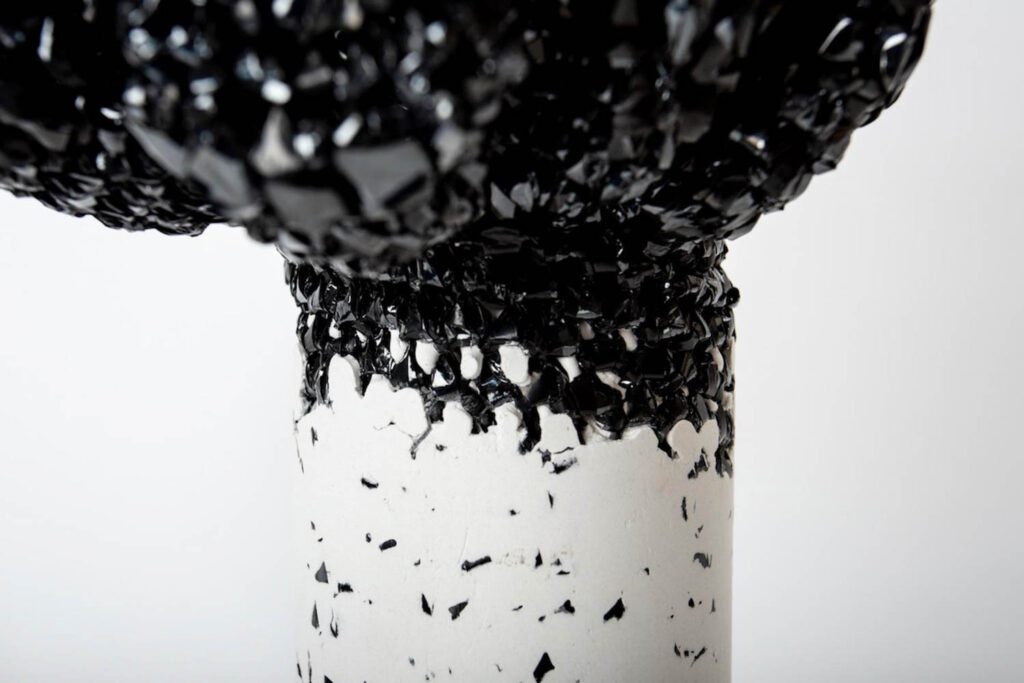 The lamp's imprecise production process—white plaster is poured on black magnetic tape crochet fabric and then welded—makes each piece unique.
3. Meenghe by Djurdja Garčević of Young Balkan Designers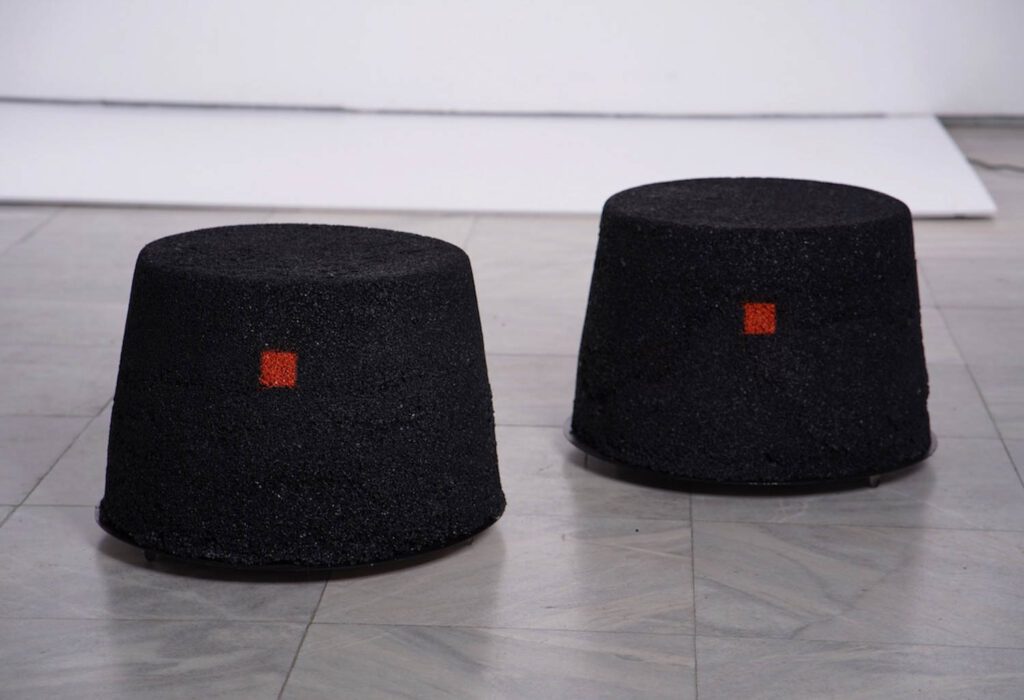 Scooping up third prize is Djurdja Garčević, a participant in the group show "Young Balkan Designers," with the furniture collection Meenghe made of recycled tire shavings. In addition to the stool shown here, flowerpots, garbage containers and more can be made with the shredded substance, which eliminates the consumption of a raw material.

4. Max +1,5 Celsius by Atelier Ferraro
Reclaimed kitchen cabinet doors are transformed into Max +1,5 Celsius, a sunny yellow lounge chair by Atelier Ferraro, which garnered a Special Mention. With the addition of locally sourced wood, Max +1,5 Celsius finds new life for discarded particle boards, and can also be configured as a children's chair, coffee table, sofa, or chaise lounge.
5. Ease by Rasmus Palmgren
A second Special Mention went to a stackable chair made of beechwood native to Finland. Designed by Rasmus Palmgren, the Ease Chair has a thin sheet-like backrest supported by a hardy frame.
6. Chochin by Shinnosuke Harada
With flat-pack capability, the multi-function Chochin, part of the Morito collection by Shinnosuke Harada, serves as lamp, stool, and table.
7. Elements of Colour by Michelle Müller with Maestro Peter Kuchinke and Torsten Rötzsch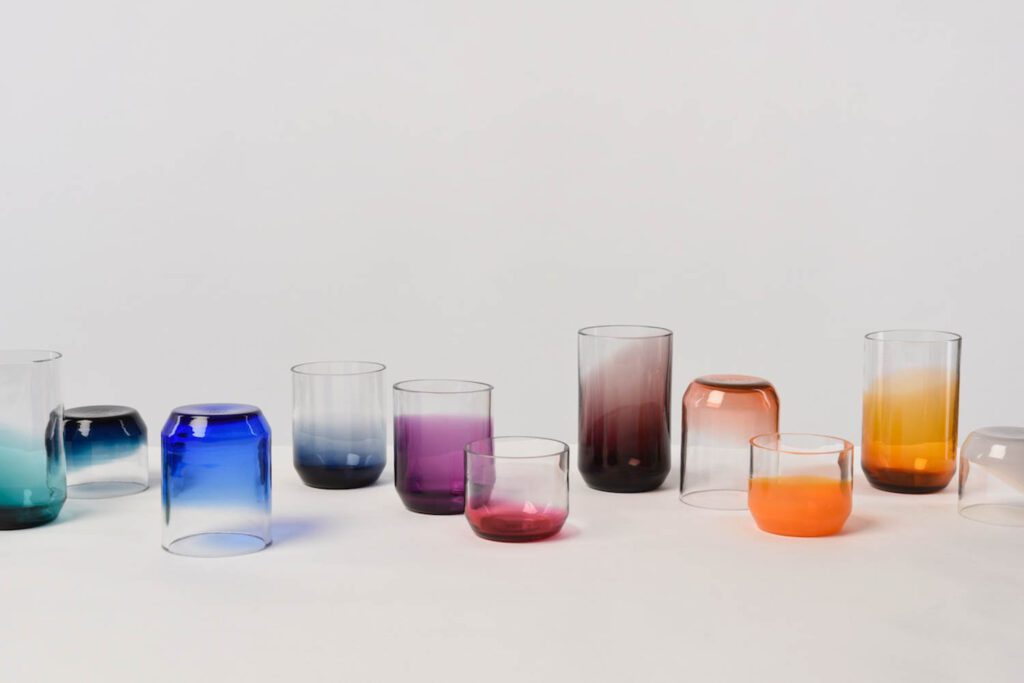 Exploration with metal oxides drew out the unique color fade in Elements of Colour, a collection of gradient glassware by Michelle Müller with glassmakers Maestro Peter Kuchinke and Torsten Rötzsch.
8. Infinity by Felicia Arvid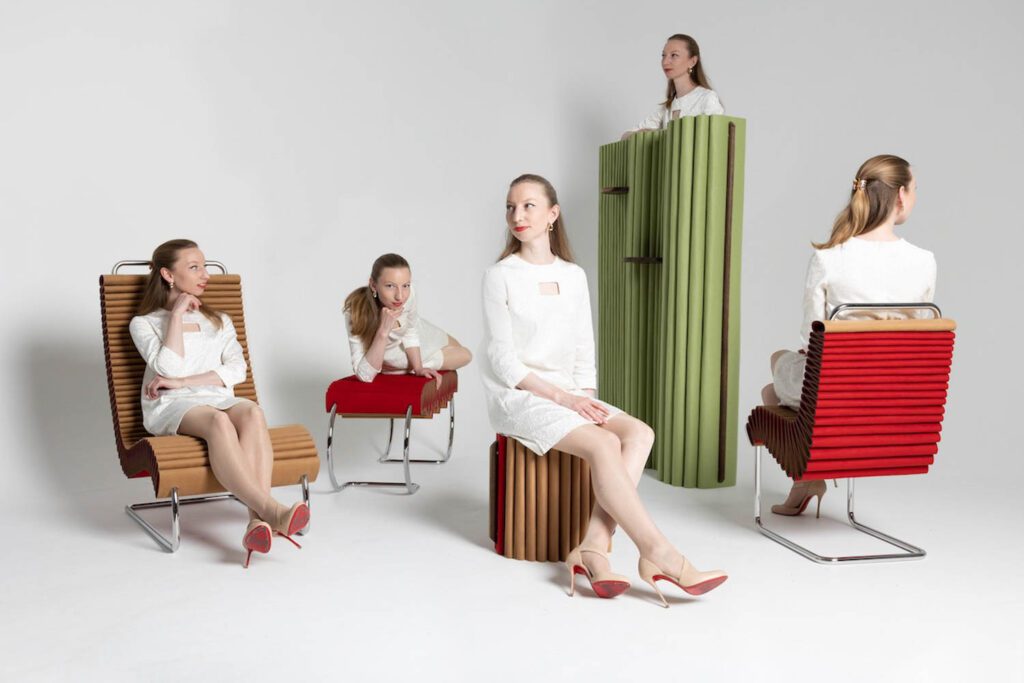 What if you could eliminate the foam in upholstered furniture? Analyzing how fabric folds, Felicia Arvid conceived the Infinity furniture collection, composed of a bench, chair, lounge chair, pouf, and room divider. The collection is constructed from just two materials—fabric and steel.
9. Elements of Light by AATISMO
Glowing like moonlight in a pool, the Water lamp, part of the Elements of Light series by AATISMO, is made of recycled glass.
10. Disversa by Maria Chiara Sgarbi, Noemi Mateus, and Julia Drost
The transformable Disversa by Maria Chiara Sgarbi, Noemi Mateus, and Julia Drost, featured in the exhibition "Stuck: Smash Social Ceilings," converts into a conference area with table and two benches serving four people. Wheels add to its flexibility.
11. Biocarpet by Arpad Pulai of Young Balkan Designers
A nod to biomimicry, Biocarpet, a nubby floor covering featured in "Young Balkan Designers," reveals designer Arpad Pulai's experimentation with non-woven structural surfaces.
12. Waiting by Amorce Studio
The metal and glass modular Waiting shelf by Amorces Studio reminds us of the colorful scribbles of childhood.
13. Corpus by Adriana Schmitt
Corpus, a wood and tubular steel chair by Adriana Schmitt, is too big, too wide and too high, or so says the designer. A statement against what is considered 'average,' the chair is dedicated to the unique features of a women's body—and not that of an average man.
14. Landscape by Margaux de Penfentenyo
Margaux de Penfentenyo hand-painted Douglas fir to create the Landscape Lamp, a tribute to the many layers and hues of the geological strata of the earth.
read more
DesignWire

10 Questions With… David Dolcini

Interior Design sits down with David Dolcini, the multi-hyphenate architect, artist, sculptor and woodworker presenting at Salone del Mobile.

DesignWire

Salone del Mobile to Spotlight Sustainable Design

Milan is getting serious about global warming. The 60th edition of Salone del Mobile, the world's largest furniture fair, which this year runs from June 7 to 12, has taken on climate change, placing a strong focus on s…

DesignWire

10 Questions With… Lara Bohinc

Designer Lara Bohinc sits down with Interior Design to discuss the success of Bohinc Studio and her latest collection set to premiere at Salon del Mobile this June.